Students to compete in D.C.
with solar light pipe design
Texas A&M students will showcase a device that can transport natural light into the interior of buildings at a national sustainability design competition on the National Mall in Washington, D.C. later this month.
The system will be Texas A&M's entry in the "P3: People, Prosperity, and the Planet Student Design Competition for Sustainability," an annual contest sponsored by the U.S. Environmental Protection Agency. The contest is part of the EPA's April 24 and 25 sixth annual National Sustainable Design Expo, a gathering of professional scientists, engineers and business leaders.
Pictured above: Nick Gignac, a master of architecture student, takes a look at sunlight illuminating a simulated office space in a freight container at the Texas A&M Riverside campus.


Rowlett lecture series to feature heads
of four major professional associations

A first-ever gathering at Texas A&M of the heads of four major professional associations representing disciplines taught in the College of Architecture will happen at the 2010 Rowlett Lecture Series April 23.
At the event, the four featured guests will individually address the event's theme, "Leadership in the Built Environment: Challenges and Opportunities."
"It'll be particularly useful, not just for students and faculty in the college but for the university at large, to develop a better understanding of how four different professions can work together designing and delivering the built environment," said Valerian Miranda, director of the CRS Center for Leadership and Management in the Design and Construction Industry and associate professor of architecture.

Peacock pitches RAVON proposal to
president's science, technology council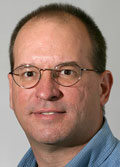 A presidential committee on disaster reduction learned about a proposal for a nationwide research initiative aimed at lessening the effects of natural disasters in an April 1 presentation from the director of Texas A&M's Hazard Reduction and Recovery Center.
Walter Gillis Peacock, professor of urban planning, made the presentation at the White House Conference Center in Washington, D.C. to the President's National Science and Technology Council's Subcommittee on Disaster Reduction.

Outstanding college alum
nominations due by May 5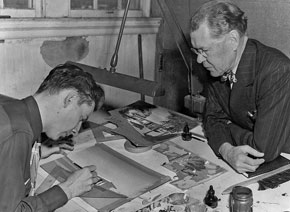 To recognize remarkable achievements and leadership among its former students, in 1997 the College of Architecture established the annual Outstanding Alumni Awards, the college's highest honor.
Nominations are now being received for the 2010 awards. Anyone may nominate a former student as a candidate for the award following the criteria and process detailed on the Outstanding Alumni Award website, where nomination forms are also available.
Pictured above: Ernest Langford, former head of the Department of Architecture, watches a student sketch a Modern home in this circa 1940s photo.

College, architecture department to host
reception at AIA Convention in Florida

Texas A&M former students and friends are invited to join their former classmates and professors at the annual Aggie AIA Reception to be held in conjunction with the American Institute of Architects' 2010 National Convention in Miami.
The Texas A&M College of Architecture and Department of Architecture are co-sponsoring the former student reception 6:30 – 8:30 p.m. Friday, June 11 at Texas de Brazil Churrascaria, a Brazilian steakhouse located at 300 Alton Rd. in Miami Beach (see map).
Those planning to attend the reception are urged to RSVP by June 4 to Melinda Randle at 979.847.8918 or mrandle@tamu.edu.
The AIA 2010 National Convention and Design Exposition: Design as Exploration will be held June 10 – 12 at the Miami Convention Center. See AIA Convention website for details.

Research / Outreach: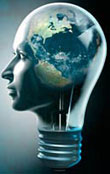 11 College of Architecture students
earn Student Research Week honors
Eleven students from the College of Architecture were recognized for top-notch research projects during the 13th annual Student Research Week at Texas A&M.
Any graduate or undergraduate student who is the primary author of a research project, class paper or project was eligible to be considered for the contest's oral or poster categories.

Lindell leads atomic committee
drafting natural disaster report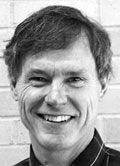 An International Atomic Energy Agency committee, chaired by Mike Lindell, a faculty fellow at Texas A&M's Hazard Reduction and Recovery Center, is drafting a paper that will provide guidance for operators of nuclear and radiological facilities when a natural disaster strikes.
Lindell, who is also a professor of urban planning at Texas A&M, joined experts for a series of meetings spanning a week in February at the United Nations' Vienna International Centre to begin work on the safety report titled "Arrangements for Response to Radiation Emergencies Caused by Natural Disasters."

Bame's study revealing unmet needs of
evacuees during 2005 Gulf Coast storms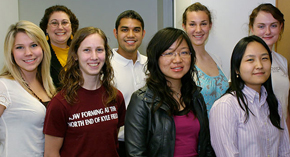 Data collected by Sherry Bame, professor of urban planning at Texas A&M, and a team of students is providing — for the first time — a clear picture of the unmet needs of evacuees in Texas fleeing Gulf Coast hurricanes in 2005.
"Based on the data, homeland security, social services, health care agencies and disaster managers will need to rethink the time frame for evacuation to support evacuation destinations," said Bame.
Pictured above: the 211 project team

National Science Foundation funding
BIM solar design, simulation project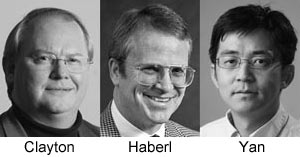 Three faculty members at Texas A&M's College of Architecture are aiming to advance the field of solar building design and simulation through the introduction of Building Information Modeling in a three-year, $300,000 study.
The team will research a novel BIM method that involves adding capability within a BIM model to interface more effectively with simulation software.

Peacock co-authors paper revealing
recovery lessons learned from Andrew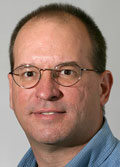 Walter Gillis Peacock, the director of Texas A&M's Hazard Reduction and Recovery Center, co-wrote a research paper published in an academic planning journal detailing how housing recovery can be aided in the wake of a major natural disaster.
In "Planning for Housing Recovery? Lessons Learned from Hurricane Andrew," Peacock and Yang Zhang, an assistant professor in Urban Affairs and Planning at Virginia Tech, wrote that planners, state and local governments and land-bank programs all have a role in an area's recovery.

Urban science students undertake
Aggieland transportation survey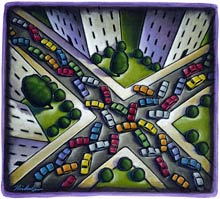 Students in an Urban and Regional Science capstone course are conducting a survey of Aggie travel habits for a local planning organization.
"It's really important that the students do this, because otherwise there is no way that the university will be able to find out which roads they need to expand," said senior urban and regional sciences major Allie Norman. "People complain about traffic and this is one of the ways they can reduce that."

ASHRAE funds Ph.D. student's study
to evaluate 'green' building protocols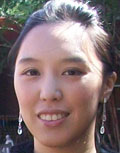 A Texas A&M architecture Ph.D. student is evaluating an approach used to certify the environmental friendliness, or sustainability, of commercial buildings with the help of a $10,000 grant from the American Society of Heating, Refrigerating, and Air-Conditioning Engineers.
In her study, Hyojin Kim will evaluate current building performance measurement protocols, and based on that evaluation, she will suggest a new single-figure merit rating that utilizes the established protocols.

CHUD promotoras get busy
assisting 2010 census effort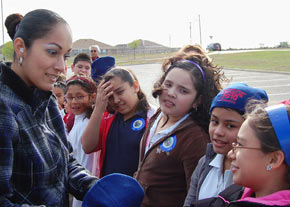 The Center for Housing and Urban Development's Colonias Program at Texas A&M is aiding the U.S. Census Bureau's effort to get as accurate a count of colonias residents as possible.
"We're talking to residents about the importance of the census, and the impact it makes in colonia communities," said Viky Garcia, a census outreach worker in CHUD's Central Rio Grande Office. "Obviously, we're talking about places that need schools, roads and additional funding for basic infrastructure, so it's important for residents to respond."
Pictured above: Promotora Ana Espinoza talks to Zaffirini Elementary School students about the census.

Also online:
Nichols gives Texas town
advice on seismic testing
Rodiek leads webinar series detailing
benefits of green spaces for seniors
Van Zandt quoted about Galveston County's
plans to rebuild 569 public housing units
Report on conference focusing on planning
in Latino communities now available online
Ulrich touts Canadian hospital design
as one of the world's most advanced
Kang heading concrete/BIM subcommittee,
quoted in story about variety of BIM software

In the Studio: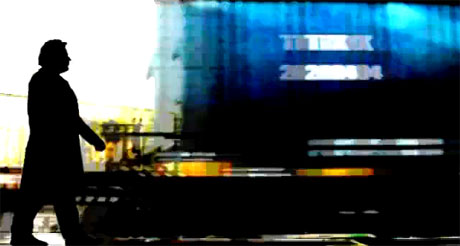 Video created in Viz Lab premieres at
Austin's South by Southwest Festival
A short video created at Texas A&M's Visualization Lab by a Ph.D. student from the College of Liberal Arts premiered March 15 at the annual South by Southwest Festival in Austin.
"Vertigo," was part of Oscar Berrio's goal to study and integrate poetry and the visual arts; the video's structure and imagery are based upon the rhythmic cycles of a poem by the same name. He created the video for a course called Time-Based Media II.

Students present design concepts to
Bell Helicopter employees, executives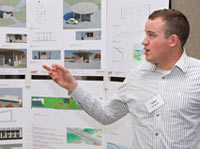 Students in a fourth-year design class at Texas A&M presented their ideas of what Bell Helicopter's headquarters near Fort Worth could look like a decade from now during a December 2009 review at the company's headquarters.
The students' concepts for the Bell campus' building designs, traffic patterns, campus layout, sustainability and efficiency were unveiled to a gathering of employees, staff members from the company's enterprise asset management department and other guests.

New heliodon provides 3-D view of
sunlight's effect on building designs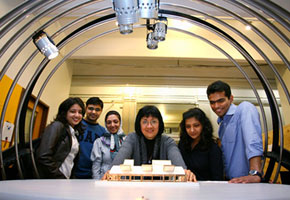 Students at Texas A&M's College of Architecture now have an opportunity to see a 3-D representation of sunlight's effect on a building from in any location on earth, at any time of day, any day of the year, with the arrival this spring of a model 126 heliodon.
Acting on a proposal penned by Liliana Beltrán, recently promoted to associate professor of architecture, the college purchased the heliodon through funds gathered from Instructional Enhancement Equipment Fees, which are earmarked for improvements that enrich the college's educational environment.
"I've noticed the 'oh wow, I understand now where the sun is in the summer' type reactions from students," Beltrán said. "You see it in a computer model, but it doesn't have the vision you get when you see the object."

Also online:
Winners named in interdisciplinary
review space design competition
Lectures, design charrette, visiting pros
featured at 2010 ALSA Aggie Workshop
Review in Langford A accompanied
by music from college's grand piano
Outstanding alum tells students how
to excel in the construction industry

Academics: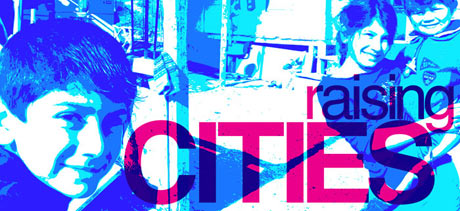 Second 'In Theory' season gathers
experts for Haiti, urban discussions
Experts discussed Haiti's tragedy and its rebuilding as well as the growing phenomenon of contemporary, informal settlements and shantytowns during two second-season episodes of "In Theory", a talk show/webcast taped before at live audience at the Texas A&M College of Architecture.
Hosted by Peter Lang, associate professor of architecture, each "In Theory" episode features a panel of experts discussing topics relevant to modern architecture theory.
The Feb. 18 episode, "Missing Haiti," featured a diverse group of Texas A&M disaster relief and sustainable reconstruction experts discussing the earthquake relief effort on the beleaguered Caribbean island.
See story, photos & watch video

New scholarship to benefit environmental
design and construction science students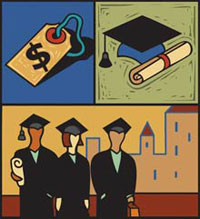 Stephen Rinard '64 and his wife Carillon have endowed a scholarship fund at Texas A&M's College of Architecture in honor of his parents, Clarence and Mabel Wharton Rinard.
Rinard, who earned a bachelor's degree in meteorology at Texas A&M, has established the fund to benefit Corps of Cadets students in the departments of architecture and construction science.
The scholarship will provide vital financial support to motivate, encourage and reward students who have a desire to fully develop their professional potential, said Glen Mills, head of the Department of Architecture, and Joe Horlen, head of the Department of Construction Science.

Conference, panel discussions mark
MSLD program's 25th anniversary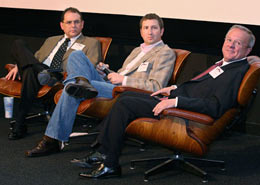 Texas A&M's Master of Science and Land Development program marked a significant milestone with "Land Development Post Meltdown: The 25th Anniversary Aggie Master of Science in Land Development Conference and Banquet" March 6.
A panel discussion featuring five distinguished speakers, all graduates of the MSLD program, highlighted the conference.
See story, photos & watch video

Also online:
Giesecke Lecture Series featured
innovative Danish architect Feb. 8
Career fairs bring students,
firms together in February
Construction science department hosts
visiting North Texas high school students
Lindell participates in Dutch
doctoral dissertation defense
Symposium eyes technology's
role in historic preservation

Awards:
Beltrán, Brody promoted
at College of Architecture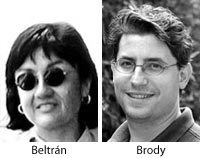 Two Texas A&M College of Architecture educators recently completed the promotion and tenure process earning permanent posts as tenured faculty. Effective Sept. 1 of this year, assistant architecture professor Liliana Beltrán, will be promoted to associate professor and Sam Brody, who is currently an associate professor of urban planning, will become a full professor.

Students honor Li, Srinivasan, Zhu
with teaching excellence awards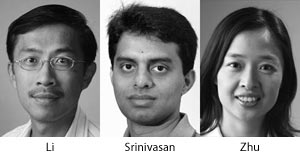 Three faculty members from the College of Architecture have earned teaching awards for their work during the fall 2009 semester.
Mike McKinney, chancellor of the A&M System, began the program in 2008 to honor and financially reward students' picks of the A&M System's top teachers.

Student pens award-winning essay
during final semester in Aggieland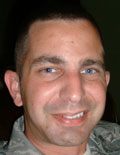 In his last semester at Texas A&M, a construction science student won $500 for authoring an essay on construction management— that scored a second-place finish in a national contest.
The essay by A.J. Chier, who graduated with a bachelor of science degree in construction science in December 2009, was recognized in the 2010 James L. Allhands Essay Competition sponsored by the Associated General Contractors of America.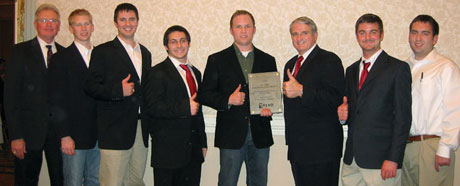 Construction science students, faculty
shine at February competition in Dallas
Students from Texas A&M's Department of Construction Science had a strong showing at the Feb. 13-15, Associated Schools of Construction/TEXO Region V Student Competition and Awards Banquet in Dallas.
ASC's Region V consists of 10 construction science schools in Texas, Oklahoma, Arkansas and Louisiana, but competitions are open to interested students at any university. TEXO is a construction association representing commercial contractors in North and East Texas.

Doctoral student wins Weirus Spirit Award
for participation in student life activities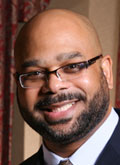 Edward L. Tarlton, who is pursuing a doctorate in Urban and Regional Science with an emphasis in housing and community development at Texas A&M University, is a recipient of the 2010 Buck Weirus Spirit Award.
"Being involved in campus life is one of the best ways I have seen to impact and promote the service culture here at Texas A&M," said Tarlton in his award application. "At A&M the dedication to community service and reaching out to others has resonated deeply within me. Additionally, involvement in many memorable campus events has built teamwork and cemented lifelong friendships."

Events:
Viz-a-GoGo 17 to awe downtown
Bryan with 'simpli-vision' May 3-8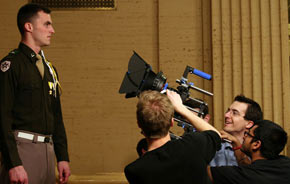 Viz-a-GoGo is goin' downtown. The 17th annual showcase of work produced by the digital wizards in the Master of Science in Visualization Sciences program at Texas A&M University will be staged May 3-8 at two locations in historic downtown Bryan.
The time-based portion of the show, Viz-a-GoGo's main event, will be brought to viewers in "simpli-vision" — the theme of this year's show — an homage to the simple, primitive geometric shapes that form the building blocks, literally, of 3-D animation.
Pictured above: Vizzers begin production on the interstitials for Viz-a-Go-Go 17.

Outstanding alumnus to lecture, participate
in roundtable discussions at April 6-9 visit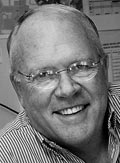 Chris Mulder '80, one of South Africa's top environmental designers and planners, will lecture and participate in a formal roundtable discussions on interdisciplinary education and practice during an April 6-9 visit to the Texas A&M College of Architecture.
Mulder, an outstanding alumnus, returned to his native land after earning a Ph.D. in Environmental Design to launch Chris Mulder and Associates, a multidisciplinary firm employing land and environmental planners, architects, landscape architects and urban designers.

Lang curating MoMA radical Italian
designers exhibit at Swiss museum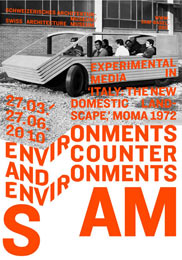 Peter Lang, an associate professor of architecture at Texas A&M, is one of three curators of a major exhibit highlighting 20th century radical Italian designers at an architecture museum in Switzerland through June.
The show, actually an exhibit of an exhibit, brings together for the first time in 37 years the entire set of films produced for the original, groundbreaking exhibition that explored sociocultural implications of Italian product design environments at New York's Museum of Modern Art in 1972.

Architectural activists headline April 14
talk show eying the 'Curating Dilemma'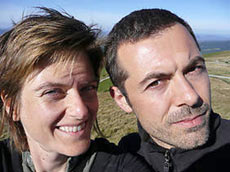 Architectural activists Ana Dzokic and Marc Neelen, founding members of STEALTH.unlimited, a European architectural collective, visited Aggieland April 14 to participate as featured guests in an outdoor talk show at the Texas A&M College of Architecture.
The duo, whose practice spans urban research, spatial intervention and cultural activism, joined talk show moderator Peter Lang, associate professor of architecture, and guest Joshua Bienko, assistant professor of visualization, to discuss their experience as curators of unique, highly acclaimed exhibitions throughout Europe.

Renowned illustrator lectures,
leads workshop at Texas A&M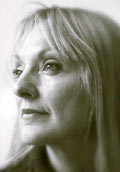 An illustrator whose work has won numerous awards and worldwide critical praise came to Texas A&M March 25-28 to lecture and lead an illustration workshop as part of the College of Architecture's Artist in Residence program.
Anita Kunz's work appears regularly in The New Yorker, Atlantic Monthly, Rolling Stone, Vanity Fair, GQ and the New York Times Magazine. She is one of two artists chosen by Rolling Stone to produce a monthly illustrated history of rock and roll.

Dean Vanegas to lecture, serve as panelist
at community public safety readiness event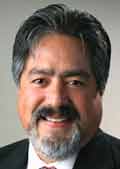 Jorge Vanegas, dean of the Texas A&M College of Architecture, will be a speaker and panelist in a public safety readiness conference at Houston's Crowne Plaza Hotel April 25-28.
"Working Together for Readiness," a collaboration of Houston-area governmental organizations, churches, community centers and universities, will highlight best practices, lessons learned and readiness exercises through speakers, panels and hands-on, participant-centered learning experiences.

Also online:
Murals made to offset construction
blight will be exhibited at ArtFest

Class Acts:

From left to right: Mashburn, Pemberton-Haugh, Potter, Schirripa, Stanley
Five former students elevated
to 2010 AIA College of Fellows
Five former students of Texas A&M's College of Architecture have received one of the highest honors bestowed by the American Institute of Architects for their significant contributions to architecture and society.
Joseph Mashburn '82, Sue Ann Pemberton-Haugh '76, '79, Jeff Potter '78 '79, Anthony Schirripa '73 and Lars Stanley '74 were named this year to the AIA's College of Fellows Feb. 25.
They will be invested in a June 11 ceremony at the AIA's national convention in Miami.

Former student honored with
AIA's Young Architect Award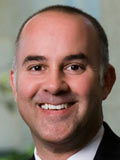 Brian Malarkey '91, a former environmental design student at Texas A&M, has received the Young Architects Award from the American Institute of Architects for his leadership in sustainable initiatives in the Houston area.
"He is a pioneer for green building efforts, pursuing the transformation of Houston's built environment and is steadily becoming more and more influential on a national level," wrote the jury that honored Malarkey and eight other architects.


Former student brings art to highways
while keeping an eye on the bottom line
An article in the Bryan-College Station Eagle details how a Texas A&M former landscape architecture student has brought art to Brazos Valley highways at a minimal cost to Texas taxpayers.
The pieces are the work of Maury Jacob, who earned a Bachelor of Landscape Architecture degree at Texas A&M in 1987. He's the landscape architect for the Bryan District of the Texas Department of Transportation.

Outstanding Alum's book profits
to fund two college endowments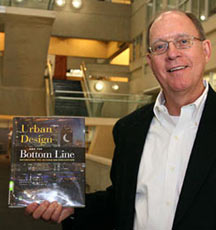 Two endowments at the Texas A&M College of Architecture will soon benefit from proceeds generated by sales of a book, coauthored by an Outstanding Alumnus, that touts a holistic approach to urban planning and design.
Dennis Jerke, who earned a Master of Landscape Architecture degree from Texas A&M in 1978, is co-author of "Urban Design and the Bottom Line: Optimizing the Return on Perception," a book project he spearheaded while serving as managing principal for Jacobs, a Fort Worth architecture, engineering and construction firm. Douglas R. Porter, an urban planner, and Terry J. Lassar, an urban development and public policy expert, were also contributing authors.
Jerke recently donated his proceeds from the book, published by the Urban Land Institute, to fund two endowments benefiting the discretionary accounts for the architecture and landscape architecture and urban planning departments at A&M.

Former student creates winning design
for Rockwall County veterans' memorial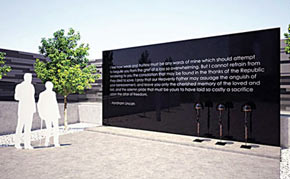 The grounds of a new courthouse in Rockwall County, Texas, will be adorned with a veterans memorial designed by a former graduate student at Texas A&M.
A jury chose "Symbolic Journey," a design by Dan Fletcher, who earned a Master of Architecture degree. The memorial's centerpiece is a wall of polished stone inscribed with an excerpt from a letter by Abraham Lincoln.

Former design student working
on secret project for Apple Inc.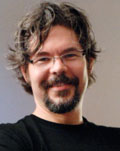 Richard DeVaul, a former design student from Texas A&M's College of Architecture, has been hired by Apple Inc. to work on a project known only to Apple CEO Steve Jobs and eight others, writes Computerworld blogger Seth Weintraub.
DeVaul, who earned a Bachelor of Environmental Design degree in 1999 and eventually a doctorate at MIT, has a background in developing wearable technologies.

Also online:
Sign up, receive college e-news;
update your contact information
Former preservation student in Greece
documenting sites in ancient Corinth
Sullivan moves from career as an attorney
to a landscape architecture faculty position
Former building construction student
to head Cotton Bowl Athletic Association
Former student lectures in San Antonio,
pens article about 7 green building trends
Former student, educator, designer,
Ludwig dies in San Antonio Jan. 13
Former student's home repair
videos available on Internet
Former students touch base
with College of Architecture

Visit archone. newsletter for full calendar of spring events

April 5
Francois de Menil lecture: 5 p.m. Monday April 5 in the Preston Geren Auditorium, Francois de Menil, a fellow in the American Institute of Architects and principal with the New York architecture firm FdM:Arch will speak as part of the Department of Architecture's Spring 2010 Lecture Series. de Menil has served on numerous architectural review juries and is a trustee of New York's Cooper Union for the Advancement of Science and Art. He designed the Byzantine Fresco Chapel Museum in Houston, which displays dome and apse fresco paintings originally housed in a small 13th century votive chapel in Cyprus.
April 7


"Transition to Knowledge-Based Architecture," an Architecture-for-Health lecture featuring Ray Pentecost III DrPH, AIA, ACHA, LEED AP, director of healthcare architecture for Clark Nexsen Architecture & Engineering of Norfolk, Va., is set for 11 a.m. April 7 in the Wright Gallery. Pentecost's career has spanned different disciplines, including health planning and design, healthcare development and finance, physician management, environmental and occupational health and safety, medical technology development and healthcare administration. An award-winning educator, he serves as the appointee of the speaker of the Virginia House of Delegates in the Virginia Commonwealth University's Health System Authority in Richmond.
April 8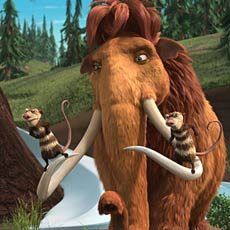 Blue Sky Studios presentation: Debra Blanchard, director of studio recruiting for Academy Award-winning Blue Sky Studios will provide an overview of the company in a special presentation set for 7-9 p.m. Thursday, April 8 in Langford C105. The studio has been a wholly owned unit of Fox Filmed Entertainment since 1997. It was founded ten years earlier with a mission to pioneer creatively superior photo-realistic, high-resolution, computer-generated character animation for the feature film, television and entertainment industries. Blue Sky's short film, "Bunny," garnered an Oscar in 1998. Blue Sky creations also include the "Ice Age" animated feature films and the studio has contributed to CG effects on "Fight Club," "Star Trek: Insurrection," "Alien Resurrection," and others. For more information, contact Catherine Clyburn at 845-3465 or catherine@viz.tamu.edu.


REDA presents Skip Preble, CEO and financial engineer of Land Analytics, 7 - 9 p.m. April 8 in the Wright Gallery as part of the Texas A&M Real Estate Development Association's Spring 2010 Lecture Series. Prebble has been active in the real estate development industry for more than 25 years, with involvement in master planned community development as well as lot development and home building. He earned a Bachelor of Science in Economics and a Master of Land Economics degrees from Texas A&M. For more information, contact Jim Graves at jrg1981@gmail.com.
April 9
CIAC spring meeting: The Department of Construction Science's Construction Industry Advisory Council meets 8 a.m. – 4 p.m. Friday, April 9 at the College Station Hilton. For more information contact Shelley Smith at 979-862-7354 or shelleysmith@tamu.edu.

April 12
Ted Flato lecture: 5 p.m. Monday, April 12 in the Preston Geren Auditorium, Ted Flato, principal of the award-winning San Antonio, Texas firm, Lake|Flato Architects, will speak as part of the Department of Architecture's Spring 2010 Lecture Series. Flato counts Louis Kahn, Frank Lloyd Wright and Rudolph Schindler among his favorite architects. He served as the principal architect for the Shangri La Botanical Gardens and Nature Center in Orange, Texas. The project, which includes botanical gardens, a nature center, outdoor classrooms and structures on a 252-acre site, earned LEED (Leadership in Energy and Environmental Design) for New Construction Platinum certification — the highest level possible in the Green Building Rating System developed by the U.S. Green Building Council. To date, this is the only building project in Texas to achieve this rating. For more information about the Texas A&M Department of Architecture 2010 Lecture Series, contact Sarah Deyong, assistant professor of architecture, at 979.458.1133 or sdeyong@tamu.edu.
April 12 - 16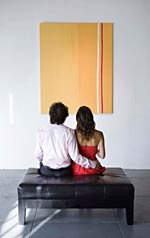 Tau Sigma Delta/AIAS Student Art Exhibit: A student art exhibition sponsored by the Texas A&M chapters of the American Institute of Architecture Students and the Tau Sigma Delta honor society, will be held April 12-16 in the Wright Gallery on the second floor of the Langford A. The exhibit provides a venue for the many creative Texas A&M students who do not typically show their artwork. Students were allowed to submit up to five original works in six categories: painting, sculpture, drawing, mixed media, photography and digital media. First, second and third place winners will be chosen in each category. An art auction at the Arkitex Studio in downtown Bryan will culminate the show, with half of the proceeds benefiting the sponsoring student organizations. For more information, contact Brian Briscoe at briand.briscoe@gmail.com.
April 14


"Hospital Archetypes and Icons," an Architecture-for-Health lecture featuring Don McKahan, health facility planner, architect and founder of McKahan Planning Group, will be held 11 a.m. April 14 in the Wright Gallery. McKahan has completed numerous facility planning projects during his 35-year career including ambulatory care facilities, acute nursing units, medical office buildings and new and existing hospital campuses.
April 16
The Department of Architecture Scholarship Banquet takes place 6 -10 p.m. Friday, April 16 at Pebble Creek Country Club: 6 p.m., cash bar; 7 p.m., dinner; 8 p.m. awards presentations. Cost of the event is $40 per person payable via check to TAMU. RSVP to Melinda Randle at 979.845.1015 or mrandle@archone.tamu.edu.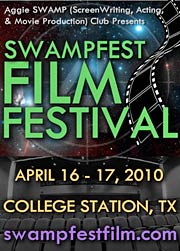 April 16 - 17
SWAMPfest Film Festival, the annual showcase of work created by members of the Aggie Screen Writing Acting and Movie Production Club is set for 7:30 p.m. Friday and Saturday, April 16 - 17 in the Preston Geren Auditorium. There will be a different line-up of films both nights. Tickets are $3 and will be available at the door. Doors open at 7 p.m. Live musical guests will perform at intermission: Johnny King and We Can, We Will on Friday and Caleb Mark on Saturday. T-shirts, posters, popcorn, candy and beverages will be on sale in the lobby. For more details, visit the SWAMPfest website or contact Carol LaFayette at lurleen@viz.tamu.edu.
April 17
Parents Weekend activities take place 8 a.m. – 5 p.m. in the Preston Geren Auditorium, Langford B Exhibit Hall, Wright Gallery, Langford A Atrium, and Langford C105, 207 and 307. For more information contact Ann Eastwood at aeastwood@archone.tamu.edu.
April 26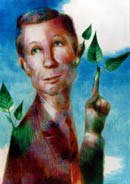 "In Theory" eyes "Sense and Sustainability" — Join "In Theory" talk show moderator Peter Lang, associate professor of architecture, who will co-host this special expanded edition with Stephan Caffey, assistant professor of architecture, at 1 p.m. in the Wright Gallery.
Discussing the role of aesthetics in sustainable design will be Texas A&M faculty members Kristie Sweet, from the Department of Philosophy, and Phill Tabb, Sarah Deyong, Charlie Culp, Gabriele Esquivel and Mardelle Shepley from the Department of Architecture.
The panel discussion will also be streamed live over the Internet via Channel 6 on the TTVN network. Web viewers can link to the discussion approximately 5 minutes prior to showtime: visit http://ttvn2.tamu.edu/home/?p=conf&id=3472796.
For more information, contact Peter Lang at petertlang@gmail.com

April 21
"Senior Living Trends," an Architecture-for-Health lecture featuring Ron Blitch FAIA, FACHA, of Blitch/Knevel in New Orleans is set for 11 a.m. April 21 in the Wright Gallery. Blitch is a nationally respected authority in healthcare and senior living community design and the principal designer for a majority of his firm's medical and senior living projects. He has won more than 50 national, regional and local awards for design excellence and has designed four national award-winning senior living facilities in New Orleans.

April 22


REDA presents Phil Rosenfeld, of Colliers International, 7-9 p.m. Thursday, April 22in the Wright Gallery as part of the Texas A&M Real Estate Development Association's Spring 2010 Lecture Series. Rosenfeld specializes in the industrial markets of north Dallas and is also involved in project leasing, sales and acquisitions, as well as real estate consulting. In 2007, he established the Colliers Ownership Advisory Group, which is dedicated to clients who have an interest in owning, instead of leasing, their real estate. For more information, contact Jim Graves at jrg1981@gmail.com
April 27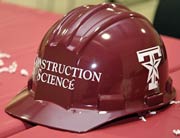 Construction Science Hard Hat Ceremony, the annual presentation of highly coveted Aggie hard hats to students earning degrees this spring from the Texas A&M Department of Construction Science, is set for 5:30 p.m. April 27in the Wright Gallery, located on the second floor of the Langford A building. For additional information, contact Dawn Trog at 979.845.1017 or dtrog@tamu.edu.

April 27 – 28
ARTS 310/311 Photo Exhibit is set for Tuesday and Wednesday, April 27 – 28 in the Langford B Exhibit Hall. The show features work by students in traditional and digital photography classes. For details, contact Howard Eilers at h-eilers@tamu.edu.
April 28



"Healthcare Public Spaces and the Power of Design," a presentation by John Pangrazio (far right) & Christian Carlson (immediate right) of NBBJ in Seattle, will wrap up the Spring 2010 Architecture-for-Health Lecture Series. The lecture is slated for 11 a.m. April 28 in the Wright Gallery.

May 5 – 9
Undergrad Viz Exhibit: A semester-culminating showcase of student work from Texas A&M's Bachelor of Science in Visualization program will be delivered in two parts: May 5 - 9 in the Langford B Exhibit Hall, flat work, models and interactive media will be showcased; 6 p.m. Wednesday, May 5 time-based work will be screened in the Preston Geren Auditorium. For details, contact Terry Larsen at trl@archone.tamu.edu.
May 6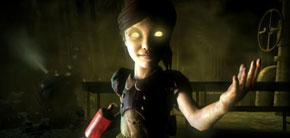 Arkane Studios presentation: Harvey Smith, a representative from the independent game developer, Arkane Studios, will lecture and answer questions about game developing and job opportunities Thursday, May 6 in Langford C105. Known for creating first-person immersive games with depth, Arkane Studio titles of note include Arx Fatalis (2002) and Dark Messiah of Might & Magic (2006). They have worked on projects with Valve, Activision, Electronic Arts and 2K Games, contributing to AAA games such as Call of Duty: World at War and the new hot release, Bioshock 2. The company has offices in Austin and Lyon, France. For more information, contact Catherine Clyburn at 979-845-3465 or catherine@viz.tamu.edu.
Visit archone. newsletter for full calendar of spring events

Catching the drift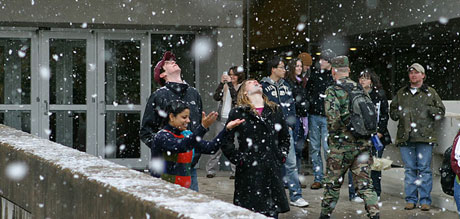 A thick snow began to blanket College Station beginning at approximately 1 p.m. Feb. 23, and it didn't take long for students to create what would turn out to be a small army of snowmen on the Langford A lawn. Weather forecasters, reported the Bryan Eagle, estimated that about three inches of snow fell in the Bryan/College Station area. See story and photos.