An architectural preservationist, a creative director, scholars, educators, an urban planner and noted architects — including the designer of the world's tallest building — are among the eight former students of the Texas A&M College of Architecture to be honored this year as Outstanding Alumni.
The group, nominated by former students and selected for their outstanding achievements and professional leadership by a college committee, will be honored at the college's 2011 Outstanding Alumni Awards Banquet to be held 7:30 p.m. Oct. 21 at the Miramont Country Club in Bryan, Texas.
Less than one percent of the college's 15,000 plus former students have been recognized as Outstanding Alumni, the highest honor bestowed by the college to former students.
The 2011 College of Architecture Outstanding Alumni are:
Bill Barlow
'72,who retired as historical architect for Boston National Historic Park in 2011;
Philip Berke
'81, professor of city and regional planning at the University of North Carolina-Chapel Hill;
Reagan George
'58, retired managing principal for Leo A. Daly Architects and Engineers;
Donna Kacmar
'88, principal of architect works inc. and assistant professor at the University of Houston's Gerald D. Hines College of Architecture;
Kirk Kelley
'95, creative director for Laika/house, a world-renowned commercial animation studio;
Charles McDaniel
'79, principal of the SWA Group;
Lori Ryker
'85, author and founder of studioryker and the Artemis Institute; and
Adrian Smith
'66, co-founder and principal of Adrian Smith + Gordon Gill Architecture and designer of the world's tallest building, the Burj Khalifa in Dubai.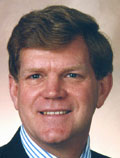 W. Lewis Barlow, IV, FAIA, FAPT
Supervisory historical architect, Boston National Historic Park
Barlow retired in 2011 as the supervisory architect for the National Park Service's Boston National Historical Park, a post he'd held since 1997. Barlow, who earned a Bachelor of Architecture degree in 1972, was responsible for policy and management for the preservation of some of America's foremost architectural and historical treasures such as the Bunker Hill Monument, Old North Church, Faneuil Hall, the Old State House, the Old South Meeting House and the Paul Revere House, structures that bring life to the American ideals of freedom of speech, religion, government and self-determination.
"Bill Barlow has been one of Boston's leading architects in promoting the preservation of the city's architectural patrimony," said Randall J. Biallas, assistant director of the U.S. National Park Service's Park Cultural Resource Programs. "As a board member of the Boston Preservation Alliance, the city's leading preservation and smart growth organization, he is in the forefront of not only preserving national historic landmarks but also in advocating and reviewing the major development projects that affect the qualities that make Boston a world-class city."
Barlow, who was named a Fellow of the American Institute of Architects in 2002 and a Fellow of the Association for Preservation Technology in 2000, played a leading role in restoring and rehabilitating 18th and 19th century structures in Lowell, Massachusetts, when he was Lowell National Historical Park's assistant superintendent in the Division of Technical Preservation from 1979-1986.
From 1974-1979, Barlow was senior project historical architect at the NPS Denver Service Center, directing a team of historical architects, engineers and conservators to provide professional services for sites that included Lower Town in Harpers Ferry, West Virginia, the Fort Larned National Historic Site in Kansas and the Custis-Lee Mansion in Arlington National Cemetery.
He is a professional fellow at Texas A&M's Center for Heritage Conservation.
Philip Berke
Professor of city and regional planning, University of North Carolina-Chapel Hill
Phillip Berke, who earned a Ph.D. in Urban and Regional Science in 1981, "is one of the top two or three land use planning scholars in the U.S.," said David Godschalk, professor emeritus of city and regional planning at the University of North Carolina.
He is professor of city and regional planning at the University of North Carolina-Chapel Hill, where he is the deputy director of the Institute for Environment and the director of the Center for Sustainable Community Design.
Berke, said Godschalk, is an internationally recognized land use and environmental planner whose research and publications have made major contributions in the areas of natural hazard mitigation, urban land use planning, growth management, sustainable development and environmental planning and policy.
He is also a collaborative research scholar of the International Global Change Institute in New Zealand, presenting research findings at seminars throughout the world.
As a faculty member at Texas A&M, Berke helped found the Hazard Reduction and Recovery Center in 1988, writing and stewarding the center's proposal through its authorization process and serving as its first director on an interim basis.
Walter Peacock, the center's director, said Berke helped establish the HRRC as one of the world's leading disaster centers.
"His foresight and persistence in creating the HRRC represent an enormous contribution to the College of Architecture and Texas A&M University, enhancing its stature in the research community both nationally and internationally," said Peacock.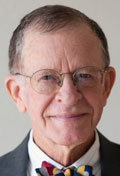 Reagan George, FAIA
Retired managing principal, Leo A. Daly Architects and Engineers
George, who earned a Bachelor of Architecture degree in 1959, retired as managing principal of Leo A. Daly, Architects and Engineers/Dallas, an international architecture, planning, engineering, interior design and program management firm, but continues to practice in his one-man office near Willow City, Texas, where he and his wife live in a house he designed.
"George is a model candidate for the outstanding alumni award and one who epitomizes community service, services to his profession, supporter of his education and educators, mentor to students and graduates, early environmentalist and an accomplished designer," said Velpeau Hawes '58 in a nomination letter. Hawes is also an outstanding alumnus of the college.
A recipient of the Lifetime Achievement Award in 2009 from the American Institute of Architecture/Dallas, some of George's notable projects include serving as project manager for the Washington D.C. Hilton, and project architect for Dallas' Great Hall of the Apparel Mart and the Quadrangle and was responsible for Texas Christian University's first comprehensive master plan.
"In the mid-1960s, long before today's emphasis on environmental sustainability, George initiated the AIA/Dallas Environmental Awareness Committee to foster environmental education among teachers and students in the Dallas area," said Hawes. "The highly successful course received a special AIA commendation and began his journey of commitment to the quality of our environment, both built and natural, that continues today."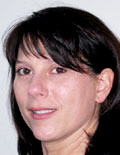 Donna Kacmar, FAIA
principal, architect works inc.and assistant professor, Gerald D. Hines College of Architecture, University of Houston
Kacmar, who earned a Bachelor of Environmental Design degree in 1988 and a Master of Architecture degree in 1992, is principal of architect works, inc. and an associate professor of architecture at the Gerald D. Hines College of Architecture at the University of Houston.
"She has been recognized with design awards by the Texas Society of Architects and has developed a distinguished record of teaching at the University of Houston and Rice University," said David Woodcock, professor of architecture at Texas A&M.
Her firm develops solutions for residential and small-scale commercial projects that are straightforward, cost-effective and environmentally responsible.
Kacmar, elected to membership in the American Institute of Architects' College of Fellows in 2009, utilizes materials and technology to help architects and students understand the implications of their design decisions. She believes that an understanding of the small and modest is necessary to understand the global impact of large, complex structures.
She is a recipient of the National American Institute of Architects 2004 Young Architects Award and has served on the boards of the Houston AIA, the Avenue Community Development Corporation in Houston, and the Rice Design Alliance. Kacmar now serves on the board of the Houston Architecture Foundation.
Her firm received an AIA Houston design award in 2002 and a Texas Society of Architects Design Award in 2003 for the Round Valley Texas Office Building + Garage in Bellaire.
She designed a home for her parents, the Kacmar House, which won an AIA Houston design award in 1999; the work was published in the book "A House for My Mother" by Beth Dunlop.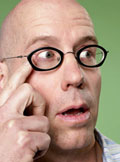 Kirk Kelley
Creative director, Laika/house
Kelley, who earned a Master of Science in Visualization Sciences degree in 1995 and a Bachelor of Environmental Design degree in 1989, is the creative director at Laika/house, a world-renowned commercial animation studio acclaimed for its skill in storytelling and character performance in all mediums, including character generation, stop-motion and mixed media.
A multitalented photographer, designer, performer and storyteller, Kelley has directed and supervised many of the firm's high-profile advertising campaigns, including the M&M series, Mac vs. PC, Energizer and Toyota, collecting numerous awards along the way.
"They are perennial winners of Ad Week's Most Memorable Icons and Spots, the New York Times' Top 10 Spots, Chicago International TV Competition Awards, Mobius Advertising Awards and the Telly Awards," said Karen Hillier, professor of visualization at Texas A&M who retired after the spring 2011 semester.
He has also generated attention for his visually and technically innovative campaigns collaborating with top advertising agencies such as TBWA\Chiat\Day's Media Arts Lab, Amalgamated and BBDO Worldwide.
His acclaimed experimental short film "Dia de los Muertos" combines stop-motion and CG characters, backgrounds and effects to create mysterious imagery that blurs the boundaries separating the living from the dead. The short screened at multiple animation festivals around the globe and garnered a Silver award at the New York International Independent Film and Video Festival.
After earning a chemical engineering degree at Texas A&M in 1983, he worked at a nuclear plant project in Glen Rose, Texas, but left to take an eight-month bicycle tour of Europe, Israel and Egypt.
"I am of the opinion that this experience – the art, the food, the architecture – were completely transformative," said Joe Arredondo, director of Landmark Arts, a fine arts community growth and development program at Texas Tech University. "Not long after his return from that trip, he enrolled at Texas A&M."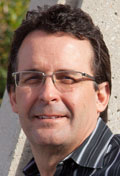 Charles McDaniel
Principal, SWA Group
During the past 33 years with SWA, a landscape architecture, planning and urban design firm, landscape architect Charles McDaniel, who earned a Bachelor of Landscape Architecture degree in 1979, has focused on large master-planned residential projects, office building landscape architectural design and resort planning and design.
He has designed projects built on five continents and 22 states.
"I like to resolve complex spaces—the remnants of the site planning and architectural design processes," he said. "Creating usable, interesting, highly articulated space where there was previously none excites me."
McDaniel was the lead designer and principal in charge of Las Ventanas al Paraiso in Cabo San Lucas, Mexico, one of Latin America's top resorts since its opening in 1996. He currently has resorts under design or operating in Mexico, Bermuda, the Turks and Caicos Islands, Georgia, Florida, Arizona, Kansas, and Washington State.
"I see project development as a series of independent tasks," said McDaniel. "Architecture creates the structures, civil engineering brings in infrastructure, interior design shapes the architecture from the inside out, and, in the key stroke, landscape architecture unifies the disparate interests of each function."
Hal Thannisch, CEO and president of Thannisch Development Services, Inc., said he is impressed by McDaniel's professionalism and design proficiency.
"Moreover, and what is of greater importance, is his charm, engaging approach and passion for excellence. In all cases, his care and attention for his work product has received many accolades from his peers, clients and the industry at large," he said.
After graduating from Texas A&M in the spring of 1979, McDaniel began working in SWA's Houston office in June. In 1985, McDaniel moved to Dallas to help open a new SWA office, where he continues to work today.
"His success is marked by the fruition of the built projects for his clients and the recognition of his contributions to those projects from his clients and the design colleagues with whom he works," said SWA principal John Cutler '67, also an outstanding alumnus of the College of Architecture.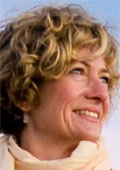 Lori Ryker
Founder, studioryker, Artemis Institute
Ryker, who earned a Bachelor of Environmental Design degree in 1985 and a Ph.D. in Architecture in 2000, is an award-winning designer, sought-after lecturer and internationally published author who, through the not-for-profit organization she founded, the Artemis Institute, provides educational opportunities to help people understand and employ the ties between creativity, spirituality and experiences of the natural world.
Ryker resigned from a tenured position at Montana State University to fully pursue her professional work at her firm, studioryker, in Bozeman, Mont. and to oversee her institute's initiatives, such as its Remote Studio in Jackson Hole, Wyoming, which provides design students a combination of environmental philosophy and back country adventure while tackling design and construction projects for local clients.
Her Remote Studio's design-build concept brings distinction to herself and the college, said Elton Abbott, assistant dean for international programs at the Texas A&M College of Architecture.
"Although it's a small program, the results are impressive," said Abbott. "Students returning after a semester at the Remote Studio are universally complimentary regarding the breadth of experience provided."
Remote Studio seeks to provide students in their chosen creative fields with firsthand experiences that focus and empower their commitment to the world in which they live and to provide local communities within large areas of natural or wilderness environments with thoughtful, built interfaces to their surroundings.
"How we understand ourselves in the world and react to it is directly tied to the built environments in which we live and socialize," Ryker writes on the Remote Studio website.
The Artemis Institute also provides noncredit programs, developed to aid people's awareness of their creative potential and responsibility to the natural world, internships to Remote Studio alumni, and continuing education for architects.
Ryker has authored three books, two which feature "off the grid" residences, and "Mockbee Coker: Thought and Process," a book about the innovative residential architects, painters and writers Samuel Mockbee and Coleman Coker.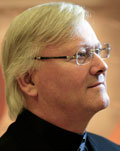 Adrian Smith, FAIA
Co-founder, Adrian Smith + Gordon Gill Architecture
Smith designed four of the world's 10 tallest completed buildings, including the world's tallest, the Burj Khalifa, a shimmering spire that rises more than half a mile, 2,716.5 feet, from the desert in the United Arab Emirates.
He also designed the world's sixth-tallest building, the Nanjing Greenland Financial Center, 1476.5 feet tall, the ninth tallest, Trump International Hotel & Tower in Chicago, 1387.7 feet tall, and the 10th tallest, Jin Mao Tower in Shanghai, 1381.2 feet tall.
Additionally, the seventh-tallest building in the world, Chicago's Willis Tower, popularly known as the Sears Tower, is in the early stages of a green retrofit under the direction of his firm, Adrian Smith + Gordon Gill Architecture.
In addition to designing new sustainable buildings, AS -GS is committed to the greening of existing structures and helping the building design industry meet its goal of "zero net energy" buildings by the year 2030.
His firm recently won top honors in the World Architecture News' 2010 awards for its creation of the Chicago Central Area DeCarbonization Plan, an ambitious, year-long effort involving 50 members of the firm's staff, that lays out a strategy for helping Chicago achieve a 25% reduction in carbon emissions below 1990 levels by 2020 and a 100% reduction in carbon emissions in new and renovated buildings by 2030.
In the summer after his fourth year at Texas A&M, Smith applied for internships at the Chicago offices of Perkins + Will and Skidmore, Owings & Merrill to "get some real-life experience." Though neither firm was hiring at the time, Cecil Steward, his fourth-year instructor who had previously worked at Perkins + Will, pulled some strings and landed the aspiring architect an internship.
Though he'd originally planned to return to Texas A&M in the fall to complete his degree, the excitement of working with a major-league, big-city firm proved too appealing and he stayed on to work the entire year.
"I was working on some very exciting projects and learning a great deal," he said. Though he was still planning to return to Texas, a job opened up at SOM in March 1967 and he seized the opportunity, working part time while finishing design classes at the University of Illinois at Chicago.
Smith worked at SOM for almost 40 years, advancing through the ranks and eventually serving as chief executive officer from 1992 – 95, before leaving in 2006 to start his own Chicago-based firm.
- Posted: May 10, 2011 -
— the end —
Contact: Phillip Rollfing, prollfing@archone.tamu.edu or 979.458.0442.