Viz-a-GoGo 16 showcases digital
wizardry of Texas A&M 'Vizzers'
A legion of superheroes will battle the forces of chaos at this year's Viz-a-GoGo, the 16th annual showcase of digital wizardry conjured by students in the graduate visualization science program at the Texas A&M Department of Visualization.
The weeklong show, which features an exhibit of student art May 4-9 in the Rudder Exhibit Hall on the Texas A&M University campus, culminates with the ever-popular main event, screenings of time-based work 7 p.m. Friday and Saturday, May 8-9, in Rudder Theatre.
A comedic superheroes theme interweaves the Viz-a-GoGo Friday and Saturday night screenings featuring an assortment of student work tied together with interstitials, or short thematic segments, in which Viz Force Five superheroes battle the Court of Chaos, led by evil Baron von Bad.
"There are five animated segments that tell a brief story about a giant robot attacking the city," explained Julie Pool, a member of the team that created the campy cartoons. "The tone is tongue-in-cheek," she said; "the characters are clearly ridiculous, but they take themselves quite seriously."



Founded in 1971, Universidad Francisco Marroquin features modern buildings situated on a wooded 40-acre campus in the heart of Guatemala City's most prestigious residential and business area.
College renews, expands collaborative
agreement with Guatemalan university
Texas A&M's College of Architecture recently renewed and expanded an existing Memorandum of Agreement with Universidad Francisco Marroquin in Guatemala City, Guatemala, to include the co-development of graduate and executive degree programs at UFM and continue an established undergraduate reciprocal exchange program.
Under the new agreement, the college will assist UFM in the development of a master's degree in project management to be modeled after the unique Master of Science in Land Development degree at Texas A&M.

Students enrolled in "Design Process" class
take top Aggie Innovention contest awards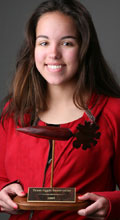 Students in the spring 2009 Design Process class offered at Texas A&M's College of Architecture used the power of their ideas to take the four top spots at the 2009 Next Great Aggie Innovention Contest, sponsored by the Texas A&M Institute for Applied Creativity and the Creative Innovation Alliance.
"The contest awards the top ideas from Aggie 'Innoventors' who craft an idea that, when developed, will solve a problem related to campus life and/ or university attendance," said Design Process instructor Jorge Vanegas, professor of architecture and interim dean of the college, in his instructions to students entering the contest.
Third-year biomedical engineering major Aubrey Harris ( at right ) won first place honors in the contest with her entry, in which she envisions a high-tech approach for helping students design their degree plans.

Bright ideas from Design Process
class take over Mays ideas contest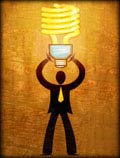 Students enrolled in the Design Process class offered at Texas A&M's College of Architecture submitted most of the entries that advanced to the finals of the annual Ideas Challenge Contest.
Sponsored annually by the Center for New Ventures and Entrepreneurship at Texas A&M's Mays Business School, students campuswide enter the contest with their ideas of the next great product or service. Their entries are judged by a jury of successful members of the business and academic world.

South African librarian gets tips
from TRC, CRS Center archives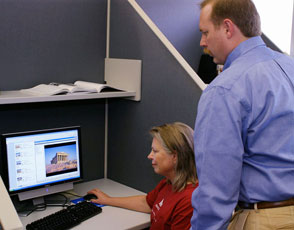 Janie Johnson, architecture librarian at The University of the Witwatersrand in Johannesburg, South Africa, was impressed by what she saw after a visit to the Technical Reference Center, which is the Texas A&M College of Architecture's reference library, and the archives at the college's CRS Center for Leadership and Management in the Design and Construction Industry.
Johnson and eight other librarians from South Africa's three major research universities are touring university libraries throughout the United States to learn how their facilities can better support faculty and student research in South Africa. The trip, Johnson's first to the U.S., began March 19 and ends May 2.

As chair of TAMU Design Review Board
Woodcock guards spirit of master plan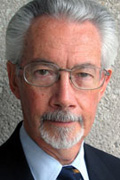 Design approval of new buildings and other major projects on the Texas A&M campus is being guided by input from the university's Design Review Board, chaired by David Woodcock, professor of architecture at Texas A&M.
"The board is charged with insuring that the spirit and intent of the campus master plan is maintained," said Woodcock, former director of Texas A&M's Center for Heritage Conservation and a Fellow in the American Institute of Architects, the Society of Antiquaries of London and the Association for the Preservation Technologies International. He was also recently appointed chairman of the American Institute of Architects' Committee on Historic Resources.

Campus visits slated for
dean candidate finalists
The search for a new dean for the Texas A&M College of Architecture has been narrowed to four candidates who will visit the Texas A&M campus this month to meet with students, faculty, staff and university administrators.
The four finalists for the dean's post in order of their scheduled visits are:
May 7-8: Dr. Forster Ndubisi, professor and head of the Department of Landscape Architecture and Urban Planning at Texas A&M University;
May 11-12: Dr. Jorge Vanegas, professor of architecture, interim dean of the College of Architecture at Texas A&M University and director of the university's Center for Housing and Urban Development;
May 12-14: Dr. Jack Kartez, professor of community planning and development and associate vice president for research at the University of Southern Maine; and
May 18-19: Dr. Steven P. French, professor of city and regional planning and director of the Center for Geographic Information Systems at the Georgia Institute of Technology.
Information on the four candidates, including letters of intent and resumes, are available on the dean search website: deansearch.arch.tamu.edu

Academics:
Walkable Communities director
leads pedestrian audit of streets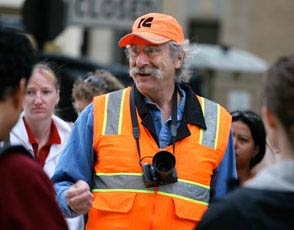 Dan Burden, executive director of Walkable Communities, a nonprofit organization seeking to promote walkability as the cornerstone of a successful, vibrant community, pointed out successes and shortcomings of the Texas A&M campus and adjoining streets to students who joined him on a stormy March 31 for a pedestrian audit hosted by Texas A&M's College of Architecture.
Burden's visit, which included an afternoon lecture, was sponsored by the Hazard Reduction and Recovery Center's Graduate Certificate in Transportation Planning program. Burden's lecture, later that day, kicked off the an ongoing symposium examining contemporary issues in transportation hosted by the Department of Landscape Architecture and Urban Planning.
See a YouTube video of the pedestrian audit.

COSC students master exams
to become LEED AP certified

Three students pursuing bachelor's degrees in construction science at Texas A&M's College of Architecture have enhanced their résumés, becoming certified as LEED Accredited Professionals: after passing a rigorous exam while juggling internships and schoolwork.
"Certification in LEED (Leadership in Energy and Environmental Design) is a very sought after and desirable qualification," said George Eustace, senior lecturer of construction science. "Many construction companies have established goals for their employees to become LEED certified."

Students visit Port of Houston's
Bayport wharf expansion project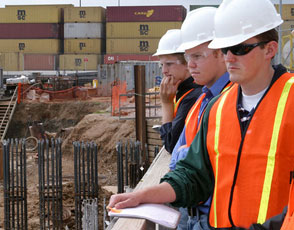 Texas A&M construction science students in Julian Kang's Industrial Capstone Course journeyed to Seabrook, Texas March 25 to visit the site of a massive wharf expansion at the Port of Houston's Bayport Terminal Complex.
"I have asked students to come up with a construction method, sequence, schedule and cost estimate for the wharf expansion project," said Kang.
Five teams of four students each are using the trip as well as class visits by representatives of the project's construction contractor, McCarthy, to help them create their plans.
See a YouTube video of the students' visit.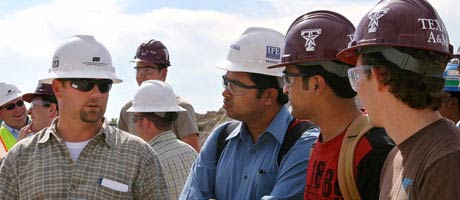 Eric Blankenship, Satterfield and Pontikes general superintendent, talks with students.
Constructors detail industry use
of practical project delivery, BIM
Construction science students at Texas A&M's College of Architecture learned how practical project delivery and building information modeling are being used in the construction industry from George Pontikes, president and CEO of Satterfield and Pontikes Construction Inc., and other S&P representatives who visited the Texas A&M campus April 14.
Pontikes and Samuel Sprouse, practical project delivery manager, Joshua Harrison, building information modeling coordinator and Ashley Young, building information modeling specialist, made presentations in the Wright Gallery and Preston Geren Auditorium showing how their firm is using PPD and BIM at one of its current projects, the construction of the Texas A&M Health Science Center.

Construction students wow industry
pros with BIM video presentations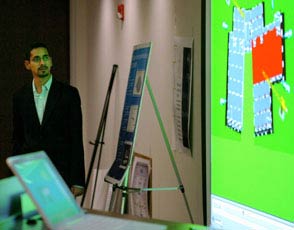 A group of graduate and undergraduate students from Texas A&M's Department of Construction Science impressed an audience that included George Pontikes Jr., president and CEO of Satterfield and Pontikes Construction, Inc., as they presented Building Information Modeling-based videos of the construction process at the Texas A&M Health Science Center.
"I travel the country and view presentations, and yours were second to none," Pontikes told the group, who were assembled at S&P's corporate headquarters in Houston. "It's amazing that one group could do this well. I thought you were the most confident group of presenters I've ever seen in my life."

Also online:
Master of Urban Planning students
aiming to help Sealy's downtown
CIAC members discuss construction
science program, hear presentations

In the studio:


A view from the south of a design for Bakong Technical College created by Tommy Bett, Allison Forman, Anna Gorski, Marjorie Pirics and Emau Vega.
Rogers directs students designing
educational facility in Cambodia
Students in a second-year Texas A&M architecture design studio have developed concepts for Bakong Technical College, a facility established to help lift the Cambodian people out of subsistence living through education.
"Two decades of war, revolution and genocide have left much of the Cambodian landscape unsafe due to landmines, its resources in decline, the economy unstable and its people in poverty," said Ranachith "Ronnie" Yimsut, program coordinator of Project Enlighten, which is founding the BTC.
Project Enlighten is a U.S.-based nongovernmental organization that provides educational and humanitarian assistance in Southeast Asia based on need.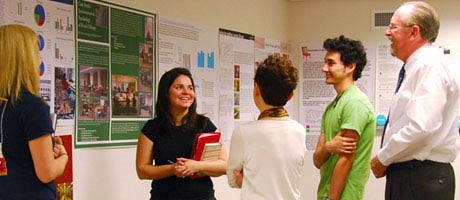 Students Maria Menendez, center, and Berit Colley, left, answer questions from Sandra Tucker, head of science and engineering services of university libraries, student Ivan Trevizo, and Charles Gilreath, executive associate dean of university libraries, at a reception showing the students' research results of the effects the library's design has on users.
Zhu's class studies effects of Evans
library's design on staff, patrons
The staff at Texas A&M University's Evans Library recently got some ideas for an upcoming first-floor renovation from students in the Social and Behavioral Factors in Design class at the College of Architecture.
The 71 students in the class, led by Xuemei Zhu, assistant professor of architecture, studied effects of the library's design on users and its staff and presented their findings on posters that were exhibited in the library March 10-13.
The students' research yielded a wide range of results.

Students collaborate with HKS
on Taiwan cancer center project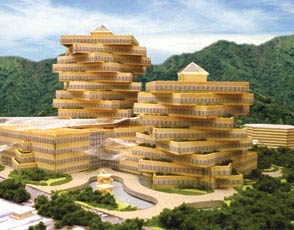 Students in a spring 2009 Architecture-for-Health studio at Texas A&M's College of Architecture presented design concepts for a new National Taiwan University Cancer Center and Proton Center May 4 at the HKS offices in Dallas.
Eleven students working in four teams worked with architects from HKS to create designs for the 1.3 million square foot, 500-bed cancer center that will offer proton therapy in four rotating beam rooms, radiation therapy, chemotherapy, a surgery department with 12 operating rooms, bone marrow transplant units, an outpatient clinic, a stem cell transplant center and a preventative medicine center. When built, the facility will provide Taiwan's most advanced cancer treatment services.

Students design, construct
retreat in virtual universe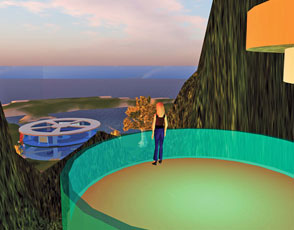 Second Life online platform provides surrogate design environment offering students a creative advantage
This semester, Dr. Susan Rodiek's third-year design studio created a real-world project, the "Pico de Paz — A Therapeutic Retreat," in the very unreal environment of Second Life, an online virtual reality community.
The Second Life platform, created and supported by Linden Labs of California, allows individuals to create an avatar, or a representative character, that they control in the online world. Users have the ability to change their appearance, interact with others, and modify their environment "in world," within the platform's digital environment.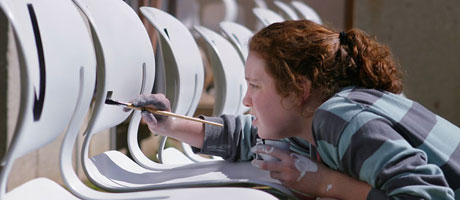 Katie Smither paints letters on Herman Miller chairs.
Students, Rebar Group create
campuswide art happenings
Art was made available for public participation in various campus spots April 3 as the result of a collaboration Tetrahedrons are aloft in front of the academic building on the final day of student collaboration with Rebar in the college's Artist in Residence program between students and artists in Rebar, a San Francisco-based art collective, during the 2009 Artist in Residence program at Texas A&M's College of Architecture. Passers-by paint on a mobile art station in Diversity Plaza.
The temporary pieces, some in fixed locations, some mobile, were designed in what might be called a minimalist fashion.
See the full story, more photos
See a YouTube video of the students' collaborations with Rebar.

Also online:
Art rendered from recycled materials
commemorates Earth Day at Langford

Research: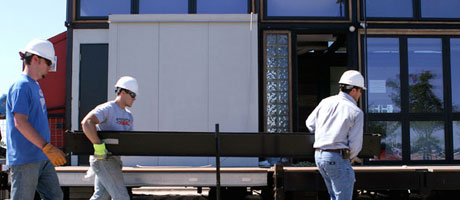 Workers dismantle the groHome at the Bush library parking lot for its journey to San Antonio.
Aggie solar home moved from Bush library to
San Antonio as hub of new research initiative

Texas A&M College of Architecture's award-winning entry in the 2007 U.S. Department of Energy's Solar Decathlon, the solar-powered groHome, is currently being moved from College Station to San Antonio where it will take center stage in a new collaborative sustainable communities research initiative undertaken by the Texas A&M University System.
In San Antonio, the home will be utilized by the Collaboratory for Zero-Impact Self-Sustaining Communities, Neighborhoods, Facilities and Dwellings, a research consortium encompassing a wide range of scholars from disciplines including architecture, engineering, agriculture and life sciences, who are developing sustainable solutions applicable to the built and natural environments.

Urban planning professors investigate
lost transportation improvement funds
Because Texas is facing a transportation infrastructure funding crisis, the state is losing funds that could be used to finance transportation improvements. To determine the degree of this loss, three urban planning professors at Texas A&M are launching an 18-month study in June.
Were the state to establish regional mobility authorities (RMAs), the researchers suggest it could capture additional tax money derived from the rise in property values in areas where transportation infrastructure improvement occur, then reinvest the funds in transportation.

Yan using BIM to study new way of
cooling nuclear power plants with ice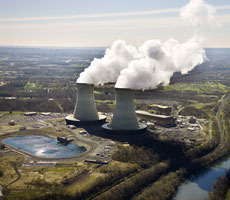 A Texas A&M architecture professor has teamed up with researchers at Idaho National Laboratory to investigate a new technology, ice thermal storage (ITS), for cooling nuclear power plants. If feasible, the ITS system could provide substantial operational savings and even benefit the environment.
Wei Yan, assistant professor of architecture at Texas A&M, is a co-principal investigator on the feasibility study funded by a $200,000 U.S. Department of Energy's Lab Directed Research and Development (LDRD) grant. He's researching the use of Building Information Modeling (BIM) in the early design, modeling, and estimating of ITS buildings. Yan's research is supported by part of the LDRD grant through a subcontract with Idaho National Laboratory.

CHSD faculty fellows comment on U.S. health
care building boom, evidence-based design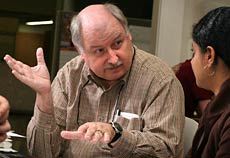 In an article documenting a healthcare building boom under way in the United States, two Texas A&M architecture professors state why savvy hospital administrators are turning to evidence-based design solutions for new facilities.
Lisa Zamosky, writing in Leadership, a special report produced by a subsidiary of the Healthcare Financial Management Association, said a Minnesota hospital's effective and pleasant design led to a rush of applicants in a state that is suffering from a shortage of nurses.

Ulrich's pioneering research highlighted
in healthcare association special report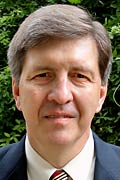 Landmark research by Roger Ulrich, professor of architecture at Texas A&M, was lauded in an article in Leadership, an annual special report published by Healthcare Financial Management Association.
Writer Lisa Zamosky recounted Ulrich's 1984 pioneering study in a suburban Philadelphia hospital that showed a big difference in the experience of patients whose rooms looked out onto a small grove of trees, and those whose rooms had a view of another building.

Ulrich extols evidence-based design
in Washington, D.C. panel discussion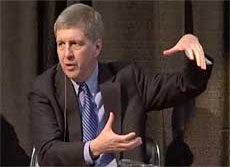 Texas A&M architecture professor Roger Ulrich, recently addressed the benefits of evidence-based design for the health care industry in a distinguished panel discussion, "Healthy Hospitals," held as part of the National Building Museum's "For the Greener Good" lecture series.
The entire discussion examining why a green hospital is a healthier one can be viewed online at vimeo.com.

Researchers creating device to project
healing light art into hospital rooms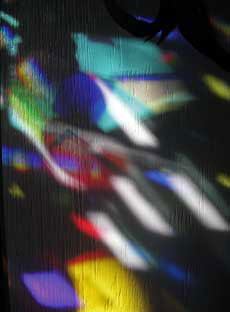 A Texas A&M architecture instructor is currently working with HKS on experimental prototype designs for a device that reflects sunlight into colorful artistic patterns, which, when projected on walls or ceilings of hospital rooms, can promote healing.
According to designer Dr. Jill Mulholland, a Department of Architecture lecturer, the colorful patterns will evolve throughout the day and change with the seasons. She is collaborating on the project with Marsha Whitt, an HKS project architect.

Dumbaugh's traffic research lauded
in May issue of Planning magazine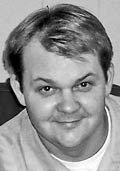 An urban planning professor at Texas A&M has broken new theoretical ground with his research showing there are fewer auto accidents in neighborhoods with traditional features, according to an article appearing in the current issue of Planning Magazine.
Eric Dumbaugh, assistant professor of urban planning at Texas A&M's College of Architecture, modeled accidents for almost 750 block groups in San Antonio, wrote Reid Ewing, professor of city and metropolitan planning at the University of Utah.

Dvorak launches green roof
experiment atop Langford A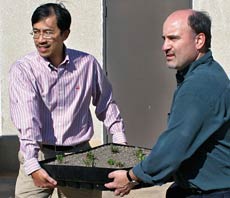 Landscape architecture students at Texas A&M recently helped their professor launch a green roof experiment at the Langford Architecture Center.
"It's a one-year investigation looking at four different species of plants I'm trying to establish on the Langford A roof," explained Bruce Dvorak, assistant professor of landscape architecture.
Texas A&M, he said, is interested in green roofs but lacks a pilot project on campus to demonstrate what it takes to get plants established and maintain them.
See a YouTube video of students getting the plants ready


Newscast features sex offender tracking
system created by college researchers
An online system for tracking registered sex offenders and estimating neighborhood risk levels developed by researchers at Texas A&M University and utilized by the Bryan, Texas police department was recently featured in an Orlando, Fla. newscast.
The system, employing geographic information system (GIS) technology, was developed by Praveen Maghela and Miriam Olivares, doctoral students in the Urban and Regional Science program, at Texas A&M's Department of Landscape Architecture and Urban Planning, under the direction of Douglas Wunneburger, a research scientist who heads the department's GIS laboratory.

Also online:
Varni research developing tools
to measure children's well-being
Ulrich helps Swedish researchers measure
effects of hospital's state-of-the-art design
Fisk featured in magazine panel
forecasting housing's next decade

Honors:

Current, former landscape architecture
students dominate Texas ASLA Awards
Current and former Texas A&M landscape architecture students made an impressive showing at the April 16 Texas Chapter American Society of Landscape Architects Awards Banquet in Austin, earning 11 awards for individual and group projects.
The 2009 Award of Excellence went to Dennis Jerke MLA 1978 for "Urban Design & the Bottom Line," a project he spearheaded for Jacobs. Jerke is an Outstanding Alumnus of the Texas A&M College of Architecture and a member of the Department of Landscape Architecture and Urban Planning's Professional Advisory Board.

Wind turbine project assisted by
CHUD nominated for state award
The state's environmental agency has recognized a partnership between the Center for Housing and Urban Development at Texas A&M's College of Architecture and the Texas Engineering Experiment Station for its role in bringing electricity to residents of colonias near Laredo.
The Texas Commission of Environmental Quality tapped the project, in which 40 Laredo high school students built and installed wind turbines with assistance from CHUD and TEES, as a finalist in its Texas Environmental Excellence Awards competition.

Wells elected to National Board
of Tau Sigma Delta Honor Society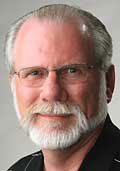 Ward V. Wells, professor of architecture at Texas A&M University and director of the university's Academy of Visual and Performing Arts, was recently elected to the National Board of Tau Sigma Delta, the national honor society of architecture and allied arts. He will serve the first two years of his six-year term as vice president/president elect.
Established in 1913, Tau Sigma Delta is open to students of all U.S. colleges and universities that have accredited programs in architecture, landscape architecture or allied arts. The organization celebrates excellence in scholarship and stimulates intellectual achievement.

Also online:
Future studentís art sells for $145K
at Houston livestock show auction
Landscape architecture major shoots
her way onto Texas A&M Pistol Team

Class Acts: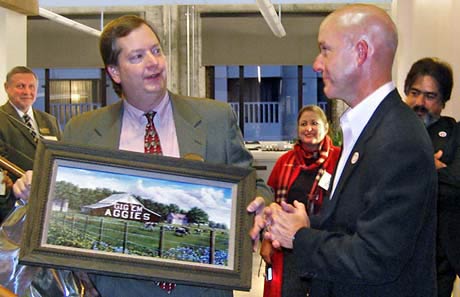 Aggies gather at AIA San Francisco reception
Paul Bohn '84, vice president and director of operations for the SmithGroup-California, hosts of the May 1 Texas A&M reception at the 2009 American Institute of Architects Convention in San Francisco, receives a painting by architecture former student Benjamin Knox from Larry Zuber, senior director of development for the College of Architecture. The reception, sponsored by the College and Department of Architecture, was held at SmithGroup's San Francisco offices. Bohn is an Outstanding Alumnus of the college..

Class Acts: Former students
touch base with the college

Catch up with your old classmates in the archone. newsletter's Class Acts section, a regularly updated list of recent activities reported by former students of the Texas A&M College of Architecture. Class Acts highlights professional achievements, as well as marriages, births, retirements and just about anything College of Architecture graduates care to tell their old friends.
In addition to the former student news briefs listed by class year, each semester's Class Acts section also offers more detailed features on former student activities.
The college encourages former students to use Class Acts to report news of interest or professional achievements and to update their contact information so they keep abreast of college activities of interest to them.
Former students can report news and update their contact information online at archone.tamu.edu.
While there, please remember to enter your current e-mail address. To save funds, as well a few trees, the college is relying more and more on electronic communications.

Charles M. Hix Jr., former dean of
College of Architecture, dead at 82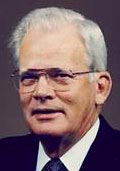 Charles M. Hix Jr., dean of Texas A&M College of Architecture and Environmental Design from 1981 to 1985, died Monday, April 20 at his College Station home. He was 82 years old.
As dean of the college, Hix is remembered as "a distinguished gentleman" and "a very effective teacher and practicing engineer," by his successor, Donald A. Sweeney, associate professor of urban planning who served as interim dean when Hix stepped down in 1985. "His regime oversaw a period of stability and growth," said Sweeny.

Outstanding Alum's firm lauded for lifetime
achievement in architecture, preservation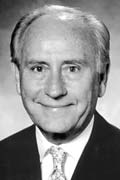 An Abilene, Texas architecture firm co-founded by two former Texas A&M architecture students was honored May 5 with lifetime achievement award presented by the Abilene Preservation League.
James Tittle, an Outstanding Alumnus of the college, and Jack Luther began the Tittle Luther Partnership in Abilene seven years after receiving architecture degrees in 1949 and 1950, respectively.

Former student's photos on
exhibit at Fort Collins Gallery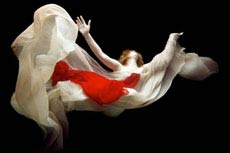 Photographs by Texas A&M University visualization graduate Igor Kraguljac, are being featured in the newest exhibition at The Center for Fine Art Photography in Fort Collins, Colorado, through May 23.
"Human Canvas" seeks to explore the ways the human body can be an integral component of art, the center's spokesman says. Images in the exhibition present the human figure painted, bandaged, wrapped and tattooed. The Center for Fine Art Photography is a non-profit organization with a mission to showcase the work of leading and emerging photographers and educate the public about the collectible value of photographic art.

Also online:
Construction science grad takes reins
as community development director
Scholarship from former student
funds BED major's study in Italy
Former student profiled on
his elevation to AIA Fellow
Former student called 'vital cog'
in expanding construction firm
BED graduate named to top
positions at Rees Associates
Former student serves as project
manager for nonprofit building

Events:
Lang curates re-creation of historic MoMA
exhibit at New York's Columbia University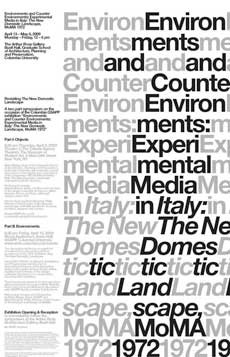 Peter Lang, assistant professor of architecture at Texas A&M's College of Architecture, is one of three curators of an exhibit recreating a landmark 1972 show originally exhibited at New York's Museum of Modern Art.
"Environments and Counter Environments, Experimental Media in Italy: The New Domestic Landscape, MoMA 1972" assembles, for the first time since 1972, original documents and multimedia projections featured in the historic show curated by Emilio Ambasz.
The exhibition, open to the public April 19 - May 8 at the Arthur Ross Architecture Gallery in Columbia University's Buell Hall, focuses on the 1972 show's Environments section that featured a series of full-scale experimental domestic modules designed for the exhibition and installed in the MoMA galleries.

ARchiTecture: 2009 College of Architecture
Faculty Biennial art show runs through May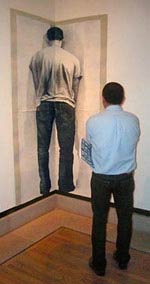 The College of Architecture Biennial Faculty Art Show, "ARchiTecture," continues through May 31 at the Memorial Student Center's J. Wayne Stark Galleries
This year, 23 faculty and staff from the college are exhibiting in a variety of media, including video, oil paintings, geometric models, and photography.
Faculty and staff exhibiting this year are: Ergun Akleman, Joshua Bienko, Richard Davison, Brian Dougan, Howard Eilers, Philip Galanter, Donna Hajash, Weiling He, Rodney Hill, Karen Hillier, William Jenks, Carol LaFayette, Gerald Maffei, Jill Mulholland, Michael Murphy, Frederic Parke, Paolo Piscitelli, Gary Robbins, Mary Ciani Saslow, Robert Schiffhauer, Phillip Tabb, David Woodcock, and Glen Vigus.
Visit the Stark Gallery website

Piscitelli sculpture dedicated on
east side of Langford C building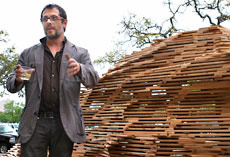 A March 24 dedication ceremony formally acknowledged the latest addition to the grounds of the Texas A&M College of Architecture: "In Between the Lines," a sculpture created by Paolo Piscitelli, assistant lecturer of visualization.
Piscitelli created the sculpture, located on the east side of the Langford Architecture Center's building B, at the college's Architecture Ranch at Texas A&M's Riverside Campus as part of its spring 2008 Artist-in-Residence program.

Also online:
Students mark Earth Day with
balloons, booth at Rudder event
College sponsors Earth Day
tour of Peckerwood Gardens
AIAS aids Habitat for Humanity
at annual Shack-a-thon event

March 26 - May 31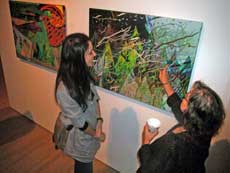 Biennial Faculty Art Exhibit runs March 26-30 at the Memorial Student Center's Stark Galleries. This year, 23 faculty and staff from the College of Architecture at Texas A&M are exhibiting in a variety of media, including video, oil paintings, geometric models, and photography. An opening reception with exhibiting artists is scheduled 6:30 p.m. Thursday, March 26. For more information about the exhibit, contact Mary Saslow at saslow@viz.tamu.edu or 979.845.7073.
May 4-9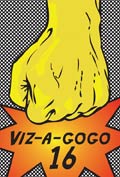 Viz-a-GoGo 16, the Department of Visualization's annual public showcase of digital wizardry created by students in the Master of Science in Visualization Science program at the Texas A&M College of Architecture, features still, or "flat" work, all week in the Rudder Exhibit Hall. On Friday and Saturday, May 8-9, the main event — time-based work, will be screened at 7 p.m. in Rudder Theater. Prior to the screening, from 4-6:30 p.m. students will provide short talks and demonstrations of their thesis projects in the Rudder Exhibit Hall. For more information, contact Margaret Lomas-Carpenter at 979.845.3465 or marge@viz.tamu.edu.
May 6
AIAS meets — The American Institute of Architecture Students meets 6:15-8 p.m. in Langford C 105. For more information, contact Jacob Spence at jwspence123@gmail.com.
May 11
Architectural Department meeting is slated for 12-1:30 p.m. in the Wright Gallery.
May 15
Graduate honors presentation: Graduating College of Architecture graduate students and graduate certificate recipients will be honored in a special ceremony 10 a.m. Friday, May 15 in the Preston Geren Auditorium, located in Langford Building B.
May 15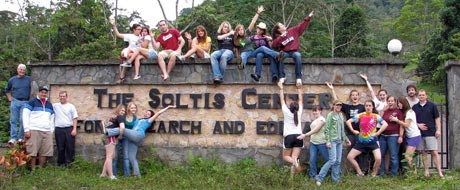 Freshman Trip to Costa Rica: A group of 15 freshmen students from the College of Architecture are traveling to Texas A&M's new Soltis Center for Research and Education located adjacent to the Monteverde Cloud Forest in Costa Rica. While there, students will tackle a two-day design project led by Jorge Vanegas, interim dean of the college. Activities include a zip-line tour of the cloud forest. For more information contact Ann Frankovich at aggieann11@yahoo.com.
May 18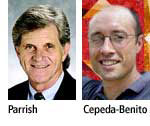 Promotion & Tenure Q&A: Paul Parrish, interim dean of faculties, and Antonio Cepeda-Benito, associate dean of faculties and faculty ombuds officer, will talk to College of Architecture faculty about the promotion and tenure process and answer questions 9-11 a.m. in the Wright Gallery, on the second floor of the Langford A Building. For more information, contact Staci Hazlett at 458.0478 or shazlett@archmail.tamu.edu.
May 19
Visualization department meets: Faculty and staff of the Department of Visualization meets 10 - 11 a.m. For details, contact Margaret Lomas Carpenter at 845.3465 or marge@viz.tamu.edu.
May 19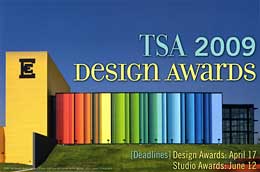 TSA Studio Awards Deadline — Entries for the Texas Society of Architects Studio Awards must be received by 5 p.m. on Friday, June 12. The design must have been completed after Dec. 31, 2003. Winning projects will be honored at the TSA Convention in October 2009 and featured in Texas Architect magazine. For entry forms and information, download rules and instructions.
July 12-18
Camp ARCH, the Texas A&M College of Architecture's summer camp familiarizes high school-age students with careers in fields taught at the college. The program, designed to teach participants about the opportunities available with an architecture-based degree, takes place in the Langford Architecture Center. For more information, contact Ann Eastwood at 979.845.0289 or aeastwood@archone.tamu.edu.
September 23
Overseas Day is an opportunity for students to learn about numerous study abroad opportunities including Texas A&M faculty-led programs, exchange programs, internships abroad, etc. Students will also get the chance to speak to Aggies who have studied abroad; professors who conduct study abroad programs, and study abroad advisors. Students can have passport photos taken, start the passport application process, and possibly win a door prize. Overseas Day will be held 10 a.m. – 2 p.m. in the Rudder Exhibition Hall. For more information contact Robin Miller at rmiller@ipomail.tamu.edu.
November 12
The Dean's Advisory Council Dines at Christopher's World Grille. For more information contact Trish Pannell at t-pannell@tamu.edu.
November 13
Dean's Advisory Council meets at the Langford Architecture Center. For more information contact Trish Pannell at t-pannell@tamu.edu.
Outstanding Alumni Banquet, the annual celebration of former student achievements, begins with a 6:30 p.m. reception at the Miramont Country Club followed by dinner and the awards program. For more information contact Trish Pannell at t-pannell@tamu.edu.

Exhibit preparations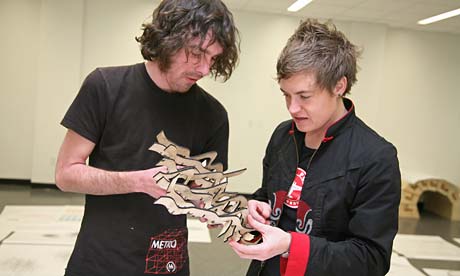 Jenny Sabin, the final artist in spring 2009 to visit the College of Architecture through its Artist in Residence program, works with Barrett Davis as they ready an exhibit in the Langford B exhibit hall. The college's Artist in Residence program is sponsored by the Department of Visualization and the Texas A&M Academy of Visual and Performing Arts.