Pointe du Hoc in Normandy, France, one of World War II's most important battlefields and a source of pride for Aggies everywhere, will reopen to the public this fall following a $6 million restoration, now under way, that was informed by research gathered by the Center for Heritage Conservation at the Texas A&M College of Architecture. See story, photos

College leaders seek stakeholders'
input on proposed 10% budget cut
Administrators for the Texas A&M College of Architecture are soliciting input from college stakeholders as they plan for a potentially permanent 10% budget reduction scheduled to take effect September 2011.
"I recognize this level of reduction will force some very hard choices amongst some very useful activities, and it will cause personnel actions that will impact members of our university community," said Texas A&M President R. Bowen Loftin in a June 14, 2010 memorandum (53K PDF) to vice presidents and deans outlining planning guidelines for a $60 million university-wide budget reduction.
The president's request anticipates a "worst case scenario" $39 million cut in state appropriations, as well as a proposed strategic reallocation of resources to fund merit pay increases and university programs of excellence for the 2011-12 academic year.
See story - submit suggestions

Aggie solar light pipe team wins
EPA sustainability competition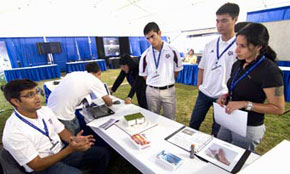 A "solar pipe" system, designed by a Texas A&M College of Architecture team, was among the winning entries in a U.S. Environmental Protection Agency-sponsored sustainability competition held April 23-26 on the National Mall in Washington, D.C.
The A&M team was one of 14 in the 42-team nationwide competition to earn an EPA P3 Award, which includes $75,000 to further develop the winning design, implement it in the field, or move it to the marketplace.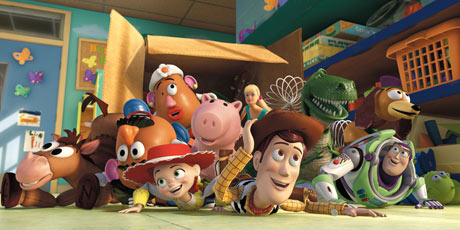 Toy Story 3: Image © Disney/Pixar
Aggie Vizzers help create new 'Shrek', ' Toy Story '
Theatergoers who stick around for the credits for current releases "Toy Story 3," "Shrek Forever After," "The A-Team," "Iron Man 2," "Marmaduke" or "The Last Airbender" can spot the names of dozens of Aggie "Vizzers" — graduates from Texas A&M's masters program in visualization sciences — who were leading contributors to each film.
Texas A&M's Master of Science in Visualization Sciences program, now offered through the Department of Visualization at the College of Architecture, has provided a steady stream of leaders in the growing field of digital and electronic visualization since its creation in 1989. Program graduates have achieved success as creative directors, computer animators, university professors and software designers, with the majority working in the animation, visual effects and electronic gaming industries.

Outstanding Alum tapped to lead
American Institute of Architects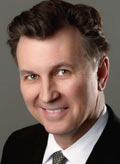 Jeff Potter, FAIA, an outstanding alumnus of Texas A&M's College of Architecture and principal of the Texas architecture firm, POTTER, was recently elected to lead the American Institute of Architects as its first vice-president/president elect in 2011 and president in 2012.
Chosen to the post during the AIA's national convention, held June 10-12 in Miami, Potter holds both Bachelor of Environmental Design (1978) and Master of Architecture (1979) degrees from Texas A&M.
He will be the fourth Texas A&M former student to hold the top AIA post.

Department of Visualization to
host VizKids camp July 18-24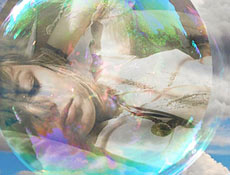 Kids entering grades 7-9 can get an introduction this summer to the world of computer animation and cinematography during VizKids camp, hosted by Texas A&M's Department of Visualization.
Campers will be immersed in hands-on sessions of 3-D character modeling, beginning computer animation, lighting and Google Earth mapping. Classes will be further enlivened by presentations from visualization industry professionals.
Outside of class, students will experience plenty of fun social activities and have the opportunity to be immersed in the university experience.

Research:
Texas A&M prof's video series on outdoor space
design for the aging earns ASLA research award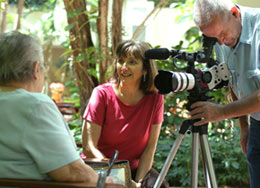 An educational video series created at Texas A&M University that shows how to create healthy, inviting outdoor environments for seniors in residential settings recently garnered international recognition from the American Society of Landscape Architects.
The three DVD series, "Access to Nature: Planning Outdoor Space for Aging," created and directed by Susan Rodiek, an associate professor of architecture at Texas A&M, earned honors in the research category of the 2010 ASLA Professional Awards.

Graduate construction science students
present research at April symposium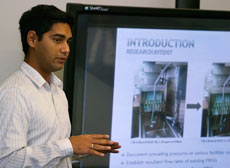 Job site safety, project cost estimation, economics, masonry and sustainability were among the many topics explored by graduate construction management students from Texas A&M at an April 20 student research symposium sponsored by the Department of Construction Science at the Langford Architecture Center on the Texas A&M campus.
At the event, 18 students presented their research in three concurrent sessions.
"Research in construction management is very important to industry and academia, because it often enhances productivity," said Julian Kang, coordinator of the department's graduate program. "We want the industry to know our graduate students are doing serious research."

Graduate student makes legendary Aggie
architect's drawings accessible to scholars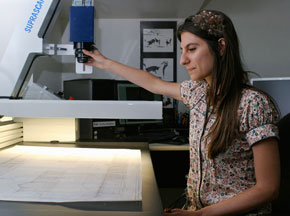 Serra Akboy, a Texas A&M doctoral student in architecture, has made a collection of drawings by Raiford Stripling '31, an Aggie architect who pioneered historic preservation in Texas, available to scholars by digitizing and creating an inventory of his drawings at Texas A&M's Cushing Library.
"My specialization is integrating technology into architectural conservation and historical preservation," Akboy said. "These drawings are part of Texas' cultural heritage, and have to be preserved."

Texas A&M studies cited in article
highlighting rise of ecopsychology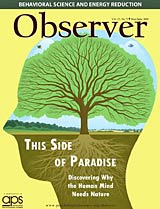 Two Texas A&M studies on the restorative powers of nature were cited in a recent article examining the maturation of ecopsychology as a legitimate field of study.
The cover story, "This Side of Paradise: Discovering Why the Human Mind Needs Nature," penned by Eric Jaffe, a blogger for Psychology Today, appears in the May/June issue of Observer, a publication of The Association for Psychological Science.
Today more than ever, Jaffe says, the scientific community is embracing what in 1865 Frederick Law Olmsted, the celebrated designer of New York City's Central Park, called the "scientific fact" that nature "is favorable to the health and vigor of men."

Construction science profs tour
Texas, share research findings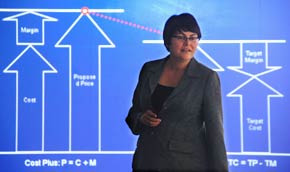 Texas A&M construction science professors shared their latest research findings with construction industry professionals at venues throughout Texas during a recent departmental Research Road.
Sponsored by the Department of Construction Science, the four stops on the annual tour marked a four-fold expansion from last year's inaugural event in Houston.

Method of measuring buildings' energy
consumption developed by Haberl, Culp
and fellow researchers wins U.S. patent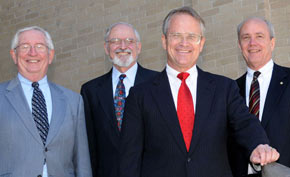 Jeff Haberl and Charles Culp, two professors at Texas A&M's College of Architecture, are part of a team that earned a U.S. patent for developing a new way of determining current and future energy consumption of various types of buildings.
Their unique evaluation technique involves creating an energy consumption model from data detailing a facility's energy consumption and data associated with the facility, such as its size, as well as variable data associated with the facility, such as its outside temperatures.

Master of Urban Planning students
see drop in Galveston's population
Research by students in the Master of Urban Planning program at Texas A&M has led to a report estimating Galveston's population since Hurricane Ike has dipped below 50,000 residents, reported Rhiannon Meyers in the June 1, 2010 issue of the Galveston County Daily News.
The report resulted from a research project by students in an Applied Planning II course led by Shannon Van Zandt, assistant professor of urban planning, who added that students also produced an existing land use map for the city of Galveston.

Noted architectural publication to feature
faculty's research on sacred architecture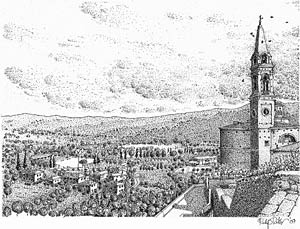 Presentations related to sacred architecture delivered by two members of the Texas A&M College of Architecture faculty to the Forum for Architecture, Culture and Spirituality will be featured in the December issue of 2A, an architecture and art magazine published in Dubai.
Phill Tabb, who presented "Place Drawing as a Sacred Practice" at the organization's June 17-19 symposium held in Collegeville, Minn., was selected as one of three editors for the upcoming 2A feature. His own work, as well as that of his colleague, Anat Geva, who discussed the original lighting design in Frank Lloyd Wright's Unity Temple, will be highlighted in the international publication.

Also online:
Committee chaired by Haberl writes book
of building energy performance standards
Students present 2-1-1 hurricane study
findings to directors of relief agencies
Panamanian media interviews
solar light pipe team member
Solar light pipe project attracting attention
from educators, professional organizations

Outreach: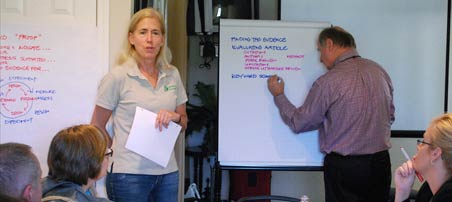 Mardelle Shepley, director of the Center for Health Systems & Design, leads a boot camp session. At right is Kirk Hamilton, CHSD associate director.
Center for Health Systems & Design conducts
evidence-based design 'boot camp' for pros
Professional architects learned about evidence-based design during a boot camp hosted April 8-10 by Texas A&M's Center for Health Systems & Design.
Among their assignments for the camp, architects were asked to search for literature relevant to their respective projects and identify how to make an interpretation of their findings that's useful for design concepts, said Kirk Hamilton, associate professor of architecture and CHSD associate director.
"They worked late and they had homework," said Hamilton, "but they all left pumped up, saying it was going to change the way they work."

Texas A&M Research Consortium to help
electric coops, municipal, public utilities
develop smart grid business models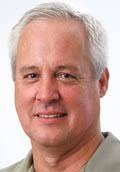 The Texas A&M University College of Architecture is forming a six-month research consortium beginning May 1, 2010 to help electric cooperatives, municipal and other public utilities evaluate the business case for smart grid investments.
"The economic costs and benefits of individual smart grid components depend on a large number of factors that are especially difficult for electric coops, municipal and other public utilities to address," said consortium leader Jerry Jackson, an energy economist and associate professor in the Texas A&M Department of Construction Science, who holds a doctorate in economics.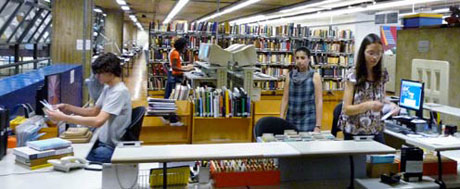 Students in the library at the School of Architecture and Urbanism at the University of São Paulo.
Associate dean visits Brazilian universities
Lou Tassinary, executive associate dean of the College of Architecture, recently joined a group of Texas A&M administrators on a trip to Brazil to establish ties for future research collaborations and student exchanges.
The trip was part of an initiative led by John Holdren, director of the White House's Office of Science and Technology Policy, to increase collaboration between the two countries in scientific and economic areas.

Also online:
Texas A&M researchers seek product
information from smart grid vendors

Academics:
Design Process students again fare well
in annual 'Ideas Challenge' competition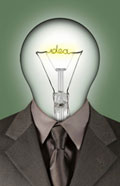 Students in the Design Process class at Texas A&M's College of Architecture once again dominated the annual Ideas Challenge sponsored by the Mays Business School's Center for New Ventures and Entrepreneurship.
Cameron Brown, an industrial distribution major, won first and second place in the 2010 competition. A team entry submitted by Tyler Behm, Christopher Chen, Mary Hesse, Steven Laxton Luis Lopez and Liz Roberts earned one of the contest's three third-place awards.

Facility management students
see NASA 'green' initiatives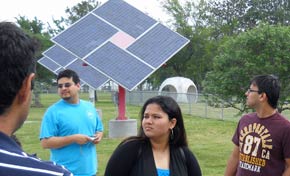 Members of Texas A&M's Facility Management Student Chapter learned about NASA's latest sustainability initiatives during an April 16 visit to Houston's Johnson Space Center.
The students visited JSC's Building 20, a recently completed office facility that received a LEED-Platinum rating.
"NASA officials took us on a tour of the building and explained how it works, the sustainability initiatives implemented there, and what they did to earn the platinum certification," said Sarel Lavy, assistant professor of construction science and the chapter's advisor.

Department of Visualization
lands five diversity scholars

Texas A&M's Department of Visualization will enhance its diversity this fall, admitting four students who are pursing graduate degrees in visualization with the help of diversity fellowships from the Office of Graduate Studies.
Faculty members nominate prospective graduate students with a proven record of success in a diverse environment, and students are selected for the fellowships based on overall merit and the nominating department's statement of support.

Also online:
Students develop proposal for
sustaining Peckerwood Garden
Construction science department hosts
CIAC members at College Station Hilton

In the Studio:
Second-year design students design,
build models for campus train station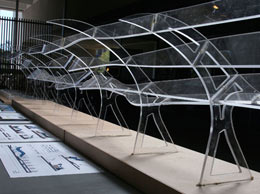 Using ideas from three techniques that are revolutionizing the design-build arena, Texas A&M architecture students recently designed a large train passenger depot for campus, then turned the designs into models at the College of Architecture's digital fabrication facility.
"They produced spectacular work in a relatively short period of time combining ideas from building information modeling, evidence-based design and integrated project delivery," said Mark Clayton, the architecture professor who led the second-year studio.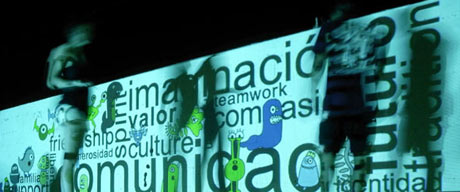 A night view of a projection of the Las Lomas wall.
Students establish ties with residents
of Rio Grande colonia in pilot studio
Students in a fourth-year design studio at Texas A&M connected with residents of Las Lomas, a Rio Grande Valley colonia, designing and helping them paint a community mural during a trip to the Texas borderland.
Led by Peter Lang, associate professor of architecture at Texas A&M, the trip was part of a pilot studio that Lang hopes is just the beginning of the College of Architecture's involvement with the settlement, located three miles from the Texas-Mexico border.
See story, photos & watch video

Prestigious Italian designer invites
student to lead shoemaking sessions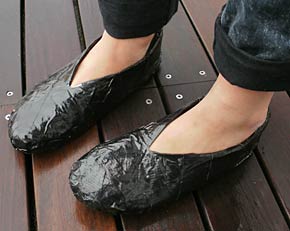 With two old socks, duct tape and packing foam, environmental design student Zach Weldy has devised an inexpensive way to make emergency shoes, an idea that caught the attention of an influential Italian designer and earned Weldy a trip to Italy to lead shoemaking workshops.
Weldy, who graduated in May, developed the duct tape shoe concept when Peter Lang, associate professor of architecture, asked students to design survival objects as part of a spring 2010 studio.

Design students provide concepts for
sustainable community on the Brazos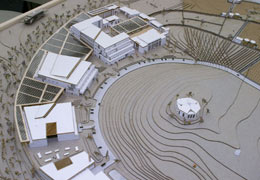 Students in a spring 2010 studio, led by professor of architecture Phillip Tabb, were asked to create designs for a sustainable ark, or community-based settlement, designed for survival, maximum sustainability and an enriched relationship to place.
Designs for the ark included 100,000 square feet of housing for 100 families, 75,000 feet of space for those families to produce goods and services appropriate to the sustainable lifestyle and areas for community gatherings, banking and town hall meetings.

Also online:
Deal provides college faculty, students access
to complete suite of Bentley Systems software

Art/Visualization: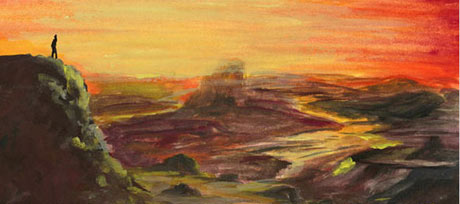 "Lonely planet," by Suruchi Sharma
Vizzer holds solo exhibit in Wright Gallery in April
Art by Suruchi Sharma, a graduate student in the Department of Visualization, was on display at the Wright Gallery in April 2010.
"The work was the output of a semester-long study of environment and space design," she said. "There was a diverse collection of some of my personal work along with studies of various sci-fi and fantasy environments from major movies and games."
Sharma's work was produced in a directed studies class led by Richard Davison, professor of architecture.

Viz-a-GoGo 17 wows downtown
Bryan crowds with 'simpli-vision'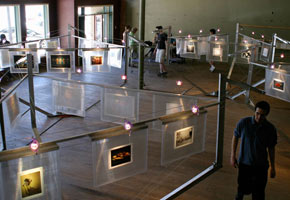 Videos from the 17th annual Viz-a-GoGo, a showcase of work produced by the digital wizards in the Master of Science in Visualization Sciences program at Texas A&M University, can be viewed on the Department of Visualization's Vimeo website.
The show's main events, the public screenings of short, special-effects laden videos and digital animations, were held at the Palace Theater, 105 South Main Street.
At the second venue in the formerly vacant Old Texas Furniture Store (pictured above), a pre-show event included several MS Visualization students, or "Vizzers," providing behind-the-scenes demonstrations of the various software and creative techniques they employ to produce the dazzling digital creations featured in the Viz-a-GoGo screening. Also, student game developers exhibited their latest interactive works. For the kids, "hand pong," a giant-sized version of the old Atari game that kicked off the video gaming revolution, were available, as well as compelling interactive multimedia installations.
See story, photos & Viz-a-GoGo video

Also online:
Photography students
exhibit semester's work
Students staff booth, design banners
for Texas A&M's Earth Day gathering
Winning entry, murals created at College
of Architecture featured at ArtFest 2010
Student art auctioned at Arkitex Studio
following exhibition at Wright Gallery

Honors/Accomplishments:
Rodney Hill earns two more
teaching excellence awards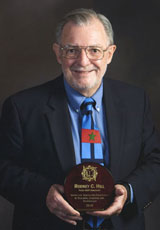 The lengthy list of teaching awards garnered by Rodney Hill throughout his 40-year career as a professor of architecture at Texas A&M, got a little longer this spring when he received both the Presidential Professor for Teaching Excellence Award from Texas A&M University and the Award for Innovative Excellence in Teaching, Learning and Technology at an education conference in Florida.
Hill received the presidential award from Texas A&M President R. Bowen Loftin during May 14 commencement ceremonies at Reed Arena. The innovative excellence award was presented a month earlier at the 22nd International Conference on College Teaching and Learning in Jacksonville, Fla. The conference drew more than 800 faculty from colleges and universities in 20 different countries.

Lavy, collaborators earn Literati Award
for top papers on facility management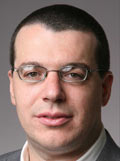 Two papers written by Sarel Lavy, assistant professor of construction science at Texas A&M, with collaborators at the College of Architecture, were recognized for their achievements in addressing the state of facilities management at public schools in Texas and identifying healthcare facility managers' choices for interior wall finishes.

Ph.D. student appointed to national
planning board executive committee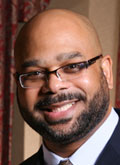 Ed Tarlton, who is pursuing a Ph.D. in Urban and Regional Science at Texas A&M, has been appointed as a student representative to the Association of Collegiate Schools of Planning executive committee.
Tarlton, whose studies emphasize housing and community development, will be representing the College of Architecture in the ACSP's Planners of Color Interest Group. The POCIG's mission is to advance the interest and concerns of people and communities of color in the planning field in academia and professionally.

Li appointed to committees
in two national organizations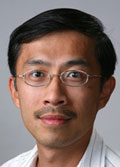 Ming-Han Li, associate professor of landscape architecture at Texas A&M, has been appointed to a landscape and environmental design committee that's part of the National Research Council, a private, nonprofit institution that provides expertise in science and technology to the government, the public and the scientific and engineering communities.
Li will also be serving a two-year term as second vice president of the Council of Educators in Landscape Architecture, which advocates for landscape architecture programs, provides a forum for dialogue about landscape architectural education and fosters and disseminates landscape architectural scholarship.

Graduate architecture student
named Raiford Stripling scholar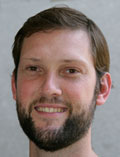 Stephen Dietert, a student who plans to begin the Master of Architecture degree program at Texas A&M this fall, has been awarded a scholarship endowed by a Texas preservation group named after legendary Aggie architect Raiford Stripling, who helped design many of Texas A&M's historic buildings.
David Woodcock, FAIA, professor of architecture and director emeritus of the Center for Heritage Conservation, made the announcement at the 2010 Texas Old Missions and Forts Restoration Association's annual meeting April 16 in West Columbia, Texas.

Also online:
Viz student's film receives
award at SWAMPfest 2010
BED student's fame grows
with hoop trick shot troupe
Yan elected to steering committee
of prestigious CAD organization
Aggie environmental design students
interning at leading architecture firms

Class Acts:
Former student's 'flatpack' desk design
exhibited in New York City furniture fair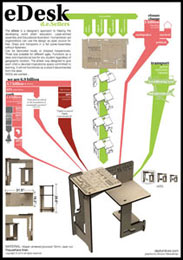 A desk designed by a former student was part of New York's International Contemporary Furniture Fair, a May 15-18 event dubbed as "North America's singular showcase for contemporary design."
David Sellers, who earned a Bachelor of Environmental Design degree in 2002, said his eDesk, which can be fabricated locally or shipped in a flat panel and assembled without tools or fasteners with instructions on the panel, is a designer's approach to helping people in the developing world get an education.

Former student elevated to partner
at prestigious New York design firm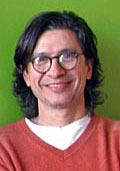 Nestor Bottino '77 BED has been elevated to partner with Holzman Moss Bottino Architecture, a national architectural and interior design firm based in New York.
Bottino joined the firm in 2008, bringing more than 27 years of experience working primarily with institutional clients in every phase of the design and execution of academic and civic libraries, civic buildings and student life facilities.

Former student nets second-place
finish in sustainable design contest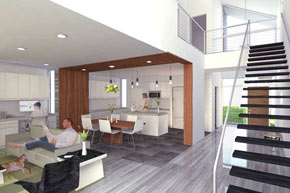 A design by a former student, Alan Knox '03 BED, netted a second-place finish among more than 200 entries in "Who's Next," a contest for sustainable residential housing sponsored by FreeGreen, which features sustainable house plans on its website.
Knox, an architect at Jacobs Engineering Group Inc., designed a 1,796 square-foot, 3 bedroom, 2½ bathroom loft house for the contest, that would incorporate "sustainable strategies for the environment and the family dynamic."

Playhouse for young artists created at
San Antonio exhibit by former student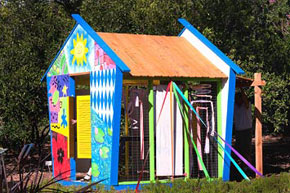 Children are encouraged to draw on the walls of a playhouse designed for an interactive exhibit of children's play places in San Antonio by Laura Smith Kaarlsen, who earned a Bachelor of Environmental Design degree at Texas A&M in 1990.
Kaarlsen's design, "En Plein Air," was one of eight selected for the "Playhouses and Forts" exhibit, which runs through Oct. 24 at the San Antonio Botanical Garden.

Visualization student exploring
ocean floor near British Columbia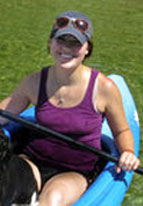 Stephanie Keske, a visualization graduate from Texas A&M, is blogging about her experiences this summer as part of a two-month hydrogeology expedition near the coast of British Columbia.
Keske, who will begin the Master of Science in Visualization program this fall, is one of six of the expedition's outreach officers. She'll be collaborating with the study's scientists to create innovative learning and teaching tools designed to facilitate the communication of scientific drilling results to broad audiences.

Also online:
Former student's firm provides energy
efficiency to 'Extreme Makeover' home
CLASS ACTS: Former students touch
base with College of Architecture

Events:
Bulletti curates exhibit, catalog of
Wright work for Italian museum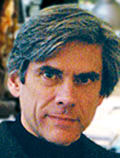 The Italian influence on Frank Lloyd Wright's designs is explored in a new exhibit curated by Paolo Bulletti, an adjunct professor of architecture at Texas A&M's Santa Chiara Study Center.
The show, at the Archaeological Museum in Fiesole, Italy, marks the centennial of Wright's stay in Fiesole. The exhibit includes drawings and documents analyzing the influence Wright's stay had on his subsequent designs.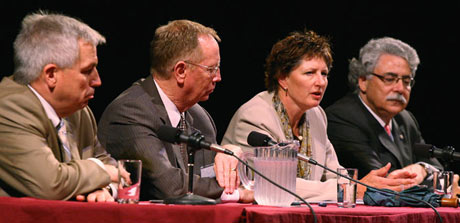 From left, David Fleming, vice president of SUNDT Construction, Inc., Robert Hunter '67, immediate past president, American Planning Association, Angela Dye, immediate past president, American Society of Landscape Architects, and George H. Miller, president, The American Institute of Architects, participate in a panel discussion at the Rowlett Lecture Series April 23 at Rudder Auditorium.
Rowlett lecture series featured heads
of four major professional associations
A first-ever gathering at Texas A&M of the heads of four major professional associations representing disciplines taught in the College of Architecture took place at the 2010 Rowlett Lecture Series April 23.
At the event, hosted by the college's CRS Center at Rudder Auditorium, the four featured guests individually addressed the event's theme, "Leadership in the Built Environment: Challenges and Opportunities."
See guest bios, photos & watch video of presentations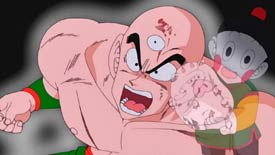 Fridays through Aug. 27
Japanese Animation Appreciation Club (Aggime) hosts anime film screenings from 7 - 10 p.m. every Friday throughout the summer from in Langford C414 (the curved room). Everyone is welcome. For more information and a list of movies that will be showed, visit the aggime site.
Aug. 24-25
New student conference / incoming freshmen: Tuesday, Aug. 24, college and departmental presentations 2 - 5 p.m. Preston Geren Auditorium. Wednesday, Aug. 25, student registration, 1 - 6 p.m. For additional information, contact the Texas A&M College of Architecture's Office of Academic Affairs at 979.845.1144.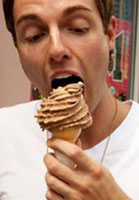 Aug. 29
Freshman Ice Cream Social: Incoming Aggie freshmen will scream, "ice cream" as gallons of the frozen summertime delicacy are served up in heaping scoops with an assortment of tasty toppings at the Texas A&M College of Architecture's Freshman Ice Cream Social, slated 4 p.m. Sunday, Aug. 29 in the Building B Exhibit Hall at the Langford Architecture Center on the Texas A&M campus. All incoming freshman enrolled in one of the college's five undergraduate programs are urged to attend and get acquainted.

Oct. 18


College Research Symposium: Natural, Built Virtual: The Texas A&M College of Architecture's 12th Annual Faculty Research Symposium will be held all day Monday, Oct. 18 at the Langford Architecture Center on the Texas A&M campus. The daylong research showcase features a series of faculty presentations previously delivered at scholarly venues around the world. This year's symposium includes invited or refereed presentations and papers from the 2009-10 academic year. Deadline for faculty submissions is Sept. 1. For additional information, see attached Call for Papers or contact Staci Hazlett at shazlett@arch.tamu.edu or 979.458.0478.
Oct. 28-30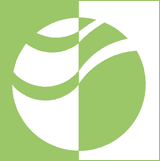 Health Industry Advisory Council meets: The Center for Health Systems & Design will host its ninth annual HIAC meeting Oct. 28-30 in the Wright Gallery, located on the second floor of the Langford A building on the Texas A&M campus. Advisory council members will gather with CHSD faculty, staff and health care architecture students to discuss accomplishments and identify goals and activities for the upcoming year. CHSD faculty will also discuss their research activity. For more information, contact Judy Pruitt at jpruitt@tamu.edu or 979.845.7009.

Happy campers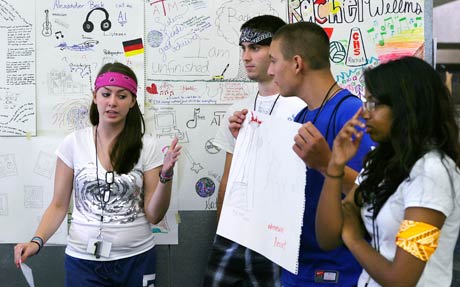 Students make presentations July 13 during Camp ARCH, a weeklong on campus retreat that familiarizes high school-age students with careers in fields taught at the college. During the July 11-17 camp, students will be learning about storyboarding video games, using Photoshop, hearing a guest lecture from a Master of Visualization student, creating designs, art and much more. See story, photos