Texas A&M researchers return to
Pointe du Hoc during spring break

A blast of wintry weather greeted Texas A&M University graduate students and professors from the College of Architecture during their spring break 2008 trip to Pointe du Hoc in Normandy, France, as they continued to document the historic World War II site.
"It was cold, around 40-45 degrees, rainy and windy, with winds blowing from 40-60 miles an hour all the time," said Robert Warden, professor of architecture and director of the Center for Heritage Conservation. "We had a couple of days in there that were decent days to work with, but for the most part it was a lot of wind and a lot of rain to mess with. We had to go through some extraordinary measures to make sure we got our data."
The site, where U.S. Army Lt. Col. Earl Rudder led a charge up 90-foot cliffs to engage the German Army during the World War II D-Day invasion, is in danger of collapsing into the English Channel because of the erosion caused by the high winds and constant pounding from the channel's waters. Rudder, who survived the carnage, went on to become president of Texas A&M.
Above: Josh Gowen, a graduate geophysics student, uses the total station on the cliff top. At right is the memorial to the 2nd Ranger battalion.

CHUD and Mexican government collaborating
on Brownsville 'Windows to Health' program

Texas A&M University's Center for Housing and Urban Development and the Mexican consulate in Brownsville have teamed up to provide health and social service information in the Brownsville area. The center is part of Texas A&M's College of Architecture.
At an April 11, 2008 ceremony at the consulate, Cándido Morales, head of the Mexican government's Institute for Mexicans Abroad, representatives from CHUD's Colonias Program, and consulate staffers announced the partnership.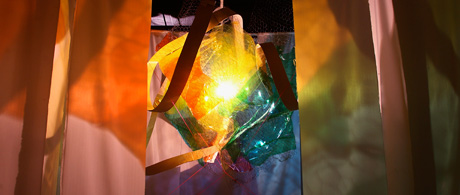 Architecture Ranch visitors
enjoy 'Circus of Lights'

The Architecture Ranch was ablaze with light April 25 when students in Jill Mulholland's architecture studios presented "Circus of Lights," the latest in a series of the popular end-of-semester light shows.
This spring, the show moved from its previous venue at the college's Langford Architecture Center to the Built Environment Teaching and Research Facility, or "Architecture Ranch," at Texas A&M's Riverside Campus.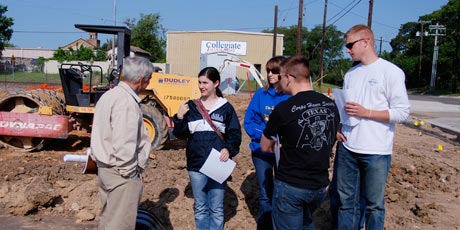 Landscape architect Mark Ferguson talks with students about their designs for Gateway Park.
Landscape students' designs
realized at Gateway Park site

Among the din of construction equipment, piles of rocky dirt, and construction workers installing rebar, Jody Naderi's first-year landscape architecture students got to see how design becomes reality during an April 28 visit to the Gateway Park construction site in downtown Bryan.
Landscape architect Mark Ferguson of CLM construction, who reviewed the students' designs for the park before submitting a final design to the Bryan City Council, was also at the site with the students. Ferguson received a Bachelor of Landscape Architecture degree from Texas A&M in 1970.
"You'll find elements of each of your projects in there," said Ferguson of the final design. "Having the projects saved me six weeks or so of work."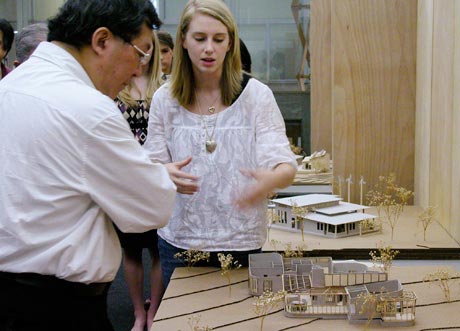 Krystyn Haeckler points out unique features in her design.
Eco-design pioneer Yeang
critiques students' work

Ken Yeang, a pioneer in designing sustainable high-rise buildings and a professor of practice on the Texas A&M University Department of Architecture faculty, critiqued student design work during an April 25 visit to the college.
During the critique, Yeang recalled a recent conversation he had with Rodney Hill, professor of architecture at Texas A&M, when the two discussed how, in the near future, buildings that don't generate their own energy might not get building permits.
"That's a frightening thought, because it's going to affect the way we design buildings," he said. "One of the things we should do," said Yeang, "is have a workshop to see what we could come up with energy as a driver of building design and how this could affect future architecture."



On April 22, Peter Lang presented "Road Map to the Future," a presentation that was part of "A Night of Provisional Futures," an architectural "happening" at the Netherlands Architecture Institute (NAI) in Rotterdam.
Groups using Western Balkans culture
to explore Europe's provisional future

Peter Lang, assistant professor of architecture at Texas A&M University, joined by four students from the Santa Chiara Study Center in Castiglion Fiorentino, Italy, where he teaches, recently participated in a major European architectural event in Rotterdam, The Netherlands.
"The Western Balkans," Lang said, "are to Europeans, what New Orleans and the Gulf Coast area devastated by Hurricane Katrina, are to Americans. Though in the Balkans, it was political upheaval and war rather than a natural disaster that created the problems the architectural community is rallying to address."

Aggie constructor overseeing
renovation to UT stadium

An Aggie is in charge of the construction of a $156 million addition in the north end zone of Royal-Memorial Stadium, home of the Texas Longhorns football team.
Kevin Carr '91 BDCR, is the project manager for Hensel Phelps Construction Co., which is building the complex and a host of Texas A&M construction science graduates are on his team.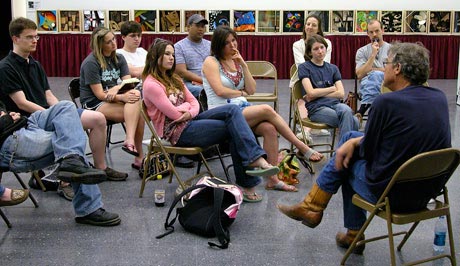 Artist in residence Terry Allen talks with students about the creative process.
A&M students discover their creative
sides with resident artist Terry Allen

Recording and conceptual artist Terry Allen worked with students at Texas A&M University as part of the College of Architecture's Artist in Residence program.
Students joined Allen from April 11-17 as they investigated where ideas come from and how they might be developed into making a work of art. The primary focus of the weeklong workshop was about generating concepts, not finished work.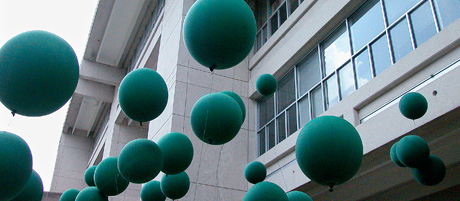 Maroon is Green draws large
crowd, attention from media

The College of Architecture turned green on Earth Day 2008 with the kickoff of its Maroon is Green Sustainable College Initiative.
The April 22 Maroon is Green launch included an environmental fair, live music, sustainable living demonstrations, guest speakers and even green cuisine — an assortment of locally grown organic vegetable dishes.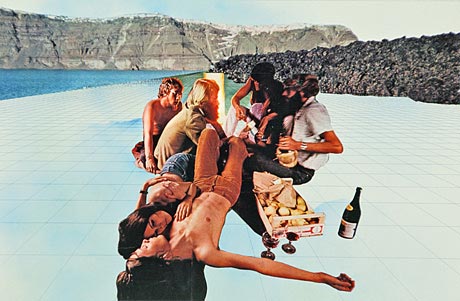 "Supersurface," 1972, an image from MAXXI's Superstudio archive that will be included in a Jan. 2009 exhibit at MAXXI being curated by Peter Lang, assistant professor of architecture at Texas A&M University.
Lang's exhibits, essay shine light
on noted radical Italian architects

Peter Lang, assistant professor of architecture at Texas A&M University, is shining the limelight on 20th Century radical Italian designers as a curator or co-curator of two upcoming exhibits in New York City and Rome. Additionally, an article Lang penned on radical Italian designer Ettore Sotsass, garnered international acclaim when republished by Abitare, a popular European architecture magazine.
This October at Columbia University's Buell Hall in New York City, Lang is co-curating an exhibit featuring the work of radical Italian architects who were part of the "Anti-Design" movement. The show is based on a groundbreaking 1972 international exhibition at the Museum of Modern Art (MoMA) entitled "Italy: The New Domestic Landscape."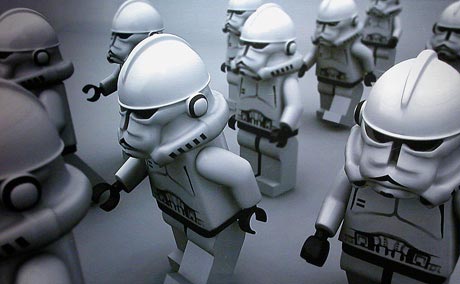 Exhibit of Vizzer 'still work'
highlights 15th Viz-a-GoGo

Still work created by students in the Master of Science in Visualization Sciences program at Texas A&M was on exhibit at Rudder Theatre during the 15th annual Viz-a-GoGo.
Underlying this year's theme, "Technobabel," was the "idea that current technology is a grand experiment that we're all a part of," said Karen Hillier, a professor in the Department of Visualization at the Texas A&M College of Architecture.


Unique posters trumpet Viz-a-GoGo 15

Students in the Master of Science in Visualization Sciences program in the Texas A&M Department of Visualization promoted their 15th annual showcase of student work, Viz-a-GoGo, with a variety of interesting posters.

Construction science department presents
Constructor Hall of Fame Award to Joeris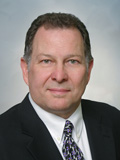 For his significant impact in the construction industry and ongoing support for the Department of Construction Science at Texas A&M University, Gary Joeris, president of Joeris General Contractors, recently received the Constructor Hall of Fame Award. The honor, presented annually to a non-Aggie leader of the construction industry by the Department of Construction Science and the Construction Industry Advisory Council, was given to Joeris at the department's April 24 awards banquet at the College Station Hilton.

Former students Mah, Landreth
elected to AIA College of Fellows

Texas A&M College of Architecture former students Jean Mah '71 and Gordon E. Landreth '67 were elected to the American Institute of Architects' College of Fellows in January 2008. The investiture of Mah, Landreth and other new AIA Fellows will take place during the AIA National Convention in Boston this month.
Fewer than 2% of all registered architects in the United States are elected to fellowship in the AIA.

College outstanding alum
heads new RottetStudio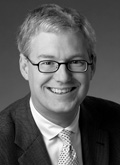 Richard Riveire '83, an Outstanding Alumnus of Texas A&M University's College of Architecture, now heads the Los Angeles office of the new RottetStudio, which is the successor to the dissolved DMJMRottet.
With partner Lauren Rottet, Riveire helped build DMJMRottet into a firm with a reputation for designs successful in responding to client needs and in setting new standards in highly competitive business requirements.
"The decision to start RottetStudio was engendered by my belief that a privately held structure is far more supportive of two important qualities we strive to achieve — creativity and agility," said Rottet. "Going forward, our talented team of designers will continue to focus on delivering innovative solutions and personal service for our clients."

Advisory council establishes faculty prize
honoring Dean Regan's decade of service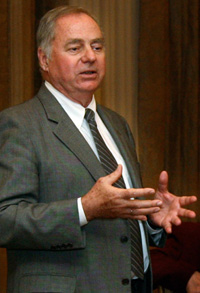 At their April 17, 2008 meeting, members of the Dean's Advisory Council for the Texas A&M College of Architecture, surprised Tom Regan, dean of the college, by establishing the J. Thomas Regan Interdisciplinary Faculty Prize, an endowed award that when fully funded will honor in perpetuity Regan's decade of outstanding leadership of the college.
The prize, begun with a $40,000 gift from advisory council members, recognizes Regan's legacy of building interdisciplinary opportunities for college students and faculty. It will be awarded annually to a College of Architecture faculty member who has demonstrated a commitment to interdisciplinary teaching and/or research in the built or virtual environment disciplines.

Fisk featured in Urban Land magazine,
to speak at AIA convention in Boston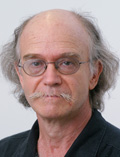 Pliny Fisk, associate professor of architecture and landscape architecture at Texas A&M University's College of Architecture, was featured in the Q&A section of the April issue of Urban Land magazine, a publication of the Urban Land Institute.
In the magazine, Fisk explains the Eco-BalancePlanning and Design approach he developed and is teaching at Texas A&M.
On April 4, 2008 Fisk discussed Eco-BalancePlanning and New Urbanism at the annual Congress for New Urbanism in Austin. Among the presentation's attendees, was Andres Duany, one of the Congress for New Urbanism's founders.
On May 14, Fisk, with three other participants, will present "Breakthrough Community Design Planning: Four Perspectives" at the American Institute of Architects 2008 National Convention and Design Exposition in Boston.

Feigenbaum earns award for
outstanding student service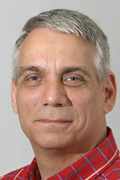 For maintaining sustained, helpful and inspiring professional relationships with students at the Texas A&M College of Architecture, Leslie Feigenbaum, the college's assistant dean for undergraduate studies, recently received a 2008 Association of Former Students University Distinguished Award.
Feigenbaum, a senior lecturer in the Department of Construction Science, was one of two honorees earning the award in the student relations category at the April 29 ceremonies in the Rudder Theatre.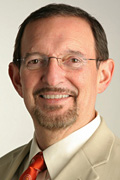 COSC professor receives award for
mentoring college corps company

José L. Fernández-Solís, assistant professor of construction science at Texas A&M University, was selected as an Outstanding Corps Academic Mentor of the Year by the Texas A&M University Corps of Cadets.
Fernández-Solís served as academic mentor for company A-2, a new company, formed in the fall 2007 semester, which consists of students enrolled in College of Architecture degree programs.
"It's been one of my most exciting experiences and a good way for me to meet the Aggie Spirit and Aggie family," said Ferrnández-Solís, who joined the Texas A&M faculty in 2006.

Architecture faculty contribute
papers to winter issue of HERD

Two Texas A&M College of Architecture faculty members contributed articles to the winter 2008 issue of HERD, the Health Environments Research & Design Journal.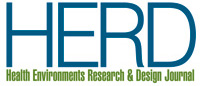 D. Kirk Hamilton, FAIA, FACHA, a professor of architecture at Texas A&M, is the publication's co-editor with Jaynelle Stichler, associate professor of nursing at San Diego State University.
Hamilton and Stichler wrote "Evidence-Based Design: What is it?" They write, "The purpose of evidence-based design is to make use of data from multiple credible sources to guide design-related decisions with the ultimate goal of improving the patient care experience, the staff work environment, and organizational performance."
Mardelle Shepley, director of the Texas A&M University Center for Health Systems & Design and professor of architecture, wrote "Healthcare Architects' Professional Autonomy: Interview Case Studies," with Duk-Su Kim, a lecturer at Hanbat University in South Korea.
Two main relationships were discovered from interviews and focus groups, Shepley and Kim explain. "One was the relationship between the context of healthcare design complexity and the culture of healthcare design practice. The other was the relationship between changing professional attitudes and the consequences of changes in the profession."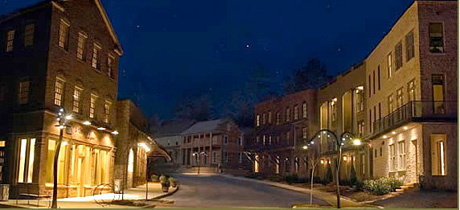 Prof Tabb to serve as architect in residence
at innovative Georgia community, Serenbe

Phillip Tabb, professor of architecture at Texas A&M University, will serve as architect in residence this summer at the Serenbe community, an environmentally friendly residential development southwest of Atlanta.
For several years, Tabb has been the development's master planner.
This summer, he will reside in one of Serenbe's four hamlets. The hamlets accommodate different housing types and nonresidential activities, public space for light recreation, community gardens, vegetated wetlands and recirculating sand filters.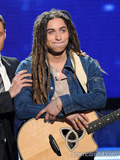 Castro reaches final four before
being voted off "American Idol"

Texas A&M landscape architecture student Jason Castro, with his signature dreadlocked hair and easy smile, became a familiar sight to viewers of "American Idol" as he survived week after week of viewer voting.
On May 7, his journey to Idolhood ended when he was voted off the show, leaving just three contestants remaining.

Architecture profs honored for inventing
energy consumption monitoring system

Two professors at Texas A&M University's College of Architecture and two of their colleagues have received a patent from the U.S. Patent Office for their development of a system for remote energy consumption identification.
Jeff Haberl and Charles Culp, professors of architecture, along with David Claridge and William Turner, Texas A&M engineering professors, developed the system.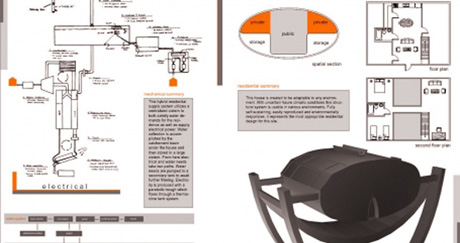 Aggies develop green plans for
abandoned factory site in Italy

Texas A&M students studying abroad in Italy in the spring 2008 semester created designs for a self-contained, socially autonomous and economically balanced micro-urban environment on land occupied by a closed sugar beet processing factory.
They worked with Peter Lang, assistant professor of architecture at Texas A&M University's Langford Santa Chiara Center, located in Castiglion Fiorentino, Italy.
The factory is what's called a brownfield site, defined as an abandoned, idled, or underused industrial and commercial facility, where expansion or redevelopment is complicated by real or perceived environmental contaminations.

College outstanding alumnus
designs home for Ted Turner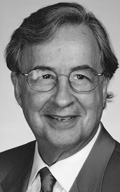 Chris Carson '56, FAIA, an outstanding alumnus of the Texas A&M University College of Architecture, has designed a home for media magnate Ted Turner at his Armendaris Ranch in New Mexico.
When Carson went to inspect the site at the 350,000-acre ranch, he found two stakes in the ground — one, where Turner wanted the front door to be, and another where he wanted a view from his bedroom window to the Fra Cristobal Mountains.
The result is a desert lodge built in the Territorial style and built to suit Turner's strict environmental standards.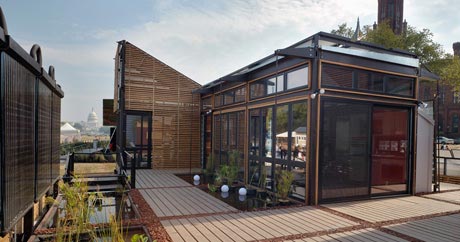 Photo Credit: © 2008 Prakash Patel, http://www.prakashpatel.com
Aggie Solar Decathlon groHome
will open soon at Bush Library

The Aggie Solar Decathlon groHome, Texas A&M College of Architecture's entry in the 2007 U.S. Department of Energy's Solar Decathlon competition, is tentatively slated to open later this month for public tours at the George Bush Presidential Library in College Station, said Charles Graham, executive associate dean at the college.
The home, being reconstructed adjacent to the museum's parking lot, must undergo a litany of safety inspections before it can be opened for public visits.

Details on the groHome tour schedule are to be announced. For more information, contact Dawn Trog at 979-845-1222 or dtrog@archmail.tamu.edu.
The home was originally erected on the National Mall in Washington D.C., in a solar village that included competition entries from universities around the world. The Aggie entry captured the Solar Decathlon's Student Choice Award from the American Institute of Architecture Students and the American Institute of Architects' Committee on the Environment. The structure also took top honors in the Student Building Category of the Lifecycle Building Challenge at the 2007 West Coast Green Conference in San Francisco.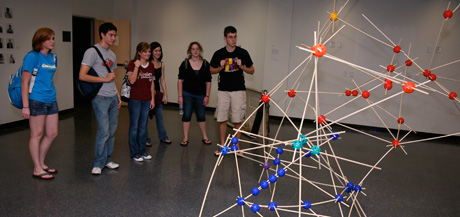 Piscitelli, students go 'Between the Lines"

"Between the Lines," the result of work done by students guided by artist Paolo Piscitelli, was on display in April at the Langford B Exhibit Hall.
Piscitelli was at the Texas A&M University College of Architecture for his second stint as an artist in residence.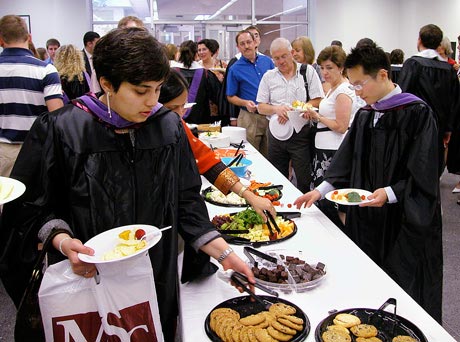 New graduates in master's and Ph.D. programs from Texas A&M's College of Architecture enjoy refreshments following the college's graduation honors and recognition ceremony at Preston Geren Auditorium May 9 at the Langford Architecture Center. Also recognized at the ceremonies were students graduating with honors from the college's four departments.

Administrative Notes
'Howdy' Web portal provides point
of entry for Texas A&M information

Students, faculty and staff at Texas A&M University can begin using howdy.tamu.edu, a secure Web portal, to connect to personal university information and other important internal and external university links.
"After logging in just once to Howdy," says the site's FAQ page, " you automatically have access to info that previously required separate logins."
Users needing to access personal university information can still do so as they have in the past, until Howdy becomes the required method in fall 2009.
For more information about Howdy or to begin using its "one-stop shop services," visit http://howdy.tamu.edu.




Transportation Services has made it easy for faculty and staff members to avoid having their bikes included in a summer abandoned bike roundup.
Wrap rubber band on your right handlebar to
avoid getting your bicycle nabbed in sweep
Texas A&M faculty and staff members who ride bikes on campus need only wrap a rubber band on their right handlebar to avoid their bikes being taken in a May roundup of abandoned student bicycles.
"This will alert our crew that the bike belongs to a faculty or staff member and we will leave it attached to the bike rack," said Rod Weis, executive director of Texas A&M Transportation services. "I ask that you please do this by May 9."
Beginning May 12, Transportation Services personnel will begin removing abandoned bikes, as well as all bicycles not parked in designated bike parking areas.
For questions or more information, contact Rod at rweis@tamu.edu.

May 16
Aggie Reception at AIA National Convention: The Texas A&M Department of Architecture will host a reception for former students and friends during the 2008 American Institute of Architects National Convention and Design Exposition in Boston. The reception is scheduled 7 – 9 p.m. May 16 in the Old State House Museum located on Boston's "Freedom Trail" at the corner of State and Washington streets in downtown. For more information on the Aggie reception, contact Melinda Randle, 979-845-1015 or mrandle@archone.tamu.edu. The 2008 AIA Convention, themed "We the People," will be held May 15 – 17 at the Boston Convention and Exhibition Center. Details are available on the AIA website at
http://www.aiaconvention.com/live/61/