Professor, students install curtain
of grocery bags on UT campus
Society's love-hate relationship with plastic bags is explored in "Plastic Poetry," an architectural installation designed by a team of Texas A&M students led by Weiling He, associate professor of architecture, one of the four designs chosen from a worldwide call for proposals and installed last October at the University of Texas.
Advancement:

Many giving opportunities honor college faculty who've helped shape students' lives.
College of Architecture holiday giving opportunities
The season of giving is also one of the busiest times of year for donations to the College of Architecture, as many former students include the college and their own departments for end-of-year donations.
"Aggies are generous for many reasons," said Larry Zuber, the Texas A&M Foundation's assistant vice president for the College of Architecture. "Many just want to give back in honor of the people who helped shape their personal and professional lives when they were students here."



Dynamic Systems donates lab to view building's infrastructure


Next fall, when students begin taking classes in a renovated Francis Hall, the new campus home for the Department of Construction Science, they'll be able to see exposed mechanical, electrical and plumbing systems at work in a $100,000 specialty lab funded by Dynamic Systems, Inc.



Clark Construction funds Francis
Hall conference, bid room

A "bid room" outfitted with state-of-the-art video conferencing equipment will be built in Francis Hall, the future campus home of the Department of Construction Science, with the help of a donation from Clark Construction Group LLC.

.See story
Research:

Texas A&M planning professors are researching how urban design can aid fitness.
Researchers investigate neighborhood walkability
Communities that lack amenities, infrastructure and organization favorable to pedestrians — common throughout the United States — are contributing to a national health crisis, according to two Texas A&M College of Architecture professors who are researching how urban design can encourage, rather than impede, physical activity and help combat sedentary lifestyles.



Community resilience is
essence of hazard research


A year packed with death and destruction saw Hurricane Sandy slam the U.S. East Coast, tornadoes dance across mid-America, fires ravage the mountain states and a horrific chemical explosion wreck a small Texas town.



TAMU hazard scientists seek flooding solutions with Dutch

Texas A&M hazard mitigation researchers are developing a joint research agenda with their counterparts at Delft University in the Netherlands
to reduce flood-related vulnerability.




Top planning scholar, author
returns to Texas A&M faculty


Philip Berke '81, widely regarded as one of the nation's top land use planning scholars, is returning to Texas A&M in 2014 to rejoin the urban planning faculty and help lead the university's Institute for Sustainable Coastal Communities.



Researchers testing light pipe
at Texas A&M daylighting lab


An innovative, energy saving lighting system that can pipe healthy, full-spectrum daylight more than 40 feet into a building and potentially raise worker productivity is being tested at the Texas A&M College of Architecture's Daylighting Laboratory.



Initiative brings renowned researcher to viz department


Francis Quek, who joined the Department of Visualization as part of an initiative by The Texas A&M System to attract top-notch faculty, will heighten the department's involvement regarding the interaction between people and technology.
Also online:

Italians embrace Rodiek's survey
for evaluating outdoor spaces

Design psychology pioneer
keynotes research symposium

Urban planning students' study
leads to campus bike program

Professor outlines ways to
augment hurricane resilience

College's 15th annual research
symposium held October 21
Outreach:

Walkers enjoy a paved trail through Cypress Creek Park in suburban north Houston.

LAND student-designed park opens near Houston
In the middle of sprawling North Houston suburbia, a brand new 105-acre park designed by landscape architecture students at Texas A&M, provides a public refuge where one can hike and bike through trails in acres of densely wooded wilderness or relax on a small beach by a lake frequented by ibis, egret, herons, ducks and geese.
Cypress Creek Park at Timber Lane, located on Cypress Creek just east of the bustling Hardy Toll Road, 22 miles north of downtown Houston, is part of a series of award-winning parks in the Timber Lane Utility District designed by graduate and undergraduate students in three studios taught by professor Jon Rodiek over a 1.5-year period beginning in the fall 2006 semester.



Texas Target Cities helping
communities plan for future

Whether developing parkland, revitalizing a moribund town center, or creating a municipal master plan, for more than 25 years small communities have turned to the college's landscape architecture and urban planning students and faculty for help.



Colonias program promotoras
help Socorro flooding victims

The Texas A&M Colonias Program came to the aid of flood-stricken West Texans last September when heavy rain and rising water drove many colonia residents in Socorro, a suburb of El Paso, from their homes.
Also online:

Sustainably-designed doghouses
benefit Brazos Valley charities

Planning students raise profile
of Navasota community center
In the Studio:

A rendering of a student-designed gardens and greenway on West Campus.
Students create plan for campus gardens, greenway
Texas A&M graduate landscape architecture students developed a master plan for a major addition to the university's College Station campus — the Texas A&M Gardens and Greenway project — a planned transformation of a 46-acre area of West Campus that will include an outdoor classroom, amphitheater, demonstration gardens and nature trails.



Black high schools resurrected
from former students' memories

Tasked with creating museum-quality models of two Brazos Valley African-American high schools that burned down in the 1960s, a group of Texas A&M graduate architecture students relied on recollections from the high schools' former students.



Students unveil plans for New
Jersey children's health facility

Graduate architecture students from Texas A&M unveiled design concepts for a 75,000-square-foot ambulatory health care facility for children to be constructed in New Jersey as part of an interstate pediatric health system.
Academics:

Design programs at Texas A&M rank among the best in the United States.
College design programs ranked among best in U.S.
Texas A&M's landscape architecture programs and the graduate architecture program were once again ranked among the best in the United States in an annual survey of professional practice leaders who have hired and supervised recent design graduates.



MLPD students' analysis informs
downtown Houston revitalization

The underutilized southeastern area of downtown Houston could see its property values rise with new green space and a signature landmark, concluded Master of Land and Property Development students in an analysis published last spring by the Urban Land Institute's Houston Council.
Also online:

Movement to integrate science,
art education gathering STEAM

Faculty hazard planning videos
available on Planetzien website
MLPD student is inaugural recipient
of Real Estate Center Scholarship

CoSci students develop equine
center proposals in capstone class

College co-sponsors Supreme
Court of Texas campus sessions

Students make field day trips
to diverse construction businesses
Honors / Accomplishments:

A comprehensive plan for Gonzales by graduate planning students earned an award.
Grad students' city plan earns kudos from Texas APA
A comprehensive plan to guide municipal policymakers in Gonzales, Texas, prepared by graduate urban planning students at Texas A&M, was recognized with the Student Project Award by the Texas Chapter of the Texas American Planning Association at its October 2-5 conference in Galveston.



Fabricators' firefighting sculpture
wins Queen Theater contest

An intricate metal sculpture of a fireman bursting through a wall of flames and water, created by a team at the Automated Fabrication and Design Lab, won an award in a fundraising competition benefiting Bryan's historic Queen Theater.



Haberl honored by international
building energy modeling group

After almost three decades finding energy saving solutions for commercial and residential buildings,
Jeff Haberl, professor of architecture, was elevated to fellowship in an international society dedicated to improving the built environment.
Also online:

Construction science professor
Choi named Montague Scholar

The Association taps Tarlton for
Excellence in Teaching Award
Events:

Felice House's female version of James Dean in "Giant."
Art questions stereotypes in western mythology
A series of large-scale paintings by Felice House, assistant professor of visualization at Texas A&M, invites viewers to question gender stereotypes in American western mythology in "Re•Western," an exhibit at G Gallery in Houston December 7-29.



Construction science fall career
fairs break attendance records


Companies looking to hire construction science students at Texas A&M turned out in record numbers at fall 2013 career fairs hosted by the Department of Construction Science.



Viz students' interactive artwork
shown at regional art center


Visitors interacted with art created by students at Texas A&M's Department of Visualization in "PLAY inside the box," an October exhibit at the Art Center of Brazos Valley.




Vizzers thank DreamWorks'
Friedman for her support


Some of the most memorable characters in animated movie history such as Shrek and Po the Panda have been created at DreamWorks Animation, which employs approximately 35 former Texas A&M visualization students.

Also online:

Lecture series brings design
masters to Texas A&M

Architecture-for-health lectures
eye integrated project delivery

Schiffhauer's exhibit portrays
20th-century European activists

'Designist' discusses art's role in
transforming urban, rural sites

CoSci professor touts yellow pine
on 'Your Livable Garden' program
Class Acts:

A scene from "Condo Hell," a horror movie co-written by Kurt Phillips '03.
Latest news from the college's former students
Former students are invited to submit items for the Class Acts section of the arch|one e-newsletter, which highlights professional achievements, as well as news briefs about marriages, births, retirements and whatever else former students care to share with the college community. News and photos may be e-mailed directly to the editor.



Alumnus earns TSA's august
Llewellyn W. Pitts, FAIA Medal

A distinguished career in architecture, support of emerging professionals and service to the community has netted Reagan George '59 the Texas Society of Architects' 2013 Medal for Lifetime Achievement in Honor of Llewelllyn W. Pitts, FAIA.



Vizzers contribute to 'Free Birds,'
Reel FX's first animated feature

Turkeys time travel to the first Thanksgiving in an effort to prevent their brethren from becoming the day's main menu item in "Free Birds," an animated movie that includes 12 former visualization students in leading animating roles.



Former student Upali Nanda
directs research at HKS Inc.

Research findings create the ingredients for design, allowing architects to create amazing environments based on the best possible information and insight, said Upali Nanda, HKS Inc.'s new director for research, who earned a Ph.D. in architecture in 2005.



AS+GG's sustainable city design
selected for Kazakhstan expo

Expo City, the focal point of Expo 2017 in Astana, Kazakhstan, a world's fair showcasing the latest developments in renewable energy, will be built from a design by a firm co-founded by Adrian Smith, an outstanding alumnus of the College of Architecture.



Outstanding alum honored
by France for WWII service

Outstanding College of Architecture Alumnus and World War II veteran William Peña '42 received France's highest honor, the medal of Chevalier of the National Order of the Legion of Honour, during a 2013 Veterans Day ceremony in Houston.
Also online:

MSC's 'Memory Cloud' garners
coverage from design websites

Former student's work showcased
in best of the best photo book
In Memoriam:



Landscape architecture prof
Nancy Volkman passes away

Nancy Jeanne Volkman, associate professor in the Department of Landscape Architecture and Urban Planning at Texas A&M University, passed away Tuesday, Sept. 10, 2013 after a long illness.
Surrounded by art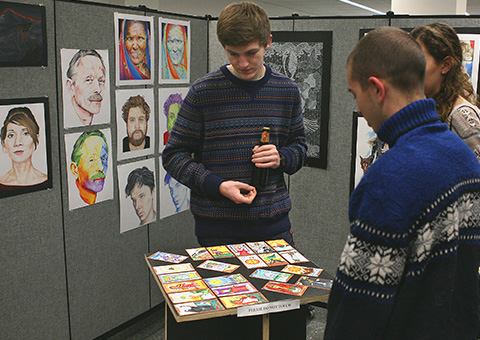 Undergraduate visualization students Nathan Ayres, center, of Dallas, and Benjamin Rathke of Huntsville, Texas, take a look at work by their fellow students at the semester-culminating undergrad exhibit held Dec. 5 in the Langford B exhibit hall. The next day, graduate work was showcased in Langford C.