Wright Gallery 2014-15 exhibitions
showcase seven acclaimed artists
Exhibits showcasing the work of seven accomplished artists will run through spring 2015 at the College of Architecture's Wright Gallery, located on the second floor of Langford Building A on Texas A&M University's College Station campus.

Donated nature preserve serves as living classroom

A nature preserve just two miles from the Texas A&M campus, a gift to the university from David E. Schob, a beloved history professor who died in 2007, has been transformed into a permanent, "living" classroom that landscape architecture and park and tourism sciences students will use for design and research projects.



Renowned alumnus sharing his expertise as new TIAS Fellow


Harold Adams '61, chairman emeritus of RTKL, one of the world's largest design firms, and an Outstanding Alumnus of the College of Architecture, was among the elite group of seven renowned scholars, scientists and engineers recently selected as Faculty Fellows for Texas A&M's Institute for Advanced Study.



Auditorium name to honor beloved CoSci professor


The signature classroom in the renovated Francis Hall, which will house Texas A&M's Department of Construction Science this spring, will be named for Bob Segner, a professor who has been teaching students, many of whom are now leaders in the building industry, since 1970.
Research:

Children will perform tasks associated with STEM concepts in a National Science Foundation study led by Francis Quek, professor of visualization.

Study eyes influence of STEM activities on children

Elementary school children will soon be performing fun tasks designed to stoke their interest in science, technology, engineering and math and perhaps place them on a technology-oriented career path as part of a National Science Foundation-funded study led by Francis Quek, professor of visualization at Texas A&M.






New lab focuses on assistive technology, interconnectivity


Many futurists envision a world where computing isn't limited to desktops and mobile devices but rather a ubiquitous function of everyday items — appliances, cars, coffee mugs, clothing, sprinkler systems — all networked into an "Internet of everything."



New plants tested in green roof study atop Langford A building

Cooler weather will soon greet the assortment of greenery on the building A rooftop of Texas A&M's Langford Architecture Center, as a research project begun in 2012 to learn what plants will thrive on green roofs and green walls in Texas' often hostile climate continues.



Researchers find that disasters affect coastal residents unevenly


Age, income and race are primary factors influencing the vulnerability of populations in coastal regions to climate-related natural disasters, according to a recent study by researchers at the Hazard Reduction and Recovery Center.



Planning prof calls Harris County toxic waste pits a 'loaded gun'


Toxic waste pits along the San Jacinto River in far east Harris County containing dioxin and other hazardous substances are a "loaded gun" threatening human health and the environment, said Sam Brody, professor of urban planning at Texas A&M University.



Essay spotlights activism in professor emeritus Fisk's career

As a leader of numerous projects undertaken amid politically charged situations, Pliny Fisk, professor emeritus of architecture, is continuing the legacy of 1960s progressive idealism, argues Sarah Deyong, associate professor of architecture in an essay published in the Journal of Architectural Education.
Also online:
Faculty research highlighted
at 2014 annual symposium

Houston's 610 Loop tops TTI list
of state's congested roadways

Planning prof helps write report
urging change in coastal policy

ESL energy tool demonstrates
how policy can help clean air

Agencies partner on project to
visualize Texas climate issues
Books:

A new book helps clinicians plan new pediatric and neonatal intensive care facilities.
Prof's new book to aid development of childrens' ICUs
A new book aiding clinicians tasked with planning new pediatric and neonatal intensive care environments, authored by Mardelle McCuskey Shepley, director of Texas A&M's Center for Health Systems and Design, is receiving favorable reviews.
"Planning for a new pediatric or neonatal ICU is daunting for most clinicians," said Bob White, director of the Regional Newborn Program at Memorial Hospital in South Bend, Ind. "Few have prior experience, and the skills needed are far different from those they use on a regular basis," Shepley's book, "Design for Pediatric and Neonatal Critical Care," he said, "fills this void in remarkable fashion."



Profs publish book of steps to increase community resilience

Procedures to create resilient communities — places that avoid, absorb and recover quickly from natural disasters — are detailed in a new book co-authored by four urban planning educators at Texas A&M's College of Architecture.



Ndubisi book compiles classic, contemporary planning essays

A new book of classic and contemporary writings illustrating key themes shaping the theory and practice of ecological design and planning, compiled by Forster Ndubisi, head of Texas A&M's Department of Landscape Architecture and Urban Planning, will be available in early December 2014.
Academics:

Students and faculty are creating new education-based video games in the LIVE Lab.
Game-based learning furthered in new LIVE Lab
If an interdisciplinary team of Texas A&M faculty has its way, video game-based learning will become an integral part of education, enhancing critical thinking skills and learning outcomes for students at all levels.
The Learning Interactive Visualizations Experience Lab, a new group led by André Thomas, a new faculty member in theDepartment of Visualization, is comprised of faculty and student designers, coders, and educational specialists from visualization, educational psychology, computer science and engineering departments who, through research and a rigorous scientific process, are collaborating with the videogame industry to create and champion a new, exciting genre of innovative, interactive educational software.
Related Stories:



Graduate architecture program earns 8-year accreditation term

The Master of Architecture program is making strong, unique contributions to architectural education, according to a National Architectural Accrediting Board team that conducted a review of the program last fall, ultimately extending its accreditation for another eight years.



Grad vizzers craft short films under DreamWorks' guidance

Three animated films, each portraying a 30-second tale about a robot, were created this summer by graduate visualization students at Texas A&M with guidance on the latest digital techniques from artists at DreamWorks Animation.



Architecture students design portable Ebola treatment clinics

Design concepts for portable, rapidly deployable Ebola virus treatment clinics created by Texas A&M Master of Architecture students received worldwide media attention after they were unveiled Sept. 24, 2014 in the Langford Architecture Center.



Architecture students travel to Bangladesh, win design charrette

A master plan for transforming a polluted industrial area in Dhaka, Bangladesh into a vibrant community with schools, markets and homes — designed in part by two Master of Architecture students — earned first place honors in a design charrette at Bangladesh University of Engineering and Technology.



Prof, students create guidelines for veterinary building design

Veterinary medicine education at Texas A&M will begin its second century in a new complex that was designed based on a programming effort by Valerian Miranda, head of the College of Architecture's CRS Center, and environmental design students.



LAUP grad students make plans, designs for west Houston district

The future of west Houston's Energy Corridor is being shaped in part by landscape architecture and urban planning students who are creating a conceptual master plan for the district. The students, led by faculty Jun Hyun Kim and Hwanyong Kim, also created plans for an Energy Corridor transit station.
Also online:

Graduate student interns for
'How to Train Your Dragon 2'
Department of Architecture honors
year's top projects, people

CoSci prof featured at building
system workshop in Bangladesh

Students sketch portrayals of 19th
century Native American history

CoSci prof, students aiming to
build world's tallest Lego tower
Honors / Accomplishments:

George J. Mann, professor of architecture, at a design review.
Global healthcare design group honors Mann's career
In the nearly half-century since joining the Texas A&M design faculty, George J. Mann has led more than 700 healthcare facility design projects; many of his former students are now principals at some of the world's leading design firms, helping shape the direction of healthcare facility design.



Prof-designed hospital voted 8th most beautiful in United States

A patient-centered design at Christus St. Michael Hospital in Texarkana, Texas earned the 20-year old hospital the 8th slot in a ranking of the most beautiful hospitals in the nation. The hospital was designed by a team led by Kirk Hamilton, now the associate director of the Center for Health Systems & Design.



CoSci prof earns education award from national group

For exceptional teaching and service, George Eustace, industry relations coordinator for the Department of Construction Science at Texas A&M University, recently earned the 2014 W.A. Klinger Construction Education Award from the American Institute of Constructors.



Peers say college business staff is 'Best in Business' in 2014

Recognized by their peers for outstanding service, sustained excellence and workplace innovation, the Texas A&M College of Architecture's business office staff received the 2014 Best in Business Award from the university's Committee of Senior Business Administrators at a special May 20, 2014 presentation.
Also online:

Professor Hill earns President's
Award for volunteer service
Downtown Bryan earns cultural
badge with help of IAC fellows

Planning prof begins two-year
term on national design academy

Vizzer-created short video shown
at June 6 Houston film festival
Events:

Texas A&M's GIS salute has expanded from one to three days in 2014.
GIS Day 2014 to celebrate ubiquitous geospatial tool
GIS Day, the annual worldwide salute to geospatial technology and its power to transform and enhance lives, is going to be extra "spatial" this year in Aggieland, where the Texas A&M celebration, one of the world's largest, is expanding to encompass three event-packed days, Nov. 17–19.
"Geographic information systems are a big deal at Texas A&M, so we're expanding our annual GIS Day to showcase the utility, diversity and universal impact of this essential technology that informs research campuswide,' said Andrew Klein, associate professor of geography. "The event also underscores the increasing need to prepare growing numbers of students who will be using geospatial technologies throughout their careers."



Viz department showcased at global graphics conference


Students and faculty at Texas A&M's Department of Visualization were well represented at SIGGRAPH 2014, the globe's premier computer graphics conference, attended annually by thousands of industry professionals throughout the world.



'Deploy or Die' keynote eyes entrepreneurs' role in future


Keynoting the college's research symposium was Sandra Richter, co-founder of the startup, Changing Environments. She presented "Deploy or Die: Public Spaces as a Test Platform for Designers & Entrepreneurs to Invent Future Cities."



Fall architecture lectures draw design luminaries to campus


A diverse group of leading architectural designers, educators and artists are sharing their knowledge and experiences during the Department of Architecture's Fall 2014 lecture series. The lectures are taking place at Preston Geren Auditorium in building B of the Langford Architecture Center.



Experts discuss technological impact on healthcare design

Leaders in design, engineering and information technology will discuss the design and operation of modern, state-of-the-art specialty healthcare units — including imaging and radiology centers, burn units, intensive care units, neo natal units and many more — as part of the Fall 2014 Architecture-for-Health Lecture Series at Texas A&M.
Class Acts: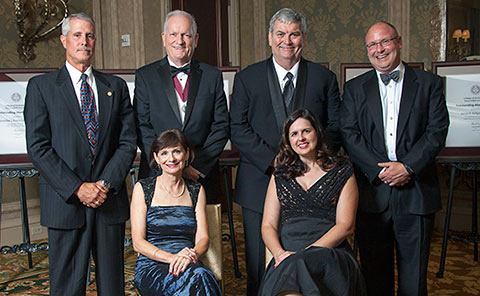 Honored during the 2014 outstanding alumni banquet were, front row from left, Lauren Griffith '79 and Jennifer Evans-Cowley '96. Back row from left are James Keeter Jr., standing in for his father, James Keeter '56, Jim Kirkpatrick '69, David Fleming '75 and Todd Howard '91.
Six outstanding alumni honored in October ceremony
Six former students from Texas A&M's College of Architecture who have risen to the top of their respective fields while making significant public service contributions were honored as outstanding alumni during an Oct. 17, 2014 banquet at the Miramont Country Club in Bryan, Texas.



Former students share news with the College of Architecture

Former students are invited to submit items for the Class Acts section of the arch|one e-newsletter, which highlights professional achievements, as well as news briefs about marriages, births, retirements and whatever else former students care to share with the college community. News and photos may be e-mailed directly to the editor.



Nine companies on Aggie 100 list led by architecture college grads

Texas A&M College of Architecture graduates head nine of the 100 fastest-growing companies owned or led by former students according to the 2014 Aggie 100 list compiled by Mays Business School's Center for New Ventures and Entrepreneurship.



Editorial skills, contributions to field earn TSA honor for alumnus

For his exceptional contributions to the built environment and the profession of architecture and is adept editorial skills, Chris Grossnicklaus, a 2006 Texas A&M Master of Architecture graduate, has earned a Texas Society of Architects Associate of the Year Honor Award.



Design by Wibowo '96 for patient with dementia featured in Dwell

When septuagenarians Ken and Claire Stevens needed an addition to their Tacoma, Wash. home to accommodate Ken's symptoms from Alzheimer's syndrome, they turned to Ko Wibowo, who earned a Master of Architecture degree at Texas A&M in 1996.
In Memoriam:



Former LAUP prof, preservation advocate Echols dies in Virginia

Ralph Gordon Echols, Texas A&M professor emeritus of landscape architecture and urban planning and a former College of Architecture associate dean, died Friday, July 18, 2014 at Centra Lynchburg General Hospital in Virginia.
A hallowed selfie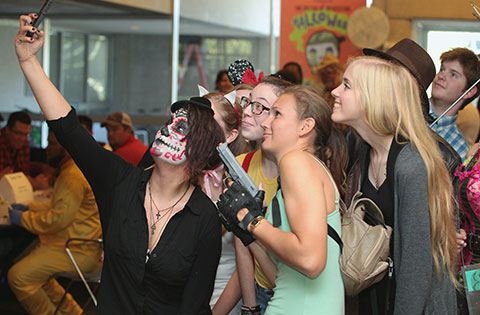 Costumed characters gather for a selfie during a Halloween costume party Oct. 31 in Langford A sponsored by the Administrative Staff Council's Bureau of Delight. A collection of spooky photos from the event is on the college's Facebook page.