October 7, 2015
Sophomore CoSci student named
handler of Aggie mascot Reveille
For most Texas A&M students, navigating campus is an unremarkable part of their daily routine, but there's nothing ordinary about any trip that construction science major Ian Moss takes when he's accompanied by Reveille, the collie who serves as Texas A&M's mascot.



Texas A&M ranked in top 6% of world's foremost universities for architecture, built environment


Texas A&M is listed in the top six percent of the world's top universities for architecture and the built environment in a new ranking compiled by Quacquarelli Symonds, a British company providing higher education guidance and career services.



Texas A&M ranked with top animation schools in nation


Within weeks of gaining prominence among the world's best game design schools, Texas A&M was ranked as one of the nation's best animation schools in a 2015 analysis conducted by Animation Career Review, an online career resource for aspiring animators, game designers and digital artists.



Segner retiring after 46 years of teaching construction science


Bob Segner, a beloved Texas A&M professor of construction science whose legions of former students occupy leadership positions throughout the building industry, is retiring at the conclusion of the spring 2016 semester ending a stellar 46-year teaching career.
Research: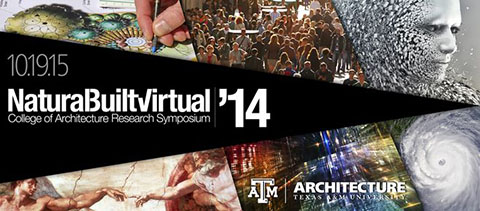 Annual college symposium showcases faculty research
The Texas A&M College of Architecture's 17th annual faculty research symposium, "Natural, Built, Virtual," is set for Tuesday, Oct. 19, 2015 at the Langford Architecture Center on the Texas A&M College Station campus.



LAUP profs propose series of enhancements for "Ike Dike"


A proposed "Ike Dike" to protect the Galveston/Houston area from hurricane storm surges should incorporate business parks and pedestrian thoroughfares to stimulate economic opportunities and enhance visual appeal, concludes research funded by the Institute for Sustainable Coastal Communities.



Planning prof leads U.S., Dutch researchers in flooding study


Researchers from five U.S. universities are paring with their Dutch counterparts in a $3.6 million, five-year project led by Sam Brody, a Texas A&M urban planning professor, to determine how to reduce the impact of coastal flooding, the globe's costliest and most disruptive natural hazard.



Alumni research shows path
to enhanced patient care

Nurses with access to private break areas could experience significant stress reduction and raised job satisfaction, potentially leading to improved care for the patients they serve, said Adeleh Nejati '15, a former Ph.D. architecture student at Texas A&M, in her Ph.D. dissertation.



Student's tool measures urban
bike transportation equity

Municipal planners can use a tool developed by a Texas A&M urban planning student to determine if the location of current or planned bicycle lanes in their community enhance the mobility of residents who may not have ready access to automobiles.
Also online:

Students grow eight varieties of
vegetables on Langford A roof

Planning faculty lead students in
summer NSF research program
In the Studio:

A design for a future outpatient healthcare facility captured first place in an AIA contest.
Grad students win AIA healthcare design competition
A group of graduate architecture students' vision for the future of outpatient healthcare delivery, rendered in a design for a 14-acre site in a proposed University of Texas at Austin medical district, earned first place in an American Institute of Architecture contest. The students were advised by Kirk Hamilton, interim director of the Center for Health Systems & Design.



Students design, build 'tiny' homes for Austin homeless

Miniature residences destined to house the chronically homeless, designed and built by Texas A&M environmental design and undergraduate construction science students, were displayed at Rudder Plaza on the Texas A&M College Station campus.
Students create boarding school designs, construction schedules

To assist with fundraising for a private, faith-based boarding school proposed to serve socially and economically disadvantaged youth in southwest Fort Worth, students recently crafted real estate proposals for the project, including design concepts, construction schedules and operating cost estimates.



Architecture students design hospital for Honduran island


Texas A&M environmental design students showed their design proposals for a new Honduran public hospital to representatives from the Honduran government and potential project donors at a public design review beneath the rotunda at the George Bush Presidential Library and Museum.



Exhibit displays transformable building designs by students


Texas A&M students explored transformable design, structures that can change form or configuration, in an exhibit at the J. Wayne Stark Galleries in the Memorial Student Center on the Texas A&M campus.



Ronald McDonald room designs for St. Joseph Center unveiled


Funds have been raised to build a new Ronald McDonald Family Room, where families with children undergoing medical treatment can stay, at St. Joseph Regional Health Center in Bryan. The rooms will include ideas from design proposals that students created in the spring 2015 semester.
Academics:
Second-year environmental design students swept a national design competition.
Students' efforts sweep national design contest
Second-year environmental design students at Texas A&M swept a national residential design sponsored by the Northeastern Lumber Manufacturers Association, placing first and second. The winning designs of a contemporary, single-family home resplendent with generous use of Eastern White Pine were created by Jack Searcy and Rebeca Diaz in a studio led by Ahmed Ali, assistant professor of architecture.



Architecture dept. celebrates excellence at May 14 event

Outstanding student and faculty achievements in the Department of Architecture were showcased at "The Celebration of Excellence," the department's year-culminating awards presentation and juried competition, at the Hilton College Station & Conference Center.



Three visualization students land $10K scholarships from Sony

The technical and artistic abilities of three Texas A&M Master of Science in Visualization students earned each of them a $10,000 scholarship from Sony Pictures Imageworks, an Academy Award-winning, state-of-the-art visual effects and character animation studio.



McLaughlin interview featured on Animation Career Review site

The history and future of visualization education at Texas A&M were two of many topics Tim McLaughlin, head of the Department of Visualization, discussed in an interview posted on the Animation Career Review website, a career resource for aspiring animators, game designers and digital artists.



Schob preserve student projects funded by LAUP dept. minigrants

Three student projects, each conducted with funding from a Texas A&M Department of Landscape Architecture and Urban Planning minigrant program, are scheduled to take place this fall in the Schob Nature Preserve, a "living" 7-acre classroom in College Station.



Water cleansing project, design and planning book earn honors

A master plan created by graduate landscape architecture students that showcases methods to cleanse storm water runoff and a book of essays compiled by Forster Ndubisi, head of the Department of Landscape Architecture and Urban Planning, captured awards at a 2015 convention.
Honors / Accomplishments:

The BIM CAVE in renovated Francis Hall.
Francis Hall interior renovation earns builders' award
The completely renovated interior in historic Francis Hall, the home of construction science education at Texas A&M, has been recognized with an award by the Associated General Contractors' Texas Building Branch.
The renovation, which includes a new auditorium, building information modeling facility, videoconferencing room, several specialty labs and exposed building systems for use as a teaching aid, was performed by general contractor Satterfield & Pontikes Construction, Inc. from a design by BRW Architects.



Architecture, Viz professors earn 2015 AFS excellence awards

Nancy Klein and Donna Hajash, two faculty members at Texas A&M's College of Architecture, were honored for excellence, leadership and selfless service with Distinguished Achievement Awards from The Association of Former Students.



Landscape design initiatives by LAUP head earn national awards

As vice president of research and information for the Landscape Architecture Foundation, Forster Ndubisi, head of the Department of Landscape Architecture and Urban Planning, guided development of two award-winning initiatives aimed at enhancing the quality of designed landscapes.



Li begins term as head of global landscape architecture group

At a speech marking the beginning of his term as the elected president of a global landscape architecture educators' group, Ming-Han Li, professor of landscape architecture at Texas A&M, underlined the importance of mentoring in education.



LAUP professor earns research award, directorship from national landscape architecture council

A body of research exploring the relationship between landscape patterns and health earned Jun-Hyun Kim, an assistant professor of landscape architecture, a prestigious award from a global educators' group.
Also online:

CoSci prof earns outstanding
reviewer award from journal

Katy Dunn earns Todd Award for
exemplary service to college
Visual Art:
A poster created by the Guerilla Girls.
Wright Gallery schedules diverse 2015-16 season

Between now and next summer, Texas A&M Wright Gallery patrons will experience drawings of increasingly inundated landscapes, a room-sized architectural installation, art protesting sexism in the art world, and exhibits featuring award-winning residential home designs and Texas landscape photography.
The gallery is located in the College of Architecture on the second floor of the Langford Architecture Center's Building A.



Ciani's 'Flood' exhibit inundates Wright Gallery through Oct. 14


Artist Mary Ciani, recently retired from the Texas A&M visualization faculty, uses water imagery to emote feelings from tranquility to rage in a series of 40 increasingly inundated landscapes visualizing, in part, the consequences of global climate change



Former design prof's paintings on display in MSC gallery this fall


Expressionist paintings reflecting the landscapes and colors of the American Southwest by award-winning artist Joe Hutchinson, a former architecture professor at Texas A&M, will be displayed in the Reynolds Gallery at the Memorial Student Center Sept. 16 - Oct. 24, 2015.



Portraits of activists by retired prof displayed in Germany


Portraits of Europeans who publicly opposed anti-Semitism and genocide during the turbulent 20th century, painted by Robert Schiffhauer, retired associate professor of architecture, are on display at Bonn, Germany's Academy for International Education, one of the college's study abroad venues.
Also online:

Exhibit of student art displayed
in Wright Gallery this summer

Mixed-media collages, paintings
explore urban path of L.A. River

Forsyth Gallery exhibit features
profs' new looks at paintings

Real, virtual sculptures created
in camp co-sponsored by IAC
Events:

Chris Luebkeman of Arup will headline the 2015 Rowlett Lecture.
2015 Rowlett Lecture features Arup foresight director
Futurist, architect and structural engineer Chris Luebkeman, director of a think tank consultancy at Arup, a renowned global design, planning, engineering and consulting firm, will discuss the future of architectural education at the 2015 Rowlett Lecture scheduled 1:30 - 4 p.m. Friday, Oct. 23 at the Annenberg Presidential Conference Center on Texas A&M University's College Station campus.



Adams to discuss U.S. Capitol addition in TIAS Fellow lecture


The effort to design and build the U.S. Capitol Visitor Center, an, underground addition to the Capitol, will be discussed in a Nov. 10 public lecture by Harold Adams '61, who oversaw the center's creation as chairman of RTKL, one of the world's largest design firms.



Beach walking-figures' creator to lecture at Texas A&M on Nov. 18


Dutch artist Theo Jansen will discuss Strandbeests, sculptures he makes with PVC pipe and wind-catching sails that resemble giant animals walking on the beach, at 5 p.m. Wednesday, Nov. 18 in Hawking Auditorium in the Mitchell Physics Building at Texas A&M University.



Students to create games in 48 hours at Oct. 23-25 Game Jam


Student video game developers from universities across the nation will gather Oct. 23-25, 2015 for "Chillenium," a 48-hour video game-building competition, or "game jam," hosted by the Department of Visualization's Learning Interactive Visualization Experience Lab.



Student-designed memorial dedicated on WWII battle site


A monument designed by architecture students to commemorate fellow Aggies who defended two World War II battlefields in the Philippines that loom prominently in Aggie lore, was unveiled by a delegation from Texas A&M during another Aggie Muster on Corregidor Island.
Also online:

Fall 2015 lecture series draws
design luminaries to campus

Lecturers to discuss health and
health facility design in Africa
CoSci department hosts national
construction group conference

Viz reps to help break down
art/science barriers at confab
Class Acts:
The group was selected by a committee from nominations by former students.
College to honor six outstanding alumni October 23
Six former students from Texas A&M's College of Architecture who have risen to the top of their respective fields while making significant public service contributions will be honored as outstanding alumni during an Oct. 23 banquet at the Miramont Country Club in Bryan.



Former student heading School of Architecture at Georgia Tech

Scott Marble '83, an Outstanding Alumnus of the Texas A&M College of Architecture, is emphasizing creative collaboration, diversity and the use of new technology and design workflows at the Georgia Tech School of Architecture, where he began as the school's chairman July 1, 2015.



Awards roll in for former student's birdhouse design

While temporarily displayed at a San Antonio park in 2014, a "human-sized" birdhouse designed by former Texas A&M design student Patrick Winn delighted park visitors and has since racked up numerous honors including a design award from the Texas Society of Architects.



Former student helps research station switch to 'green' energy

A research station on Palmyra Atoll, a remote, 680-acre South Pacific wildlife refuge 1,000 miles south of Hawaii, is operating primarily on wind and solar power thanks to efforts by David Sellers '02, a former environmental design student at Texas A&M.
Also online:

Former students help build top
sand sculptures in AIA contest

Former student obtains funds to
develop refugee camp flooring
In Memoriam:



Smith elevated construction education at Texas A&M, gathered industry partners

Jim Smith, who elevated construction education at Texas A&M by establishing partnerships with leading builders and providing award-winning classroom instruction, died Monday, April 20, with his wife Sondra and his family at his side.



Greer remembered as mentor, leader to aspiring architects

John Only Greer '55, a celebrated architectural educator, industry leader and mentor to generations of aspiring Texas A&M architecture students, passed away June 12, 2015. He was 81.



Former architecture faculty member left multiple legacies

James Patterson, a former architecture student and faculty member who helped launch Texas A&M's graduate architecture program in the 1960s, died May 29, 2015 in Norman, Okla. after a sudden illness. He was 77.



Former design prof championed protection of Texas coastal areas

Tom Colbert, a former professor of architecture at Texas A&M and an award-winning researcher who fought to preserve Texas' coastline, died August 24, 2015 after a battle with stomach cancer.
Modeling downtown Cowtown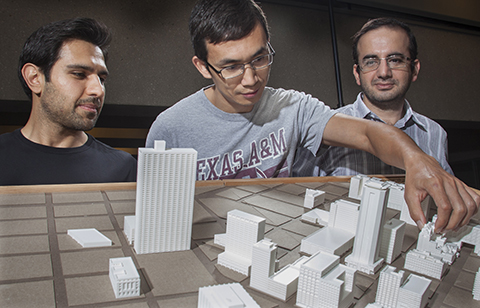 Ph.D. architecture students affiliated with the CRS Center for Leadership & Management in the Design & Construction Industry created a model of downtown Fort Worth as part of a master planning project the CRS Center is conducting with Downtown Fort Worth Inc. and the Texas A&M University School of Law, where the model is on display. From left are Jawad Altabtabai, Chengde Wu and Saied Zarrinmehr.
Fellow Ph.D. student Mohammad Rahmani Asl, not shown, also helped make the model, which was created with 3-D software including Rhino, AutoCAD, Revit and 3-D Studio. They printed the building files at the Department of Aerospace Engineering Fabrication lab.