Aggies studying abroad introduce
Big Event tradition to Europeans
In 2014,Texas A&M's "The Big Event" went worldwide. Numerous public spaces in Europe received "facelifts" from College of Architecture students in three study abroad venues as a "thank you" to their host communities — mirroring the annual Big Event tradition in Bryan/College Station in which students perform volunteer community-beautifying tasks including cleaning, planting, painting and yardwork..

Web ad spoofs accent May 2-3 Viz-a-GoGo screenings

Viz-a-GoGo, the 21st annual showcase of digital wizardry by graduate students in Texas A&M's Department of Visualization, will be on public display at two venues May 1-3 in downtown Bryan.
The main events of this year's show, the screenings of time-based work by visualization students, or "Vizzers," will be held, 8:30 p.m. Friday, May 2 and again, Saturday, May 3 at the Palace Theater, 105 Main St. in Bryan.
Advancement:

Interior rendering of renovated Francis Hall.
Francis Hall renovation for CoSci dept. under way

With the renovation of historic Francis Hall under way, the Department of Construction Science at Texas A&M University is well on its way to acquiring a state-of-the-art academic facility dedicated to construction teaching, research and industry service.
The first stand-alone building for construction education in Texas, located in the heart of the College Station campus, Francis Hall will aid the preparation of students for leadership positions in and effective management of all aspects of the construction and project delivery process in one of the nation's largest industries.



Fluor foundation to fund state- of-the-art BIM lab in Francis Hall


Construction science students at Texas A&M will soon be using a state-of-the-art building information modeling lab built with the help of a $250,000 gift from the Fluor Foundation.
Outreach:

Steven Scibona presents his design concept.

Students create designs to rebuild tornado-torn town
Residents in West Liberty, a small Kentucky town ravaged by a deadly 2012 tornado, partnered with 20 Texas A&M environmental design students this spring to develop solutions for accelerating the town's beleaguered recovery.
The massive storm, with a peak wind of 165 miles per hour, hit the town of 3,400 on March 2, 2012, claiming six people, injuring 75 and leaving a mile-wide path of destruction that continues to impact the economy.



LAND students create designs for park for special needs kids

Design concepts for a special needs childrens' park, developed by undergraduate landscape architecture students at Texas A&M, are part of a park proposal unanimously approved April 24 by the College Station City Council.



Computers to provide colonias residents with Internet access

Colonias residents, many of whom lack internet access, will soon be able to get online on computer stations in 42 community resource centers all along the border operated by the Texas A&M College of Architecture's Colonias Program.



Students' 2003 report inspires restoration of historic library

The once-deteriorating Carnegie library in Franklin, Texas, whose restoration was inspired by a 2003 report created by graduate building preservation technology students at Texas A&M, hosted a celebration of its 100th anniversary Jan. 14, 2014.
Research:

Phil Berke joins HRRC panel discussion..
HRRC researchers focus on resilience, smart planning
For 25 years, researchers at Texas A&M Hazard Reduction and Recovery Center have championed resilience, edging the focus of disaster planning away from its traditional realm in emergency management, in favor of helping communities and their leaders plan smarter — to avoid, absorb and otherwise recover from all kinds of disasters.



Viz student developing app to assist emergency responders


An application for mobile devices that will help emergency responders identify key structures in a video feed from a remote-controlled drone is being developed by Danielle Crowley, an undergraduate visualization student at Texas A&M.



HRRC comparing man-made, natural disasters in Texas towns


A Hazard Reduction and Recovery Center team is investigating how recovery from a man-made disaster differs from a natural disaster as part of a National Science Foundation study focusing on Texas towns hit by a chemical plant explosion and a tornado.



CoSci professor testing Google Glass for construction projects

In the near future, supervisors at construction sites might perform their duties with help from a wearable computer, said Julian Kang, associate professor of construction science at Texas A&M.
Also online:

Merits of repurposing forsaken
industrial sites extolled in essay

Brody featured in FEMA video
touting flood prevention tips

Associated Press report features
CHC's Alamo preservation work
In the Studio:

Detail from the central portion of the master plan.
Students design master plan for Nigerian medical city
In an effort to raise health care standards in Nigeria, which ranks seventh-highest in infant mortality among the world's nations, Thompson & Grace Investments, a Nigerian oilfield services company, is preparing to build a world-class medical service and research city in Uyo, the capital of Akwa Ibom State, based on a master plan created by graduate landscape architecture students at Texas A&M.



Students' demonstration kitchen idea wins Italian design contest

A demonstration kitchen for showcasing Tuscan and American culinary cultures designed by Texas A&M study abroad students as a tourist attraction for Castiglion Fiorentino, won a design competition sponsored by the Italian city last fall.



Students propose several design enhancements for Soltis Center

Fourteen undergraduate landscape architecture students spent their Spring Break designing features to enhance the educational experience at Texas A&M's Soltis Center for Research and Education in Costa Rica.



Health care architecture students unveil Nigerian hospital designs

Texas A&M environmental design students presented five design concepts for two state-of-the-art hospitals proposed as part of a giant medical complex to be located in an underserved region of Nigeria at an April 28 event attended by Nigerian investors and dignitaries at Legacy Hall in the Jon L. Hagler Center.



He's "Cloud Igloo" transforms vibe in Stockholm building entry

A nondescript space at the Royal Institute of Art in Stockholm, Sweden was temporarily transformed into an intriguing gathering place by an architectural installation created by Weiling He, associate professor of architecture, and a group who joined her for a three-day design-build workshop at the institute.
Also online:

Lee's students contribute to
creation of wayfinding guide

Aggie Workshop presented
speakers, charettes Feb. 7

Students unveil retooled DPS
office as medical examiner facility
Visual Arts:

Early example of computer animated facial expression, developed by Fred Parke.
Visualization professor's groundbreaking 70's facial expression animation shows up in Miley Cyrus video
Amid the twerking and frolicking in "We Can't Stop," a 2013 Miley Cyrus music video, are brief scenes of pioneering experiments in computer-animated facial expression developed by Fred Parke, professor of visualization at Texas A&M, when he was a graduate student at the University of Utah in the early 1970s.



Visualization students' exhibits promote art, science symbiosis


Interactive exhibits merging art and science created by Texas A&M visualization students encouraged kids to explore nature, physics, color theory and more at a booth sponsored by the Institute for Applied Creativity at the April 26-27 USA Science and Engineering Festival in Washington, DC.



Viz student honored for project illustrating Kid President's words


The uplifting words of viral video star Kid President literally leap across the screen in an award-winning video created by Texas A&M undergraduate visualization student Rachel Mayor.



Students in drawing class sketch 19th century Argentine gauchos

Students sketched scenes and designed sets for a play about the cultural history of gauchos, Argentine cowboys who in the 19th century helped create the tango, during a figure drawing class led by Robert Schiffhauer, associate professor of architecture.



MFA student's work in NYC space landscape exhibit


Hypothetical landscapes of distant worlds, photographed by Cassandra Hanks, a Texas A&M Master of Fine Arts student, will be exhibited at New York's HERE Gallery, 145 6th Avenue, from May 29 — July 5, 2014.



EA Sports' graphics supervisor joins Viz faculty at Texas A&M


André Thomas, who led graphics development, planning and implementation for the EA Sports' powerhouse lineup of football videogames since 2007, is now passing his considerable game industry knowledge to visualization students as a lecturer at Texas A&M.
Also online:

Ph.D. student raises crowdsource
funds for artist-in-residence stay

Paintings by late design prof Alan
Stacell on display April 5 — May 10

Former Viz prof exhibits 'ironic
monuments of the ordinary'
Academics:

Adding innovation and entrepreneurship to undergraduate engineering education.
College helping to add creativity, entrepreneurship
to engineering curriculum in NSF-funded project
Undergraduate engineering education at Texas A&M will soon reflect an added emphasis on innovation and entrepreneurship from contributions by two experts in these areas from the College of Architecture.
Jorge Vanegas, dean of the college, and Rodney Hill, professor of architecture, along with faculty and administrators in the Dwight Look College of Engineering and Mays Business School, are designing and implementing unique, high-impact learning experiences for student engineers aspiring to be leaders and innovators.



Tabb co-authors book analyzing history of 'green' architecture

A new book that provides readers with a history and analysis of "green" architecture from 1960-2010 has been authored by Philip Tabb, professor of architecture at Texas A&M, and Senem Deviren, assistant professor of landscape architecture and urban design at Istanbul Technical University.



CoSci major to compete on
Aggie equestrian team

A new member of Texas A&M's equestrian team in fall 2014 will also be enrolled as a student in the university's undergraduate construction science program.
Honors / Accomplishments:

Essay examins pre-project planning with virtual construction tools.
CoSci student wins builder's essay contest
The preconstruction phase of a project has evolved from a meeting and a handshake into an increasingly technological process, wrote Jason Bailey, a Texas A&M construction science student in the fall 2013 semester, in an essay that topped a national contest sponsored by a national building group.



Peacock, Anderson recognized with research, teaching awards

Two faculty members at Texas A&M's College of Architecture have been recognized for outstanding research and teaching with 2014 Distinguished Achievement Awards from The Association of Former Students.



Professor earns Regan Prize for interdisciplinary initiatives

Leadership in numerous interdisciplinary initiatives at Texas A&M's College of Architecture has netted Mark Clayton, professor of architecture at Texas A&M, the J. Thomas Regan Interdisciplinary Prize.



Li elected to lead landscape architecture organization

As a newly elected leader of the Council of Educators in Landscape Architecture, Ming-Han Li plans to raise CELA's national and global reputation, enhance service to its more than 120 affiliated institutions and strengthen its relationships to allied organizations.



Grad students' bike share plan earns national planning honors

A report by graduate urban planning students at Texas A&M that helped establish a university bike sharing program was honored with an award in a nationwide contest sponsored by the American Institute of Certified Planners.
Also online:

Business office staffer honored
with president's service award

CoSci student receives award at
national homebuilder confab

College staffers net awards for
outstanding job performance

Prof's design of Barcelona office
building wins design competition

Giusti honored for assisting
African-American museum
Events:

51st ASC conference to be hosted by Texas A&M Univesity.
Texas A&M to host Associated Schools of Construction
Construction science educators and graduate students from across the United States and throughout the world will come to Texas A&M April 22-25, 2015 to discuss emerging technologies' effects on construction management practice and education at the Associated Schools of Construction's 51st Annual International Conference, which will be hosted by Texas A&M and theDepartment of Construction Science.



Department of Architecture to honor year's top projects, people


Presentations of the year's best work from graduate architecture students, culminating with the selection of the top project and the presentation of student and faculty awards, will take place 2 - 7 p.m. Friday, May 9, 2014 as part of the Department of Architecture's annual Celebration of Excellence at the Hilton Hotel.



Former students discuss career arcs at 2014 Rowlett Lecture


Ten young professionals with careers in the built environment, three of them graduates of the College of Architecture, discussed how environmental, cultural and technological changes affected their careers at the 2014 Rowlett Lecture, held Friday, March 28 at the Annenberg Presidential Conference Center.



Renowned environmental activist lectures at college


Bestselling author and educator Bill McKibben, who the Boston Globe called one of the United States' most important environmentalists, discussed the threat of global warming and the international movement to end humanity's reliance on fossil fuels in two lectures at Texas A&M.

Also online:

Architecture-for-health lectures
eye leadership role in healthcare

Architecture lecture series hosts
6 design masters in spring 2014

Design prof lectures at April
architecture celebration in D.C.

March CHC symposium features
Houston building preservationists

Contest features innovative
presentations of diversity data

Preservation experts discuss
campus depression-era buildings
Class Acts:

Glif for the iPhone 5 and an adjustable version to fit virtually any smartphone
Former students share news with the College
Former students are invited to submit items for the Class Acts section of the arch|one e-newsletter, which highlights professional achievements, as well as news briefs about marriages, births, retirements and whatever else former students care to share with the college community. News and photos may be e-mailed directly to the editor. News and photos may be e-mailed directly to the editor.



Six alumni to be inducted into AIA College of Fellows

For achieving a standard of excellence in the architecture profession and for significant contributors to architecture and society, six Texas A&M former students have been elevated into the prestigious American Institute of Architects College of Fellows.



Alumna's designs, activism earn her AIA Young Architect Award

Significant architectural accomplishments, community activism and a commitment to advancing diversity within her profession led to an American Institute of Architects Young Architect Award for Lorena Toffer, a 2004 Master of Architecture graduate from Texas A&M University.



Former students' firm ranked in top five in K-12 built projects

Gignac Architects, a design firm with two generations of former students holding Master of Architecture degrees, was ranked fifth among all firms in the United States that designed K-12 education facilities with construction starts from Jan. 2011 through Oct. 2013 by Architectural Record magazine.



Viz program to be prominently featured at SIGGRAPH 2014

SIGGRAPH 2014, the world's premier computer graphics and interactive techniques conference, will once again feature a large presence from faculty and students at Texas A&M's Department of Visualization.
In Memoriam:



First CoSci department head, outstanding alum Marsh dies

James H. Marsh '51, the first head of the Department of Construction Science at Texas A&M University (1969-81) and inventor of the lift shape process for thin shell concrete construction, passed away April 26 at his Caldwell, Texas home.



Former student's plans helped transform downtown Fort Worth

James Toal '69, a planning and economic development expert whose distinguished career included a leading role in what WFAA-TV called the biggest urban makeover in Fort Worth's history, died at his home Dec. 22, 2013.
Towers of light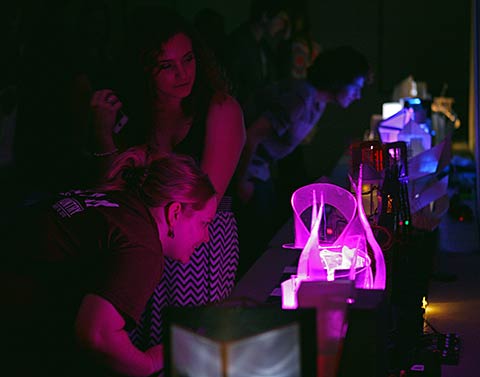 Darcy Phillips of Austin, foreground and Micaela Allen of Round Rock take a look at "The Broken Ballerinas" by Stephanie Matteson, one of many light towers created by environmental design students on display in the Langford B exhibit hall April 25. Guests packed the darkened space to take a look at the work, created by students led by Julie Rogers, senior architecture lecturer.