April 9 open house events celebrate
$10 million Francis Hall renovation
The $10 million transformation of historic Francis Hall, the new headquarters for Texas A&M's Department of Construction Science, into a state-of-the-art academic facility will be celebrated with a dedication set for 12:30 p.m. April 9 at the College Station Hilton (to accommodate anticipated crowds), followed by a 2 – 4 p.m. open house at Francis Hall.



CoSci department to host 51st annual ASC conference this April


Construction science educators and graduate students from across the United States and the world will come to Texas A&M April 22-25, 2015 to discuss emerging technologies' effects on construction management practice and education at the Associated Schools of Construction's 51st Annual International Conference, hosted by Texas A&M and the Department of Construction Science.



Former dean remembered as visionary leader, educator


J. Thomas Regan, who as dean shepherded the Texas A&M College of Architecture through a formative decade, passed away peacefully March 5, 2015 in his Cape Cod, Mass. home. He was 74 years old.



RSVP for May 14 Aggie
AIA Reception in Atlanta

Texas A&M former students and friends are invited to join their former classmates and professors at the annual Aggie AIA Reception to be held in conjunction with the American Institute of Architects' 2015 national convention in Atlanta.
Research:

Texas A&M hazard researchers are part of a new federal center working to develop software to help communities prepare for or recover from natural disasters.
HRRC partners with elite vulnerability, resilience center
An elite group of urban planning researchers from Texas A&M University have been selected to collaborate with scientists from 11 universities in a nationwide, $20 million initiative aimed at helping communities prepare for and recover from natural disasters.
This interdisciplinary team will collaborate through the newly established Community Resilience Center of Excellence to develop a set of user-friendly software tools to aid policy makers, planners or anyone with a need to reduce a community's vulnerability and enhance its resilience to events like earthquakes, hurricanes, flooding and tornadoes.



CHSD selected for prestigious AIA Research Consortium


Texas A&M's Center for Health Systems & Design has been selected as a charter member of the American Institute of Architects' Design & Health Research Consortium, a group formed to spur university-led research investigating how design affects public health.



Study: Purpose-built walkable community promotes activity


Residents of a pedestrian-oriented, activity-friendly development in Austin walked more, had improved social interactions with their neighbors and perceived more neighborhood cohesion than they did in their previous neighborhood, according to a study led by Xuemei Zhu, associate professor of architecture.



Toys, plants provide alternative digital interface for kids, elderly

Instead of using keyboards, mice and screens to interface with digital technology, young children and the elderly are delightfully using stuffed toys and plants developed at Texas A&M's Department of Visualization.



Colonias residents learn how to purify water at two new facilities

Residents of Texas colonias, border communities often lacking basic infrastructure and amenities such as running water, are learning how to purify water using clay pot filters manufactured at two facilities operated by the Texas A&M Colonias Program.



Researchers develop timesaving digital daylighting technique

Texas A&M researchers recently developed a new technique that facilitates the simulation and evaluation of daylight effects within a digitally rendered architectural model, significantly reducing the time and skills the process once required.
Also online:

CHC study reveals decay on
Alamo's iconic west facade

TAMU team refines software to
help visually impaired readers

Study finds construction industry
slow to adopt, utilize technology

HRRC identifying best practices in
long-term disaster recoveries

TAMU disaster researchers pen
four scholarly articles in JAPA
In the Studio:

Viz-a-GoGo will enliven downtown Bryan May 6-9.
Vizzers to unleash creativity at Viz-a-GoGo 22 May 6-9
Viz-a-GoGo, the annual showcase of digital wizardry conjured by graduate visualization students from the Texas A&M College of Architecture, will be staged in downtown Bryan May 6-9.
This year's show, the 22nd Viz-a-GoGo, features public screenings of time-based work, the main event, at 8:30 p.m. Friday, May 8 and Saturday, May 9 at the Palace Theater, 105 S. Main St.



Grad students place first in AIA Healthcare design competition

Texas A&M graduate students' vision for the future of outpatient healthcare delivery earned first place in a Feb. 19 American Institute of Architecture design contest in Houston.



Student-built tiny homes to house Austin-area homeless

Environmental design and construction science students are building two "tiny houses" — a broad term generally referring to residences 300 square feet or less — that will be donated to a master-planned development providing housing for disabled, chronically homeless people in the Austin area.



LAND students design hike, bike
trail for North Houston suburbs


A 6.5-mile hike-and-bike trail designed last fall by Texas A&M graduate landscape architecture students is poised to be the latest addition to a series of award-winning, Texas A&M student-designed parks and recreation spaces serving the suburban north Houston area



Students design wood towers to be both flexible and ridged


Slender, six-foot tall wooden towers that display contradictory properties — rigidity and flexibility — were created by four first-year environmental design students at Texas A&M for display at an architectural education conference.
Also online:

Design, LAND students to unveil
outpatient, sports facility designs

40th Aggie Workshop explored
urban parks, green space Feb. 6
Academics:

Texas A&M was listed among the world's best schools for video game design education in a survey conducted by The Princeton Review.
Texas A&M listed with top video game design schools
Widely known as a fertile training ground for future Hollywood special effects professionals, the Department of Visualization at Texas A&M University is rapidly gaining stature among the nation's leading programs in video game design.
Since the Master of Science in Visualization program was founded at the College of Architecture in 1989, leading visual effects and animation companies like Industrial Light & Magic, Pixar and DreamWorks have snapped up its graduates. As it turns out, those graduates and their digital manipulation skills are also in increasingly high demand among companies looking to create the next "Minecraft," "Halo," or "Super Mario Brothers."
See story

Related story: Visualization department earns first gaming scholarship



CoSci students' presentations impress industry professionals

Three groups of 14 fourth-year construction science students from Texas A&M University made a "positive and powerful" impression on construction industry executives with Dec. 2 presentations detailing schedules and safety protocols for the construction of a natural gas refinery on the Texas Gulf Coast.



Semester abroad experience
called 'profound, life-changing'

For the last 15 years, undergraduate College of Architecture students have spent a mandatory long semester abroad. An article in the Nov. 13, 2014 issue of The Texas A&M Foundation's Spirit magazine, showcases the value of spending a "semester away."



Texas Target Communities' efforts help two Texas towns

Two small Texas communities are shaping their futures with help from Texas A&M's Texas Target Communities program, which aids municipalities that lack urban planning resources available to larger cities.



More than 1,000 students vie for jobs at department career fairs

Approximately 1,300 Texas A&M's College of Architecture students sought jobs, internships, or a chance to sharpen their interview skills from the 237 companies manning booths at the four spring 2015 career fairs held by the college's four departments.
Honors / Accomplishments:

Charles Culp, right, receives the E.K. Campbell Award of Merit from Thomas Phoenix, president of ASHRAE for outstanding achievements in service and teaching.

Prof earns ASHRAE's prestigious E.K. Campbell Award

For outstanding achievements in service and teaching, Charles Culp, a professor of architecture at Texas A&M University, recently received the prestigious E.K. Campbell Award of Merit from the Life Members Club of the American Society of Heating, Refrigerating, and Air-Conditioning Engineers.

The award, which includes a $10,000 honorarium, medallion and plaque, was presented at the January 2015 ASHRAE conference in Chicago.




Prof, former student listed with top ten in Healthcare Design

A Texas A&M College of Architecture professor and former student were honored by Healthcare Design magazine editors in their annual list of individuals and organizations who made the most significant mark in healthcare design in the past year.



Architecture professor garners
TEES Center Fellows award

For significantly improving how building energy efficiency is measured and numerous other achievements, Jeff Haberl, professor of architecture at Texas A&M, will receive the Texas A&M Engineering Experiment Station's Center Fellows Award.



Center for Teaching Excellence taps prof as Montague scholar

For active, constructive engagement with his students, Jun-Hyun Kim, an assistant professor in the Department of Landscape Architecture and Urban Planning at Texas A&M University, was named a 2014-15 Montague – Center for Teaching Excellence Scholar.



Interdisciplinary initiatives earn Regan Prize for Warden, Vanegas

For championing interdisciplinary education two Texas A&M College of Architecture professors, Jorge Vanegas, dean of the college, and Robert Warden, director of the Center for Heritage Conservation, were selected as recipients of the 2014 J. Thomas Regan Interdisciplinary Faculty Prize.
Also online:

Viz students earn scholarships
from Sony Pictures Imageworks

College business office staffer
nets two prestigious awards

Conference sponsored by college
diversity council wins APA award

Ph.D. student's healing garden
research earns national award

College staffers net awards for
outstanding job performance
Art:

"Etude 1" by Sherman Finch, assistant professor of architecture, from his series "Symphonic Infinitum."
Faculty art on display at Stark Galleries through May 31

The artistic talents of 29 current and former faculty members at Texas A&M's College of Architecture will be on display during the Faculty Art Biennial April 2 – May 31 in the J. Wayne Stark Galleries at the Memorial Student Center.
"The exhibit will display the amazing breadth of talent in the college," said Howard Eilers, the biennial's coordinator and associate professor of visualization. "There will be landscape, portrait and urban street photographs, multimedia installations, steel sculptures, 3-D printed flexible textile structures, paintings, sketches, and much more."



Former students' short film to be screened at film fest in Germany


An award-winning, 3-D short film created by two former Texas A&M visualization students has been selected for screening in a prestigious German film festival.



Houston multimedia exhibit features past, current Vizzers


Art informed or inspired by science and created by current students and recent graduates from Texas A&M's Department of Visualization will be showcased in "Supernova," an exhibit scheduled March 27 – May 9 at Fresh Arts, 2101 Winter St., Studio B11 in Houston.



Metalsmith deals with human relationships in 'Estrangeira'


Metalsmith Lauren McAdams explores the inner emotions of interpersonal relationships in "Estrangeira," an exhibit set for March 16 – April 16 at the Wright Gallery, located on the second floor of the Langford Architecture Center's Building A on the Texas A&M campus.
Also online:

'Mystery of Art' exhibit featured
college prof's art at Wright Gallery
Wright Gallery showcased sculptor
Wells Mason's postminimalist art

Artist's work explored how built
environment influences feelings

Visualization prof's art displayed
in Houston gallery through Feb. 7
Events:

An upcoming lecture will feature a planning movement called New Urbanism.
Emily Talen eyes New Urbanism in Giesecke lecture
Urban planning author and educator Emily Talen will lead a planning workshop and present a lecture on New Urbanism, a planning movement that champions compact, walkable urban spaces, during a Monday, April 6 visit to Texas A&M.
Talen, professor of geographical sciences and urban planning at Arizona State University, will present "Summing Up New Urbanism: Wins, Losses and Future Prospects," 4 p.m., Monday, April 6 in Geren Auditorium, Building B of the Langford Architecture Center. Her public lecture is part of the Dr. Frederick E. Giesecke 1886 Lecture Series, which honors the founder of Texas A&M's architecture program.



Spring architecture lectures feature designers, theorist


A diverse group of leaders in architectural design and theory will share their wisdom and experiences with students in the Spring 2013 Department of Architecture Lecture Series. The presentations are scheduled in the Preston Geren Auditorium, located in Building B of the Langford Architecture Center.



CHC symposium showcased Alamo conservation initiatives


Lectures detailing how a revolutionary army scout preserved one of the Alamo's outer gates, research regarding its use during its days as a Spanish mission and efforts to conserve the historic shrine were presented at the Center for Heritage Conservation's 16th annual symposium, Feb. 20 – 21, 2015.



Students faculty participate in IAC's first PechaKucha Night


Faculty and staff from the Texas A&M College of Architecture discussed their creative pursuits March 10, 2015 in a unique presentation format at a downtown Bryan event co-sponsored by the Institute for Applied Creativity.



Lectures explore health facility in Latin America & the Caribbean


Leading designers and healthcare administrators from North and South America will discuss environmental health issues and health facility design in Latin American and Caribbean during the Spring 2015 Architecture-for-Health Lecture Series at the Texas A&M College of Architecture.
Class Acts:

William Pena ´42 acknowledges applause after an announcement honoring him with the 2015 Distinguished Alumnus Award.
Architect hero, Peña named distinguished alumnus
William Peña ´42, whose legendary architectural career followed a harrowing tour of duty in World War II, is the recipient of a 2015 Distinguished Alumnus Award, the highest honor bestowed upon a former student of Texas A&M University.
The surprise award announcement was made by Marty Holmes '87, vice president of The Association of Former Students, on March 5, 2015 at the Texas A&M Hispanic Network Annual Summit, where Peña was being honored for his military service.



Six former students, former prof named to AIA College of Fellows

Six former students and a former faculty member at Texas A&M's College of Architecture were elevated to the prestigious American Institute of Architects' College of Felllows for achieving a standard of excellence in the architecture profession and for making significant contributions to architecture and society.



Former student's startup creating mobile virtual reality application

Virtual reality "will transform every industry over the next decade or two", said the CEO of a group investing in a VR startup co-founded by Chris Wheeler, who earned a Master of Science in Visualization degree in 2009.



Class Acts: Former students touch base with classmates

Former students are invited to submit items for the Class Acts section of the arch|one e-newsletter, which highlights professional achievements, as well as news briefs about marriages, births, retirements and whatever else former students care to share with the college community. News and photos may be e-mailed directly to the editor.
In Memoriam:



Outstanding alumnus, leading builder Brice Hill dies Jan. 15

Brice Hill, an outstanding alumnus of Texas A&M's College of Architecture who became a leader in the construction industry during a career that lasted nearly four decades, died Jan. 15 from complications of diabetes.



AIA Fellow Duffy Stanley '48 dies, leaving notable legacy in El Paso

Duffy Stanley, 91, who earned a bachelor of architecture degree at Texas A&M in 1948, passed away Sept. 27, 2014 after decades of shaping the El Paso, Texas region with his design, planning and preservation efforts.
Body Extension Project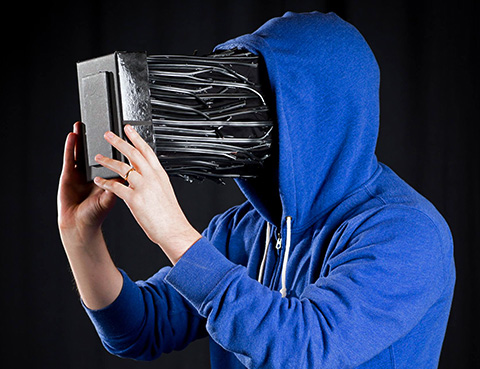 ARTS 308 student Mason Smith, demonstrates his Body Extension Project. For the class assignment students cast body parts and created sculptural extensions exploring identity, religion, culture, and history.