This Friday, Nov. 10, the Texas A&M College of Architecture will host its annual Outstanding Alumni Awards Banquet, honoring extraordinary former students who, over the years, have laid the foundations on which the college has built a tradition of excellence through academics, research and service.
The eight 2006 Outstanding Alumni Award recipients will be feted 6:30 - 10 p.m. at Miramont Country Club in College Station.
This year's honorees are: Craig Beale '71, executive vice president of HKS, Inc.; Velpeau E. Hawes, Jr. '58, retired architect; Jesús (Chuy) H. Hinojosa '58, Texas A&M professor emeritus; Richard Riveire '83, principal with DMJMRottet; Scott Slaney '76, principal with SWA Group; Arch Swank '36, posthumous award; Eldon G. Tipping '68, president of Structural Services, Inc.; and Will Wynn '84, mayor of Austin, Texas.
"The Outstanding Alumni Award is the highest honor the college bestows on its former students," said Tom Regan, dean of the College of Architecture. "The former students we honor this year, as well as those recognized previously, have not only gained the respect of their peers, but have been acclaimed as leaders and pioneers in their respective fields. They have advanced their professions and industries with new knowledge wrought through innovation, extraordinary talent, and sustained effort," he continued. "By their good works they have also advanced the reputation of the College of Architecture and Texas A&M University."
Of more than 14,000 former students from the College of Architecture, less than one percent, have been selected for this special honor.

2006 Outstanding Alumni
Craig Beale
Class of 1971
FAIA, FACHA, RIBA, CHE, CHC
Executive Vice President, HKS, Inc.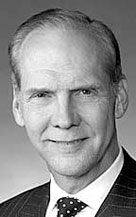 Over a three-decade career, Craig Beale has been responsible for awarding-winning environments for millions of Americans. He serves on HKS's four-man executive committee, overseeing the firm's current and future vision and direction. With over a thousand employees in 16 offices across the country, London and Mexico City, HKS is perennially ranked in the top five architectural firms in the country.
Mr. Beale has dedicated his career to healthcare architecture. After graduating from Texas A&M with a Bachelor of Environmental Design, he obtained a Master of Architecture with focus on health facilities from Rice University and a Master of Public Health from the University of Texas. Since 2000, he has directed the HKS Healthcare Group, with overall responsibility for its mission, focus and practice. During this period HKS has produced more healthcare construction than any other U.S. firm according to Modern Healthcare (now over $1.5 billion annually). In 2006, BD World Architecture ranked HKS the number one healthcare practice in the world.
Under his direction, the Healthcare Group has restructured and focused particular attention on medical technology integration and health environments research. Over three dozen articles have been written by Mr. Beale or about his projects, including his authorship of the outpatient facilities portion of the Guidelines for Design and Construction of Hospitals and Healthcare Facilities Workbook by the Academy of Architecture for Health. He has spoken widely nationally and internationally, having addressed over 3,000 practitioners on topics ranging from emergency and cancer center design to health facilities of the next century.
Mr. Beale also sits on the Board of RyderHKS International, HKS' London subsidiary engaged in healthcare, educational, and commercial projects in the United Kingdom and Europe. He is a Fellow of both the American Institute of Architects and the American College of Healthcare Architects, a diplomat of the American College of Healthcare Executives, a Certified Healthcare Consultant, and a chartered member of the Royal Institute of British Architects. He currently sits on the board of the American Association of Healthcare Consultants.
Committed to the development of future healthcare architects, Mr. Beale has remained involved in the activities of the College of Architecture. He is a member of the Professional Leadership Board, an HKS designee to the Health Industry Advisory Council, a frequent visiting critic and advisor to healthcare students, and supporter of the Students Health Environments Research Association and Sta. Chiara. He and his wife endowed the Julie and Craig Beale Professorship in Health Facilities, recently awarded to Dr. Roger Ulrich.
Velpeau E. Hawes, Jr.
Class of 1958
FAIA
Retired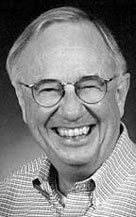 After four years of service as an Infantry officer Mr. Hawes began a 38-year career with several architectural firms in Dallas, Texas as a licensed architect and licensed interior designer. These firms included Omniplan, HOK, and PGAL from which he retired in 2000. Upon retirement from private practice he managed the design and construction of the Nasher Sculpture Center project for Mr. Raymond D. Nasher, a longtime client. This project, considered to be a world class building, was designed by the prominent architect Renzo Piano of Genoa, Italy; landscape architect Peter Walker; and Arup Engineers of London, England.
Mr. Hawes spent most of his career managing significant projects and as a principal in firms. Mr. Hawes clients have included: Texas A&M University, Raymond D. Nasher, Zale Corporation, D/FW Airport, Friendswood Development, Chevron, Neiman Marcus, Gerald Hines Interests, and Mobil Oil. Projects he managed received eight Texas Society of Architects Design Awards, and four AIA/Dallas Design Awards.
His involvement with Texas A&M includes serving on the College of Architecture Advisory Board, guest lecture appearances, and as a Muster speaker for the Grayson, County, Texas A&M Club.
Mr. Hawes was elevated to fellow in the American Institute of Architects in 1983, he was named a Richard Upjohn Fellow in 1990 by the American Institute of Architects, and in 2006 he received a Lifetime Achievement Award from the Dallas AIA chapter.
During his years of service with the American Institute of Architects Mr. Hawes served as Dallas Chapter President 1982, AIA Board Member 1985-1988; and AIA Trust Board Member 1989-1995.

Mr. Hawes and his wife Connie have four grown children and six grandchildren.

Jesús (Chuy) H. Hinojosa
Class of 1958
FAICP
Professor Emeritus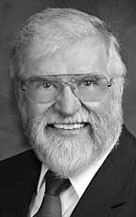 Spanning 40 years as a faculty member, department head, and associate dean, Mr. Hinojosa is now Professor Emeritus of Landscape Architecture & Urban Planning at Texas A&M University. He serves on the national Planning Accreditation Board's Site Visitors Team, has served on the national board of directors of the American Planning Association, and is a Fellow of the American Institute of Certified Planners.
While on the Texas A&M faculty, he conducted numerous public-service planning/urban design studies for the public/private sectors; most notably the San Antonio River Walk Development Guidance System (1985-87) for the River Walk Advisory Commission with a focus on the river's heritage, pedestrian access, and solar access through development standards and incentives.
Mr. Hinojosa is listed in Who's Who Among Hispanic Americans, 1991-92, 1st Ed., Gale Research Inc. Starting in the mid-1960s he worked on technical assistance projects sponsored by the U.S. State Department's Agency for International Development in Central and South America in post-earthquake reconstruction and urban and regional planning studies.
Born in Edcouch, Texas, he holds a Bachelor of Architecture from Texas A&M University, 1960, and a Master of City Planning from Harvard University, 1964.
Among Mr. Hinojosa's most notable accomplishments:

• His 1964 thesis in city planning received an Honorable Mention Award at Harvard University.

• While a planner/urban designer for a large consulting firm in California, he was sent to Chile in January 1966 to direct that country's first comprehensive urban planning studies in the municipalities of Puerto Montt and Osorno. In 1970 the Osorno Plan earned first place honors in the Practical Work Category at the Inter-American Planning Society 8th Congress held in Sao Paulo, Brazil.

• In 1993 he received the Faculty Distinguished Achievement Award for Administration at Texas A&M University, a university-wide competition sponsored by the Association of Former Students.

Richard Riveire
Class of 1983
AIA
Principal, DMJMRottet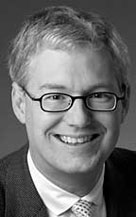 Richard Riveire is a design professional with more than 20 years of experience shaping the modern workplace and interior architecture. With long term partner Lauren Rottet, he has built a practice devoted to interior architecture including 70 professionals in four offices. The firm's distinct design approach, characterized by precise detail and architecturally derived solutions, reflects a long-held desire to improve the human experience through the built environment. Balancing aesthetic and spatial considerations with marketplace realities and a concern for the quality of the workplace, DMJMRottet has built a reputation for designs that are successful both in responding to client requirements and in setting new standards in highly competitive business environments. As managing principal and design principal for major projects, Mr. Riveire leads projects with a deep understanding of the process of creating workplace environments that visually reflect the culture of the client.
Mr. Riveire has played a key role in expanding DMJM Rottet's design reach to Asia. He has cultivated relationships with respected clients throughout the Pacific Rim with prestigious projects completed or underway in Hong Kong, South Korea, the People's Republic of China, Indonesia, and Singapore. Major projects include the 100,000-square-meter headquarters for Korea Development Bank in Seoul, The Bank of China's Shanghai Headquarters, and offices for Pontiac Land developers in Singapore.
He has extended his unique vision to the design of furniture and other products for respected contract manufacturers and has designed award-winning collections for Steelcase, Halcon and Martin Brattrud. In addition to the popular Attache' series of casegoods for Halcon, on which he teamed with Lauren Rottet, Mr. Riveire's product collections include the Lineal seating series for Halcon, the Manele and Sterling lounge seating and table collections for Martin Brattrud, and the elegant Tableau collection of casegoods for Steelcase Wood Furniture.
Mr. Riveire's professional experience includes work with 3D/International in Houston and with both the Houston and Los Angeles offices of Skidmore, Owings & Merrill. While at SOM, he served as senior designer on a number of prestigious projects, including the widely published headquarters for Transamerica Criterion, Inc. in Houston, the law offices of Latham & Watkins in Los Angeles which was recognized as the Project of the Year by Interior Design magazine, the City Club on Bunker Hill, and the flagship branch of First Interstate Bank in First Interstate World Center. In 1990, Mr. Riveire joined fellow designers as a founding principal of Keating Mann Jernigan Rottet, which merged with Daniel, Mann, Johnson, & Menenhall in 1994.
He holds a Master of Architecture and a Bachelor in Environmental Design from Texas A & M University and is a member of the American Institute of Architects, CoreNet Global, MasterSpec Interior Review Committee, and AIA Professional Systems.

Scott Slaney
Class of 1976
ASLA
Principal, SWA Group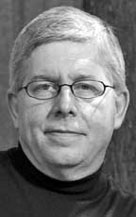 Is design and managing principal in the Houston office of SWA Group a planning, landscape architecture and urban design firm practicing regionally, nationally and internationally. Scott has always been interested in creating "place" whether at the intimate scale of a garden or larger scale of a region. Since his 1976 graduation from Texas A&M University his work has received some 20 professional awards, including:

• Texas ASLA Award of Excellence for "Cy-Fair College" in Houston Texas, 2006;

• ASLA Award of Excellence for "Heart of the Park" at Hermann Park, Houston Texas, 2005

• ULI Global Award of Excellence for "Hangzhou HuBin Redevelopment," Hangzhou China, 2005

• Texas ASLA Honor Award for "Uptown Houston Streetscape Program," Houston, Texas, 1999.
Scott has been blessed with a wonderful and supportive family. His wife Lisa and son Josef are a constant source of pride and inspiration. He said Houston has also been a source of his inspiration. The city has afforded Scott creative opportunities beyond expectation and chances to "give-back."
"Great parks and schools define great neighborhoods and cities," he said. To that end he has dedicated his personal energy to neighborhood revitalization through pro-bono design of school-parks including:

• Old Sixth Ward Park in Houston; a park for the arts, built for and by students of the not-for-profit arts education organization MECA (Multi-Ethnic-Cultural-Arts). Scott and other volunteers designed, taught and directed neighborhood kids and contractors to build a park that has become a point of pride for this historic neighborhood.

• Travis Elementary School SPARK Park in Houston; over a 10-year period, Mr. Slaney donated his services to design, document, bid and oversee $400,000 in improvements to create Travis Park. A park for kids and the community named in 2002 by the Project for Public Spaces as one of the country's best public open spaces.

Arch Swank
Class of 1936
FAIA
Posthumous Award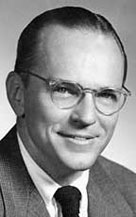 Arch B. Swank Jr. (1913-1999) was one of the great innovative figures of Texas architecture. He was born in Wills Point, Texas. He graduated in 1936 as a member of the first class to complete Texas A&M's five-year architecture program. Upon graduation he moved to Dallas, where his professional career flourished.
In 1937 he entered a partnership with O'Neil Ford, the architect whose detail drawings Swank had handed out during his first job as a docent at the Southern Pine Association House at the Exposition in 1933. The two men worked together with a small group of artisans in a creative workshop, mostly designing residences and researching various aspects of construction. In 1939 he and Ford designed the "Chapel in the Woods" at Texas State College for Women (now Texas Women's University). The building, known for its embodiment of Regional Modernism, was the team's "first significant nonresidential commission."
The partnership with Ford dissolved in 1941 when the Army required Swank's service as a commissioned officer in WWII. One year after his discharge, he entered a partnership with Roscoe DeWitt.The architectural firm of DeWitt and Swank emerged as one of the most successful in Texas after the war. Among their most prestigious jobs was the Preston Center branch of Neiman Marcus department stores (1952), which consisted of 63,000 square feet of luxury shopping space. In 1951 Swank was elected president of the Dallas Chapter of the American Institute of Architects, promoting the importance of urban design and environmental causes. He returned to individual practice in 1952.
Throughout his career Swank consistently sought out opportunities for innovation and collaboration with others. He worked frequently with O'Neil Ford in the 1950's and 60's. Under the name Associated Architects and Land Planners, Swank, Ford, Richard Colley and planner Sam Zisman designed the semiconductor complex in Richardson (1958) for Texas Instruments. The same team, joined by Mexican architect Felix Candela, also secured the project of the Great Southwest Corporation's industrial park in Arlington (1958). These projects are well known for their innovative hyperbolic paraboloid building structures. At the time of their design no building codes existed which addressed these structures. Swank and his associates constructed a thin concrete hyperbolic paraboloid and performed the load tests themselves. The test shell was a tremendous success, holding two and a half times its design load.
From 1955 to 1967, Swank oversaw the design and construction of a complex of buildings, United Presbyterian Homes, in Waxahatchie, Texas, housing a program of care for needy children and the elderly. He continued to work on this project, designing additions for UPH until well into the 1970's. Kerr Couny commissioned other significant projects during this period, including the Correction/Detention Facility and the Courthouse Annex (1974-1979).
Mr. Swank was married to Patsy Swank, an award winning journalist, who has been recognized for her excellent coverage of architecture.

Eldon G. Tipping
Class of 1968
FACI
President, Structural Services, Inc.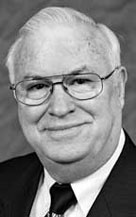 Eldon G. Tipping is the president of Structural Services, Inc. (SSI), a privately held company based in Richardson, Texas. With more than 30 years of experience in the design and construction of concrete floors, Mr.Tipping was recently selected by Concrete Construction magazine as one of the Ten Most Influential People in the concrete industry. Prior to founding SSI in 1988, he designed commercial and industrial structures and served as vice president for a commercial materials testing laboratory where he monitored construction projects.
Mr. Tipping has led the structural design effort on a number of successful mid- and high-rise structures. He has developed placement, finishing and monitoring procedures that make construction of superior on-ground and suspended slabs practical. As a leading authority on tolerances and construction of suspended floors, he works with owners, design teams, contractors, and testing laboratories to produce floor surfaces that meet or exceed end-user needs. The list of SSI's clients nationwide includes: Texas A&M, Trammell Crow Company, Centex Construction Company, and Frito-Lay, Inc.
A Fellow of American Concrete Institute (ACI), Mr. Tipping was elected to receive ACI's Delmar L. Bloem Distinguished Service Award. He is currently a member of the ACI Board of Direction and has chaired several of ACI's committees. He is the author of numerous articles in professional publications, speaks annually at the World of Concrete, and leads educational seminars.
Mr. Tipping received a BS in Architectural Construction in 1969 and a MArch in Construction Management in 1973 from Texas A&M University with an emphasis on structural design and management. He is a registered professional engineer in the states of Texas, Oklahoma and Louisiana, and is also a member of the American Concrete Pavement Association, the American Institute of Steel Construction, ASCE, ASCC, ASTM International, the International Concrete Repair Institute, and the Structural Engineers Association of Texas.

Will Wynn
Class of 1984
Mayor of Austin, Texas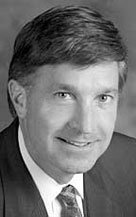 Will Wynn was recently re-elected Austin's 50th Mayor with over 78% of the vote.
Mr. Wynn graduated cum laude in 1984 with a degree in Environmental Design from Texas A&M University. He also completed the department's cooperative education program, working for Shefelman & Nix Architects in Austin.
Mr. Wynn has over 20 years of experience in the commercial real estate development industry, with projects large and small. In 1997, he founded CIVITAS Investments, Inc. to focus on historic restoration projects. He is a member of the Urban Land Institute and believes that only through dramatically better land use practices can Austin and the surrounding region appropriately deal with challenges like traffic, air quality, housing affordability and environmental protection.
Prior to being elected to public office, Mr. Wynn served as chair of the Downtown Austin Alliance, and has long been a leading advocate for transforming downtown Austin into the most vibrant urban core in the country.
In 2001, he was one of the founding members of Envision Central Texas, an unprecedented five-county wide citizens planning exercise.
In addition to his many duties locally, Mr. Wynn has risen to a leadership position with the U.S. Conference of Mayors. As chair of the USCM Energy Committee, he is driving national debate on federal energy policy and climate change.
Mr. Wynn was named Austinite of the Year by Austin Under Forty; was awarded Scenic Austin's first annual Scenic Hero Award; was named Energy Executive of the Year by the Association of Energy Engineers and was recently named Local Public Official of the Year by the National Association of Social Workers.

Mr. Wynn is the proud father of two daughters ages ten and eight.