Last week, Architect Adrián Gracia brought a group of faculty and students from Monterrey Tech University in Monterrey, Mexico to visit Houston and the Texas A&M campus as guests of Mark Clayton, interim head of the Department of Architecture at Texas A&M University.
Other Monterrey Tech faculty on the tour included Jose Villalobos, Rodrigo Maisterrena, and Ana María De la Cruz.
The group, whose trip was sponsored by Autodesk, came to confer on Building Information Modeling (BIM), Digital Fabrication, and other architectural education-related topics. They also heard a presentation on the college's work in the Texas colonias by Jorge Vanegas, director of the Center for Housing and Human Development.

While in Houston, the group visited the HOK and SHW Group architecture firm offices, and providentially met Renzo Piano, the world-renowned Italian architect, while touring the Menil Gallery.
In College Station, they toured the Langford Architecture Center on the Texas A&M campus and the Architecture Ranch at the Riverside Campus, met informally with students, and were hosted by Danny Bass in the woodshop, who demonstrated the college's laser cutter and 3-D printer.
On Saturday evening, the entire group was entertained at the Revolution nightclub in Bryan by Roca Azul, a Latino rock band. Joining Roca Azul on stage were Professor Ana Maria De La Cruz one of the students, Sofia.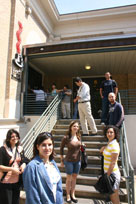 Visiting faculty and students from Monterrey Tech University in Monterrey, Mexico