Anat Geva, associate professor of architecture at Texas A&M university, is participating in a statewide initiative aimed at developing an online database of historic Texas church buildings that can be used by anyone interested in reviving or repurposing the state's endangered sacred places.
Know as the Western Religious Heritage Collaborative Initiative, the effort was launched last January by the Texas Historical Commission in collaboration with Partners in Sacred Places (PSP), a nonprofit and nonsectarian organization dedicated to promoting the stewardship of historic religious properties. The Philidelphia-based PSP has recently opened a Texas office.
At the initial Jan. 24 meeting, which was attended by Geva, a faculty fellow with the College of Architecture's Center for Heritage Conservation, and others with an interest in historic sacred architecture, participants shared their personal insights on the importance of preserving Texas' western religious heritage. The group also compiled an initial list of resources where data on older religious properties are collected. At the next meeting, to be held this spring, they will develop plans for surveying historic church buildings in Texas. It is the results of this survey that will ultimately be catalogued online.
An article by Stephen Sharpe, detailing The Western Religious Heritage Collaborative Initiative, appeared in the March/April 2007 issue of Texas architect.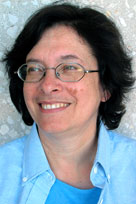 Anat Geva, associate professor of architecture