This spring, as part of the Texas A&M College of Architecture's annual Artists in Residence program, a select group of Texas A&M students will work with four preeminent artists — an embroiderer, a graphic novelist and two architects — in a series of three, 10-day workshops that each culminate with a public exhibit. While visiting College Station, the artists will also present public lectures examining their art and personal aesthetic.
Elaine Reichek: Feb. 15 – 25
In the first workshop, slated Feb. 15-25, conceptual artist Elaine Reichek will help students produce a film inspired by surrealist artist Joseph Cornell http://en.wikipedia.org/wiki/Joseph_Cornell.
Reichek, whose conceptual art is widely exhibited in some of the nation's top galleries and museums, has worked in many media — photographic collage, knitting, video and installations — but her primary tool since the early 1970s has been the needle, which she uses with a singular delicacy, wit and acuity. In the past decade, she has been reinventing the humble American sampler (a piece of cloth embroidered with words, numbers, patterns and/or images, demonstrating a beginner's skill in needlework). She uses the medium to retell stories while examining beliefs and preconceptions about aesthetics and culture.
Though well known for her hand-sown, conceptually and art-historically informed embroideries, her latest exhibition at Shoshana Wayne Gallery, "Glossed in Translation," combines six of these visually sumptuous works with a new venture: a group of embroideries made on a computer-programmed sewing machine. This work can be viewed online at
http://www.shoshanawayne.com/artists/elainereichek/0.html
Reichek will lecture 5:30 – 6:30 p.m. Monday, Feb. 19 in the Langford Architecture Center's Preston Geren Auditorium.
George Pratt: March 22 – April 1
Graphic novelist George Pratt will lead a March 22 – April 1 workshop focusing on illustration. His graphic novels have been translated into numerous languages and have earned numerous awards, most notably the Eisner Award for Best Multimedia Artist for his work on the Marvel Comic, "Wolverine: Netsuke."
Among Pratt's other popular works are "Enemy Ace: War Idyll" for DC Comics, "No Man's Land," for Tundra Publishing, and "Harvest Breed" for DC Comics. He currently teaches at the Ringling School of Art & Design in Sarasota, Florida.
Highlighting Pratt's visit will be the screening of "See You in Hell, Blind Boy," his documentary film that chronicles his travels through the Mississippi Delta while researching his blues novel of the same name. The film won the Best Feature Documentary award at the New York International Independent Film Festival in 1999 and was recently aired on PBS.
Pratt will lecture 5:30 – 6:30 p.m. Wednesday, March 28 in the Langford Architecture Center's Preston Geren Auditorium.
Pratt's drawings, paintings, and personal "Artblog" can be accessed online at
http://www.georgepratt.com/.
Benjamin Ball & Gaston Nogues: April 12 -22
The April 12 – 22 Artist in Residence workshop will be lead by Benjamin Ball and Gaston Nogues, trained architects known for using their sense of space and design, as well as their formidable construction skills, to fabricate installations that transform the way people interact with environments. In the Ball-Nogues workshop, students and assorted project volunteers will employ a pattern-making technique to construct a large-scale installation from recycled materials at a public site somewhere in the Bryan-College Station area, while documenting what the architects call "the choreography of construction."
"We'll view the construction process as a continuum where the configuration of materials on the site are in a changing state of relationships that come to a climax (the built object) followed by their dissolution and disappearance," explained the architects.
Collaborating for only a short time, Ball and Nogues quickly gained international acclaim and ID Magazine's Annual Design Review Award for their site-specific installation, Maximilian's Schell, a golden, tornado-shaped canopy composed of a matrix of 504 triangles made of reinforced metallic Mylar and joined together with clear polycarbonate rivets. Erected in the Los Angeles courtyard of Materials and Applications, a Los Angeles research center for landscape and architecture, the installation created a quiet enclave where visitors could sit and enjoy the shimmering Mylar's beautiful shadows and a little UV protection.
Nogues and Ball, who met as students at the Southern California Institute of Architecture (SCI-Arc), Los Angeles, both worked for renowned architect Frank Gehry at Gehry Partners. Nogues worked for eleven years in product design and production where he was known as "the guy who could build anything." Ball worked with Gehry Partners as a student, then became a set and production designer in the film industry, working on numerous films, the Matrix series among them.
The architects' work has appeared in The New York Times, the Los Angeles Times, Architectural Record, Dwell Magazine, Metropolis, and Fabric Architecture, among others.
The architectural duo will lecture 5:30 – 6:30 p.m. Wednesday, April 18 in the Langford Architecture Center's Preston Geren Auditorium.
The College of Architecture's Spring Artists in Residence program, now in its fourth year, is sponsored by the Texas A&M University Academy for the Visual and Performing Arts with help from the college's Visualization Laboratory.
For additional details on the workshops and artists, visit the Spring 2007 Artists in Residence Web site at:
http://www-viz.tamu.edu/faculty/
lurleen/ air/2007/air_sp07.htm
— The End —
Contacts: Carol LaFayette, 979.845.5691 or lurleen@viz.tamu.edu
Phillip Rollfing, 979.458.0442 or prollfing@archone.tamu.edu
Update: see images from the completed workshops >>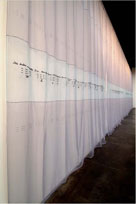 Elain Reicheck, First Morse Message, 2004, Machine embroidery on fabric, 4 sections of 16 x 20' Shoshana Wayne Gallery, Santa Monica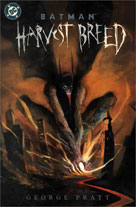 George Partt, "Harvest Breed", DC Comics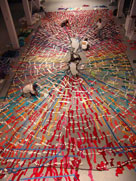 The process Ball and Nogues used in fabricating an installation for "Skin + Bones," Parallel Practices in Fashion and Architecture, Museum of Contemporary Art, Los Angeles, through March 5, 2007