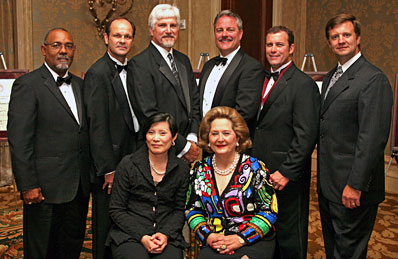 Recipients of the Texas A&M College of Architecture 2007 Outstanding Alumni Award are Jean Mah '71 from Los Angeles, Mary Watson, wife of posthumous honoree John Watson '43, (standing) Vergel Gay '73 from College Station, Leonard Rejcek '80 from Houston, Anthony Haas '79 from Houston, Robert Van Cleave '81 from Dallas, Brad Simmons '83 from St. Louis and Shannon Watson, son of John Watson.
College honors seven
Outstanding Alumni

Seven former students from the College of Architecture at Texas A&M University were recently honored as 2007 recipients of the College's Outstanding Alumni Award. The award is given annually to alumni who have distinguished themselves as pioneers in their professions and leaders in their respective communities. The evening was celebrated with 124 guests at the Miramont Country Club in Bryan, Texas.
"These former students have influenced the built and virtual environment industries and have advanced their professions through innovation, extraordinary talent and hard work," said, J. Thomas Regan, dean of the college. "They have not only gained the respect of their peers, but serve as extraordinary role models for our students who are following in their footsteps."
The seven recipients of the 2007 College of Architecture Outstanding Alumnus Award are Vergel Gay '73 from College Station, Anthony Haas '79 from Houston, Jean Mah '71 from Los Angeles, Leonard Rejcek '80 from Houston, Brad Simmons '83 from St. Louis, Robert Van Cleave '81 from Dallas, and John Watson '43 (posthumous award).
Vergel L. Gay Jr. '73
Managing Director, Facilities Planning
Texas A&M University System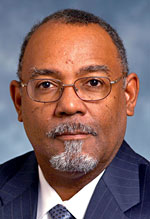 Vergel L. Gay, Jr. '73 is a facility leader with experience in the corporate, municipal and higher education arenas. He is currently the managing director of facilities planning and construction for the Texas A&M University System and is responsible for a $1.4 billion facility planning and construction program that encompasses 19 institutions throughout Texas.
Prior to this, he served as associate vice chancellor for system facilities and university system architect for the University of North Texas System, executive director for facilities planning and construction at the University of Houston System, chief architect for the city of Houston, senior project architect for the Texas A&M University System and area manager-architecture for Southwestern Bell Corporation.
He is a member of the American Institute of Architects and the Texas Society of Architects, where he serves as a member of the honors committee and as co-director of the diversity task force. He is also a member of the National Organization of Minority Architects and served as advisor to the University of Houston student chapter of NOMA.
His achievements include:
First African-American graduate of Texas A&M to become a licensed architect.
Founder of the Architectural Institute, a program with a mission of developing and nurturing an interest in architecture among minority students.
Managed the design of high profile projects such as Reed Arena at Texas A&M, George R. Brown Convention Center renovation in Houston and six major projects for the University of Houston System, which were recognized for design excellence.
While earning his degree from A&M, Gay was involved in the recruitment of students to the University, president of the College Station community development center, and was a founding member of the Black Awareness Committee. He and his wife, Cynthia '76, have two daughters, Courtney '04 and Christel '06.
Anthony J. Haas '79, '81
Senior Principal
WHR Architects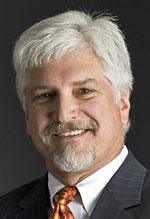 Anthony J. Haas '79 and '81 (BED, MARCH) is a Senior Principal at WHR Architects in Houston where he serves as a senior medical planner/project designer and as co-leader of one of the firm's Healthcare Studios.
During his more than 25-year practice, he has programmed and planned projects across the United States developing an expertise in the architecture healthcare facilities. He also has a specialization in emergency center design.
Through the course of his career he has developed a reputation for researching and testing new concepts in efficiency, performance and staffing models. His client roster includes a number of the country's leading healthcare institutions, which appreciate his forward-thinking approach.
In addition to his active practice, Haas is committed to sharing his expertise with students and professional colleagues through writing, teaching and mentorship. He is a contributing author for several books on healthcare facility design as well as the author of numerous articles. He takes his experience to the classroom for the Masters of Healthcare Administration program at the University of Houston - Clearlake and for Harvard University's Graduate School of Design Executive Education Program, where he teaches a seminar on healthcare architectural design.
On a daily basis, he works with the younger staff at WHR, helping to guide them in their own careers in healthcare architecture. Haas is a member of the American College of Healthcare Architects (ACHA), and a member of the Academy of Architecture for Health of the American Institute of Architects Leadership Committee. He also returns regularly to his alma mater to participate in the Health Industry Advisory Council, College of Architecture at Texas A&M University.
Mr. Haas' past achievements include:
Dedicating 25 years to specializing in design, and planning over $1 billion in healthcare facilities.
Serving as an adjunct professor with University of Houston - Clear Lake Healthcare Administration Program. He enjoys working with interns and young architects, is especially passionate about growing his replacement.
He says he's lucky to be surrounded by wonderful family, friends and colleagues.
Jean Mah '71
Principal,Perkins+Will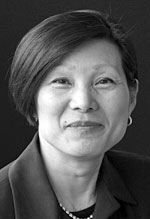 At a young age, Jean Mah decided to be an architect and has remained focused and committed to the practice of architecture and the betterment of environments for people ever since. She continues that commitment to architecture, the profession, and the work through innovation on projects, collaboration with clients, and mentorship of young professionals.
Mah has led the healthcare planning on projects for leaders in the healthcare industry such as UCLA Medical Center, The Johns Hopkins Hospital, Memorial Sloan-Kettering Cancer Center, Cedars Sinai Medical Center, Baylor College of Medicine, and Catholic Healthcare West. The Johns Hopkins Hospital New Clinical Building and the Ronald Reagan UCLA Medical Center are two of the largest hospital projects in the country.
In recognition of Mah's contributions to the practice of healthcare planning and architecture she was elected a Fellow in the American College of Healthcare Architects. She has spoken widely and served on peer review panels on healthcare planning and design issues in the United States as well as China, Canada and Spain.
Mah is a principal with Perkins+Will, a member of the Board of Directors, and is the National Healthcare Practice Leader for the firm.
Upon graduating from Texas A&M University with a Bachelor of Environmental Design degree, Mah moved to New York City where she worked with William B. Tabler Architects, Stern & Hagmann, and then joined the healthcare architecture and planning firm of Russo + Sonder. At Russo + Sonder, she found her passion in healthcare planning and design and has since become one of the leading healthcare architects in the country.
In 1990, Russo + Sonder merged with Perkins+Will, becoming part of a national/international practice and offering new opportunities for work with clients across the United States. Mah then moved to the Chicago office and in 1998 to Los Angeles to establish a healthcare practice in the West.
Leonard Rejcek '80
President, COO, Manhattan Construction Company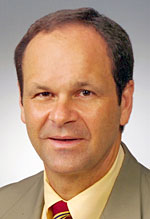 Leonard Rejcek is President and COO of Manhattan Construction Company. Founded in 1896, Manhattan Construction is one of the top 20 general construction firms in the United States and is nationally recognized for its construction performance excellence and commitment to safety.
Originally from Waco, Texas, Rejcek attended Texas A&M University where he graduated with a Bachelor of Science Degree in Building Construction in 1980. Rejcek joined Manhattan Construction out of college as an office engineer. After 27 years of advancement based on performance, Rejcek now leads the company, overseeing the operations of eight offices throughout the east and southwestern regions of the United States. Under his direction the company is building nationally recognized projects including the Dallas Cowboys Stadium and the United States Capitol Visitor Center. He has completed projects such as Reliant Stadium, the New Pavilion for Memorial Hermann Healthcare System, and the New World of Coke.
Rejcek's serves as a board member with the Greater Houston Partnership, and board member and president of The Houston Forum. He is a corporate advisory board member to the Houston Hispanic Chamber of Commerce, a member and past-board member of the Associated Builders and Contractors of Houston, a current ABC PAC trustee, and he served on the Texas A&M Department of Construction Science Construction Industry Advisory Council, and was past-chairman of the curriculum committee. He also served on the board of the Museum District Business Alliance, worked on their fund raising committee, and for the Montrose Enhancement Committee.
As a member of the Houston Association of General Contractors, he served on both the Membership Committee and Public Agency Committee. He has also been Construction Advisor to the city of Houston SPARKS Program.
Under Rejcek's leadership, MCC revenues have reached over $1 billion annually.
Several projects under his direction have received the prestigious "National Excellence In Construction Award" from the Associated Builder and Contractors including The Ballpark at Arlington, the George Bush Presidential Library Center, and the Memorial Hermann Hospital Flood Repair.
Among his successes as president, Rejcek created highly successful internal corporate programs aimed at expanding employee growth and development including Manhattan's "Builder In Training" program and the "Internal Job Postings" program.
Brad Simmons '83
Vice President, National Director of Design Operations
Jacobs Architecture & Engineer Practice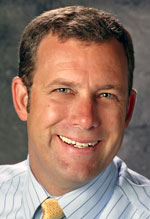 Brad Simmons, FAIA is vice president and national director of design operations for Jacobs Architecture & Engineer Practice, providing programming, planning, and architecture and engineering design services to a variety of clients in the corporate, institutional and government markets. He has been with Jacobs since 1990.
A licensed architect, Simmons earned a Bachelor's in Environmental Design from Texas A&M University. He is a 1998 graduate of Harvard University's Kennedy School of Government Senior Executives in State & Local Government Program.
Simmons was awarded the Young Architect Award by the AIA St. Louis component (1994), while serving on the YAF National Advisory Committee (1991-94, chair 1995). He was AIA St. Louis' president (1997), after having served two terms on the component's executive board. That same year, he was recognized nationally when selected as a recipient of the AIA Young Architects Citation — the highest award given to a young practitioner. In 2000, at age 39, Simmons was elected to the prestigious AIA College of Fellows, becoming one of the youngest architects to be so honored in the organization's 150 year history.
From 2000-2003, he served a three-year term on the National Board of Directors for the American Institute of Architects. He also served as National Chair of the AIA's 2005 National Convention in Las Vegas, a 25,000 person event — the largest and most successful in the organization's history. He currently serves as a member of the AIA National Future Site Selection Committee. In 2006, Simmons' peers in the American Institute of Architects of Missouri honored him with the AIA Missouri Distinguished Service Award, for a career of leadership and commitment to the profession.
Simmons has been an active community leader, serving four terms (1991-99) on the city of Shrewsbury's board of alderman. He was a founding member of the Texas A&M Alumni Club in the St. Louis region and served as president in 1990. Simmons also served 5 years on the board of directors of the Missouri Municipal League. He was named one of the Jaycees Ten Outstanding Young St. Louisans in 1995 and the following year was named by the St. Louis Business Journal as one of "40 Great Ones Under 40".
Brad currently serves on the Architectural Review Board for the City of Kirkwood, Missouri, where he lives with his spouse Michelle — an elementary school educator in the Kirkwood School District. They have three children: Sidney, 15; Sloane, 11; and Tyler, 8.
Robert C. Van Cleave '81
Chairman, CEO, Balfour Beatty Construction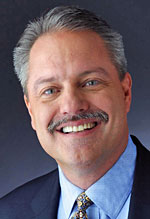 Since 2003, Robert C. Van Cleave has served as chairman and CEO for Balfour Beatty Construction (formerly Centex Construction.) Balfour Beatty Construction is a $2.2 billion commercial construction management company providing preconstruction, construction management, and design-build services for clients in both the public and private sector, across the United States. The company is headquartered in Dallas, Texas with four major divisions and twelve satellite offices across the country.
Van Cleave graduated with a Bachelor of Science degree in Building Construction from Texas A&M University in 1981 and began his career as a field engineer with a large private construction firm. There, he advanced through the ranks to senior leadership roles in preconstruction and operations before joining Centex in 1996 as president and CEO of their southwest division for commercial construction.
In 2003, he was promoted to his current position, assuming overall leadership responsibility for the national commercial construction group within Centex. In 2007, he continued in this role, helping guide the company through its acquisition by London-based Balfour Beatty plc, the 6th "Most Admired" company in all of the U.K., with worldwide revenues exceeding $13 billion.
In addition to his leadership within Balfour Beatty Construction, Van Cleave serves on the boards of the Dallas Museum of Nature and Science and the Dallas Children's Advocacy Center Foundation. Previously, he has served on the boards of TACA (a Dallas Arts organization), Goodwill Industries, and as chairperson for the Real Estate Division of the Greater Dallas United Way Campaign.
He and his wife Sharon (Class of 1982, Texas A&M University) are both natives of Tyler, Texas and together, they have a 17 year old son, Braxton and an 11 year old daughter, Bailey.
John Watson '43
Lighting pioneer, founder
John Watson Landscaping Illumination, Inc.
Posthumous Award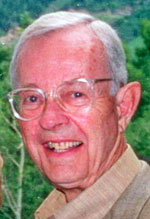 Before John Watson, there were outdoor lighting for safety and way finding purposes, son et lumière displays, outdoor lighting of buildings, and the occasional garden lighting, but Watson introduced the idea and realization of landscape illumination — lighting the landscape itself for the usual functional purposes, but enriched through his aesthetic sensibilities for plants, light and color. His vision and uncompromising standards established landscape illumination as an integral, necessary and accepted part of the built environment.
John Robin Watson was born Feb. 22, 1922 in Temple, Texas and attended elementary and secondary schools in Groesbeck, Texas. His earliest endeavors at landscape Illumination were to light his family's back yard using his mother's Christmas lights and rudimentary lighting instruments self-fashioned from small wood boxes and fruit juice cans complete with cellophane color filters. Some of these lighting instruments remain in his company's collection. These early experiences propelled him to Texas A&M where he received Bachelor and Master's degrees in Landscape Architecture.
As part of his graduate studies in landscape architecture at Texas A&M, Watson wrote the first thesis on landscape lighting in the country. After graduating he served in France in World War II, after which he studied art at the Sorbonne in Paris where he met Pablo Picasso.
Upon returning to Texas in 1952 Watson combined his artistic skills, his love of the outdoors and his technical background in lighting design to forge an entirely new industry he dubbed "landscape illumination." The new practice, John Watson Landscape Illumination, thrived and became noted for the popular acceptance of the "moonlight" effect achieved with incandescent lamps fitted with light blue, color-corrected filters.
The practice expanded from residential work to large and complex undertakings such as Six Flags Over Texas, the San Antonio River Walk, Queen Victoria Park at Niagara Falls and the corporate headquarters for Pepsico in Purchase, New York. The prominence of such extensive public installations brought John to the attention of many figures in the entertainment and financial worlds for whom he did multiple installations. This work, in turn, led to long-standing relationships with the developers of luxury resorts and clubs and the great hotel chains in all parts of the world. Since 1954, Watson's company has illuminated residences, corporate campuses, commercial properties, museums, schools and religious centers throughout the United States and around the world.
- The End -