A $100,000 gift from James and Mary Wright of Dallas will help provide the Texas A&M College of Architecture with a first class visual arts exhibition space. The donation will fund renovations to gallery in the Langford Architecture Center and support exhibitions by students, faculty and visiting artists. With approval from The Texas A&M University System Board of Regents, the enhanced venue will be named the Wright Gallery in recognition of the donors.
With classes in many of the traditional studio disciplines, as well as one of the nation's leading programs in computer animation, the College of Architecture has long been the home of visual arts education at Texas A&M's College Station campus. The renovated gallery promises to be an important element in the future development of those areas.
"The Wright Gallery will be a tribute to the visual arts tradition of the College of Architecture and a cornerstone for the emerging Department of Visualization," noted J. Thomas Regan, dean of the College of Architecture.
Wright is a retired senior partner of PageSoutherlandPage, an international architecture firm with offices in Austin, Dallas, Houston, Washington, D.C. and London.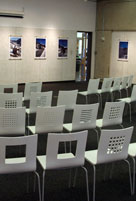 The current gallery space in Langford Architecture Center, which is to be renovated and renamed the Wright Gallery in recognition of the donors.