When animated characters from Hollywood studios like DreamWorks and Pixar Animation Studios take to theater screens around the world, chances are graduates of Texas A&M University's visualization program have been hard at work behind the scenes.

The "viz" program, as it's fondly known to insiders, has been a fixture of the College of Architecture since 1989, and during that time, it has turned out about 200 graduates, many of whom have worked on such hit movies as Finding Nemo, Star Wars, Chronicles of Narnia, Toy Story, Jurassic Park, Shrek, Ice Age, and Ice Age: The Meltdown. Just this month, Pixar Animation Studios visited the program once again to recruit interns and fulltime lighting directors, and DreamWorks praised its Texas A&M viz alumni at the Houston press-only screening of its latest feature, Over the Hedge, scheduled to open in theaters in mid-May.

Chief executive officer of DreamWorks Animation SKG (DMA), Jeffrey Katzenberg, says he's "very aware of the viz program."

" I think the Texas A&M program is fantastic," Katzenberg adds. "My people are working on getting me to visit College Station to meet the students myself."

About 15 graduates of the program have worked or currently work at DreamWorks.

Co-director of Over The Hedge, Tim Johnson, who also directed Antz, DreamWorks' first computer-animated feature, and Sinbad: Legend of the Seven Seas, praises the exceptional work and "fearless critical eye" of viz program graduate Dave Walvoord, who currently works as a computer graphics supervisor for DreamWorks.

"Dave is amazing," Johnson says. "Over the Hedge presented us with a real lighting challenge. I had a vision of moving beyond the 'painterly' look and feel of many animated films to achieve a more realistic photographic aesthetic. Dave took up that challenge with an attitude of continually reaching higher for better lighting effects.

"Dave's experience with the viz program seems to have given him a foot in both brains. He's very creative, but he also knows how to use the computer to relentlessly highlight the visual information that matters while not obsessing about pixels that aren't crucial. He knows how to put the computer through hoops, but he is also creative enough to know where to put those hoops."

Texas A&M's legendary friendliness and spirit of cooperation apparently transfers easily to animation work, as Dave's DreamWorks colleagues also sing his praises. For Over the Hedge, Dave supervised employees like Igor Lodeiro, one of the first Hispanic lighting technical directors at DreamWorks.

"Dave is the king," Lodeiro says. "He is terrific."

What kind of program turns out graduates that earn such accolades? The Visualization Laboratory and Visualization Sciences academic program were created in response to clear indications that digital visualization was going to play an important role in digital communication, say College of Architecture faculty members. The resulting program combines intense study of theoretical foundation courses focused on the science, math, technology, visual art and aesthetic underpinnings of visualization, along with long hours of hands-on work on the viz lab's many computers.

"The advent of high-technology information, imaging and media systems has fostered a modern renaissance in visualization," notes Frederic Parke, a professor in the viz program. "During the European Renaissance, many of the period's great painters were not only artists, but also scientists, architects and engineers."

Today's visualizers need skills spanning these older disciplines as well as several new ones, such as computer science, video technology and psychology. In fact, the range of skills is so broad that no one person can truly master them all, and the collaborative team has replaced the solitary genius. Strong participants on such teams need both specialty expertise and a broad background to effectively collaborate with other team members.

At present, visualization studies in the College of Architecture can be undertaken only at the graduate level, with students earning either a master of science in visualization sciences or a visualization specialty as part of a Ph.D. in Architecture. The masters program is designed to help students develop the focused expertise and broad foundation knowledge needed in this rapidly developing field. The program's core curriculum is intended to give all students a basic grasp of the artistic, scientific, cognitive and technical foundations of the discipline. Beyond this broad training, the program requires students to develop a strong focus area of advanced expertise, in which they are required to complete a research thesis. The doctoral program, on the other hand, focuses primarily on research and the development and dissemination of new knowledge, preparing students for careers in research and teaching.

Admission to the viz program is competitive, with students that apply generally expected to have taken calculus and linear algebra courses, to have proficiency in a high-level computer programming language such as C++ or Java, and to have completed foundation courses in artistic areas such as drawing, painting, sculpture, design or photography. In addition, applicants must submit a portfolio of their artistic work.

The campus and local communities look forward each year to Viz-a-GoGo, an exhibition of current viz students' work. This year's program, which features a collage of short animated films, is scheduled for May 5 and 6 in Rudder Theatre at 7 p.m.

"Viz-a-GoGo is entirely student produced, and we all look forward to it as a celebration of their accomplishments over the past year and as an event that recharges our enthusiasm to pursue even better work in the year to come," says Parke.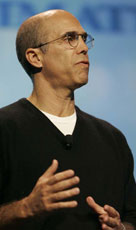 Jeffrey Katzenberg, chief executive officer of DreamWorks Animation SKG, spoke highly of 'viz' students at a recent press event for the studio's new "Over the Hedge" animated feature.