RTKL Vice President David Thompson, AIA, was elected to the international design firm's board of directors. He is a member of the Texas A&M College of Architecture's Class of 1974 and a 33-year veteran of complex, security-driven projects for RTKL.

Thompson's appointment to the board was announced by RTKL Chairman Paul Jacob, AIA, at the firm's annual shareholder meeting in Los Angeles.

"David's strong leadership and his ability to successfully navigate the challenges of working in the public sector have proven invaluable to our work for the intelligence community and various government agencies," says Jacob. "We're confident that bringing his expertise to the Board will extend that value to a new level firmwide."

Thompson, who joined RTKL in 1974 and was promoted to Vice President in 1993, has worked on high-profile public and corporate projects throughout the Mid-Atlantic region. He is currently the Vice-President-in-Charge of the National Geospatial-Intelligence Agency project that will create a new 2.5 million-SF headquarters for that agency at Ft. Belvoir, Virginia. Thompson will oversee the project's massive design and documentation effort, which was awarded to the joint venture of RTKL and the Kling Partnership in March of 2006.

Thompson also led RTKL's contribution to The Phoenix Project Post 9/11 Reconstruction of the Pentagon, a project that received a commendation from Secretary of Defense Donald Rumsfeld in 2002 and a Special Commendation in Historic Resources from the Washington Chapter of the AIA in 2003.

In 2002, Thompson was awarded the Urbahn Medal by the Society of American Military Engineers for Contributions to Architecture. That same year, the RTKL-designed 258,000-SF National Ground Intelligence Center, a project led by Thompson that created a new office and support facility in Charlottesville, Virginia, received the Army's Chief of Engineers Excellence in Design Award.

Thompson is a frequent speaker on security design and related topics, and, in 2004, contributed to "Building Security: Handbook for Architectural Planning and Design," the widely praised reference guide to security design. Thompson is also an avid collector of antique architectural drawing tools, and his collection was displayed as part of the 2005 "Tools of the Imagination" exhibit at the National Building Museum, where he served on the Curatorial Advisory Committee.

Thompson's academic background includes a Master of Architecture degree in 1974 and a Bachelor of Environmental Design degree in 1972 from Texas A&M University in College Station, Texas.

RTKL is a worldwide architecture, engineering, planning and creative services organization. Founded in 1946, the firm specializes in providing its services across the full development cycle to create places of distinction. With projects around the globe, RTKL is an idea-driven firm providing innovative customized business solutions and seamless delivery to clients in commercial, cultural and governmental realms.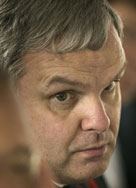 David Thompson, BED '72, MARCH '74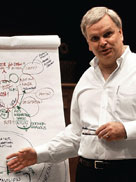 David Thompson