A&M architecture prof co-authors paper
eying sexual ID, motion & morphology
"Saturday Night Live" viewers might recall skits featuring the sexually ambiguous character, Pat, in situations where others were trying to determine the nature of her sexual identity.
Motion and body morphology play an integral role in the way humans perceive sexual identities, according to a paper, co-authored by Texas A&M architecture professor Lou Tassinary and New York University psychology professor Kerri Johnson, and appearing in Psychological Science, a research journal published by the American Psychological Society.
"We employed a novel technique to explore how the body's motion and morphology affect judgments of sex and gender," wrote the authors in the paper's abstract. "Stimuli depicted animated human walkers that varied in motion (gait patterns varying shoulder swagger and hip sway) and in morphology (waist-to-hip ratio)."
The research confirmed the potency of morphology in categorical sex judgments -- a point humorously made in the old "Saturday Night Live" skits featuring the sexually ambiguous character, Pat.
"In Pat's case, every cue that tends to be sexually dimorphic (e.g., hairstyle, clothing, body shape, voice) was uninformative, leaving the character's sex a mystery, wrote the authors, "In real life, people may experience fleeting moments in which they are uncertain of someone's sex, but such occasions are rare. Sex recognition is facilitated by numerous cues, and many of these cues have their foundations in the dynamic structure of the body."
A PDF featuring Psychological Science article, "Perceiving Sex Directly and Indirectly: Meaning in Motion and Morphology," is available online at:
http://www.blackwell-synergy.com/
doi/pdf/10.1111/j.1467-9280.2005.01633.x

Lou Tassinary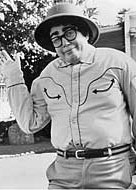 Actress Julia Sweeney as Pat, the sexually ambiguous character from Saturday Night Live