Raiford L. Stripling (1910–1994) was a 1931 graduate of the A&M College of Texas, and was schooled in the traditions of Beaux Arts architectural education, with a strong basis in classical design, rigorous attention to fine detailing, and sound construction methods. Immediately after graduation he worked with College Architect Frederick E. Giesecke and staff architect Samuel Charles Phelps Vosper on many of the college's important buildings that were designed and built in the period of the Great Depression. Stripling later spent some time working for the National Park Service in Santa Fe, New Mexico, with NPS staff member Charles E. Peterson, the initiator of the Historic American Buildings Survey, an opportunity that introduced him to the analytical examination of vernacular and religious historic architecture. Following the outbreak of WWII, Stripling worked with then Lt. Cmdr. Peterson in the camouflage unit at the Washington Navy Yards. In 1947 Stripling opened his own practice in his hometown of San Augustine, Texas. In the latter years of the practice he was joined by his son, Ray, who continues to work in the area, often on projects started by his father.
Some of Raiford Stripling's significant restoration projects include Presidio La Bahia and Mission Espiritu Santo in Goliad, the Fort House and the Earle-Harrison House in Waco, numerous structures in San Augustine Texas, the French Legation in Austin, Ashton Villa in Galveston, and Independence Hall at Washington-on-the-Brazos. The subjects of these projects span more than 200 years of Texas history. Since 1993 the Texas Old Missions and Forts Restoration Association (TOMFRA) has provided funds for the Raiford Stripling Scholarship to a graduate student in architecture at Texas A&M University who has a stated commitment to the preservation, restoration and reuse of historic buildings. In 2005 TOMFRA made a gift of $25,000 to endow the Stripling Scholarship.
In 1981, architecture graduate student Katy Capt produced a monograph on Raiford Stripling sub-titled "starving to death on my own terms," Stripling's own definition of the granting of his license to practice architecture in the State of Texas! Professor David G. Woodcock directed the development of the thesis. In 1983, in recognition of Stripling's significance as the "Dean of Texas' Historic Preservation," Texas A&M University faculty member Gordon Echols organized an exhibit of his work, and a symposium, "Texas: A Sense of Place, A Spirit of Independence," that was held at the University of Texas Institute of Texan Cultures in San Antonio. This was followed by series of television documentaries produced by KAMU-TV and funded by the Texas Committee on the Humanities. In 1985 Texas A&M University Press published "Restoring Texas: Raiford Stripling's Life and Architecture." The book, written by Michael McCullar, establishes Stripling's Deep East Texas roots, his passion for Texas heritage, and his rugged individualism.
After Raiford Stripling's death in 1994, his son Ray Stripling indicated that he wished to donate the contents of his father's office to the Texas A&M University Archives through the Center for Heritage Conservation (CHC.) TOMFRA made an initial grant of $2,000 to assist in the creation of the archive, and undertakook an initial inventory of the drawings and papers. The CHC received a grant of $40,000 from The Summerlee Foundation to facilitate the completion of this donation, and ensure that these documents become a resource for future generations of historians and preservationists.
Raiford Stripling's office was housed in the former San Augustine Jail (1884.) The collection was inventoried by Dr. David Chapman, the Texas A&M University Archivist, and valued by John R. Payne prior to its transfer to College Station. The papers include drawings of La Bahia from the 1930's, job files as late as the 1970's, and twelve (12) metal filing cabinets with assorted photographs (some from the Vosper era), negatives, and job files in paper folders. There are also 60 rolls of project prints from various periods of the practice. It is estimated that there is a total of some 30,000 documents, and that they are in generally good condition, although the jail building had some roof problems over the years.
Funding from The Summerlee Foundation allowed the CHC to transfer the collection from San Augustine to College Station in January 2006, where they are housed in the Cushing Memorial Library, home of the University Archives. They will be indexed and catalogued, selected digital and paper copies will be made, and they will be placed in appropriate permanent storage. Ray Stripling has asked for copies of selected drawings and papers for his personal use in San Augustine, and the project budget includes funds for that purpose. The digital copies will be made available for on-line access, although this will be phased in as the catalog is developed and the materials stored.
The papers will complement the Raiford Stripling Collection of photographs currently housed in the College of Architecture's Technical Reference Center. These 26 large-format images of Texas historical buildings restored by the preservation architect, were part of the Raiford Stripling exhibit in 1983. These large (some measuring 4' x 5') black and white photographs of missions, churches, homes and historic buildings are often used as subjects for drawing assignments.
Enhanced by the architect's papers, the total collection will be an inspiration and resource for countless generations of preservationists, architects, historians, and all those who treasure Texas history, and a fitting tribute to Raiford Stripling, A&M Class of '31, and an Outstanding Alumnus of the College of Architecture.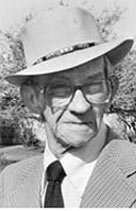 Raiford L. Stripling


Materials from the Stripling archive