Gary W. Maler has been named the fifth director of the Real Estate Center at Texas A&M University, the nation's largest publicly funded real estate research entity.

Maler has been with the center since 1978, serving as coordinator of development programs, senior operations officer, assistant director and, most recently, as associate director. During some of that time, he also held an appointment as assistant to the Texas A&M University vice chancellor for research park development.

Prior to joining the center, Maler conducted market research and managed residential and commercial development projects with Exxon's Friendswood Development Company in Houston. Maler has a bachelor's degree in architecture from the University of Houston and a master's of architecture in urban design from Texas A&M.

Maler is well known among Texas real estate licensees, having facilitated focus groups and strategic planning sessions for numerous boards of realtors, nonprofit organizations and private enterprises.

Maler succeeds R. Malcolm Richards, who retired from Texas A&M to take a position as dean of the School of Business and Management at the American University of Sharjah in the United Arab Emirates.

The Real Estate Center is celebrating its 35th anniversary this year. It is funded almost entirely by a portion of license fees paid by Texas real estate agents. A nine-member advisory committee appointed by the governor provides input into the center's research agenda. The center is part of the Mays Business School at Texas A&M.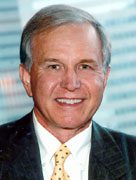 Gary W. Maler (M.Arch '74), director of the Real Estate Center at Texas A&M University