Last May, DreamWorks Animation SKG treated College of Architecture students, faculty and staff to a pre-release screening of its new animated feature film, "Over the Hedge," at the Cinemark Hollywood U.S.A. theater in College Station.
Joining the Aggie moviegoers was special guest Mike Fry, co-creator of the "Over the Hedge" syndicated comic strip, on which the movie is based.
After the feature, Fry, who writes the comic strip, talked about his creative partnership with T. Lewis, who draws it, and their experience in bringing their work to film.
Fry also writes and draws "Committed," an irreverently funny comic that takes a realistic look at what life is like in a household where both parents work. He is executive producer and creative consultant for the animated "Committed" television series and is creator of strips "Cheeverwood," and "Scotty" and the editorial cartoon "No Bull."
Born in Minneapolis, Fry attended Baylor University and holds a bachelor of arts in history from the University of Texas at Austin. He was an editorial cartoonist for the student newspapers at both universities and his first cartoon published after college appeared in Playboy magazine. He is a founding partner of RingTales, an Internet start-up that provides and distributes animated serialized content for the Web, and he has worked with Mondo Media to create, produce and develop interactive animated Web programming.
Like the Dreamworks film, the "Over the Hedge" cartoon follows a band of woodland animals as they learn to co-exist with — even exploit — a strange new world called suburbia. Fry and Lewis, who have known each other since 1992 when they both contributed to the "Mickey Mouse" comic strip, collaborate on the "Over the Hedge" strip via the telephone and the fax machine.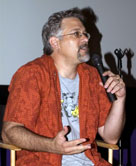 "Over the Hedge" co-creator Mike Fry discusses his work at a prerelease screening for Aggies


Two characters from the new Dreamworks animated feature "Over the Hedge"