George J. Mann, AIA, the Ronald L. Skaggs Endowed Professor of Health Facility Design at the Texas A&M University College of Architecture, along with architecture students Ashley Dias and Elisha Killgore, presented results from their surge hospital research and design projects at the April 20 Adventist Healthcare conference in Rockville, Md.
The conference invitation was initiated by Jim Wilmot, a principal of Wilmot/Sanz and member of the Health Industry Advisory Council for the Center for Health Systems & Design at Texas A&M's College of Architecture.
Representatives from Wilmot/Sanz, HKS, Skanska and Turner Construction were among the host of hospital administrators, physicians, architects, engineers and contractors attending the event.
Mann and the students presented their work examining alternative hospitals for providing emergency care in the event of natural or man-made disasters. The projects were undertaken fall 2004 in a design studio co-directed by P.K. Carlton, M.D., director of the Integrative Center for Homeland Security at the Texas A&M Health Science Center. The projects demonstrate how these "surge hospitals" could be predestinated in such places as convention centers, hotels, high schools, motels and community centers.
The students, Dias and Killgore, were part of a team, including Jackie Russell and Lauren Johnson, who last fall won first place in a national design competition sponsored by Skanska. Their winning design focused on the healthcare needs of the people of New Orleans in the wake of Hurricane Katrina. Their design solutions included short-term modular clinic buildings supported by mobile health units, as well as a replacement for New Orleans' Charity Hospital.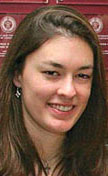 Ashley Dias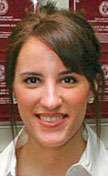 Elisha Killgore


A proposed "surge hospital" for Waco, Texas designed in 2004 by Andrew Burleson and Joshua Cogburn as part of an exploration of the viability of the surge hospital concept that was presented to the Surgeon General of the United States. (Click image for larger version).