At the Spring 2006 CRS Center Board of Director's meeting Sarel Lavy, assistant professor of construction science, was unanimously elected to a three year appointment as the center's new associate director.
Lavy's Ph.D. dissertation focused on facility management and health facilities. The CRS Center will support Dr. Lavy's continued work in this area.
Lavy holds Ph.D. and Ms.C. degrees in civil engineering and construction management, and a BS.C. in civil engineering from Technion, the Israel Institute of Technology. His interests include facilities management, the healthcare sector, construction engineering, maintenance, performance, life cycle costs techniques, and quantitative methods in facilities management. He joined the Texas A&M faculty in 2005.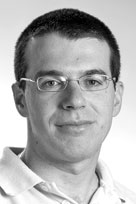 Sarel Lavy