In the wake of the Katrina disaster, news media from around the world turned to the disaster experts at Texas A&M University's Hazard Reduction and Recovery Center to gain understanding about this catastrophic event. Last fall, HRRC faculty, including Michael Lindell, Carla Prater, and center director Walter G. Peacock, fielded more than 200 media queries. The reporters wanted to know what had happened, what could have been done to prevent it and what steps could be taken to avoid another tragedy. The HRRC team was widely quoted in newspapers, radio and television broadcasts, addressing such issues as the failure of government agencies, evacuation mishaps, disaster myths, distortions of the truth and long term recovery.
Among the noteworthy news agencies whose reportage included insight from HRRC faculty were: the Associated Press, Christian Science Monitor, Chronicle of Higher Education, Los Angles Times, Miami Herald, New Orleans Times Picayune, New York Times, USA Today, Wall Street Journal, Washington Post, BBC, ABC News, CNN, and National Public Radio.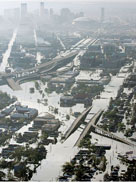 In the aftermath of Hurricane Katrina, many of the world's leading news outlets sought insight from the faculty of the Hazard Reduction and Recovery Center at Texas A&M's College of Architecture. Last fall, the HRRC faculty fielded more than 200 press queries.