Jeff Haberl, professor of architecture at Texas A&M University and associate director of Texas A&M's Energy Systems Laboratory, was recently elevated to fellow of the American Society of Heating, Refrigerating and Air-Conditioning Engineers (ASHRAE). The award will be presented at ASHRAE's winter meeting, Jan. 27, 2007 in Dallas, Texas.
ASHRAE is an international organization whose sole objective is to advance the arts and sciences of heating, ventilation, air conditioning and refrigeration to serve humanity and promote a sustainable world. ASHRAE's areas of expertise include energy efficiency, indoor air quality, codes and standards, and guidance for a safe environment during extraordinary incidents.
"Each year approximately 15 to 18 of ASHRAE's 55,000 members are promoted to the membership grade of fellow, so this is a really big deal, " said Charles Culp, a Texas A&M architecture professor and Habrel's colleague in the Energy Sytems Laboratory. "Jeff has joined a very select group."
Haberl, who earned his Ph.D. from the University of Colorado-Boulder in 1986, has been conducting research for almost 30 years in areas related to energy system efficiency, renewable energy and intelligent measurement systems. With the Energy Systems Laboratory, Haberl is currently developing analysis procedures for Texas Senate Bill 5, legislation enacted to reduce ozone pollution in metropolitan areas. The ESL has been the primary contractor for the Texas LoanSTAR program since 1990. The program has saved the taxpayers in Texas over $109.2 million in state revenue in the form of reduced energy use in state facilities.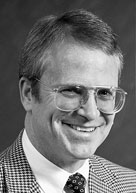 Jeff Haberl