Southwest Houston area catfish anglers' dreams may be realized in 12 Texas A&M architecture students' fishing park designs, which will were unveiled last October at the Power Center, 12401 South Post Oak Road in Houston. The proposed 4.5-acre fee-fishing park — complete with a pro shop, fish processing center and three heavily stocked catfish ponds — will be the latest addition to the 234-acre master-planned Corinthian Pointe community, being developed under the auspices of the Rev. Kirbyjon Caldwell of the Windsor Village United Methodist Church, the Pyramid Community Development Corporation and Kingdom Builders' Prayer Institute.

Located in Southwest Houston at South Post Oak Road and West Orem, the development includes 452 single-family homes, an eight-acre commercial tract, a 12-acre community park, a YMCA, and an elementary school.
The site will also be the future home of the Zina Garrison Tennis Center and the 450,000-square-foot Kingdom Builders' Center — a $60 million facility for the 15,000-member congregation of Windsor Village, the country's largest Methodist congregation.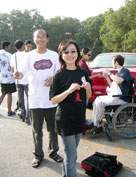 Architecture students on a preperatory fishing trip


Designs by Hye Ran Kim and Pudhuma Bharathi Karunakarn


Design drawings by Junyang Tang and Lei Guo


Central plaza design by Arijit Dutta and Ashish Kulkarni


Design drawings from Janelle Seigart and Robert Linnstaedter's project