A recent episode of the History Channel's "Battlefield Detectives" program featured research on the D-Day battlefield at Pointe du Hoc, France conducted by a team from Texas A&M University's Center for Heritage Conservation. The feature aired on March 4, 2006.

The Pointe du Hoc battle is of special interest to Texans, and to Texas Aggies in particular, because it was there that, under intense enemy fire, Col. James Earl Rudder, who would later become president of Texas A&M, led the U.S. Army's Second Ranger Battalion up the cliffs to knock out heavily fortified German gun emplacements. This feat during the June 6, 1944 D-Day invasion is widely considered one of the most heroic of World War II.

Texas A&M researchers spent the last two summers surveying the Pointe du Hoc battlefield in order to create a comprehensive site record that will serve as a reference for historians and for future preservation and educational initiatives.

Last summer, a crew from "Battlefield Detectives" filmed the Texas A&M team in the field at Pointe du Hoc. Richard Burt, a construction science professor and member of the Center for Heritage Conservation team, said the "Battlefield Detectives" episode includes interviews with him and with fellow Texas A&M faculty, including Robert Warden, an architecture professor, and Bruce Dickson from the Department of Anthropology, as well as video of Texas A&M College of Architecture students working at the site.

The History Channel's promotion for the Pointe du Hoc segment reads, "Dawn, June 6, 1944. The largest invasion in history is under way. Four miles to the west of the Allied landings at Omaha Beach, a flotilla of landing craft head towards Hitler's 'Atlantic Wall' defenses. They are carrying just 200 men of a newly trained elite force - the United States Rangers. Their objective is the vital German coastal defense gun battery on a headland known as the Pointe du Hoc. Climbing the 90-foot cliffs under a storm of German bullets and grenades, the Rangers find that the German guns are not where they should be. What follows is a desperate game of cat and mouse, as the Rangers attempt to hunt down the guns. The story of their mission is remembered now as one of the most extraordinary aspects of the D-Day landings."

More information about the Center for Heritage Conservation's project at Pointe du Hoc is available online at
http://archone.tamu.edu/hril/projects/
pointe%20du%20hoc/HomePage.htm.




Aggie at Pointe du Hoc monument site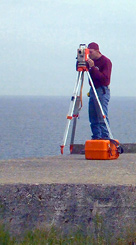 A&M student surveys Pointe du Hoc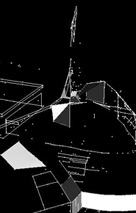 3D Visualization of monument site