A Texas A&M University-led effort to preserve Point du Hoc, the historic cliff on Omaha Beach in Normandy, France that was scaled by Lt. Col. Earl Rudder and his Rudder's Rangers on the June 6, 1944 D-Day Invasion has received $500,000 dollars in funding, thanks to U.S. Rep. Chet Edwards and the 2006 Military Quality of Life and Veterans Appropriations Subcommittee, of which Congressman Edwards is ranking member.
The funding was added at the specific request of Congressman Edwards.
Pointe du Hoc, the most historic site of the D-Day Invasion, is at risk due to continuing coastal erosion, and it is critically important to survey the site, identify culturally significant resources and preserve the site for historic remembrance, say project organizers. Since 2001, the observation post has been closed to the public. The site contains valuable historic information about the battle and a plaque erected by the State of Texas honoring Lt. Col. Earl Rudder, who later became president of Texas A&M.

" I am deeply grateful that Dr. David Woodcock at A&M's College of Architecture brought this issue to my attention and has already been working to preserve the site. We need to ensure that A&M continues its work to preserve historic artifacts at the site and determine if it is possible to stop the erosion and ultimate destruction of Pointe du Hoc," said Edwards, who graduated from Texas A&M in 1974, where he was a recipient of the Earl Rudder/Brown Foundation Award, given to only two outstanding graduating seniors.
"Few sites have more dramatic power than Pointe du Hoc in Normandy, where the Second Ranger Division under Earl Rudder scaled the cliffs on D-Day in 1944 to destroy Nazi gun emplacements that commanded the Utah and Omaha beaches," said Woodcock, director of the Historic Resources Imaging Lab at the College of Architecture.
"The site is under immediate threat from coastal erosion and from a significant increase in tourism. The support and leadership of Congressman Edwards will provide a definitive and comprehensive record of the entire battle site, creating a faithful record of the event that will ensure its effective management and aid interpretation of the site, to fully acknowledge the acts of bravery of these American heroes for future generations," Woodcock said.
"Mrs. Margaret Rudder was a special friend of mine and while I never met General Rudder, his brave leadership has been an inspiration to me, countless Aggies, and people throughout the world," Edwards said. "When I visited Pointe du Hoc on the 50th anniversary of D-Day in 1995, I would have never imagined that this monument to American courage might be lost forever by erosion. That would be a national and international tragedy.
"Pointe du Hoc stands today as a sacred symbol to the world of the American GI's unwavering courage in World War II," Edwards said. "We must preserve this hallowed ground for future generations."


Aggie at Pointe du Hoc monument site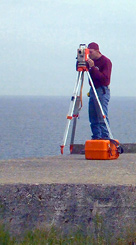 A&M student surveys Pointe du Hoc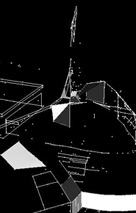 3D Visualization of monument site