Faculty, administrators and students from across the university turned out for the unveiling last May of the student designs for Texas A&M's proposed Experiment Station in the cloud forest of Casa Verde, Costa Rica.
The students' designs can be accessed online at http://archone.tamu.edu/~gvv_s06/
Comments on the designs are welcomed. Feedback should be e-mailed to Guillermo Vasquez de Velasco at vasquez@archone.tamu.edu
Collaborating on this multidisciplinary studio were: ARCH 606, 12 students, led by Guillermo Vasquez de Velasco; COSC 440, 11 students led by James Smith; ARCH 660, 21 students, led by Mardelle Shepley; LAND 602, 7 students, led by Chris Ellis; and ARCH 421, 11 students, led by Charlie Culp.
A team led by Vasquez de Velasco and Ellis returned with students to the site for the proposed Texas A&M Center last July to finish surveying the area and hook up with faculty and students at the University of Costa Rica. The two universities discussed the signing of a memorandum of agreement in preparation for joint summer programs.
The survey team, led by Ellis, wrapped up their work despite torrential rains and a few close encounters with the local fauna. Above, students explore the nearby Monte Verde Natural Reserve.
Related story:
Former student to donate Costa Rican
rainforest to Texas A&M University

Students present their designs for the A&M Costa Rican station


Visitors to the design presentation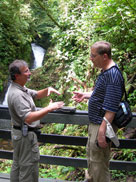 Guillermo Vasquez-de-Velasco and Chris Ellis in Costa Rica


The team of students at the site of the proposed A&M Center in Costa Rica

Design work by Puduma Karunakaran


3D visualization of the bedroom interiors by Heman Molina, Russ Chandler, and Lucas Garcia


Jennifer Wong's architectural design