In recognition of his "outstanding courage and determination in the face of adversity while attending Texas A&M University," John M. Grant IV, a spring 2006 master of architecture graduate, received the 2007 Aggie Spirit Award from the Texas A&M Faculty Senate.
Grant, a former English teacher from California, began his graduate studies in the summer of 2003 in the M.Arch career change program. Shortly thereafter, his wife underwent several treatments for a rare medical condition that led to a permanent physical disability.
Grant worked as a graduate assistant for Professor Kirk Hamilton, who nominated him for the Spirit Award. In his nomination letter, Hamilton noted that in the face of adversity Grant had maintained a cheerful disposition and a level of academic excellence that would be commendable under most normal circumstances. Further, he said the young father of three, with the help of his extended family, continuously developed creative ways of combating the financial hardships and demands resulting from his wife's illness.
"The respect he has earned from his fellow students and faculty members in the College of Architecture shows that John Grant is truly deserving of this award, Hamilton wrote. "John Grant, is a shining example of the Aggie Spirit of uncomplaining sacrifice for others, balanced with his commitment and focus on a top quality education. I am proud of John and his courage and constantly in awe of his gentle spirit of giving."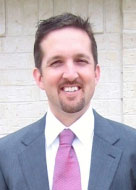 John M. Grant IV,
M.Arch '07