Texas A&M University College of Architecture students designed a 1.2 million-square-foot health facility of the future, with a little help provided by advisors from the United Kingdom's National Health Service (NHS).
The 23 students in Susan Rodiek's and George Mann's architecture-for-health studios worked with staff from the NHS Confederation and the U.K. Future Healthcare Network (FHN) to research and apply new trends in architecture for health to the actual design of the proposed Hatfield Hospital for Bedfordshire and Hertfordshire, located about an hour north of London. The new facility, with up to 920 beds, will be the only specialized cancer center in the region.
The students worked in a vertically-integrated studio of third- and fourth-year students, as well as graduate students — one which included research, ideas, innovations, programs, concepts, architectural drawings and models — to produce 13 project models that were presented by students and faculty to visiting NHS representatives April 30 and May 1 at the Dallas offices of HKS, Inc. Visiting from the U.K. was Susan Francis, architectural advisor to FHN, London and Andrew Geddes, NHS deputy project director for the Hatfield Hospital project.
Health services in the U.K. are currently undergoing rapid changes in planning and implementation, as they move toward a model of more competitive services and patient-centered care. College of Architecture representatives note a current need for innovative design solutions that can serve users better and especially that can minimize the cost of operations over time, which is vastly greater than the cost of design and construction.
The U.K.'s Private Financing Initiative (PFI) procurement process for facility construction and maintenance now makes it possible to build health facilities more quickly and with lower initial investment by the taxpayer, project designers note. A 20-billion-pound investment into the U.K.'s healthcare infrastructure is bringing many new hospitals and "super surgeries" on stream after years of planning design and procurement.
HKS, Inc. of Dallas and Ryder/HKS International Ltd. of London arranged the Hatfield Hospital learning opportunity for students and shared their expertise with the student project teams. Project designs emphasized sustainable architecture aimed at conserving natural resources. In addition, project-team members made recommendations to the NHS for new design concepts and means of delivering health care in the future.
An advance-group of undergraduate and graduate students led by Susan Rodiek of the College of Architecture visited the U.K. in January to meet with NHS officials and learn about the scope of the project and to visit the site. Rodiek, Professor Emeritus Joseph J. McGraw and George J. Mann, AIA, the Ronald L. Skaggs Endowed Professor of Health Facilities Design, co-directed the studio for Texas A&M.
Students and faculty were advised and given input by Paul Hyett, past president of the Royal Institute of British Architects (2000) and director of Ryder/HKS International, Ltd. London, and Craig Beale, FAIA, FACHA, executive vice president and director of the Healthcare Group, HKS Inc., Dallas. Ronald L. Skaggs, FAIA, FACHA, FHFI, adjunct professor of architecture at Texas A&M and chairman of HKS, Inc., and Joseph G. Sprague, FAIA, FAHA, FHFI, senior vice president and director of Health Facilities, HKS Inc., Dallas, were also advisors on the project. In addition to meeting with these advisors, the students also were given an audience with Sir David Manning, ambassador to the United States from the United Kingdom and Northern Ireland, at which they discussed their work.
See related story:
http://archone.tamu.edu/college/news/
newsletters/fall2006/UKambassador.html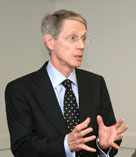 Sir David Manning, ambassador to the U.S. from the U.K. and Northern Ireland, speaks with students and faculty


Sir David Manning with faculty and administrators

Detail of a design by Christine Brodtmann and Jessica Patterson


Detail of a model by J.L and G.


Mike Schoel (left) and Ryan Shutt hold up their design model



Ashley Groom and Megan Dickerson hold up their design model for the U.K. Hatfield project


Preethi Srikanth and Krystle Wilson with their design model