The Center of Housing and Urban Development (CHUD) at Texas A&M University's College of Architecture is collaborating with the Institute of Mexicans Abroad and the Mexican Consulate in El Paso, Texas in the implementation of a new pilot program aimed at protecting the rights and well-being of Mexican nationals in the United States.
The program, Ventanilla de Salud, or Windows of Health, provides bilingual health-care education and advocacy to Mexicans in Texas, while helping them take advantage of the myriad services provided by the Mexican government through the Mexican Consulate in El Paso. The office assists an average of 150-200 Mexican nationals per day with issues as diverse as health care counseling and assistance with insurance policies.
CHUD's role in the collaborative program is funded by a $29,000 grant from the Mexican government's Institute of Mexicans Abroad, which allows CHUD outreach workers to act as liaisons between the Hispanic residents of El Paso's rural and urban communities and the Ventanilla de Salud program.
CHUD serves the region through its Western Rio Grande Region Colonias Program, which is designed to assist residents of low-income settlements, or colonias, in improving the quality of their lives. The program works in partnership with local government, state and federal agencies, and nonprofit organizations to promotes the active involvement of residents in strengthening the social infrastructure of the community.
For more information about CHUD's partnership with the Mexican Consulate's Ventanilla de Salud program, contact Pema Garcia, associate director of CHUD's Western Rio Grande Region at 877-860-9528.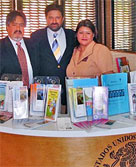 Jorge Vanegas, director of the Center for Housing and Urban Development at Texas A&M University poses at the Mexican Consulate in El Paso with Mexican Consul Juan Carlos Foncerrada Berumen and Pema Garcia, regional director the Colonias Program Western Region.