CALENDAR HIGHLIGHTS:
See complete listings for details.
| | |
| --- | --- |
| | |
| May 12, 11 a.m. | College of Architecture Graduation Recognition and Honors Ceremony in the Geren Auditorium |
---
Feature Stories



May 11 event to examine technology exchange opportunities with Finland
A daylong event, including guest lectures and faculty and student research presentations will be held Thursday, May 11 as the College of Architecture welcomes two visitors from Finland's Building Services Technology (BST) program. The visitors. Jarmo Heinonen and Markku Virtanen, are responsible for Finland's "CUBE" initiative, which is aimed at improving the performance, design and energy efficiency of the country's building services industry.
The CUBE program was recently reviewed by Charles Culp, associate professor of architecture and associate director of the Energy Systems Laboratory at Texas A&M University.
The presentations, which run from 10 a.m. to 4 p.m. Thursday in the Preston Geren Auditorium, begin with an overview of current Finnish building initiatives, presented by Heinonen and Virtanen. After lunch Charles Culp will discuss his recent activities in Finland and a select group of faculty and graduate students will highlight TAMU research projects of potential interest to Finland.
All faculty and students with an interest in the topic and in the potential for collaborating on research with the Finnish government and universities are urged to attend.
Schedule:

10 a.m. — Gather in the Building B Auditorium.

10:30 a.m. — Welcome by Dean Regan

10:45 a.m. — Jarmo Heinonen and Markku Virtanen discuss Finland's CUBE Program

noon — Break for Lunch

1 p.m. — Research Program: Graduate students and faculty highlight TAMU research projects of potential interest to Finland. Presenters and topics include: Christopher McDonald, building visualization; David Cantrill, flex duct air flow; Ahmet Ugursal, CFD analysis of flex ducts; Vinod Srinivasen, Christopher McDonald and Siva Subramanian, measurement and verification program; Clinton Davis, WinAM Program — an easy-to-use energy analysis / diagnostic program; Don Gilman, eCalc emissions reduction program); Clinton Davis, auto-associative artificial neural networks applied to sensor diagnostics; and Mike Davis, peak demand impact by efficiency improvements

3 p.m. — Open discussion

4 p.m. — adjourn
For more information contact Charles Culp at cculp@tamu.edu

---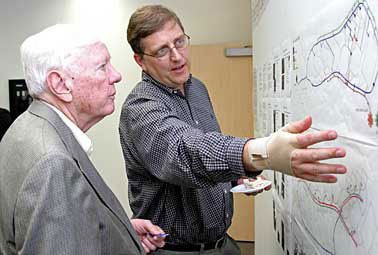 Chris Ellis shows Casa Verde landscape drawings to Bill Soltis, Texas A&M Class of 1955, who with his associate, Curt Clemenson, is donating the land for the proposed Texas A&M experiment station in the Costa Rican cloud forest.
Multidisciplinary studio wows crowd
with designs for Costa Rican station
Faculty, administrators and students from across the university turned out for the unveiling last Monday of the student designs for Texas A&M's proposed Experiment Station in the cloud forest of Casa Verde, Costa Rica.
For those unable to attend and offer feedback on various projects, the students' designs can be accessed online at http://archone.tamu.edu/~gvv_s06/
Comments on the designs are welcomed. Feedback should be e-mailed to Guillermo Vasquez de Velasco at vasquez@archone.tamu.edu
Collaborating on this multidisciplinary studio were: ARCH 606, 12 students, led by Guillermo Vasquez de Velasco; COSC 440, 11 students led by James Smith; ARCH 660, 21 students, led by Mardelle Shepley; LAND 602, 7 students, led by Chris Ellis; and ARCH 421, 11 students, led by Charlie Culp.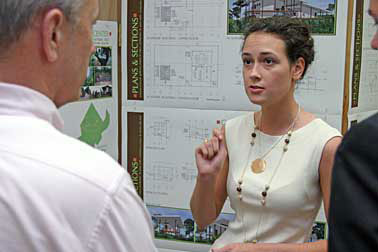 Jennifer Krenek, an M. Arch student, shows the Group Three experiment station design to Charlie Culp, one of the professors who participated in the graduate multidisciplinary studio project.
---
Ulrich in TAMU 'Faculty Spotlight'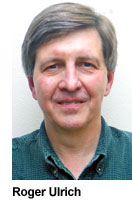 Architecture professor Roger Ulrich, an internationally recognized pioneer in the application of the concepts of evidence-based design, is currently featured in the "Faculty Spotlight" on the Texas A&M University News and Information Web site.
The entire Ulrich feature can be accessed at
http://our-news.tamu.edu/
newsmanager/templates/
?a=2633&z=17

---
TAMU accepting proposals to
teach out of country in fall 2007
Texas A&M invites proposals from faculty interested in developing faculty-led study abroad programs outside the United States for fall 2007, particularly for the Santa Chiara Study Center in Italy.
Proposals that are interdisciplinary are especially encouraged. All out-of-country courses in which faculty and students are outside the U.S. together must be submitted as proposals. This ensures the special approval required by the Texas Higher Education Coordinating Board (THECB) to allow collecting formula funding for courses taught outside the U.S. This includes variable-credit courses such as 685, 485, 689, 489, 484, etc. This review process begins with a review by the University Study Abroad Program Policy Committee for recommendation to the executive vice president and provost. Notifications of recommended courses for Fall 2007 will be made early in Fall 2006, but final approval from THECB will not be available until Spring 2007.
The updated proposal forms (for College Station or Galveston) and instructions for submission are available on the following Web site: http://studyabroad.tamu.edu/forms.asp#faculty.
It is critical that the most up-to-date version of the form for your campus be used, rather than changing dates on a previous version. The deadline for submission of proposals to teach outside the U.S. in Fall 2007 is 5 p.m. on September 4, 2006. Please note that proposals are to be submitted to the Study Abroad Program Policy Committee (SAPPC) member of your college by the stated deadline. A listing of the current SAPPC members is a part of the application form.
College Station campus proposals submitted after the Final Submission deadline may not be considered for matching faculty salary funding through Study Abroad Enhancement Funding. For more information or for assistance in locating appropriate sites outside the U.S. to conduct study abroad programs, faculty may contact Dr. Suzanne Droleskey, Executive Director, International Programs for Students, at (979) 845-0544.

---
Thursday - May 11
COSC Graduation Reception: 1 - 8 p.m. in Langford A Atrium. For more information, contact Ann Eastwood at 845-0289 or aeastwood@archone.tamu.edu.
Friday - May 12
Graduation Recognition and Honors Ceremony:
11 a.m. in the Geren Auditorium, with a reception to follow.
Saturday - May 13
2006 Houston Art Car Parade: A car painted by Mary Saslow's students will be in the parade. For more information, contact Mary Saslow at saslow@viz.tamu.edu.
---
SPRING 2006: CALENDAR HIGHLIGHTS:
Tuesday - May 30
Secret Pal Luncheon: 11:30 a.m. - 1:30 p.m. in Langford B Exhibit Hall exclusively for Secret Pal participants. For more information, contact Susie Billings at 847-9357 or sBillings@archmail.tamu.edu.
Viz-a-GoGo 13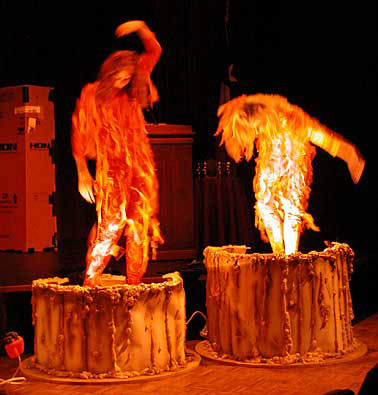 TAMU dancers perform as candle flames lighting O'Brien's Curiosity Shop, the setting for the 13th annual Viz-a-GoGo. The screening of time-based work from the College of Architecture's Master of Science in Visualization Science program was held last Friday and Saturday night at Texas A&M's Rudder Theatre.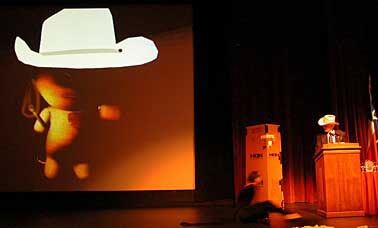 John Only Greer, holder of the Wallie E. Scott Professorship in Architecture Practice and Management, kicked off the Viz Lab's 13th annual Viz-a-GoGo last Friday night, engaging in a bit of friendly banter with the digital emcee, Pokey, a voodoo doll.