CALENDAR HIGHLIGHTS:
See complete listings for details.
| | |
| --- | --- |
| | |
| May 5-6, 8-5 p.m. | TEX-GRAPH in the Geren Auditorium |
| May 5-6, 7 p.m. | Viz-a-GoGo XIII in the Rudder tower and theater complex |
| May 9, 7 p.m. | Special advance screening of "Over the Hedge" at Cinemark theater in College Station |
| May 12, 11 a.m. | College of Architecture Graduation Recognition and Honors Ceremony in the Geren Auditorium |
---
Feature Stories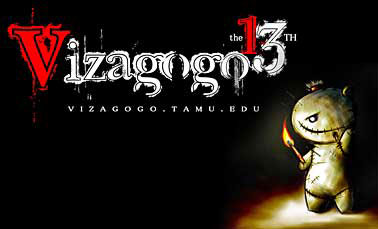 Viz-a-GoGo main events set
Friday, Saturday at Rudder
The 13th annual showcase of student work from the Department of Architecture's Master of Science in Visualization Science program, Viz-a-GoGo, runs through May 6 in the Rudder Exhibit Hall. The "flat-work" exhibit, featuring paintings, figure drawings, photography and work from the Spring 2006 Artists in Residents workshops is currently on display. On Friday and Saturday, May 5 and 6, Viz-a-GoGo's ramps up with student demonstrations at 4 p.m. followed by 7 p.m. screenings of 2-D and 3-D time-based works in Rudder Theatre.
For this, the show's 13th year, the students have chosen the theme "good luck, bad luck and superstitions." In keeping with the theme, the 2006 Viz-a-GoGo digital emcee will be a voodoo doll. Also slated for the Friday and Saturday night finales are guest performances by a Texas A&M dance troupe and the percussion ensemble, "Percussion Studio." There's no charge for the event, but the show's creators warn that some material may not be appropriate for young children.
---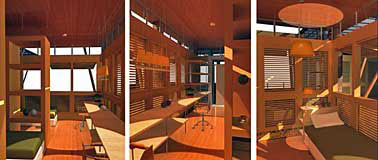 Multidisciplinary studio to unveil designs for Costa Rican station
Beginning at 5 p.m. on Monday, May 8, the College of Architecture's Graduate Multidisciplinary Studio will present their work on the proposed Texas A&M University Experiment Station to be located in the cloud forest of Casa Verde, Costa Rica.
The brief presentation will be followed by a reception with hors d'oeuvres furnished by the university. Students, faculty and administrators are all welcome to review the team projects and provide feedback on the design and construction of the proposed facility.
Collaborating on this multidisciplinary studio were: ARCH 606, 12 students, led by Guillermo Vasquez de Velasco; COSC 440, 11 students led by James Smith; ARCH 660, 21 students, led by Mardelle Shepley; LAND 602, 7 students, led by Chris Ellis; and ARCH 421, 11 students, led by Charlie Culp.
The project Web site my be accessed at http://archone.tamu.edu/~gvv_s06/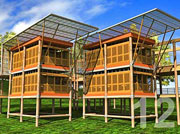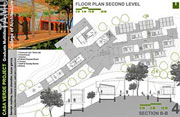 Click images for larger view.
---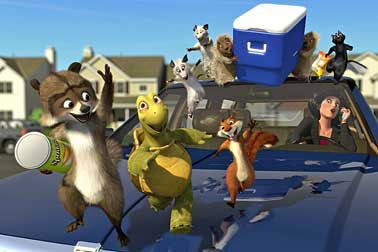 'Over the Hedge' moviegoers
urged to stay for Fry presentation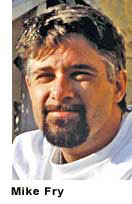 The Viz Lab reports that the tickets have all been handed out for its exclusive 7 p.m. May 9 screening of "Over the Hedge," the latest animated feature from DreamWorks Animation SKG, Inc.
Those attending the Cinemark Hollywood U.S.A. theater screening are urged to remain seated after the show and give a hearty Aggie welcome to special guest, Mike Fry, co-creator of the "Over the Hedge" syndicated comic strip, on which the movie is based.
The comic strip is written and drawn by Michael Fry and T. Lewis, who have known each other since 1992.
Fry brings an illustrious cartooning background to the popular comic strip. He also writes and draws "Committed," an irreverently funny comic that takes a realistic look at what life is like in a household where both parents work. He is executive producer and creative consultant for the animated "Committed" television series and is creator of strips "Cheeverwood," and "Scotty" and the editorial cartoon "No Bull."
Born in Minneapolis, Fry attended Baylor University and holds a bachelor of arts in history from the University of Texas at Austin. He was an editorial cartoonist for the student newspapers at both universities and his first cartoon published after college appeared in Playboy magazine. He is a founding partner of RingTales, an Internet start-up that provides and distributes animated serialized content for the Web, and he has worked with Mondo Media to create, produce and develop interactive animated Web programming. Fry lives in Austin, Texas, with his wife, their two daughters, two dogs, a cat, several tropical fish, a few scorpions and a dozen or so shrub-eating cows.
For movie details and previews, visit:
http://www.overthehedgemovie.com/
To learn more about the syndicated cartoon strip, visit:
http://www.unitedfeatures.com/ufsapp/
viewFeature.do?id=99
or
http://www.comics.com/comics/hedge/
---
Hill's ENDS 101 students dominate
business school's Idea Challenge
Students in Rodney Hill's ENDS 101 classes came up with 26 of the final 40 best ideas in the Ideas Challenge contest sponsored by the Center for New Ventures and Entrepreneurship ( http://cnve.tamu.edu/ideas/ ) at Mays Business School. Additionally, five more ideas from Hill's previous classes made the contest's final 40.
The contest accepted ideas, innovations and inventions from Texas A&M students and had a small group of business entrepreneurs narrow down the field to the top 40.
May 3, 60 CEOs, venture capitalists, and entrepreneurs gathered at the business school to select the top 10 projects. Hill's current class took five of the eight $1,000 third-place prizes and a team from a previous class placed second, earning $2,000.
"Design thinking pays off," said Hill. "Several Colleges of Business around the
country have hired professors out of design schools to teach design thinking
to their MBA programs.
"The groups in my class are formed by a majority of business, biotech and engineering majors and are split evenly by gender," he continued. "They had to do patent searches, write business plans and defend their ideas to two different groups in a 5 minute period."
Hill said he plans to assign the project again next spring and is currently looking for more competitions for his students.
---
Students' U.K. health facility designs unveiled at HKS's Dallas office
Editor's Note: In an alternative version of the following story appearing in last Thursday's Inside Track, it was not mentioned that Susan Rodiek's architecture-for-health studio collaborated as equal partners with George Mann's and Joe McGraw's studio on the U.K. hospital design projects which were reviewed last Sunday and Monday at the HKS offices in Dallas. Inside Track sincerely regrets is omission.
Texas A&M University College of Architecture students have designed a health facility of the future, with a little help provided by advisors from the United Kingdom's National Health Service (NHS).

The 23 students in Susan Rodiek's and George Mann's architecture-for-health studios worked with staff from the NHS Confederation and the U.K. Future Healthcare Network (FHN) to research and apply new trends in architecture for health to the actual design of the proposed Hatfield Hospital for Bedfordshire and Hertfordshire, located about an hour north of London. The new facility, with up to 920 beds, will be the only specialized cancer center in the region.
For full story:
http://archone.tamu.edu/archcom/archoneUpdate/
full_4-27-06_health.htm
---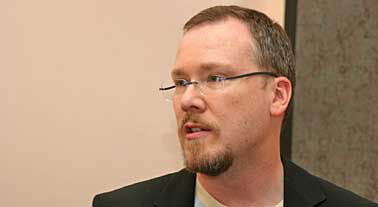 Jeffrey Katzenberg, chief executive officer of DreamWorks Animation SKG, spoke highly of 'viz' students at a recent press event for the studio's new "Over the Hedge" animated feature.
'Viz' program students light up the screen at major animation studios
When animated characters from Hollywood studios like DreamWorks and Pixar Animation Studios take to theater screens around the world, chances are graduates of Texas A&M University's visualization program have been hard at work behind the scenes.

The "viz" program, as it's fondly known to insiders, has been a fixture of the College of Architecture since 1989, and during that time, it has turned out about 200 graduates, many of whom have worked on such hit movies as Finding Nemo, Star Wars, Chronicles of Narnia, Toy Story, Jurassic Park, Shrek, Ice Age, and Ice Age: The Meltdown. Just this month, Pixar Animation Studios visited the program once again to recruit interns and fulltime lighting directors, and DreamWorks praised its Texas A&M viz alumni at the Houston press-only screening of its latest feature, Over the Hedge, scheduled to open in theaters in mid-May.

Chief executive officer of DreamWorks Animation SKG (DMA), Jeffrey Katzenberg, says he's "very aware of the viz program."

"I think the Texas A&M program is fantastic," Katzenberg adds. "My people are working on getting me to visit College Station to meet the students myself."

For the full story:
http://communications.tamu.edu/newsarchives/
06/042506news-10.html
Contact: Margaret Lomas, marge@viz.tamu.edu, 979-845-3465, or Judith White, jwhite@univrel.tamu.edu, 979-845-4645.
Texas A&M University
http://www.tamu.edu/tamunews/
---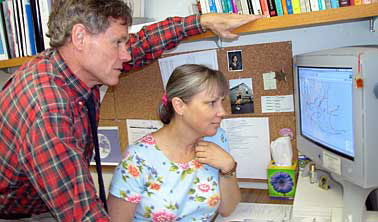 Professors help officials make hurricane-evacuation decisions
When Texas Gulf Coast residents want to know their risk for hurricane damage or when — or even whether — to evacuate, they can turn to Texas A&M University professor Mike Lindell — or, at the very least, to the publications, computer programs, and training techniques resulting from his research.

"Needless evacuation as a hurricane approaches costs money," says Lindell, a professor of landscape architecture and urban planning based in the College of Architecture's Hazard Reduction & Recovery Center. "But erroneously failing to evacuate costs lives."

"Unfortunately, most of the local officials who must make the decision whether to evacuate their communities and when to do so receive little training and have no experience in making such critical decisions. Worse yet, major urban areas take so long to evacuate that local officials must make an evacuation decision when an approaching storm is so far offshore there is only about a one in seven chance it will strike their jurisdiction. Basically, deciding whether to evacuate or not can be a lot like playing Russian roulette."

Lindell, who is trained in psychology but whose work also incorporates concepts from meteorology and traffic engineering, wants to help local officials by providing them the information they need during a hurricane's approach. The challenge is to give them the right amount of the right types of information and give it to them in a format most compatible with their decision-making processes.

For full story:
http://our-news.tamu.edu/newsmanager/templates/
default.aspx?a=2698&template=print-article.htm

Contact: Mike Lindell, 979-862-3969, mlindell@tamu.edu or Judith White, Office of University Relations, (979) 845-4645, jwhite@univrel.tamu.edu.

Texas A&M University
http://www.tamu.edu/tamunews/
---
Three college faculty earn TAMU scholarly, creative activities awards
Three College of Architecture faculty recently received awards to help fund their research through the 2006 Program to Enhance Scholarly and Creative Activities, offered by the Office of the Vice President for Research at Texas A&M University.
The program supports scholarly and creative activities in disciplines such as the humanities and arts where external funding is typically unavailable.
The College of Architecture faculty who received funding from this initiative are:
Jorge Vanegas, architecture professor and director of the Center for Housing and Urban Development, for "The Colonias of Texas through the Eyes and the Voices of their People: A Human Baseline;"
Carol LaFayette, associate professor in the Department of Architecture's visualization science program, for "Inside a Living Ant Colony: A View Underground;" and
Wei Yan, assistant professor in the Department of Architecture's visualization science program, for "Integrating Video Tracking and Virtual Reality in Environmental Behavior Study: An Interdisciplinary Approach."
For more information about the program, visit http://vpr.tamu.edu/osp/sca.html.
---
Lecture compares Katrina with
the South African Constitution
First Friday Lecture Series "Rights, Freedom, and Katrina Refugees: Lessons from the South African Constitution"
Dr. Derrick Darby, associate professor in the Department of Philosophy will present the next 2006 First Friday Lecture Series, with a talk titled "Rights, Freedom, and Katrina Refugees: Lessons from the South African Constitution."
The event will be held in 111 Koldus Friday, May 5. Lunch will be provided at 11:45 a.m. to registrants, and the lecture will begin at noon.
The First Friday Lecture Series is a program of the African American Professional Organization sponsored by the Office of the Vice President for Research and is held the first Friday of each month. To register, visit http://vpr.tamu.edu/registration. For more information, contact Anita Dotson at 845-1812 or a-dotson@tamu.edu
---
Dean to discuss department head
search tonight in Geren Auditorium
The dean will meet with students, faculty, staff and other interested parties to discuss the architecture department head search and to answer any questions. The meeting will be held today, May 4, at 6 p.m. in the Preston Geren auditorium.
Online parking registration now open
Transportation Services has announced that faculty and staff can register for parking online at: https://transport.tamu.edu/registration/login.aspx. They also offer suggestions and guidance on how to register for a 2006-07 parking permit, particularly for those who presently park in PA 5, 42, 59 and 69. These lots will be closing and customers will need to select another parking lot.
Those who currently park in a reserved numbered space may continue with that option, unless your lot is closing due to construction.
Additional information on parking registration is shown as Frequently Asked Questions at: http://transport.tamu.edu/parking/FAQpermit.asp. For answers to individual questions, call (979) 862-PARK (7275), or e-mail parking@tamu.edu.
---
Friday & Saturday – May 5 & 6

TEX-GRAPH 2006, an informal meeting of Texas researchers with an interest in computer graphics and interactive techniques, will be held 8 a.m. –5 p.m. May 5 and 6 in the Preston M. Geren Auditorium and Langford B Exhibit Hall at the College of Architecture at Texas A&M University.
The mini-symposium offers a forum for researchers, professionals, and those interested in computer graphics, multimedia, interactive technologies, visualization and related areas to meet and discuss current activities and research initiatives.
Participants, including educators and researchers, will present current work based on computer graphics and interactive techniques.
TEX-GRAPH has been held four times in the past, twice at Texas A&M University in 2000 and 2005, at the University of Houston in 2001, and at the University of Texas at Austin in 2002.
There is no registration fee for the conference, but participants will be asked to register at the door.
Information about presenting, as well as the latest TEX-GRAPH news is available on the TEX-GRAPH Web site: http://www-viz.tamu.edu/texgraph/
Saturday - May 6
LAUP Department Picnic for faculty, staff and students and their families. The location and time of this event has not yet been established. For more details or suggestions, contact June Withers at 845-1046 or jwithers@archone.tamu.edu.
---
SPRING 2006: CALENDAR HIGHLIGHTS:
Thursday - May 11
COSC Graduation Reception: 1 - 8 p.m. in Langford A Atrium. For more information, contact Ann Eastwood at 845-0289 or aeastwood@archone.tamu.edu.
Friday - May 12
Graduation Recognition and Honors Ceremony:
11 a.m. in the Geren Auditorium, with a reception to follow.
Saturday - May 13
2006 Houston Art Car Parade: A car painted by Mary Saslow's students will be in the parade. For more information, contact Mary Saslow at saslow@viz.tamu.edu.
Tuesday - May 30
Secret Pal Luncheon: 11:30 a.m. - 1:30 p.m. in Langford B Exhibit Hall exclusively for Secret Pal participants. For more information, contact Susie Billings at 847-9357 or sBillings@archmail.tamu.edu.