CALENDAR HIGHLIGHTS:
See complete listings for details.
| | |
| --- | --- |
| | |
| May 5-6, 8-5 p.m. | TEX-GRAPH in the Geren Auditorium |
| May 5-6, 7 p.m. | Viz-a-GoGo XIII in the Rudder tower and theater complex |
| May 9, 7 p.m. | Special advance screening of "Over the Hedge" at Cinemark theater in College Station |
| May 12, 11 a.m. | College of Architecture Graduation Recognition and Honors Ceremony in the Geren Auditorium |
---
Feature Stories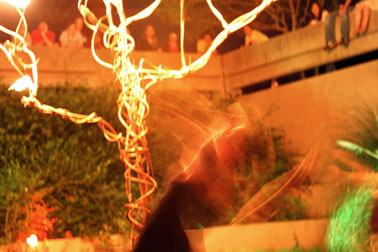 Light Show slide show: In this photo by Igor Kraguljac, dancers perform during the annual lighting show presented by Jill Mulholland's ARCH 433 class last Friday night at the Langford Architecture Center. Additional photos of the event and student exhibits are available online at:
http://archone.tamu.edu/archcom/archoneUpdate/Images/
lightShowPics/index.htm
---
NSF funds visualization professors'
engineering tool design project
Texas A&M visualization science professors Don House and Vinod Srinivasan are collaborating with A&M civil engineering faculty to develop a visualization/simulation tool that will allow engineering students to observe the dynamic load performance of mechanical models.
The study, "Multiple Models for Civil Engineering Dynamics," is funded by a two-year, $125,000 National Science Foundation educational research grant. The A&M team's proposal was one of 70 to receive NSF funding out of 844 submitted this year to the NSF's Course, Curriculum and Laboratory Improvement (CCLI) program.
Read complete story:
http://archone.tamu.edu/archcom/archoneUpdate/
full_4-20-06_vizGrant.htm
---
Mann, students to present surge
hospital concept at April 20 event
George J. Mann, AIA, the Ronald L. Skaggs Endowed Professor of Health Facility Design at the Texas A&M University College of Architecture, along with architecture students Ashley Dias and Elisha Killgore, will present results from their surge hospital research and design projects at the April 20 Adventist Healthcare conference in Rockville, Md.
Mann and the students will present their work examining alternative hospitals for providing emergency care in the event of natural or man-made disasters. The projects were undertaken fall 2004 in a design studio co-directed by P.K. Carlton, M.D., director of the Integrative Center for Homeland Security at the Texas A&M Health Science Center. The projects demonstrate how these "surge hospitals" could be predestinated in such places as convention centers, hotels, high schools, motels and community centers.
Read complete story:
http://archone.tamu.edu/archcom/archoneUpdate/
full_4-20-06_surgeHospitals.htm
---
Susan Rodiek focuses on helping
the elderly connect with nature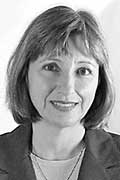 A chance observation of an elderly woman gazing wistfully out the window of a nursing home has blossomed into a whole new avenue of research for a Texas A&M University architect, leading to a soon-to-be-released book on the subject.

"As part of my research focus on designing healthcare facilities, I spend a lot of time in long-term care residences like nursing homes and assisted living complexes," says Susan Rodiek, who is associate director of the Center for Health Systems & Design (CHSD), a joint research center of the College of Architecture and the Texas A&M System Health Science Center. "After noticing that people tended to congregate near outside doorways or to sit looking out windows, I decided to find out why they were doing so and whether they wanted more opportunities to go outside."
Read complete story:
http://our-news.tamu.edu/newsmanager/templates/
default.aspx?a=2592&template=print-article.htm
---
Speakers announced for May 12 commencement ceremony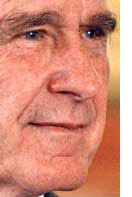 Former President George H.W. Bush will be the featured speaker at the Texas A&M University's spring commencement ceremony for the College of Architecture, set for 2 p.m. May 12 at Reed Arena.
Joining the College of Architecture at the ceremony will be the Bush School of Government and Public Service, the Mays Business School and the College of Geosciences.
For more information on both the May 12 and 14 commencement ceremonies, visit:
http://our-news.tamu.edu
/newsmanager/templates/?a=2577&z=15
---
Former BED student to be
honored in April 21 Muster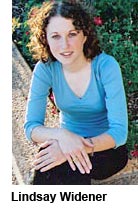 On April 21, Aggies around the world will once again engage in Texas A&M's oldest and most revered tradition — Aggie Muster — a sacred rite honoring current and former students who have recently passed away.
During this year's Muster, one of the names read from the "Roll Call for the Absent" will be Lindsay Widener, an environmental design student who succumbed to a long battle with cystic fibrosis last October. This May, Widener will also be awarded a posthumous degree, signifying the completion of her ultimate goal in life—to graduate from Texas A&M University.
For more information on the tradition of Aggie Muster and the April 21 ceremonies, visit: http://muster.tamu.edu/ or http://www.aggienetwork.com/muster/
---
Former architecture student named
director of A&M Real Estate Center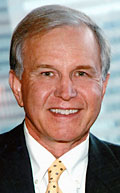 Gary W. Maler, a 1974 master of architecture graduate from Texas A&M, has been named the fifth director of the university's Real Estate Center, the nation's largest publicly-funded real estate research entity.

Maler has been with the center since 1978, serving as coordinator of development programs, senior operations officer, assistant director, and most recently, as associate director. During some of that time he also held an appointment as assistant to the Texas A&M University vice chancellor for research park development.
For complete story:
http://communications.tamu.edu/newsarchives
/06/041306news-9.html
---
Faculty encouraged to attend May 12 commencement, honors ceremonies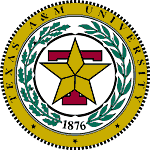 The College of Architecture will honor its graduating students with a ceremony at 11 a.m. May 12 in the Preston Geren Auditorium. The brief ceremony will include recognition of Ph.D. candidates, hooding of master's degree candidates, recognition of undergraduate honor graduates, and a few special student awards.
Faculty are encouraged to attend. Refreshments will be served in the Building B exhibit hall adjacent to the auditorium immediately following the event. For more information, contact the Office of Undergraduate and Graduate studies at (979) 845-1144.
Langford upkeep policies revisited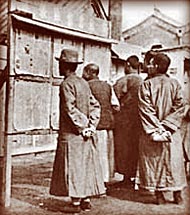 College of Architecture faculty, staff and students are urged to become familiar with and adhere to college policies regarding the general upkeep of the Langford Architecture Center, including the posting of posters, flyers and print collateral, and the use of bulletin boards, furniture and spray paint.
A PDF copy of the policy, adopted by the college April 20, 1998, can be referenced online at online athttp://archone.tamu.edu/archcom/InsideTrack
/Images/4-98_Posting_Policy.pdf.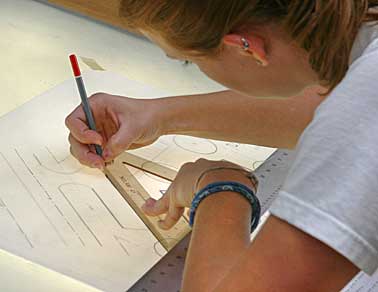 Image from College of Architecture's digital photo archive, which is now accessible on the CARC-SHARED drive on the server.
College photo archive available on server
A digital archive of college-related photographs and clip art collected over the past few years from a varieity of sources has been posted on the "CARC-SHARED" drive on the College of Architecture's server. The collection, which includes faculty pictures, should be available to everyone with a college computer account. The images can be used for Web and print publications and PowerPoint presentations. They are located in the "CARC-Photos" folder.
Everyone is welcomed and encouraged to submit pictures for the archive to Phillip Rollfing, via CD or e-mail at prollfing@archone.tamu.edu.
Due to the high resolution of many of the images, a 100 MB ethernet connection is recommended for browsing and selecting photos. This process is further enhanced by utilizing the Adobe Bridge application, which is part of the Adobe Creative Suite software package.
Anyone interested in assisting with the development and implementation of a naming and filing heiarchy for the collection should contact Phillip Rollfing.
Notice of recent thefts
A recent rash of thefts around the Langford Architecture Center reminds us to be extra vigilant. Please be on the look out for out-of-place people and behavior. In particular, make a note of any people removing equipment from its normal place. Reports can be made to Chuck Tedrick, 845-3926 or
c-tedrick@tamu.edu.
---
Today – April 20
"Aggie Art from the Dogo": An opening reception for Mary Saslow's ARTS 305 class exhibit is slated for 6 p.m. in the Langford Gallery. The show opens Friday, April 21 and runs through Monday, April 24.
Friday – April 21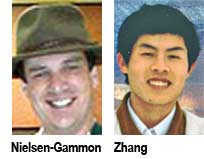 "A Case Study of Tropical Storm Allison (2001)" — a presentation by professors Fuqing Zhang and John Nielsen-Gammon of Texas A&M's Department of Atmospheric Sciences is slated for 10 a.m. Friday, April 21 in Langford C 205. The lecture is sponsored by the Hazard Reduction & Recovery Center at the Texas A&M University College of Architecture.
Thursday – April 27
Lighting control lecture: The Texas A&M Chapter of the Illuminating Engineering Society of North America (IESNA) will host a lecture by Jim Martins, commercial sales manager for Lutron Electronics Company (http://www.lutron.com/) 6-8 p.m. Thursday, April 27 in Langford A 348. Martin, who oversees 13 manufacturers' representatives for the Coopersburg, Penn. lighting company, will examine current and future technologies for lighting control solutions. For more information on IESNA visit their Web site at http://iesna.tamu.edu/ or contact Maitha Dalmouk Al-Nuaimi at m.dalmouk@tamu.edu
---
SPRING 2006: CALENDAR HIGHLIGHTS:
Friday – April 28


"Dokuz" screening: Life is not as it seems in this "very Turkish" film by Ümit Ünal that will be screened 7:15 p.m. Friday, April 28 in Langford C 105. The film, in Turkish with English subtitles, is presented by "Teasing Culture Corporation" an unofficial group of Turkish Aggies and people interested in Turkish culture. This avant-garde movie opens with the rape and murder of a beautiful young girl who lives in a small and conservative neighborhood in Istanbul. The movie focuses on the ensuing investigation through a series of crosscut interviews with the suspects. Inspired by Akira Kurosawa's classic "Rashomon," the movie views the horrific event from various perspectives as police interrogate six potential suspects from the neighborhood, revealing the secret and unknown history of this apparently peaceful environment. The first film directed by Ümit Ünal, "Dokuz" (that's Turkish for "nine") was named best movie at the 21st Istanbul Film Festival and selected as Turkey's official entry to 2003 Oscars. This story about everyday fascism in the lives of ordinary people was the first Turkish film shot and edited entirely in digital video. The screening is open to the public.
Lighting exhibit: A day-long exhibit of student work from Dr. Liliana Beltran's lighting classes, ENDS 233 and ARCH 634, is slated for Friday, April 28 in the Langford Gallery.
MUP Advisory Council meets: The Master of Urban Planning Advisory Council meets 11 a.m. – 4 p.m. Friday, April 28 in Langford A 217. For more information, contact Elise Bright at Ebright@tamu.edu.
Friday & Saturday – May 5 & 6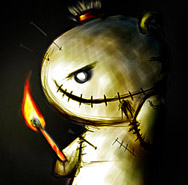 Viz-a-GoGo 13 — "Your Luck's About to Change:" The 13th annual showcase of student work from the Department of Architecture's Master of Science in Visualization Science program, Viz-a-GoGo, runs May 1 - May 6 in the Rudder Exhibit Hall. The "flat-work" exhibit, featuring paintings, figure drawings, photography and work from the Spring 2006 Artists in Residents workshops will be on display throughout the week. On Friday and Saturday, May 5 and 6, the show escalates with student demonstrations at 4 p.m. followed by screenings of 2-D and 3-D time-based works at 7 p.m. in Rudder Theatre.
For this, the show's 13th year, the students have chosen the theme "good luck, bad luck and superstitions." In keeping with the theme, the 2006 digital emcee for the screening will be a voodoo doll. Also slated for the Friday and Saturday night finales are guest performances by a Texas A&M dance troupe and the percussion ensemble, "Percussion Studio." There's no charge for the event, but the show's creators warn that some material may not be appropriate for young children.

TEX-GRAPH 2006, an informal meeting of Texas researchers with an interest in computer graphics and interactive techniques, will be held 8 a.m. – 5 p.m. May 5 and 6 in the Preston M. Geren Auditorium and Langford B Exhibit Hall at the College of Architecture at Texas A&M University.
The mini-symposium offers a forum for researchers, professionals, and those interested in computer graphics, multimedia, interactive technologies, visualization and related areas to meet and discuss current activities and research initiatives.
Participants, including educators and researchers, will present current work based on computer graphics and interactive techniques.
TEX-GRAPH has been held four times in the past, twice at Texas A&M University in 2000 and 2005, at the University of Houston in 2001, and at the University of Texas at Austin in 2002.
There is no registration fee for the conference, but participants will be asked to register at the door.
Information about presenting, as well as the latest TEX-GRAPH news is available on the TEX-GRAPH Web site: http://www-viz.tamu.edu/texgraph/
Saturday - May 6
LAUP Department Picnic for faculty, staff and students and their families. The location and time of this event has not yet been established. For more details or suggestions, contact June Withers at 845-1046 or jwithers@archone.tamu.edu.
Tuesday - May 9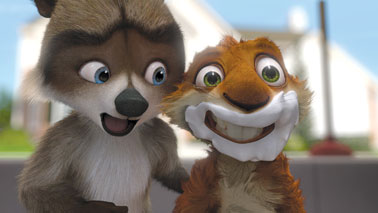 "Over the Hedge" —movie and special guest: The Visualization Laboratory is inviting College of Architecture students, faculty and staff to an exclusive early screening of "Over the Hedge," the latest animated feature from DreamWorks Animation SKG, Inc. As a special treat, moviegoers will have an opportunity to meet and speak with Mike Fry, co-creator of the "Over the Hedge" syndicated comic strip, on which the movie is based. The film is scheduled for 7 p.m., Tuesday May 9 at the Cinemark Hollywood U.S.A. theater in College Station. Advanced tickets will be available while they last beginning Tuesday, May 2 from the Visualization Laboratory's main office, located on the fourth floor of Langford C. A notice will be e-mailed when tickets become available.
"Over the Hedge," the Dreamworks film, follows a band of woodland animals as they learn to co-exist with — even exploit — a strange new world called suburbia. The comic strip of the same name and theme is written and drawn by Michael Fry and T. Lewis, who have known each other since 1992 when they both contributed to the "Mickey Mouse" comic strip. The duo work on their "Over the Hedge" strip via the telephone and the fax machine.
For movie details and previews, visit:
http://www.overthehedgemovie.com/
To learn more about the syndicated cartoon strip, visit:
http://www.unitedfeatures.com/ufsapp/ viewFeature.do?id=99
or
http://www.comics.com/comics/hedge/
Thursday - May 11
COSC Graduation Reception: 1 - 8 p.m. in Langford A Atrium. For more information, contact Ann Eastwood at 845-0289 or aeastwood@archone.tamu.edu.
Saturday - May 13
2006 Houston Art Car Parade: A car painted by Mary Saslow's students will be in the parade. For more information, contact Mary Saslow at saslow@viz.tamu.edu.
Tuesday - May 30
Secret Pal Luncheon: 11:30 a.m. - 1:30 p.m. in Langford B Exhibit Hall exclusively for Secret Pal participants. For more information, contact Susie Billings at 847-9357 or sBillings@archmail.tamu.edu.
---
Recreating the creation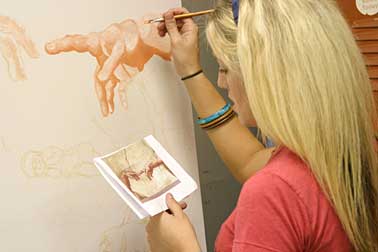 Courtney Klepac, a student in Mary Saslow's ARTS 305 class, incorporates a scene from Michelangelo Buonarroti's Sistine Chapel creation mural into her painting. Student work from Saslow's class will be on exhibit in the Langford Gallery Friday, April 21 through Monday, April 24. An opening reception is set for 6 p.m. tonight.