Multidisciplinary effort produces
veteran treatment center designs
Conceptual designs for treatment centers that can be quickly constructed to serve armed forces veterans suffering from traumatic brain injuries or post-traumatic stress disorder were developed last fall in a collaborative, multidisciplinary project involving students from all four departments at the Texas A&M College of Architecture.
"Increasing numbers of veterans have returned from combat with brain injuries or PTSD, but unfortunately, only a few outpatient treatment facilities have been designed to treat these conditions," said Susan Rodiek, associate professor of architecture and one of four faculty members who led the wide-ranging design studio project.
Camps offer kids intro to
disciplines taught at college


Capitalizing on the aspirations of kids who dream of becoming architects or digital artists, the College of Architecture offers two weeklong summer camp experiences for college-bound students seeking careers in built or virtual environment fields.

Francis Hall campaign:

Marek Bros. Systems Inc. funds safety education lab
A safety education lab in Francis Hall, future home of Texas A&M's Department of Construction Science, will be built with a $150,000 contribution from Marek Brothers Systems, Inc., a Houston-based builder.
The gift is a major contribution to the $8 million renovation of the historic building, scheduled for completion in fall 2014. The donation to the building's renovation campaign will be combined with funding from the university.
Advisory council supports
CoSci building campaign

Francis Hall, future home of the Department of Construction Science, will include an office suite built with a $250,000 gift from the Construction Industry Advisory Council to support its membership, career fairs and internship program.

Research: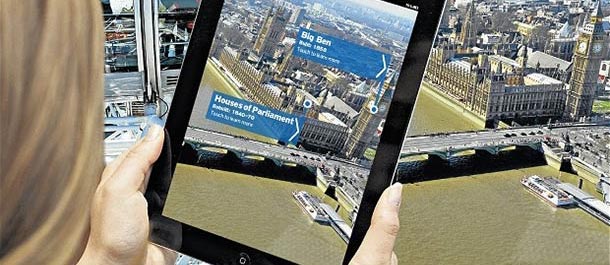 Visualization professor Ann McNamara is performing augmented reality research with a prestigious National Science Foundation grant.
NSF award funds prof's augmented reality research
Imagine navigating an unfamiliar city street aided by a mobile device that follows your gaze, annotating the landscape and instantly identifying landmarks, or visiting a museum with a similar tool that identifies and interprets each exhibit as you peruse the collection.
This technology combining real and virtual worlds, "mobile augmented reality," is the subject of a five-year, $529,862 study led by Ann McNamara, assistant professor of visualization at Texas A&M University and 2013 recipient of the National Science Foundation's prestigious Faculty Early Career Development Award promoting junior faculty development and research of the highest quality.
CoSci professor heads Qatar
building energy use project


Disparities between the energy performance potential and actual energy use of four buildings in Qatar and the causes of those disparities will be investigated by a research team led by John Bryant, an associate professor of construction science.
HRRC investigating uncertainty's
role in hazard-related decisions


In the first large-scale study of its kind, Texas A&M researchers are investigating how storm forecast graphics, such as those depicting potential storm paths with cone-shaped regions of uncertainty, influence public decision-making.
Students craft useful building
software plugins for Revit

Graduate architecture students developed a software tool to determine a building's potential energy use from its design, as well as its rainwater harvesting potential and other characteristics as part of an architecture class project.
Study yields tool for optimizing
nursing workflow in hospitals

A design efficiency checklist for medical facilities developed by researchers at Texas A&M provides spatial solutions for flawed floor plans that can contribute to medical staff fatigue, cause distractions that hinder quality patient care and increase costs.
TTI reports U.S.
traffic congestion

Houston ranks as the sixth-worst U.S. city for traffic congestion in the Texas Transportation Institute's 2012 Urban Mobility Report, which includes a comprehensive database of traffic congestion and its effects on air quality.

Also online: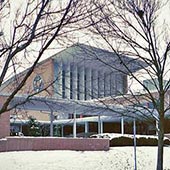 TAMU grant funds investigation
of postwar synagogue design

NSF network building momentum
to blend art and science learning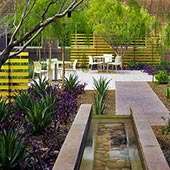 Ph.D. student tells design blogger
about nature's healing powers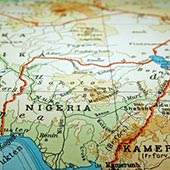 CHSD faculty fellow leads effort
to modernize Nigerian health care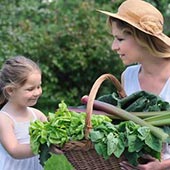 CHSD faculty fellow promotes
family vegetable gardening

Ph.D. student eying effectiveness
of occupancy-based HVAC system

In the Studio:


Miguel Roldán is one of four professors leading a graduate architecture studio in which students are using approaches from other disciplines.
Grad studio seeks solutions for growing campus
Architecture students typically work in within the confines of their discipline, designing solutions to presented problems, but award-winning architect Miguel Roldán, founding principal of Barcelona's R + B Architects, and three architecture faculty members at Texas A&M have a different idea.
They are asking students to break out of their silo and consider a design problem from a wider perspective, incorporating approaches used by urban planners, landscape architects and construction managers, as well as architects, while providing solutions for the future growth of Texas A&M's College Station campus.
Students reimagine campus
University Drive corridor

Student-designed proposals for the future development of two areas along University Drive, created by students at Texas A&M's College of Architecture, were showcased Jan. 18 in room 102 of the Zachry Engineering Center.
OPAS anniversary exhibit bases
designed, fabricated at college

Students designed and fabricated display stands for a photo exhibit celebrating the 40th anniversary of MSC-OPAS by showcasing images from four decades of performing arts venues the organization has shared with Brazos Valley residents.

Also online: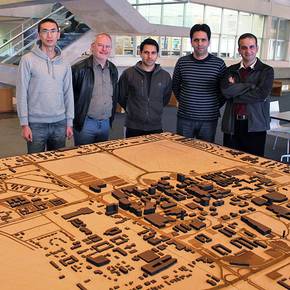 Ph.D. architecture students create
physical, digital models of campus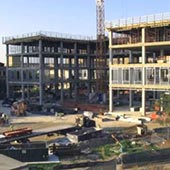 Prof shoots time-lapse video
of Arts and Humanities Building

Academics:

Chronicle notes 100% job placement for CoSci grads
Every spring and summer 2012 graduate from Texas A&M's Department of Construction Science has an industry job, noted a Jan. 4 Houston Chronicle article.
"Builders seem busier and more optimistic, with a need for new talent again in their workforce. That's an indication that the industry is turning around," Joe Horlen, head of the department, told the Chronicle's Cheryl Rose.
Grant funds Startup Aggieland
student-ran business incubator

Entrepreneurial education and opportunities for students at Texas A&M were enhanced by a three-year, $300,000 Tier One Program grant from Texas A&M, the result of a joint proposal from the College of Architecture and Mays Business School.
Four Texas A&M student teams
seek votes in Dell competition

Innovative ideas from four Texas A&M student teams that could revolutionize conditions in the Third World and expand educational opportunities for nontraditional students have reached the semifinal round in a national innovation contest.

Also online:

Entrepreneurship course boasts
legacy of student achievement

CoSci students excel at national
NAHB competition in Las Vegas

Construction science intern
assumes BIM responsibilities

Honors / Accomplishments:

Fairey to receive Scott Arboretum Medal
Peckerwood Garden, a 19-acre trove of rare plants from the southern U.S. and Mexico has earned its founder/curator, Texas A&M Regents Professor John Fairey, recognition from the Scott Arboretum in Swarthmore, Pa.
Senior member of the College of Architecture faculty, Fairey has taught at Texas A&M since 1964. He will receive the arboretum's prestigious Scott Medal and Award 4 p.m. March 17 at the Lang Performing Arts Center at Swarthmore College, which is nestled within the Scott Arboretum. He will lecture after the medal presentation.
National landscape architecture
education group honors Dvorak

The teaching of sustainable landscape design, "green" roof construction and research-informed design earned a national education excellence award for Bruce Dvorak, assistant professor of landscape architecture.
Outstanding student work
recognized by Texas ASLA

Plans to develop or rehabilitate sites in the Brazos Valley and upgrade facilities at Veterans Affairs healthcare centers netted awards for six groups of Texas A&M landscape architecture students in a statewide competition.
Interdisciplinary emphasis yields
Regan Prize for Fernández-Solís

An emphasis on interdisciplinary education has netted José Fernández-Solís, Texas A&M associate professor of construction science, the 2012 J. Thomas Regan Interdisciplinary Faculty Prize.
TRC staffer earns President's
Meritorious Service Award

For his excellent teaching support as visual reference coordinator at the College of Architecture's Technical Reference Center, librarian Ian Muise received the Texas A&M President's Meritorious Service Award.
CoSci student wins outstanding
student award at NAHB confab

For his extraordinary leadership as president of the Texas A&M Chapter of the National Association of Home Builders, Alexander Allen, a senior construction science major, received the NAHB's Outstanding Student Award at the group's annual convention last January in Las Vegas.

Events:

McDowell heads 2013 Rowlett Lecture
Steve McDowell, director of design and principal at BNIM, a design and planning firm recognized by the American Institute of Architects as its 2011 firm of the year, will speak at Texas A&M's Rowlett Lecture Series, 1:30 p.m. Friday, April 19 at Rudder Theatre on the Texas A&M campus.
20th Viz-a-GoGo exhibition
taking 'Viz to the Future'


Celebrating its 20th year, Viz-a-GoGo, the annual showcase of visualization student work, will take its audience on a time-traveling adventure — in a DeLorean, no less — with a series of interstitial stories paying tribute to the program's heritage.
College of Architecture biennial
faculty art show opens March 21


A diverse array of artwork created by faculty from the Texas A&M College of Architecture will be exhibited March 21 – May 19 at the J. Wayne Stark Galleries, located in the Memorial Student Center on the Texas A&M University campus.
Dialogo to highlight planning
issues facing border regions

Urban issues affecting the Texas-Mexico border will be the focus of Dialogo on the Border, a conference sponsored by the Texas A&M colleges of Architecture and Engineering set for April 19-20 in Brownsville, Texas.
Architecture lecture series
features design luminaries


A diverse group of leaders in architectural design and education are sharing their knowledge and experiences with student as part of the Spring 2013 Department of Architecture Lecture Series.

Also online: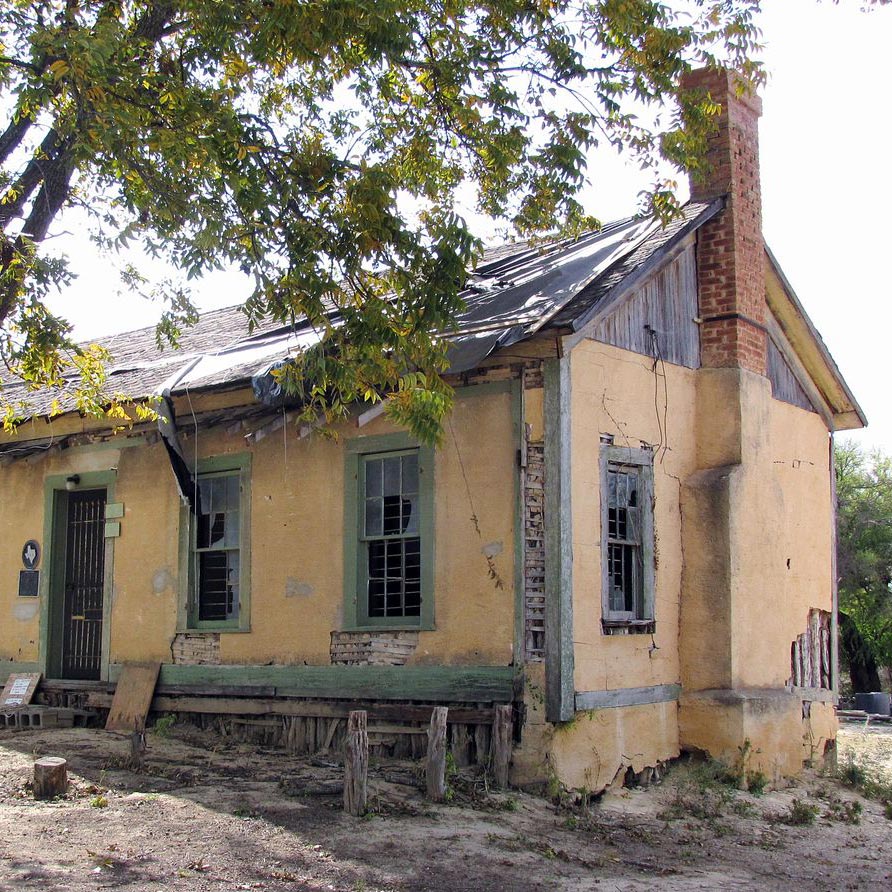 Historic Preservation Symposium
spotlights Texas Heritage projects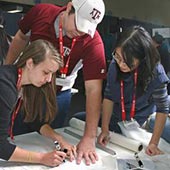 2013 Aggie Workshop featured
lectures, charrettes with pros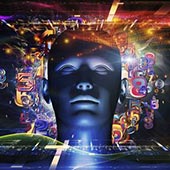 Teacher workshop eyed melding
arts with math, science curricula

Class Acts: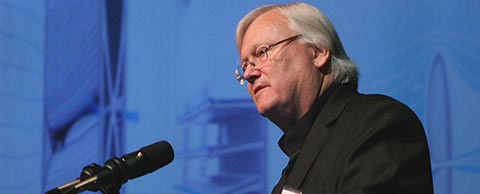 Adrian Smith to receive honorary doctorate
Adrian Smith, designer of the world's tallest building, the Burj Khalifa in Dubai, and a champion of sustainable design, will receive an honorary doctor of letters degree from Texas A&M at spring commencement.
Widely regarded as the world's leading authority on super-tall buildings, Smith is an outstanding alumnus of the College of Architecture and founding principal of Adrian Smith + Gordon Gill Architecture.
Faculty, students mourn death
of popular CoSci prof, Byrne

Stephen Byrne '75, a popular Texas A&M construction science educator and construction industry leader who helped shaped the top rated construction science program at Texas A&M, passed away Feb. 11 from complications due to back surgery.
Former student helps design
kinetic installation for MSC

A high-tech, architectural installation at the Memorial Student Center portraying Texas A&M students past and present, designed in part by a former environmental design student, was activate Friday, Feb. 22, 2013.
Outstanding alumnus, Haas
elevated as 2013 AIA Fellow

Anthony Haas '79, a senior principal at WHR Architects and 2007 Outstanding Alumnus of the Texas A&M College of Architecture, has been elevated to the American Institute of Architects' College of Fellows.
Alumna honored as 1 of 5 most
influential in concrete industry

Students gain plenty of "real-world" experience in concrete construction management and preservation while interning in one of two programs led by Tanya Wattenburg Komas '05, an architecture Ph.D. graduate from Texas A&M University.
Alums using crowd funding to
develop March Madness app

March Madness app that its developers, two former Texas A&M environmental design students, say will make it easy and fun to fill out brackets and compete with friends and family for the title of best bracket in the land.
Former student lauded for
volunteer efforts in Houston

A list of the 25 most beautiful Houstonians, selected by H magazine for the depth of their commitment to community service, includes Ben Johnston '02, a former environmental design student at Texas A&M.

Also online: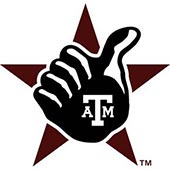 Former students share news
with the College of Architecture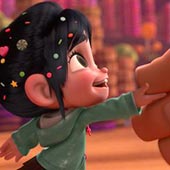 Former Vizzer garners VES Award
nomination for character design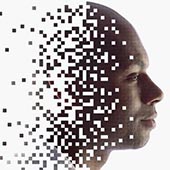 Alum foresees clothing of future
integrated with technology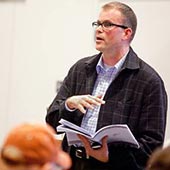 Former student's design group,
residents revitalize neighborhood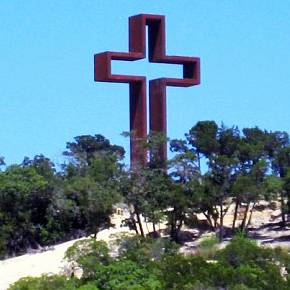 Former student's giant cross,
sculptures attracting visitors

Experimental dance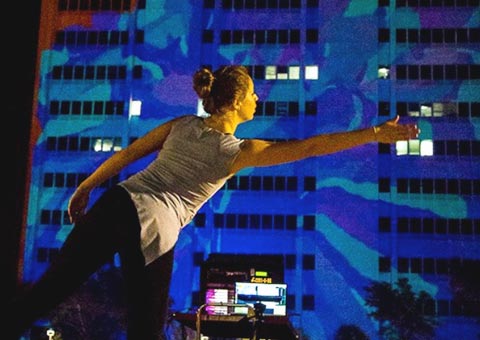 Jessica Feist dances in front of a projection covering the Eller Oceanography and Meteorology Building created by visualization students in an interactive technology and performance class. The experimental performance will be fine-tuned by the students, led by Jinsil Hwaryoung Seo, assistant professor of visualization, for a final performance April 22. See photos on the Viz Lab's Facebook page.