College joins online design community,
students get free Autodesk software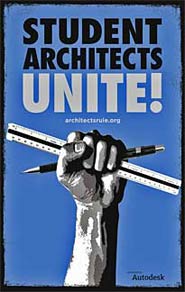 The College of Architecture at Texas A&M University is one of several elite U.S. and international schools participating in a new online design and engineering community sponsored by Autodesk. Launched last Wednesday, the pilot program will provide students in participating programs with numerous benefits including chat rooms, job postings, online tutorials, and free software.
Texas A&M students will be able to download free copies of Autodesk Revit, Inventor, Civil 3D, and Viz — next generation products from the company that makes AutoCAD, the building industry's market leader computer-aided design software.
Access Autodesk's online design community: http://architectsrule.org
Read complete story:
http://archone.tamu.edu/archcom/archoneUpdate/full_3-
02-06_architectsrule.htm
LiQin Tan workshop exhibit is Monday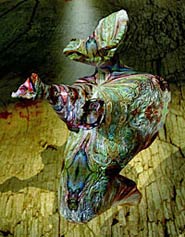 This week, visiting artist LiQin Tan has been leading a student workshop devoted to designing and modeling 3-D character as part of the College of Architecture's Spring Artist in Residence program.
The student's will exhibit their work 1 – 3 p.m. Monday, March 6 Studio A on the fourth floor of Langford C.
As an artist, Tan makes connections between seemingly disparate worlds. He is fascinated by similarities between Native American and Chinese cultures, but most of all, he is intrigued by the idea of reinterpreting ancient images as technological works of art. A traditional artist influenced by ancient cultures and art forms, he uses 3-D modeling and animation to investigate historical and cultural traditions.
The college's Spring 2006 Artists in Residence program is made possible by Texas A&M Universities Academy for the Visual and Performing Arts. The next visiting artist, Wenda Gu, will lecture and lead a workshop March 22 – 28.
Spring '06 Artists in Residence Web site:
http://www-
viz.tamu.edu/faculty/lurleen/air/air_sp06t.htm
Student work garners elite audience
The American Society for Healthcare Engineering invited students from the Department of Architecture's health facility design studios to exhibit 16 posters featuring recent work at the organization's 2006 International Conference and Exhibition on Health Facility Planning, Design and Construction held Feb. 25-28 in San Diego, Calif.
Theirs was the only student exhibit at the conference and it was shown alongside projects designed by many of the nation's leading architectural firms. The posters were chosen by George J. Mann, the Ronald L. Skaggs Professor for Health Facility Design.
The conference also featured two presentations by Department of Architecture faculty and students.
Mardelle Shepley, interim head of the Department of Architecture and director of the College of Architecture's Center for Health Systems and Design (CHSD), and Elizabeth Viets, a master of architecture student, presented "Post-Occupancy Evaluation of the Critical Care Unit and Emergency Department at Grossmont Hospital." Kirk Hamilton, a CHSD faculty fellow, lectured on "How the Icons Have Fared III: New Lessons Learned."
UK ambassador visits architecture studio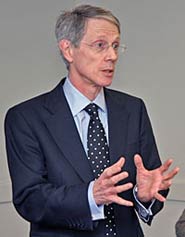 Sir David Manning, the United Kingdom's ambassador to the United States visits with students in George Mann's and Susan Rodiek's design studios who have been working on designs for the Hatfield Health Centre in Hatfield, England. The project is collaboration between Texas A&M University, HKS/Dallas, and Ryder HKS International London and Newcastle, England.
Educated at Oriel College, Oxford and the Paul H. Nitze School of Advanced International Studies at Johns Hopkins University, Manning began his career as a civil servant in the Foreign and Commonwealth Office in 1972. He has served in embassies in Poland, India, Paris, and Moscow, and within the FCO he has worked on the Central American desk, the Russian desk and held several senior positions. He represented the UK in Brussels and also at the International Conference on the former Yugoslavia in 1994.
Between 1995 and 1998, he was British ambassador to Israel; from 2001, he was a foreign policy adviser to British Prime Minister Tony Blair. During this time he developed a close relationship with his counterpart, then U.S. National Security Advisor Condoleezza Rice. Blair selected him to replace Christopher Meyer as the British Ambassador to the United States. Manning took up the post in 2003.
His close relationship with the Prime Minister suggests he has been a key figure in driving British foreign policy in respect of the United States, particularly in the aftermath of the September 11, 2001 attacks and the decision to invade Iraq.
Radiation, hurricanes, floods top
Lindell's international agenda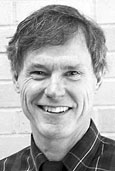 Mike Lindell, professor in the Department of Landscape Architecture & Urban Planning and senior scholar in the Hazard Reduction & Recovery Center, recently participated in two international workshops.
Feb. 12-17, he was involved in a weeklong International Atomic Energy Agency workshop that developed an innovative training guidance document for radiation emergency planners in developing countries.
"One of the major problems these planners face," Lindell said, "is that most IAEA planning guidance prescribes the required elements of emergency plans, but fails to explain why these elements are needed.
To write the new guidance document, Lindell worked with two radiologists — one from the U.S. and the other from Belarus — and two health physicists —one from the U.K. and the other from IAEA headquarters in Vienna Austria. The report contains brief descriptions of ten different emergencies, most of them involving radiation hazards. It also explains how the elements of IAEA planning requirements are designed to avoid emergency response errors made during these incidents.
Feb. 20 – 24, Lindell traveled to Paris to give a talk, coauthored with Carla Prater, titled "Hurricanes Katrina and Rita: Scientific Surprises and Policy Failures."This was one of four major invited presentations in the workshop, "Le Cyclone Katrina: Quelles Leçons pour L'Europe,"sponsored by the Association Française pour la Prevention des Catastrophes Naturalles (AFPCN). The day after the workshop, Lindell joined other American delegates, including Phil Berke, a former LAUP faculty member who is now at the University of North Carolina, in meetings with members of the AFPCN under the auspices of the Académie des Sciences at the Institut de France. The group agreed to pursue collaborative projects on flood hazard mitigation and to hold another conference in March, 2008.
Ph.D. student to join North Texas faculty
Sudha Arlikatti, a Ph.D student in the Urban and Regional Science program has accepted a faculty position at the University of North Texas – Denton. She will be in the Department of Public Administration's Emergency Administration and Planning Program. Arlikatti is due to receive her doctoral degree in May.
---
Friday, March 3
ILM supervisor to discuss digital creatures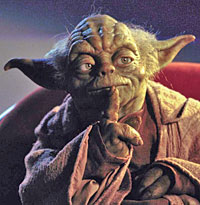 Tim McLaughlin, associate visual effects supervisor for Industrial Light + Magic, will present a short tutorial, "Taxonomy of Digital Creatures: Interpreting Character Designs as Computer Graphics Techniques," 4 p.m., Friday, March 3 in the Preston M. Geren Auditorium, located in Building B of the Langford Architecture Center.
The tutorial will describe the process of developing digital creatures from concept to the screen as a series of decision points. The focus, McLaughlin said, is on classifying issues to allow design and performance requirements to drive the techniques employed in execution of the final product.
Tim McLaughlin is a former student of the Master of Science in Visualization Science program at the Texas A &M College of Architecture.
The tutorial is free and open to the public. For additional information on the presentation, contact Margaret Lomas at marge@viz.tamu.edu, or 845-3465.
Dean's Advisory Council visits Friday
The Dean's Advisory Council for the Texas A&M College of Architecture will hold their Spring 2006 meeting Friday, March 3 at the Langford Architecture Center.
During their visit, the council members will meet with the three college departments and the College Research and Interdisciplinary Council.
Workshop examines publishing dos and don'ts
The URSSO Spring Workshop I is scheduled 2:45. - 5:45 p.m. Friday, March 3 in Langford C 111. The agenda includes a 3-3:45 p.m. presentation by Sam Brody on the "Do's and Don'ts of Writing a Journal Article: Getting Ready to Publish," and a 4:15 - 5 p.m. lecture titled, "Behind the Scene: Getting Published," featuring Andrew Seidel. For more information, please contact Praveen Maghelal at Maghelal/pmaghelal@tamu.edu.
March 5-10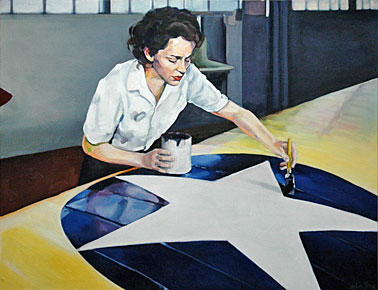 War Women Painting Exhibition
March 5-10 in the Langford Gallery, Felice House will exhibit her master's thesis work which features "War Women" paintings. For more info, contact Felice House at 979.218.0151 or felice@housepaintings.net.
Monday, March 6
Noted Florida planner lectures Monday, March 6
Charles Pattison, the executive director of 1000 Friends of Florida, an organization promoting healthy urban and natural places and the wise management of growth and change, will lecture on "Florida Growth Management: The Good, the Bad, and the Ugly," 6 p.m. Monday, March 6 in Langford C 105. The lecture is part of the Department of Landscape Architecture and Urban Planning 's Spring 2006 Lecture Series.
As executive director of 1000 Friends of Florida, Pattison is responsible for the day-to-day administration of the organization and its work with Florida's citizens and communities. He also works with the state's executive and legislative branches on land use and long range planning issues. He received a master's degree in Urban and Regional planning from the University of North Carolina in 1976 and has spent 22 years practicing at the private, local, state and regional levels.
Prior to joining "1000 Friends," Pattison served Florida's Division of Resource Planning and Management as director of the Department of Community Affairs. He worked as a field representative with The Nature Conservancy in Virginia 1989-92, and as executive director for the Monroe County Land Authority in the Florida Keys 1985-87. He is also member of the American Institute of Certified Planners.
In addition to his 6 p.m. lecture, Pattison will participate throughout the day in a number of open classroom sessions. From 8 – 9:25 a.m., he will join Dawn Jourdan's class in Langford A 205 examining "Hot Topics in Growth Management Law." An open student session with Pattison is slated for 9:45 a.m. – noon at a location to be announced. Then, 2:45 – 4:30 p.m., he will join Jody Rosenblatt Naderi's class in Langford C 105 to lead a "Review of Urban Design for Post-Hurricane Refugees."
A reception will follow Pattison's Monday evening lecture.
Thursday, March 9
ScreenWriting Acting Movie Production meeting
The Texas A&M ScreenWriting Acting Movie Production student group meets 7-9 p.m. every Thursday this spring in Langford C 414. For more information, contact Margaret Lomas at 5-3465 or marge@viz.tamu.edu.
Help establishing a scholarly reputation
A workshop titled, "Where Do I Start? Building Social Networks, National Leadership, and Presence in the Field," sponsored by the Office of the Dean of Faculties, is slated 11:30 a.m. - 1:30 p.m. March 9 in Rudder Room 701.
"Cultivating social networks and establishing a reputation as a scholar in one's discipline can take many forms," reads the workshop flyer. "These networks are especially important in the external review process for tenure as well as promotion."
At the workshop, panel members across a variety of disciplines will share their experiences and offer strategies on how to build these relationships. Participants include John August, professor of veterinary medicine; Albert Broussard, professor of history; Yvonna Lincoln, distinguished professor of higher education administration; Theresa Maldonado, professor of electrical engineering; Robert Strawser, professor of accounting; and Sherry Yennello, professor of chemistry.
The workshop will be moderated by Karan Watson, dean of faculties, associate provost and interim vice president for diversity.
To register, please call the Office of the Dean of Faculties and Associate Provost at 845-4274.
---
Student abstracts due March 10
The Ecological Integration Student Research Symposium is slated for 8 a.m. – 4 p.m. April 1 at Texas A&M University's Memorial Student Center. Graduate and undergraduate students in the biological, environmental, and social sciences are encouraged to submit papers or posters on conservation, ecology, and evolutionary biology for presentation or exhibit at the event.
Deadline for submission is March 10.
This year, the EISR symposium collaborating with Texas A&M's Student Research Week, so students may compete in both events with a single presentation.
For more details visit
http://wfsc.tamu.edu/symposium/register/
abstract.cfm
Ecological Integration Student Research Symposium: http://wfsc.tamu.edu/symposium/student.html
Arch. Dept. head candidate interviews
The College of Architecture has been interviewing candidates for the architecture department head position. The following candidates will be visiting within the next seven days:
Dr. Henri T. de Hahn
March 1 - 3

Associate professor, School of Architecture at University of Kentucky; registered architect, Switzerland. Baccalaureat Scientique, Fribourg, Switzerland; M.Arch., Lausanne, Switzerland; post-graduate studies, Cooper Union, New York. Practice experience: Switzerland, New York and Kentucky.
Teaching experience: Ecole Polytechnique de Lausanne; Art Center College of Design (Europe);
Eidgenossiche Technische Hochscule, ETH-Zurich; University of Kentucky, including administrative positions. Research: history and theory, historic preservation, and William Lescaze, Architect.

Ms. Sandra M. Paret
March 5 - 7

Managing principal, dallas regional practice, HOK, Inc.; executive leadership team for interior architecture for HOK, Inc. worldwide practice; LEED accredited professional; registered architect in Texas and 13 other states, NCARB, registered interior designer. Bachelor of Environmental Design and Master of Architecture, Texas A&M University. Practice experience; RTKL, Baltimore and Dallas; Pierce Goodwin Alexander; Benson Hlavaty Paret; HOK, Dallas. Teaching experience: Professional education programs, regular guest at UT Arlington
Research interests: professional practice, delivery systems, interior architecture.
SIGGRAPH 2005 available online
ACM and AMC SIGGRAPH members can find out what they missed at SIGGRAPH 2005 — the annual international conference on computer graphics and interactive techniques. Through a tremendous application created by Soma Media with QuickTime, view more than 400 conference presentations, including the keynote by George Lucas, within the SIGGRAPH 2005 Online Streaming Application (OSA).

In total, more than 250 hours of content are at your finger tips. Watch the presentations in their entirety or skip through them using the QuickTime chapter list feature. Enter the username: siggraph_2005 and the password: 2005 to access the OSA.
Member access to SIGGRAPH 2005 presentations:
http://www.siggraph.org/soma/dvd-osa/dvd2005/osa-
demos.html
CONACyT grant letters due March 10
Letters of Intent for the Texas A&M University-CONACyT: Collaborative Research Grant Program are due Friday, March 10, 2006, by 5 p.m. The RFP is available on the Web at http://conacyt.tamu.edu/
<http://vpr.tamu.edu/internalgrants.html>.
Direct additional questions or comments to Rickie Fletcher (845-1812; osppc@vprmail.tamu.edu) or Julie Barker (862-2835; j-barker@tamu.edu).
Lost something? Found Something?
The Technical Reference Center maintains a lost and found service for the Langford Architecture Center. Their current collection includes eye glasses, keys, notebooks, jackets Zip disks and CD-ROMs.
If you're missing something, check there first. If you find something, that's were you can leave it. For more information, contact the TRC at 845-5212.
Architecture Ranch planning under way


Faculty interested in utilizing the college's new Riverside Campus facility met last Tuesday morning to share their ideas. Another planning session will be held soon. Anyone with ideas for projects or research that could use the building or surrounding site, or with suggestions regarding the building's interior design, should e-mail Taeg Nishimoto at tnishimoto@archone.tamu.edu or Tom Regan at reganjt@archone.tamu.edu.