IN THIS ISSUE: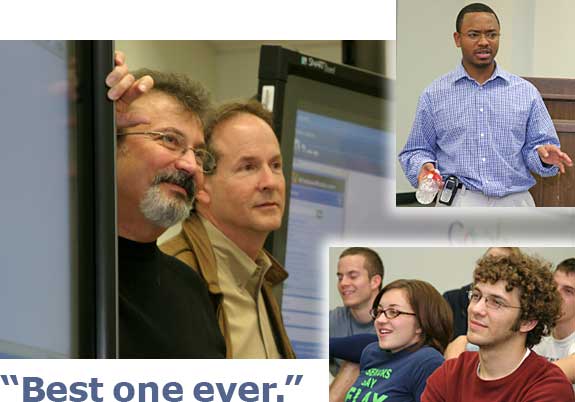 On St. Valentine's Day, undergraduate students gathered in the Langford B exhibit hall to preview the college's study abroad opportunities. Guillermo Vasquez de Velasco characterized the "Semester Away Preview" as the "best one yet." In addition to exhibiting work done by students in Italy and Spain, students who participated in last year's study abroad programs — like Brandon Hepburn (above right), now a first-year M.Arch student — shared their experiences with the next crop of world travelers.
---
Cushing Library receives Raiford Stripling Archive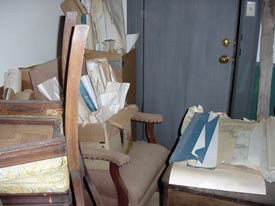 An architecture graduate from A&M's Class of 1931, Raiford L. Stripling's career was dedicated to restoring Texas' historic structures such as Presidio La Bahia and Mission Espiritu Santo in Goliad, Texas. He also helped design many of the historic buildings on the Texas A&M campus.
Last month, with the assistance of the Center for Heritage Conservation, Texas A&M's Cushing Memorial Library took possession of Stripling's archives.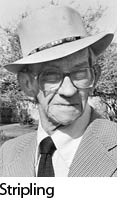 The archives, ,which include the contents of the preservationist's office in San Augustine, Texas, were donated to A&M in 1994, by Stripling's son, Ray. The Texas Old Missions and Forts Restoration Association provided $2,000 for an initial inventory of the drawings and papers. Then, to facilitating the archive's completion and ensure that Stripling's documents would be made available to future generations of historians and preservationists, the Center for Heritage Conservation received a $40,000 grant from the Summerlee Foundation.
These funds allowed the center to transfer the collection from San Augustine to College Station last January. The archives are now housed in the Cushing Library, where they will be indexed and catalogued. Selected documents will be digitized and copied and the remaining documents will be appropriately stored for perpetuity.
The Stripling Archives will complement the Raiford Stripling Collection of photographs currently housed in the College of Architecture's Technical Reference Center. These 26 large-format images of Texas historical buildings that were restored by the preservation architect, were part of a 1983 Raiford Stripling exhibit. The large (some measuring 4' x 5') black and white photographs of missions, churches, homes and historic buildings are often used as subjects for drawing assignments.
For more information:
http://archone.tamu.edu/archcom/archoneUpdate/full_2-16-06_stripling.htm
---
Retired professor donates personal library to TRC
Last week, the College of Architecture's Technical Reference Center received a collection of books from retired professor, Jac de Jong. He donated 21 boxes including 424 books, 23 journals and 22 miscellaneous pamphlets.
de Jong joined the College of Architecture faculty in 1978 and over 18 years taught more than 25 different courses in architecture, urban planning, environmental design and construction science. He also served as coordinator of the graduate program in construction science — the job, he said, he enjoyed most.
He retired in 1996, when his wife became ill and passed away. An illness has since robbed de Jong of his sight. In a telephone conversation Thursday, the retired professor said he would be making additional donations to both the colleges of architecture and engineering.
"After separating what we need for our collection, about one-third of the donated material will be presented to Evans Library," said Paula Bender, coordinator of learning resources at the TRC. "They too are appreciative of Dr. de Jong's gift. We are preparing an itemized acknowledgement for him now."
---
College gets a grand piano, stages Feb. 23 concert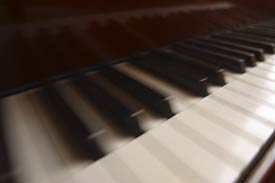 A concert featuring pianist Faye Hays and the College of Architecture's newly refurbished Jesse French Grand Piano is set for 6 p.m. Thursday, Feb. 23 in the Langford A Atrium.
The piano, which adorns the 2nd floor Langford A atrium, was graciously donated to the college by Bob and Marge Reid, parents of 2001 BED graduate Russ Reid. Next week's concert will be held in their honor.
The refurbishing of the piano — which previously entertained the congregation of St. Thomas Episcopal Church in Bryan — was made possible by donations from College of Architecture faculty, staff, and students. Professor David Woodcock, a member of the church, helped locate the instrument for the college.
---
Video conference to explore federal grant process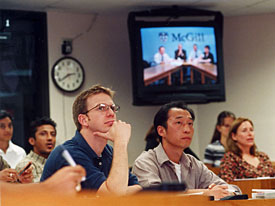 "Working Towards a Common Vision," a live video teleconference sponsored by the National Council of University Research Administrators, is scheduled for 10:30 a.m.- 2:30 p.m. Tuesday, March 7, at Kyle Field's Burkhart Auditorium.
This video workshop, free to TAMU System employees, will provide an overview of Grants.gov (the single access point for federal grantees), address the current status of the Web site's "find" and "apply" functionality, and address plans for future initiatives. Additionally, senior federal agency leaders will talk about the development of the Standard Form (SF) 424 R&R (the common Federal format for submission of research applications) and federal agency implementations of the 424 R&R and grant submission through Grants.gov.
University participants will discuss challenges and implementation strategies for grants.gov and electronic research administration. This workshop is aimed toward the sponsored programs administrator and/or director and will provide an opportunity to consider the strategic, operational and cultural issues associated with this significant change in proposal submission.
TAMU System units affiliated with TransTexas Video Network (TTVN) may arrange to view the program by calling (979)862-2240 to add their site to the viewing schedule for the date of the teleconference. The request can be e-mailed to TTVN at ttvn-schedule@tamu.edu.
Interested parties can view this program on the TAMU campus as long as they make arrangements to reserve a TTVN room with the TTVN site coordinator. The reservation number is: #2778922
For more information:
http://vpfninet.tamu.edu/twa/do/events/onsite/view?uid=1362
---
Planning Ph.D. student earns Susan M. Arseven Award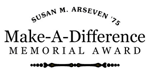 Miriam Olivares, a doctoral student in planning who's been developing computerized mapping techniques to help police track locations and estimate risk-levels for registered sex offenders, will receive the Susan M. Arseven '75 Make-A-Difference Memorial Award for 2006.
The award, established to encourage and provide financial assistance to women pursuing advanced degrees in science and engineering fields, will be presented at noon, Feb. 18 in Room 201 of the Memorial Student Center as part of the Women in Science and Engineering (WISE) Conference luncheon.
Read more about Miriam Olivares' research:
http://communications.tamu.edu/newsarchives/06/012306news-10.html
---
Historic Preservation Symposium set for March 24-25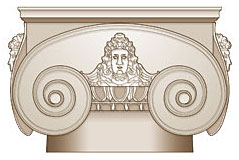 The Center for Heritage Conservation will hold its Seventh Annual Historic Preservation Symposium, "Preparation for Preservation Practice: A Comprehensive Perspective," March 24-25 in the Preston M. Geren Auditorium at Texas A&M University's Langford Architecture Center.
The annual symposium, which coincides with the National Council of Preservation Education's spring 2006 board meeting, also at Texas A&M, will explore the various approaches to preparing professionals for the practice of historic preservation.
The center will also hold pre-symposium workshops and demonstrations at the College of Architecture's soon to be completed "Architecture Ranch" facility at Texas A&M's Riverside Campus.
Invitations to the event are being sent to representatives from the Association for Preservation Technology International, the Preservation Technology Network, and the Heritage Conservation Network.
"With the recent adoption of National Architectural Accreditation Board criteria requiring knowledge of key philosophies and legislation relating to work on existing buildings, as well as the influence of vernacular architecture," center director David Woodcock said, "this year's topic is timely for architectural education, and it will provide an opportunity to reinforce the value of cross-disciplinary teams."
For information on the 2006 Historic Preservation Symposium, contact Kristi Harpst at 979.845.0384 or e-mail kaharpst@gmail.com.
---
HRRC team heads for destinations around the world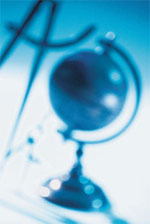 Carla Prater will make a presentation on her social vulnerability mapping research at the Central American Aggies Summit, Feb. 16-19 in San Salvador, El Salvador. The TAMU Office of Latin American Programs is sponsoring the summit "to strengthen the Central America Aggie Network and its relationship to Texas A&M University and the Association of Former Students."
The organization is looking for a project that will allow A&M to help the region, said Prater, "so I presented our work on social vulnerability analysis, and discussed the possibility of the Central American Aggie Network funding a master's-level two-year scholarship for a Central American student to come here, learn some things, do some good research, and contribute to both A&M and the region."
Meanwhile, Mike Lindell has been in Salt Lake City, Utah working on regulatory documents with the International Atomic Energy Agency. He will attend a Feb. 22-25 meeting of the Association Française pour la Prevention des Catastrophe Naturelles in Paris to discuss the Hazard Reduction and Recovery Center's work on hurricane evacuation.
Also, Walt Peacock and Yang Zhang will attend the Feb. 19-20 meeting of the MidAmerica Earthquake Center in Chicago to discuss the use of fragility curves to assess earthquake damages. Peacock will travel to Pakistan Feb. 24 - March 5 as part of a National Science Foundation team that will be consulting with the Pakistani government on reconstruction and recovery in the wake of the earthquake that devastated part of the country last fall.
---
Fisk to participate in Yale 'biophily' think tank
A Texas A&M University architecture professor has been invited to participate in a historic gathering of professionals seeking solutions to humans' prevailing conflict between the modern built environment and the human need for contact with natural systems and processes.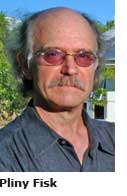 Pliny Fisk, a faculty fellow with the College of Archiecture's Center for Housing and Urban Development, will attend the May meeting sponsored by Yale University, where he will be a featured panelist discussing "landscape perspectives" and "sustainable design in practice."

"This interdisciplinary conference will bring together 40 scientists and practitioners from biology, neuroscience, psychology and building and landscape architecture, along with developers," Fisk says. "We'll consider issues being addressed by a project recently initiated at Yale with the stated goal of understanding how human dependence on contact with the natural environment can be translated into design principles, incorporating the cycles of nature as functional bridges into our own life support systems. How this information can expand the practice of sustainable or restorative environmental design is one major purpose of the gathering.
Read complete story:
http://communications.tamu.edu/newsarchives/06/013106news-6.html
---
E-mail next week's Inside Track submissions to Kathy Waskom
Inside Track editor Phillip Rollfing will be out of the office next week. In his absence, Kathy Waskom will gather news and prepare the Feb. 23 issue, which should go out as scheduled next Thursday afternoon. Please e-mail news items for the Feb. 23 issue of Inside Track to Kathy at k-waskom@tamu.edu. Kathy's phone number is 458-0478.
College PC's loaded with new PDF conversion tool
In the early morning hours of Tuesday, February 14, the college's computer support staff distributed a new software package — PDFCreator — to all faculty and staff workstations. The application is a multi-function portable document file (PDF) conversion tool that acts as a printer. It can be used, in lieu of Adobe Acrobat, for converting single documents to PDF format in a process similar to printing a document.

To use the program, simply choose "PDFCreator" as the destination printer for the document. PDFCreator will prompt the user for optional information about the document, such as keywords, the author's name and document title. Clicking save will prompt for a destination filename and path for the converted document.
PDFCreator also has support for batch conversions from the application console. To access the PDFCreator console, choose Start > All Programs > PDFCreator > PDFCreator. From this console, users can add multiple documents for conversion as well as configure more advanced settings.
Though feature-rich, PDF Creator is still not a complete substitute for Adobe Acrobat. It will not create interactive PDF forms. However, for those who simply need to convert a document to PDF format, PDFCreator is a powerful piece of free software that fits the bill. For help in using PDFCreator, contact Computer Support via the Web at http://archhelp.tamu.edu, e-mail help@archhelp.tamu.edu, or phone 862-8584.

No AC in Langford buildings this Saturday
Technicians from university's physical plant will conduct maintenance on the water-cooling station serving the Langford Architecture Center between 8 a.m. and 6 p.m. Saturday, Feb. 18. Though the building's air-conditioning will be inoperative, Saturday is expected to be cold and rainy, with high temperatures in the low 50s.
Tips for submitting proposals to TAMU Research Foundation
Krista Roznovshy, the College of Architecture's proposal administrator at Texas A&M's Research Foundation, has provided a PDF offering helpful hints for submitting a proposal through the foundation.
View PDF:
http://archone.tamu.edu/archcom/archoneUpdate/PDFs/Research%20hints.pdf
---
College Station Rotarty Club to visit Viz Lab Friday morning

The College Station Rotary Club will take a field trip Friday morning to tour the College of Architecture's Visualization Lab and learn about the Master of Science in Visualization Science program.
Architecture department head candidate interviews
The College of Architecture has been interviewing candidates for the architecture department head position. The following candidates will be visiting within the next seven days:
Dr. Guillermo Vasquez de Velasco, Feb. 19 – Feb. 21
Professor of architecture and associate dean for outreach at Texas A&M University's College of Architecture; registered architect, Peru; bachelor and professional degree in architecture and urban planning, Universidad Ricardo Palma, Peru; M Arch, University of Toronto, Canada; post-graduate studies in computer modeling, Technische Hochschule Darmstadt, Germany; Ph.D. in architecture, Delft University, The Netherlands.
Practice experience; Peru, Holland and Belgium. Consulting practice in Texas.
Teaching experience: Universidad Ricardo Palma, University of Toronto, Sagrado Corazon University, Delft University, Texas A&M University; including administrative positions
Research: computer applications, collaborative design, global practice

Mr. Jeff Potter, Feb. 22 – Feb. 24
President of Jeff Potter Architects, Limited in Longview, Texas; registered architect, Texas, Louisiana, NCARB; Bachelor of Environmental Design and M Arch, TAMU; Practice Experience: Evans and Evans, Shreveport, Louisiana; The Scott Partnership, Longview, Texas; Potter and Meyers: Architecture, Longview, Texas; Jeff Potter Architects, Longview, Texas.
Teaching experience: visiting lectures and service on Advisory Council, Architecture
Research interests: sustainability, professional leadership.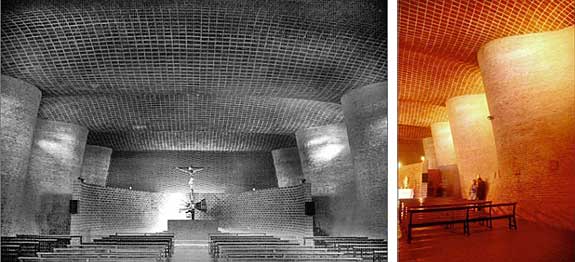 The work of Uruguayan designer Eladio Dieste will be examined in a Feb 22 lecture by MIT professor Stanford Anderson, 5-7 p.m. in the Preston M. Geren Auditorium.
Architecture department lecture series continues

The Department of Architecture will present six lectures featuring noted local and international speakers in its Spring 2006 Lecture Series at the dates an times listed below in the Preston M. Geren Auditorium in Langford B. The spring 2006 lectures include:
Wednesday, Feb. 22, 5 - 7 p.m. — Stanford Anderson

"Eladio Dieste: A Principled Builder " with Professor Stanford Anderson of the Massachusetts Institute of Technology in Cambridge, Mass.


Friday, Feb. 24, 4 - 6 p.m. — Alfonso Corona Martinez

"Argentinean Modern Architecture since the 1970s," a lecture by Professor Alfonso Corona-Martínez, who teaches architectural design and theory at Belgrano Universidad in Buenos Aires, Argentina.

Friday, April 7, 4 - 6 p.m. — Graham Phillips

"Into the New Millennium - FosterWerk 1980-2005," a special College of Architecture Centennial Lecture featuring Graham Phillips, chief design partner with Foster and Partners Architects, London.

Wednesday, April 19, 5 - 7 p.m. — Nora Laos

"Texas Chapels in the Landscape of Light" with Dr. Nora Laos, College of Architecture, University of Houston. Laos holds a Ph.D. in architecture and a M.F.A. from Princeton University; a M.Arch and B.S. in architectural studies from the University of Illinois-Urbana Champaign.
Calendar notes
Friday, Feb. 17
Timothy Beatley lectures on "Native to Nowhere": Timothy Beatley, the Teresa Heinz Professor of Sustainable Communities at the University of Virginia's Department of Urban and Environmental Planning will present a lecture titled "Native to Nowhere" 2:30 p.m. Friday in the Preston M. Geren Auditorium as part of the annual ASLA Workshop. The lecture will deal with topics covered in the professor's latest book, "Native to Nowhere: Sustaining Home and Community in a Global Age."

Beatley, who has taught at the University of Virginia for 18 years, is primarily interested in environmental planning and policy, with special emphasis on coastal and natural hazards planning, environmental values and ethics, and biodiversity conservation. He has published extensively on all of these topics.

In recent years, much of Beatley's research and writing has focused on sustainable communities. He has emphasized creative strategies by which cities and towns can fundamentally reduce their ecological footprints, while at the same time becoming more livable and equitable places. Beatley holds a Ph.D. in city and regional planning from the University of North Carolina at Chapel Hill.
Saturday, Feb. 18
Departments to host prospective students, parents: This Saturday, Feb. 18, all three departments in the College of Architecture will rollout the red carpet to welcome prospective students and their families participating in Aggieland Saturday, the annual campus-wide open house. For information on departmental activities during Aggieland Saturday, contact the departments.

Aggieland Saturday details:
http://www.tamu.edu/aggiesaturday/index.html
Monday, Feb. 20
LAUP faculty candidate to lecture Monday: The Department of Landscape Architecture and Urban Planning will be interviewing Hiroyuki Iseki, a "candidate for transportation," on Monday, Feb 20. Iseki will lecture on "Efficiency and Equity in Transit Service: Analysis of Costs and Subsidies in the Case of Los Angeles," 11:15 a.m. - 12:30 p.m. in Langford A 348.

COSC Career Fair II: The second Construction Science Career Fair is slated for 7 a.m. - 6 p.m. Monday, Feb. 20 in the Langford A Atrium. For more information contact Anne Eastwood at aeastwood@archmail.tamu.edu or 845-0289.
Wednesday, Feb. 22
Sustainable Urbanism Certificate Info: On Wednesday, Feb. 22, a presentation highlighting the Sustainable Urbanism Graduate Certificate program offered through the Center for Housing and Urban Development, will be held Noon - 1:30 p.m. in the Langford Gallery. Interested students can learn about the program, meet faculty members and the new director of the Center for Housing and Urban Development. The event will included pizza from Blue Bakers. The Sustainable Urbanism Certificate Program is open to students from ANY graduate degree program at Texas A&M University. For more information, contact Michael Neuman at neuman@tamu.edu.
Feb. 24 – March 5
Visiting Artist LiQin Tan Exhibit: Feb. 24 – March 5 artist LiQin Tan will conduct a workshop at the College of Architecture as part of the college's Spring 2006 Artist in Residence program sponsored by the TAMU Academy for the Visual and Performing Arts. The artist will lecture 2 p.m. Monday, Feb. 27 in the Preston M. Geren Auditorium. An exhibit featuring Tan's work will run Feb. 24 – March 5 in the Langford Gallery.

Tan makes connections between seemingly disparate worlds. He is fascinated by similarities between Native American and Chinese cultures, but most of all, he is intrigued by the idea of reinterpreting ancient images as technological works of art. A traditional artist influenced by ancient cultures and art forms, Tan uses 3-D modeling and animation to investigate historical and cultural traditions. He has taught brush figure painting, art history, and life drawing in China, and was executive art editor for Human Art Publishing House, where he founded "Painter" magazine. He was art director and an educator in computer animation and digital effects in Canada for several years. He has also worked on Disney's Saturday morning cartoons.

For more information on LiQin Tan's visit, contact Carol LaFayette at 845-3465 or lurleen@viz.tamu.edu.
Saturday, Feb. 25
SPICMACAY Baithak features Indian music: An evening of Indian classical music sponsored by the TAMU chapter of the Society for the Promotion of Indian Classical Music And Culture Amongst Youth (SPICMACAY) is slated for 6 - 8 p.m., Saturday, Feb. 25 in the Preston M. Geren Auditorium. Admission is free.

The concert will feature sarode artist Shankar Bhattacharya, a professor in the Department of Electrical Engineering, and vocalist Mysore Mohan, who is on the chemistry department faculty. Both are faculty advisors for SPICMACAY. Bhattacharya is an expert on the sarode, a traditional Indian string instrument (pictured at right). He plays Hindustani classical music. Mohan, a vocalist, sings ragas based on the Carnatik style of Indian classical music. They will each give solo performances accompanied by a tabla (an Indian percussion instrument) player.

For more information on this event, contact Pudhuma Bharathi Karunakaran at 979-691-8246 or pudhuma@gmail.com.
Friday & Saturday, March 31 & April 1
Centennial Celebration Wraps Up: Faculty and staff are urged to mark their calendars for Friday and Saturday, March 31 and April 1, 2006, when the college concludes its yearlong Centennial Celebration with two big events, a second Centennial Gala at the Miramont Country Club and the 2006 Former Student Open House at the Langford Architecture Center.

The Centennial Celebration finale begins at 6:30 p.m. on March 31st with a cocktail hour followed by the banquet. The cost to faculty and staff is $50/person and the dress code is business formal.

The next morning, beginning at 8 a.m. the Former Student Open House kicks off with registration and coffee in the Langford B Exhibit Hall. The program, begins at 8:30 a.m. in the Preston M. Geren Auditorium. A barbecue lunch will be top off the event in the Langford A Atrium. There is no cost to faculty and staff who attend, but other guests will pay $15/person to cover catering costs.

Invitations to both events will be mailed the first of March. For information on either event, contact Trish Pannell at 979.458.0400 or t-pannell@tamu.edu.

---
Status Report on Computer Laboratories - 2/13/06
| | | | |
| --- | --- | --- | --- |
| Computer Lab | No. Computers | Operational | Non-Operational |
| 107A | 24 | 24 | 0 |
| 107B | 30 | 30 | 0 |
| 119 | 36 | 36 | 0 |
| 347 | 14 | 14 | 0 |
| 348 | 27 | 26 | 1* |
| Reed McDonald | 15 | 12 | 3** |
| Printers | 4 | 3 | 1† |
Reasons for not being operational
* 1 - Network Connection CIS
** Fonts not working on all three. Software fix 2/8/06.
† Epson 9600 - tect spt Epson, Epson Tech coming 2/17/06.
---
Hess in Dallas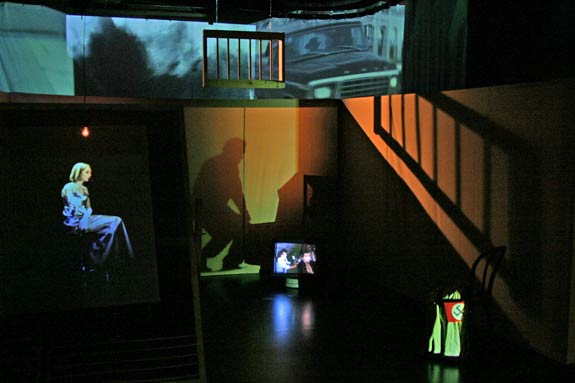 Visiting artist Dawn DeDeaux and students exhibited their installation, "Hess in Dallas," last Thursday afternoon in the 4th floor studio in Langford C.The subject of "Hess in Dallas" is Nazi war criminal Rudolf Hess who spent the last years of his life in Berlin's Spandau Prison. Incarcerated in isolation until the age of 92, Hess was not allowed to read newspapers, yet was allowed to watch television. It is reported that Hess became obsessed with the TV series Dallas until his death, which like J.R.'s, provoked further conspiratorial theory. "Hess in Dallas" explores the "lebensraum," or(living space, of Rudolf Hess in physiological, physical and historical overture.
---

About Inside Track:http://archone.tamu.edu/archcom/archoneUpdate/about.htm

Inside Track archive: http://archone.tamu.edu/archcom/archoneUpdate/.
Reporting tips: http://archone.tamu.edu/archcom/archoneUpdate/submissions.htm