IN THIS ISSUE: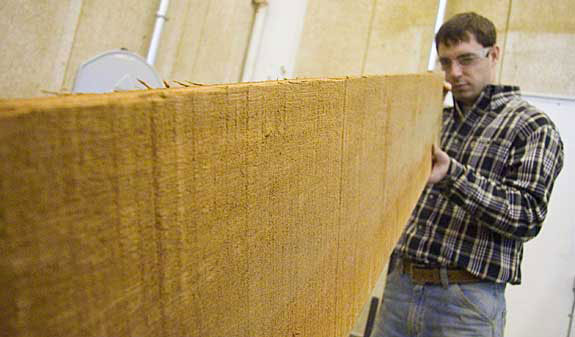 Woodshop manager Danny Bass inspects a piece of lumber.
Langford Woodshop reopens weekdays 8 a.m.- 5 p.m.
The College of Architecture's Woodshop, which had been temporarily shut down during renovations to Langford B, is now open Monday-Friday, 8 a.m. - 5 p.m., except for a noon - 1 p.m. lunch break.
The shop, now under the skillful direction of woodworker Danny Bass (pictured above), is open to College of Architecture students, faculty and staff who have completed mandatory safety training.
"Eventually, most of the required safety class will be available online," said Bass, "but for now I am teaching the class here in the shop."
Faculty with students requiring access to the woodshop should contact Bass at 458-0558 or dbass@archmail.tamu.edu to schedule the required safety training.
"I have three very knowledgeable student workers," said Bass, "and we are all committed to helping produce high quality projects here in the shop."

back to top
---
Viz students exhibit art installation today at 2 p.m.
Students who've been participating in a workshop with visiting artist Dawn DeDeaux will showcase their collaborative work with the artist, "an installation in progress," today from 2-4 p.m. on the fourth floor of Langford A.
DeDeaux describes the work, "Hess in Dallas," as digitized theater rendered to human scale in an actualized 3-D environment. The technical experimentation addresses the synchronization of computerized 3-D effects with a corresponding physical space.
The workshop is also testing the use of 50% mirror glass to render special effects together with coordinated film and computerized manipulations. Additionally, the workshop has emphasized research in the arts and humanities and cross-cultural currents belonging to mass media.
The subject of "Hess in Dallas" is Nazi war criminal Rudolf Hess, deputy fuhrer and once Hitler's second in command. After a failed secret flight to Britain to negotiate a deal with Churchill, Hess spent the remaining years of his life in Berlin's Spandau Prison. Incarcerated in isolation until the age of 92, Hess was not allowed to read newspapers, yet was allowed to watch television. It is reported that Hess became obsessed with the TV series Dallas until his death, which like J.R.'s, provoked further conspiratorial theory.
"Hess in Dallas" explores the "lebensraum" (living space) of Rudolf Hess in physiological, physical and historical overture.

back to top
---
Dynamic by Design: 2006 ASLA Workshop takes shape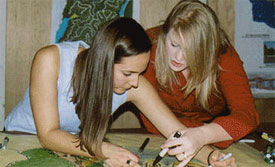 "Dynamic by Design" is the theme of the 2006 Workshop sponsored by the Texas A&M University student chapter of the American Society of Landscape Architects.
The event, set for Feb. 16 – 18 at the Langford Architecture Center, will include guest lectures from Timothy Beatley, the Theresa Heinz Professor of Sustainable Communities at the University of Virginia; and Frederick Steiner, dean and Henry M. Rockwell Chair in Architecture at the University of Texas School of Architecture.
"Our theme, 'Dynamic by Design,' is meant to encompass the idea that there can be varying ideas that are both valid and important in design issues," explained workshop organizer Jason Hayes. "Through lectures, discussions and charettes, we will explore the similarities and contrasts of landscape architecture. We will challenge ourselves to be creative, imaginative and artistic, while opening our eyes to the many different possibilities that our profession has to offer."
A student-organized and directed conference, Workshop has been held annually for the last 30 years. At the event students and firms get a chance to interact through events including: keynote speakers, mini-lecture series, graphics presentations, and design charettes. Additionally, Workshop provides the opportunity for students to hear from renowned landscape architects to learn what issues are important in industry and how to apply what they're learning now, to what they will need to accommodate in the future.
See workshop Web site: http://www.aggieworkshop.com/06/

back to top
---
Former student, Pyburn, elevated to AIA Fellow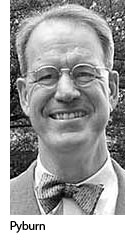 College of Architecture Outstanding Alumnus Jack H. Pyburn '69 (ARCH) was recently elevated to Fellow in the American Institute of Architects.
Pyburn has worked on major projects in the field of historic preservation, including the rehabilitation of Vulcan Tower in Birmingham, Ala.; the restoration of the Wright Brothers Memorial Visitor Center in N.C.; and the historic district survey and nomination of the Village of New Plymouth in The Bahamas.
Since founding his own architectural firm in 1984, Pyburn has written several publications focusing on historic preservation, including a one-of-a-kind travel guide of downtown Atlanta, Ga., featuring a graphic tour of 20 historic buildings.
He is a member of the advisory group for the Historic Resources Committee for the American Institute of Architects and member and past founding chairman for the professional fellows of the Center for Heritage Conservation at Texas A&M University.

back to top
---
Top 2006 COSC student wins wordsmith competition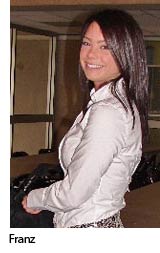 Natalie Franz, the Department of Construction Science's 2006 Outstanding Graduate, is the winner of the 2006 Allhands Essay Contest, sponsored by Associated General Contractors of America. Her winning essay explored the evolution of design documents for a construction project. The award includes a $1,000 cash prize and an all-expense-paid trip to the AGC national meeting in March.
Franz is currently working as an estimator in the Fort Worth headquarters of History Maker Homes, a fast growing, privately owned family business that builds affordable homes in the Dallas-Ft. Worth metroplex.
James L. Allhands, a founding member of the Associated General Contractors of America, was a prolific writer of construction-related books who wanted his work continued by today's students.
For the complete text of Franz's essay:
http://archone.tamu.edu/archcom/archoneUpdate/full_2-02-06_franzEssay.htm
---
Review…
a
2006 Rowlett Lecture — 'BECK: Tearing Down the Silos'
By David G. Woodcock, FAIA, FSA FAPT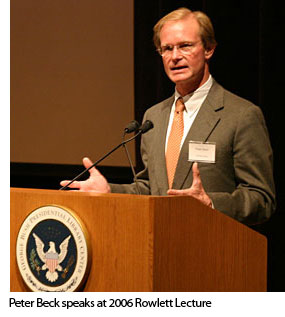 On 3 February 2006 the CRS Center in the College of Architecture hosted the 2006 John Miles Rowlett Lecture, generously endowed by the founders of CRS and Mrs. Virginia Rowlett in 1979. Once again, the afternoon event explored the inner workings of a major firm in the design and construction industry. The focus was on BECK, known to many as the general contractors on such outstanding projects as the highly-acclaimed Nasher Sculpture Gallery in Dallas, but gaining much attention on their dramatic transition to an integrated approach to "better buildings, better built", as their business card proclaims.
Managing Director and CEO Peter Beck's philosophy is contained in his article published in Design Intelligence, 9 November last year. His article "Collaboration or Integration: Implications of a Knowledge-Based Future for the AEC Industry," described the drawbacks to traditional design/bid/build project delivery, and suggested the use of computer-driven tools (many already existing in separate application modes) to allow a greater and more effective rate of knowledge exchange between all members of the design and construction team, to avoid wasted effort, and therefore high costs, in the creation and delivery of buildings. The article notes that major clients, like the General Services Administration in the U.S. and the British Airport Authority, are demanding a Building Information Model (BIM) as the common platform for all participants in the process.
Read entire review:
http://archone.tamu.edu/archcom/archoneUpdate/full_2-02-06_rowlett.htm
---
For 10th year CNCS commits volunteers to Colonias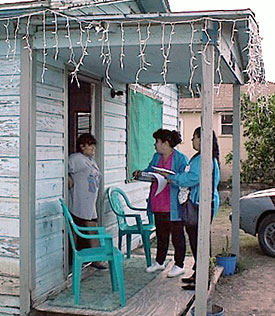 The Corporation for National and Community Service (CNCS) recently renewed and expanded its volunteer aid to the residents of the impoverished Texas communities near the Texas-Mexico border known as colonias. For the tenth year, CNCS will provide volunteers, through its AmeriCorps*VISTA (Volunteers in Service to America) program, to assist the Texas' Colonias Program, which is managed by the Center for Housing and Urban Development (CHUD) at Texas A&M's College of Architecture.
The basic aim of the Colonias Program is to place colonia residents on the road to self-sufficiency and prosperity. The AmeriCorps*VISTA volunteers will participate in CHUD's promotoras program, which trains colonia residents to provide advice to their neighbors about social services, employment and healthcare resources. The CMCS commitment will provide the Colonias Program with 35 AmeriCorps*VISTA volunteers plus eight "degreed" AmeriCorps*VISTA volunteers.
The volunteers will work with CHUD and area promotoras in the lower, central and western Rio Grande regions to implement projects for small business development; emergency preparedness training; volunteerism; and home remodeling, weatherization and construction. The volunteers help colonia residents access state health care resources and develop community ambassador programs. They also assist the Colonias Program with developing academic curriculums and implementing research.

back to top
---
CHUD team to study Brazos Valley housing market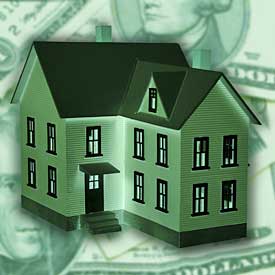 The Brazos Valley Affordable Housing Corporation recently awarded a $36,582 contract to the College of Architecture's Center for Housing and Urban Development (CHUD) to conduct an affordable housing market study for the seven-county Brazos Valley Region.
Members of the research team include June Martin, assistant director for CHUD, and Cecilia Giusti, Dawn Jourdan and Shannon VanZandt, assistant professors in the Department of Landscape Architecture and Urban Planning. They will examine the demand for and supply of affordable housing, focusing on: housing conditions, the factors that affect the affordability of both home ownership and rental housing, the geographic distribution of affordable housing, and the barriers to the provision of affordable housing.
Based on their findings, the team will offer recommendations on the range of affordable units needed — including number, type, tenure and location. They will also propose programmatic or policy changes for creating an environment for the construction and consumption of affordable housing that meets the identified market needs.
---
College, university join national technology consortium
The College of Architecture at Texas A&M University recently joined Fully Integrated Automated Technology (FIATECH), a consortium that envisions a future state where capital projects are executed in a highly automated and seamlessly integrated environment across all phases and processes of their life cycle. Though set-up by the College of Architecture, the FIATECH membership is for the entire university.
"In other words, all information is available to who needs it, when it is needed, and where it is needed at an affordable price," explained Jorge Vanegas, director of the college's Center for Housing and Urban Development and a member of the FIATECH board of directors.
FIATECH provides global leadership in identifying and accelerating the development, demonstration and deployment of fully integrated and automated technologies to deliver the highest business value throughout the life cycle of all types of capital projects. The consortium's "Roadmap for Capital Projects" ensures that right technologies are developed in the appropriate order.
Consortium members include Intel, Dow, DuPont the Smithsonian Institution, the U.S. Army Corps of Engineers, Oracle, and many more highly recognized companies and universities. A complete member list is available at http://www.fiatech.org/about/memlist.html
"FIATECH," Vanegas said, "is able to pool resources and talent and focus them on critical technology issues and innovations in the capital construction process. The faculty from the College of Architecture will have an opportunity to be involved in FIATECH projects, both personally and through their students. Membership in FIATECH" he continued, "provides great visibility of leadership for the College and for Texas A&M University with FIATECH members and in the industry in general."
Vanegas, the only academic on the FIATECH Board of Directors, is currently leading an effort to involve more faculty and students across the nation in the consortium's activities. This, he said "will also further the College of Architecture's and Texas A&M's leadership role among peer institutions."
---
HRRC teams' research gaining wide exposure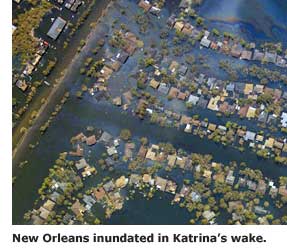 On Feb. 7, Walt Peacock, director of the College of Architecture's Hazards Reduction and Recovery Center, and Mike Lindell, senior HRRC scholar, made presentations to the National Science Foundation's National Science Board workshop at the National Center for Atmospheric Research in Boulder, Colo.
The board is developing an agenda for hurricane science and engineering to be delivered to Congress. Peacock says the agenda has the potential to shape NSF funding guidelines for hazards research.
Lindell addressed research needs related to hurricane preparation and response and Peacock talked about research needs related to recovery and mitigation.
"It is noteworthy," said Peacock, "that researchers were invited from universities throughout the country and Texas A&M was the only university with three invited participants; two of those from the College of Architecture."
In other HRRC news, Peacock recently traveled to Atlanta, Ga. to present two papers on hurricane-related research to the American Meteorological Society. Both papers, which he said were well-received by the group, outlined the state of hurricane-related research and called for expanded funding by the NSF and the National Oceanic and Atmospheric Administration. One of the papers was co-written by Peacock, Lindell and Carla Prater, an HRRC research scientist. Peacock's other presentation was co-written by him and colleagues from other universities.
Peacock's Atlanta trip was funded by the National Center for Atmospheric Research at the University of Colorado. The NSF funded his trip to Boulder.
Next month, Peacock will travel to Pakistan with an NSF-sponsored team to discuss housing, rebuilding, and recovery issues with Pakistani officials overseeing the nation's response and recovery to the recent earthquake disaster.
Peacock has also been invited to talk about social vulnerability issues at the University of Illinois. He will also deliver one of the thematic keynote addresses on social vulnerability and natural disasters at a Southern Sociological Society meeting in New Orleans.
---
Graham says first distinguished lecture a success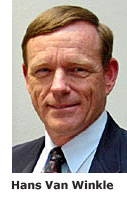 Retired Major General Hans Van Winkle delivered the Department of Construction Science's first Distinguished Lecture Tuesday night at the Rudder Theatre. Prior to the lecture at 4 p.m., Van Winkle, director of the Construction Industry Institute, met with Texas A&M faculty in a roundtable discussion.
"We had a great visit with the general," reported Charles Graham, interim head of the construction science department. "I counted 12 faculty from our department, and three from Civil Engineering in attendance."

"The lecture was interesting too," said Graham. "I thought the general did a good job of pointing out both the successes and failures in efforts to rebuild Iraq to date. The situation there presents a number of interesting challenges for construction. Imagine trying to manage 3,500 construction contracts in a country the size of Iraq, with 25 million people, while at war."
Several students, including some from Iraq, participated in the question-and-answer session following the lecture.
"After about 30 minutes we literally had to whisk Van Winkle away from the students to take him to the dinner engagement, said Graham. "As nearly as I can tell, six of our faculty came, and there were some from other departments on campus. Attendance should have been better for both the students and faculty, but we had a good start."
The event also attracted media attention. The Bryan/College Station Eagle sent a reporter, so Graham is anticipating an article on the in an upcoming issue of the newspaper.
"I want to publicly thank Jim Smith for arranging the lecture, which was the first in our department's Distinguished Lecture Series," said Graham. "Our goal is to bring people in to lecture to our students who are having a national or international impact. The lecture and roundtable discussion started us towards achieving that standard."
The next Department of Construction Science Distinguished Lecture is tentatively set for April, and Graham says an excellent candidate is currently being sought. The guest speaker for the department's Spring Awards Banquet is also a nationally known figure.
Graham asked faculty to "give some thought as to who we might bring this coming fall as we will need to work on plans during the summer to get them here."
The department is especially interested in speakers who are having an impact on the construction industry at the national and international levels.
---
Use correct name: It's now the 'Preston M. Geren Auditorium'
The Texas A&M University System Board of Regent's recently approved a new name for the auditorium in Langford B — the Preston M. Geren Auditorium (see related story). Everyone in the college is strongly encourage to use the proper name for the facility in all communications and promotional materials referring to this venue.
Please submit detailed calendar items and news briefs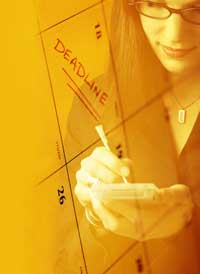 Anyone submitting news items for "Inside Track" or reserving room space for events posted on the college's calendar of events are urged to make an extra effort to fully articulate the details.
For instance, when reserving a room for an event, please offer a detailed description of the event, indicate whether it is a private or public venue, and provide contact information. Avoid using acronyms and vague descriptions. If you are reserving space for a pin-up, make sure to note the topic. If a paper is being presented, include the title. If speakers are involved, provide their titles, affiliations, encapsulated biographical information and relevant Internet addresses.
When submitting news briefs, address the basic who-what-where-when-why questions. Always include the titles and affiliations of the individuals mentioned. Provide student's class and program affiliation — freshman, BED major, etc. If possible, mention the student's hometown: "Sweeny Swan, a fifth-year landscape architecture student from Comfort, Texas."
Photos are always welcome. When submitting images, please identify the individuals pictured. For print reproduction, images should be at least 300 dpi at the size they are printed. Low-resolution images are OK for Web use and PowerPoint's only.
DEADLINE: A new issue of Inside Track will be e-mailed every Thursday afternoon. Everyone is invited to contribute news briefs, announcements, photographs, calendar items, or simple administrative notes. To facilitate timely reporting, please submit news items by noon Tuesday before the targeted Thursday edition. Please don't assume that the Inside Track editor knows about newsworthy events and initiatives.
---
Architecture department head candidate interviews
The College of Architecture has been interviewing candidates for the architecture department head position. The following candidates will be visiting within the next seven days:
Mr. Vergel L. Gay, Jr., Feb. 8 – Feb. 10
Executive director, facilities planning and construction at the University of Houston System; registered architect, Texas; Registered interior designer, Texas; Bachelor of Environmental Design, TAMU; Master of Architecture (Urban Design), TAMU. Practice experience: Southwestern Bell Corporation (Houston, Dallas, San Antonio and St. Louis); Texas A&M University System (project architect); city of Houston, chief architect; University of Houston System. Teaching experience: visiting lectures at University of Houston, TAMU, Prairie View A&M University; adjunct faculty, San Antonio College. Research: facility management and project delivery.

Dr. Dennis Radford, Feb. 12 –Feb. 14
Professor of architecture, de Montfort University in Leicester, England; Registered architect, United Kingdom and South Africa; Bachelor of Architecture, University of Cape Town, South Africa; Master of Science in Conservation, Heriot-Watt University, Edinburgh, Scotland; Ph.D., University of the Wittwatersrand, Johannesburg, South Africa. Practice experience: extensive private practice with focus on building conservation. Teaching experience: University of the Wittwatersrand, Louisiana Tech University, University of Natal (including service as head of departments and dean). Research: vernacular architecture in South Africa and architectural pedagogy.
Architecture department lecture series continues

The Department of Architecture will present six lectures featuring noted local and international speakers in its Spring 2006 Lecture Series held 5-7 p.m. on Fridays in the Preston M. Geren Auditorium in Langford B. The spring 2006 lectures include: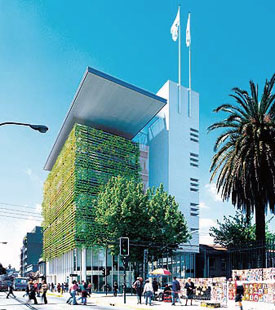 Feb. 15 — "My Work since 1980" with Professor Enrique Browne, Pontificio Universidad Catolica de Chile; Santiago, Chile. Enrique Browne earned an undergraduate degree in architecture at the Catholic University in 1965 and obtained a master's degree in urban and regional planning there in 1968. He also studied at: Harvard and MIT universities' Joint Center for Urban Studies (1969), the Joint Unit for Planning Research at London University (1970), and the Japan Center for Area Development Research (1971). He served as Ford Foundation Fellow (1969-71), on the Social Science Research Council (1975), and with the Guggenheim Foundation (1983). He was also professor at the Catholic University of Chile from 1972 to 1975. He established his own practice in Santiago in 1974 and has earned several design awards in architectural competitions in Chile and Latin America and published several works and essays, including the well known book entitled "Otra Arquitectura en América Latina." (GG. 1988).

Feb. 22 — "The Art and Architecture of Eliel Dieste" by Professor Stanford Anderson, MIT, Cambridge, Mass.

Feb. 24 — "Argentinean Modern Architecture since the 1970s" delivered by Professor Alfonso Corona Martinez, Belgrano Universidad, Buenos Aires, Argentina.

April 7 — "Into the New Millennium - FosterWerk 1980-2005," a special College of Architecture Centennial Lecture featuring Graham Phillips, chief design partner with Foster and Partners Architects, London.

April 19 — "Texas Chapels in the Landscape of Light" with Dr. Nora Laos, College of Architecture, University of Houston.

Calendar notes
Thursday, Feb. 9
Design Build Competition Team Meets 5:30 - 7:00 p.m. in Langford A 323. The team, composed of students for all three College of Architecture departments will be preparing for a design-build competition to be held this weekend in Dallas. The winning teams will move on to national competition. For more information, contact Ann Eastwood at 845-0289 or aeastwood@archone.tamu.edu.
AIAS Career Fair: The TAMU student chapter of the American Institute of Architects (AIAS) will hold their annual career fair Thursday and Friday, Feb. 9-10. This year's fair will be the largest yet, with 36 firms from nine states expected, reports Britin Bostick, AIAS president. An open "meet and greet" session begins at 7 a.m. Thursday morning, followed by interviews on Thursday afternoon and throughout the day Friday.
Friday, Feb. 10
Things to know after you've been hired: The TAMU student chapter of the American Institute of Architects will host a presentation by representatives from RTKL's human resources department 10 – 11:30 a.m. Friday, Feb. 10 in Langford B 102. Students will learn about the things they need to know once hired by an architecture firm. The presentation will cover insurance, 401K plans, and other benefits. For more information or to sign-up, contact Britin Bostick at 512-496-0573 or bbostick@tamu.edu.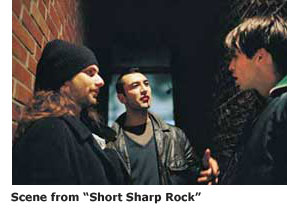 Turkish Cultural Social: Since 1997, Taner Ozdil, assistant lecturer in the Department of Landscape Architecture and Urban Planning, has orchestrated social activities for Turkish students and others interested in Turkish culture. This Friday's event, from 6:45 – 10 p.m. in Langford C 105, will feature "Kisa ve acisiz" (that's "Short Sharp Rock" in English or "Kurz und schmerzlos" in German) a German art film with Turkish subtitles by renowned Turkish director Fatih Akin. <http://www.imdb.com/title/tt0162426/> In addition to films, Taner's Turkish socials have included documentaries, concerts, and sometimes exhibits of Turkish history or art. "It is always open to anyone who wants to attend and explore Turkish culture," said Taner, adding that speaking Turkish might help, since "most of the documents I have or I can find are in Turkish." For more information, contact Taner Ozdil at 979-458-0628 or tozdil@archmail.tamu.edu.
Monday, Feb. 13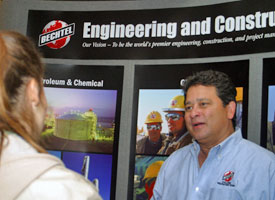 COSC Career Fair I: The first of two career fairs to be held this semester by the Department of Construction Science begins 7 a.m. Monday, Feb. 13 in the Langford A Atrium. The first fair features approximately 59 companies who are all members of the department's Construction Industry Advisory Council. The event is scheduled through 6 p.m. For more information, contact Anne Eastwood at aeastwood@archmail.tamu.edu or 845-0289.
Tuesday, Feb. 14
Semester Away Preview: From 6 - 9 p.m. on Tuesday, Feb. 14 Guillermo Vasquez de Velasco, associate dean for outreach at the College of Architecture, will host an event in the Langford B Exhibit Hall highlighting the college's study abroad opportunities. "We will show work from our last fall's study abroad programs in Italy and Spain," said Vasquez de Velasco. "We are inviting undergraduate juniors that are planning to travel and undergraduate seniors that participated in study abroad last fall. The idea is to get them together in a social setting so they may talk. Following the social, the juniors will be asked to declare a choice (in order of preference) for potential destinations. We will provide food."
Aggie Computer Graphics student group meets 7 - 9 p.m. Tuesday, April 14 in Langford C 414 to discuss work and events associated with computer media. For more information, contact Margaret Lomas at 5-3465 or marge@viz.tamu.edu.
Thursday Feb. 16
SWAMP Meets: The Screen Writing Acting Movie Production (SWAMP) student organization meets at 7 p.m. every Thursday in Langford C 414. For more information, contact Margaret Lomas at 5-3465 or marge@viz.tamu.edu .
Monday, Feb. 20
COSC Career Fair II: The second Construction Science Career Fair is slated for 7 a.m. - 6 p.m. Monday, Feb. 20 in the Langford A Atrium. For more information contact Anne Eastwood at aeastwood@archmail.tamu.edu or 845-0289.
Wednesday, Feb. 22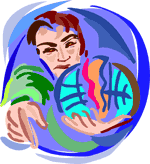 Sustainable Urbanism Certificate Info: On Wednesday, Feb. 22, a presentation highlighting the Sustainable Urbanism Graduate Certificate program offered through the Center for Housing and Urban Development, will be held Noon - 1:30 p.m. in the Langford Gallery. Interested students can learn about the program, meet faculty members and the new director of the Center for Housing and Urban Development. The event will included pizza from Blue Bakers. The Sustainable Urbanism Certificate Program is open to students from ANY graduate degree program at Texas A&M University. For more information, contact Michael Neuman at neuman@tamu.edu.
Feb. 24 – March 5
Visiting Artist LiQin Tan Exhibit: Feb. 24 – March 5 artist LiQin Tan will conduct a workshop at the College of Architecture as part of the college's Spring 2006 Artist in Residence program sponsored by the TAMU Academy for the Visual and Performing Arts. The artist will lecture 2 p.m. Monday, Feb. 27 in the Preston M. Geren Auditorium. An exhibit featuring Tan's work will run Feb. 24 – March 5 in the Langford Gallery.
Tan makes connections between seemingly disparate worlds. He is fascinated by similarities between Native American and Chinese cultures, but most of all, he is intrigued by the idea of reinterpreting ancient images as technological works of art. A traditional artist influenced by ancient cultures and art forms, Tan uses 3-D modeling and animation to investigate historical and cultural traditions. He has taught brush figure painting, art history, and life drawing in China, and was executive art editor for Human Art Publishing House, where he founded "Painter" magazine. He was art director and an educator in computer animation and digital effects in Canada for several years. He has also worked on Disney's Saturday morning cartoons.
For more information on LiQin Tan's visit, contact Carol LaFayette at 845-3465 or lurleen@viz.tamu.edu.
Saturday, Feb. 25.
SPICMACAY Baithak features Indian music: An evening of Indian classical music sponsored by the TAMU chapter of the Society for the Promotion of Indian Classical Music And Culture Amongst Youth (SPICMACAY) is slated for 6 - 8 p.m., Saturday, Feb. 25 in the Preston M. Geren Auditorium. Admission is free.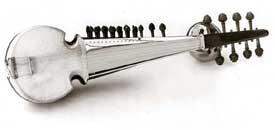 The concert will feature sarode artist Shankar Bhattacharya, a professor in the Department of Electrical Engineering, and vocalist Mysore Mohan, who is on the chemistry department faculty. Both are faculty advisors for SPICMACAY. Bhattacharya is an expert on the sarode, a traditional Indian string instrument (*see note below). He plays Hindustani classical music. Mohan, a vocalist, sings ragas based on the Carnatik style of Indian classical music. They will each give solo performances accompanied by a tabla (an Indian percussion instrument) player.
The "Baithak," a Hindi word meaning "gathering" or "meeting," is held every semester by SPICMACAY as a venue for Indian students and local artists who are trained in the Classical styles of Indian Music. Past performances have been archived and are available from the group on audio CD. Other SPICMACAY events on the fall calendar include a flute recital by Shashank Subrahmaniam, one of India's most renowned flutists; a group dance performance by Ratna Kumar and group featuring Shiva, one of the Indian deities; and a Veena performance by Mrs. Srividya. These events will be held in April.
Pudhuma Bharati Karunakaran and Mugdha Deshpande, are both College of Architecture students and members of SPICMACAY. Pudhuma is a vocalist who sings in the Carnatik style and Mugdha is a Hindustani Classical singer.
For more information on this event, contact Pudhuma Bharathi Karunakaran at 979-691-8246 or pudhuma@gmail.com.
* The sarode is hand carved from a single block of seasoned toon or teak wood. The fingerboard is a smooth, fretless, steel plate. The belly is covered with a goatskin, and it is here that one of the main deer-horn bridges rests, while the other is on the neck before the main strings. The modern sarode has 25 metal strings of different gauges with 4 main strings carrying the melody. Tuned to the principal notes of the raga are four jawari strings, while 2 chikari strings are tuned to the tonic and used for drone and rhythm. The remaining 15 strings, known as the taraf, provide sympathetic resonance and are tuned to the scale of the raga. The right hand holds a plectrum, or java (made from a coconut shell), while the left hand uses the finger tips. The nails and tips of the fingers produce the slide or sustained glissando sound.
---
Status Report on Computer Laboratories - 2/6/06
| | | | |
| --- | --- | --- | --- |
| Computer Lab | No. Computers | Operational | Non-Operational |
| 107A | 24 | 24 | 0 |
| 107B | 30 | 29 | 1* |
| 119 | 36 | 36 | 0 |
| 347 | 14 | 14 | 0 |
| 348 | 27 | 25 | 2** |
| Reed McDonald | 15 | 12 | 3*** |
| Printers | 4 | 3 | 1† |
| Projectors | 4 | 3 | 1‡ |
Reasons for not being operational
* Hard Drive ordered 2/3/06. Software is working as intended.
** 1 - Network Connection CIS, 1- software not working.
*** Fonts not working on all three. Software fix 2/8/06.
† Epson 9600 - tect spt Epson, waiting on quote.
‡ Focus reported bad on 2/6/06.
---
On schedule for April 4 deadline…


The walls go up on the college's "Architecture Ranch" at Texas A&M's Riverside Campus.
---
Corrections:
Preston M. Geren Auditorium story included link to wrong Web page
The story about the naming of the Preston M. Geren Auditorium appearing in the Feb. 2 Inside Track included an incorrect link. The full story can be accessed at
http://communications.tamu.edu/newsarchives/06/020306news-7.html

---

About Inside Track:http://archone.tamu.edu/archcom/archoneUpdate/about.htm

Inside Track archive: http://archone.tamu.edu/archcom/archoneUpdate/.
Reporting tips: http://archone.tamu.edu/archcom/archoneUpdate/submissions.htm