IN THIS ISSUE:

Architecture Ranch takes shape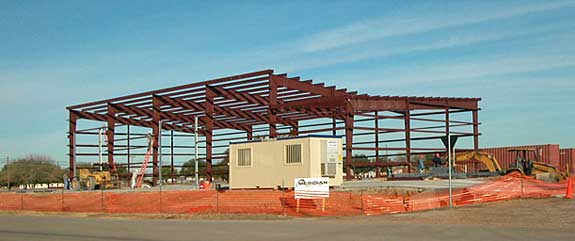 The College of Architecture's Prototype Research Facility (aka. Architecture Ranch) is taking shape at Texas A&M's Riverside Campus. The new facility is on schedule for move-in later this semester.
---
Beck 'tears down silos' at tomorrow's Rowlett Lecture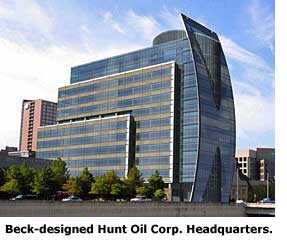 Disciplinary barriers that have traditionally defined and separated the various built environment professions have become obstacles to modern practice, according to leaders of The Beck Group, a 93-year-old architecture, construction and real estate firm headquartered in Dallas. The company's innovative response to this industry-wide dilemma will be discussed during the 26th Annual Rowlett Lecture, "Beck: Tearing Down the Silos," Feb. 3 at the Annenberg Presidential Conference Center at Texas A&M University.

The noon to 5 p.m. event is sponsored by Texas A&M's CRS Center for Leadership and Management in the Design and Construction Industry and College of Architecture.

Admission is free for Texas A&M faculty, staff and students. The registration fee for external participants is $75 before Jan. 20 and $90 thereafter. Registration and program information is available through the CRS Center at (979) 847-9357 or online at http://rowlett.tamu.edu. Continuing education units will be available to AIA members attending the conference.
Read more:
http://communications.tamu.edu/newsarchives/05/121405news-4.html
White Paper by Peter Beck:
"Collaboration vs. Integration: Implications of a Knowledge-Based Future for the AEC Industry"

back to top
---
Ulrich, Prince Charles speak at UK conference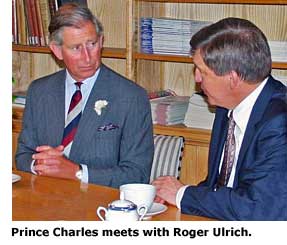 Roger Ulrich was among featured speakers including Prince Charles and Jan Kennedy, Britain's Minister of State for Quality and Patient Safety, at a Jan. 26 conference at St. James Palace in London. Ulrich lectured on "Evidence-Based Design of the Patient Environment."
Also on the conference venue was Richard Jackson, former Director of the U.S. Centers for Disease Control and Prevention. The invitation-only audience of roughly 200 people was comprised of politicians, Lords, persons working to improve architecture and the urban/built environment in Britain, and members of the press.
In a Jan. 24 e-mail from London, Ulrich reported that A&M architect-for-health students in London with Sue Rodiek "were exposed to some absolutely outstanding persons in British healthcare and architecture. They are working on a major 880-bed hospital project with a projected to cost of about $1.5 billion."
---
HRRC scientists eye U.S. storm surge hazards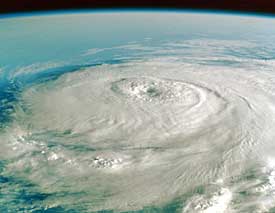 Hazards Reduction and Recover Center faculty fellows, Mike Lindell and Carla Prater, have begun a three-year, $750,000 National Science Foundation research project to study hurricane and tsunami surge hazards.

The Texas A&M College of Architecture scientists will be working with Harry Yeh and Cherri Pancake of Oregon State University.

Summarizing the project objective, Lindell said: "Our first task, is to continue our work on the Evacuation Management Decision Support System by testing people's ability to use different types of information about hazard onset — especially information about uncertainties in hurricane track and tsunami run-up — and population response — the time required to complete an evacuation under different types of circumstances. In the early stages of this task, we will conduct laboratory experiments with undergraduates.

"Our second task, Lindell continued, "is to conduct interviews of local jurisdictions vulnerable to tsunami, in Washington and Oregon, and hurricanes, in Texas, to identify the problems they face in adopting land use planning, building construction, and emergency preparedness practices to avoid damage and casualties. This task will involve traveling to coastal jurisdictions to meet with local officials."
---
HRRC grad students win poster competition
Three College of Architecture graduate students from the Hazard Reduction and Recovery Center won first place in a Graduate Student Poster competition at the Mid-American Earthquake Center's annual meeting in Austin Texas.
The students, Yang Zhang, Jing-Chein Lu, and Liang Chang, along with Professor Walter Peacock, director of the HRRC, joined students and faculty from other universities affiliated with the MAE Center, including Georgia Tech, Michigan, UT-Austin, and the University of Illinois-Urbana, to present research related to the center.
Zhang, Lu, and Chang competed against approximately 20 other teams, and each received $100 for their first place poster.
---
Auditorium named for 'first family' of A&M architecture
The new 300-seat auditorium at Texas A&M University's College of Architecture's Langford Architecture Center has been named in honor of Fort Worth architect Preston M. Geren Jr., an avid supporter of the college whose family history is deeply tied to the Texas A&M architecture program.
A member of Texas A&M's Class of 1945, Geren's links to architectural education at Texas A&M can be traced back to the program's inception. One hundred years ago last September, his grandfather, Frederick E. Giesecke, a member of the Class of 1886, established Texas' first formal architectural education program at what was then the Agricultural and Mechanical College of Texas. He also oversaw the design and construction of many of the most revered buildings still gracing the Texas A&M campus.
Additionally, Geren's father, Preston Geren Sr., and uncle, Bertram Giesecke, earned architecture degrees from the school, in 1912 and 1911, respectively, and went on to establish successful careers in the profession.
Last summer, Geren honored his family's enduring architectural legacy at Texas A&M with a major gift endowing the Frederick E. Giesecke Lecture Series at the College of Architecture. Subsequently, the college moved to name the auditorium where these lectures will be held in Geren's honor. The Texas A&M University System Board of Regents approved the name change at its Jan. 27 meeting.
Read more:
http://our-news.tamu.edu/newsmanager/templates/?a=1964&z=15
---
Adams creates interdisciplinary professorship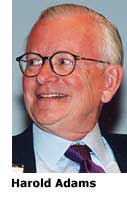 A first-of-its-kind interdisciplinary professorship at Texas A&M University's College of Architecture has been established with a $180,000 gift from Harold Adams, chairman emeritus of RTKL Associates and a 1961 Texas A&M graduate.

The donation includes an endowed scholarship in architecture and support for extracurricular student activities. It was made through Texas A&M's One Spirit One Vision fundraising campaign, which Adams chairs for the College of Architecture.

The objective of the newly endowed Harold L. Adams '61 Interdisciplinary Professorship reflects the donor's professional experience and vision for the future of the built environment professions, which he sees as evolving beyond traditional academic boundaries. To this end, it will support a faculty member whose work transcends such barriers, encouraging collaboration in research and teaching between the disciplines housed within the College of Architecture.
"After 40 years in the profession and running a very large architecture firm, I realize the importance of interdisciplinary work," said Adams, who is also a fellow in the American Institute of Architects. "The key is professionals from various disciplines working together. With this gift, I hope to encourage more of that activity in the academic world and help make Texas A&M a leader in the type of real-world collaboration that will best prepare its graduates to be leaders in their profession and their community."
Read more:
http://communications.tamu.edu/newsarchives/06/012006news-7.html
---
HRIL becomes Center for Heritage Conservation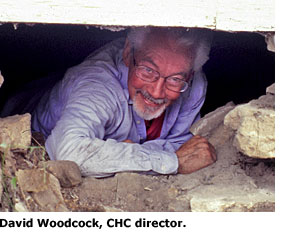 Prospects for preserving buildings and cultural sites of historic significance throughout the state and elsewhere were boosted Dec. 2 with the establishment of the Center for Heritage Conservation in the College of Architecture at Texas A&M University.
The center will conduct research, teaching and service projects related to management and preservation of historic buildings, places and cultural sites, noted David G. Woodcock, who will serve as its director.
The new center will unite faculty from academic departments across the university and will build on the work of the 14-year-old Historic Resources Imaging Laboratory, which it will replace. It will take over administration of the graduate certificate in historic preservation, which has already been awarded to more than 150 students from 11 disciplines in six colleges, explained Woodcock, a professor of architecture who has specialized in historic preservation work since 1964.
"Since 1991, Professor David Woodcock and his associates at the Historic Resources Imaging Laboratory have earned national acclaim for their impressive body of work in historic preservation while instilling in generations of students a passion for conserving our rich architectural legacy," said J. Thomas Regan, dean of the College of Architecture. "The establishment of the Heritage Conservation Center at the College of Architecture promises to expand Texas A&M's significant influence on historic preservation and resource management and further assure the integrity of our treasured architectural heritage in Texas and throughout the world."
Read more:
http://communications.tamu.edu/newsarchives/05/120505news-6.html
---
Doctoral students' map tracks sex offenders
A team from Texas A&M University's College of Architecture is developing computerized mapping techniques to help police track locations and estimate risk-levels for registered sex offenders.

"We have created a spatial planning tool that law enforcement officers can use to locate sex offenders living in off-limits child safety zones," says Praveen Maghelal, doctoral student in planning in the Department of Landscape Architecture and Urban Planning. "Geographic information systems (GIS) technology provides a powerful means to map the addresses of such offenders and relate these locations to critical areas where children frequently gather."

"The system also is expected to help authorities provide timely proximity information about sex offenders living near the site of a child's disappearance, thus potentially contributing to quick solutions to such crimes," adds partner Miriam Olivares, also a doctoral student in planning.
Read more:
http://communications.tamu.edu/newsarchives/06/012306news-10.html
---
Aggies Win Katrina-inspired hospital design contest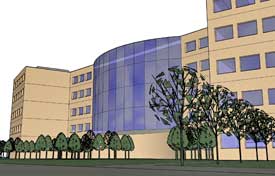 Designs by four Texas A&M University architecture students for short- and long-term emergency healthcare facilities to serve post-Katrina New Orleans earned first place honors in an exclusive competition sponsored by Skanska USA Building Inc., one of the nation's leading healthcare facility design and construction companies.
Skanska officials flew into College Station on Jan. 19 to present the award, including $5,000, in a special ceremony at the College of Architecture.
The winning entry included recovery solutions for the Medical Center of Louisiana at New Orleans, which had been rendered inoperable by the storm. The team's primary goal was providing fast and available healthcare facilities. Their immediate solution entailed the construction and placement of a network of specially designed modular clinics to temporarily replace the center's Charity and University hospitals. The team's long-range plans called for the construction of a new hospital especially equipped to deal with disaster response.
The students, all seniors, are Ashley Dias and Lauren Johnson of Dallas, Elisha Killgore of Henderson, and Jackie Russel of Corpus Christi.
Read more:
http://communications.tamu.edu/newsarchives/06/012006news-10.html

Watch students'' winning presentation movie (Windows Media File):
Large: 320x240 512kbps (8.7 MBs)
Small: 160x120 45kbs (936K)
---
'Quilting' new homes in hurricane-devastated areas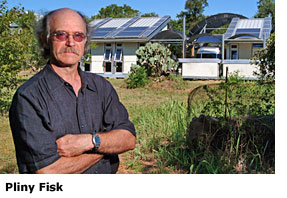 Texas A&M University researchers are using a "quilting bee" approach with other universities and communities across the Gulf Coast to build new homes for people displaced by Hurricane Katrina.
"We borrowed ideas derived from the southern art of communal quilt-making to help us devise building processes and procedures that fit the culture of the Gulf Coast," says Pliny Fisk, a Texas A&M architecture professor. "Our first building using some of these ideas to help rebuild the area devastated by Katrina started construction in early December, 2005.
"Quilting new homes using community supported architecture — we call it CS-Arch — borrows from the concept of community-supported agriculture, in which farms and communities partner to link production of food with its consumption," he explains. "CS-Arch links community volunteers, construction experts and local businesses to build healthy, locally manufactured housing and other buildings. Once a set of shared procedures has been created, outcomes of such cooperative efforts are economical, environmentally friendly and disaster-safe buildings, resulting in a regionalized building system using a wide range of natural and human resources."
Read more:
http://communications.tamu.edu/newsarchives/06/010906news-7.html
---
Gulf Coast needs an extreme makeover, says Fisk
According to a Texas A&M University researcher who specializes in disaster recovery and sustainable development, it's not enough to think about merely rebuilding New Orleans: America's Gulf Coast needs an extreme makeover to deal constructively with the millions of tons of waste materials that flow down the Mississippi River each day.

"What is needed is not just a clean-up," says Pliny Fisk, an architecture professor at Texas A&M. "We need to establish a new economic model for prosperity. Experts from such diverse fields as architecture, industrial ecology, biochemistry, microbiology and biomimicry are needed to address the metabolic flows of wastes into the environment and derive ways of recovering and innovatively reusing them or of finding benign replacements. We need both major planning and economic initiatives that support nature's ability to act and function efficiently. This approach often is referred to as capitalizing on nature's economy."
Read more:
http://communications.tamu.edu/newsarchives/06/011706news-10.html
---
$42,000 grant funds wireless upgrades, tablet PCs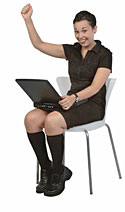 The College of Architecture was recently granted $42,000 for upgrading the wireless network infrastructure throughout the Langford Architecture Center and adding tablet PCs to landscape architecture studio toolboxes. The grants, to be equally matched by the college, resulted from two successful competitive bids for a portion of $200,000 in Computer Access Fee (CAF) funds awarded this year by Texas A&M University.
University-wide, 10 different classroom technology projects received funding. A committee of Texas A&M faculty and students selected the winning bids from 20 proposals totaling $524,000.
The grant for enhancements to Langford's wireless infrastructure totals $18,000. Drawn by Craig Griffith , the project will help ensure ubiquitous network access throughout the Langford complex.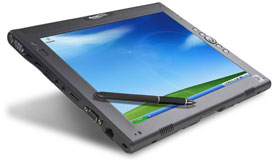 The tablet PC grant, which will go toward the purchase of 30 14.1-inch units, totals $24,000.
"Students will be able to experience a fully digital design process — one that is also being tested by peer universities," read the tablet PC grant proposal, which was submitted on behalf of the college by Chris Ellis and Ming-Han Li. "Students can use the tablet PCs as a drafting table to draw ideas, record thought process, design and plan, as well as receive critiques, all of which are traditionally conducted on a series of trace paper overlays."
Unlike the more laborious traditional method, which required scanning these overlays to facilitate studio critiques, the work recorded on the tablet PCs can be readily shared on studio projectors.
---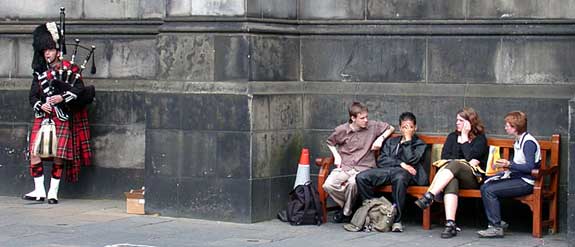 Proposals Needed for 2007 study abroad programs
All faculty are invited to submit proposals for faculty-led study abroad programs outside the United States for Summer 2007. Interdisciplinary proposals and those for the Santa Chiara Study Center in Italy are particularly encouraged.
The updated proposal form and instructions for submission are available on the following Web site: http://studyabroad.tamu.edu/forms.asp#faculty
It is critical that faculty use the most up-to-date version of the form, rather than changing dates on a previous version. The deadline for submission of proposals to teach outside the U.S. in Summer 2007 is 5:00 p.m. on February 28, 2006. Proposals submitted after the Final Submission deadline may not be considered for matching faculty salary funding through Study Abroad Enhancement Funding.
For more information or for assistance in locating appropriate sites outside the U.S. to conduct study abroad programs, faculty may contact Dr. Suzanne Droleskey, Executive Director, International Programs for Students, at (979) 845-0544.
---
Last one out, please lock the door!
A $3,500 projector was stolen from Langford C111 last Monday night, Jan. 30. The room had reportedly been left unlocked by a student group who held an unscheduled meeting in a room that they had found unlocked. Craig Griffith, assistant dean for finance and administration, urges everyone using Langford facilities to be sensitive to the value and vulnerability of the equipment therein. Those holding the day's last class in a particular room, he said, should lock the door behind them.
---
Keep an eye out for photo opportunities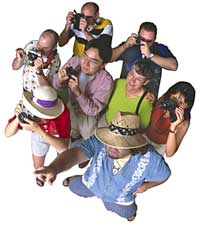 With college units initiating a number of Web site and publication projects, the need has become evident for strong, high-quality photographs depicting studio culture, academic programs, student projects and student life.
Because photographs illustrating who we are and what we are about are essential to the various communications projects currently in the works, the college is asking all faculty and staff to be on the lookout for situations providing strong photographic opportunities.
Many projects, events, happenings and even everyday occurrences naturally provide strong visual imagery. When such events are scheduled, please take time to alert college photographers. Also, in the course of a given day, many photographic opportunities arise spontaneously and should also be immediately reported.
Please direct your "photo-op alerts" to Phillip Rollfing, prollfing@archone.tamu.edu or 458.0442 or John Peters, jpeters@archone.tamu.edu or 845-7887.
---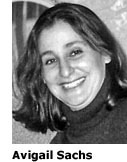 Visiting CRS Archives Scholar arrives

Avigail Sachs, a CRS Archives Scholar from Berkeley, California, will be visiting the CRS center through February 2nd, 2006. After receiving her MS in Architecture Studies from MIT in 1997, Sachs became a project architect for Ammar-Curiel Architects in Haifa, Israel. She is currently in the fourth year of her Ph.D. candidacy at the University of California, Berkeley.
The purpose of the Archives Scholar Award is to encourage scholars of architectural and business history to make use of the business archives, slide archives, publications and the architectural program library of the architectural/engineering firm CRS and its successor, CRSS, Inc. Included in the archives are transcripts of interviews with the executive officers and other members of the firm.
The Scholar Award is intended to help offset living and travel expenses incurred in visiting the CRS Center, as well as other expenses related to the support of research, scholarship and publication that makes use of the archives..
Construction industry leader to lecture on Iraq reconstruction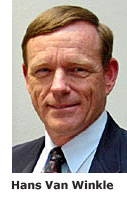 Retired Major General Hans Van Winkle will shed some light on international reconstruction activities in Iraq as the Department of Construction Science kicks off its Distinguished Lecture Series Tuesday, Feb. 7 at the Rudder Theatre.
Since 2003, Van Winkle has directed the Construction Industry Institute, a consortium of leading owners, engineering and construction contractors, and suppliers who strive to improve the cost effectiveness of the capital facility project life cycle, from pre-project planning through completion and commissioning.
Van Winkle leads over 700 member CII volunteers in a collaborative effort to improve the engineering and construction industry worldwide. At CII, he has led new initiatives in leadership, education, and revamping the research process and the research calendar.
A graduate of the U.S. Military Academy at West Point and registered professional engineer, Van Winkle holds a master's in public policy from the University of California–Berkeley.
Architecture department to feature six noted speakers

The Department of Architecture will present six lectures featuring noted local and international speakers in its Spring 2006 Lecture Series held 5-7 p.m. on Fridays in the Preston M. Geren Auditorium in Langford B. The spring 2006 lectures include: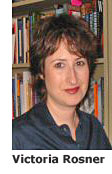 Feb. 8 — "Modernism and the Architecture of Private Life" featuring Dr. Victoria Rosner, Department of English, Texas A&M University;

Feb. 15 — "My Work since 1980" with Professor Enrique Browne, Pontificio Universidad Catolica de Chile; Santiago, Chile;

Feb. 22 — "The Art and Architecture of Eliel Dieste" by Professor Stanford Anderson, MIT, Cambridge, Mass.;

Feb. 24 — "Argentinian Modern Architecture since the 1970s" delivered by Professor Alfonso Corona Martinez, Belgrano Universidad, Buenos Aires, Argentina;

April 7 — "Into the New Millennium - FosterWerk 1980-2005," a special College of Architecture Centennial Lecture featuring Graham Phillips, chief design partner with Foster and Partners Architects, London; and

April 19 — "Texas Chapels in the Landscape of Light" with Dr. Nora Laos, College of Architecture, University of Houston.

New Orleans artist DeDeaux visiting college through Feb. 9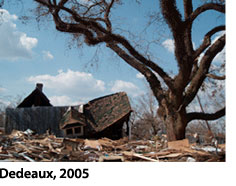 New Orleans artist Dawn DeDeaux will serve as the College of Architecture's Artist in Residence through Feb. 9, 2006. She is the first of three internationally celebrated artists to visit this spring as part of the college's 2006 Artist in Residence Program, hosted by the Texas A&M Academy for the Visual and Performing Arts.
DeDeaux will work with students in a 10-day workshop to create a multimedia installation to be exhibited later this year at the McKinney Art Center in Dallas. The installation, "Hess in Dallas," was originally cancelled because DeDeaux lost her studio to Hurricane Katrina.
The installation will be exhibited 2-4 p.m. Thursday, Feb. 9 on the fourth floor of Langford A. DeDeaux will also present a public lecture on her artwork 2 p.m. Monday, February 6 in the Langford Architecture Center's new Preston M. Geren Auditorium.
DeDeaux's Web site: http://www.dawndedeaux.com/

Council on Built Environment hosts Feb. 15 open forum

The Council on the Built Environment will host an Open Forum on Wednesday, February 15, from 3 to 4:30 p.m. in Rudder Theatre, to present an update on the allocation of space to support of the Faculty Reinvestment Plan. The goal of the Reinvestment Plan is to hire approximately 450 net new faculty members in order to enhance the educational experience of Texas A&M students by improving student-faculty ratios and reducing class sizes. The Open Forum will provide members of the campus community with the opportunity to learn more about space allocation in existing facilities and plans for new buildings that will come on-line in next few years.
College of Architecture workshop takes aim at rising energy bills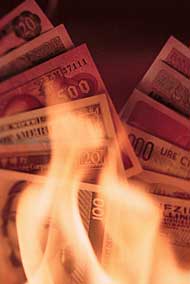 A one-day workshop created to help private companies, government and nonprofit organizations save money in Texas' increasingly volatile energy market will be held March 24 at Texas A&M University's College of Architecture.
Titled "Cutting Energy Bills in Texas: How to Develop an Energy Risk Management Strategy," the course will be held in the Langford Architecture Center Auditorium on the Texas A&M campus. Registration costs $190 prior to March 14 or $210 thereafter. The fee covers the workshop as well as a continental breakfast, lunch and a reception after the event. Additional details and registration are available online at http://archone.tamu.edu/conted/.
The energy workshop is designed for building owners, managers and others responsible for electric and natural gas budgets in commercial, industrial, government and institutional buildings. It is also appropriate for anyone interested in gaining a better understanding of recent changes in Texas energy markets and ways modern risk management principles can be applied to reduce energy costs and risks associated with today's energy markets.
Read more:
http://our-news.tamu.edu/newsmanager/templates/?a=1933&z=15

---
COSC students lend talents to 'Extreme Makeover'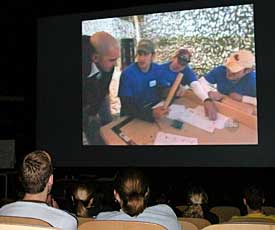 With final examines pending, several construction science students spent the cold, wet days at the end of the fall 2005 semester helping build a new home for Dale and Melanie DeAeth family in Washington, Texas. The event was staged for the hit ABC-TV series "Extreme Makeover: Home Edition."
Last Sunday, with the help of a Dish Network representative, the students gathered in the Preston M. Geren Auditorium watch the episode they'd all been waiting for.
More details are available online at the Extreme Makeover: Home Edition Web site: http://abc.go.com/primetime/xtremehome/bios/317.html
---

About Inside Track:http://archone.tamu.edu/archcom/archoneUpdate/about.htm

Inside Track archive: http://archone.tamu.edu/archcom/archoneUpdate/.
Reporting tips: http://archone.tamu.edu/archcom/archoneUpdate/submissions.htm