Design, engineering students
create new Bright installation
"Pop/Op," a new piece of kinetic art inspired by Pop Art and pop-up books, the result of a collaboration between design and aerospace engineering students at Texas A&M, is a new adornment to the Bright engineering building's south entrance.
Elements of the piece, designed by students in a digital fabrication class led by Gabriel Esquivel, assistant professor of architecture, will be in constant motion powered by hardware and software programmed by Dan Whitten, a mechanical engineering major and an undergraduate research assistant with the Texas Institute for Intelligent Materials and Structures, a Department of Aerospace Engineering affiliate.
Joeris General Contractors gifts
$250,000 for CoSci estimating lab


Construction science students at Texas A&M will soon learn to accurately estimate the cost of construction projects in a state-of-the-art lab funded by a $250,000 gift from San Antonio-based Joeris General Contractors.
Interdisciplinary green roof
growing atop Langford building

A section of the Langford A building's rooftop was transformed fall 2012 into a green roof with succulents, grasses and a weather station by an interdisciplinary group of Texas A&M students in phase one of a three-year research initiative.

Research:

Lindell contributes to chemical plant safety report
Deadly chemical plant disasters like the 2008 explosion at the Bayer CropScience facility in Institute, West Virginia can be avoided or mitigated by the implementation of several proven safety protocols, concludes a federal study of the incident undertaken in part by Michael Lindell, a professor of urban planning at Texas A&M University.

Lindell, a faculty fellow with the Hazard Reduction and Recovery Center at the Texas A&M College of Architecture, contributed the study's sections on risk and decision analyses and emergency management.
Brody, Highfield research cited
by 'NOVA,' New York Times


"Inside the Megastorm," a recent episode of the PBS series, "NOVA," was supplemented by research on effective flood mitigation strategies conducted by Hazard Reduction and Recovery Center research fellows Sam Brody and Wesley Highfield.
Lindell aids New Zealand
disaster mitigation initiative


Texas A&M urban planning professor Michael Lindell is part of an interdisciplinary team advising policymakers in earthquake-prone New Zealand on issues related to natural hazard mitigation, readiness, response and recovery.
Lavy named co-editor of leading
facility management journal

Facilities, the world's leading scholarly journal in the facility management field, begins its fourth decade with new co-editor Sarel Lavy, associate professor of construction science at Texas A&M.
HRRC study forecasts hurricane
threat behavior in South Texas

Lower Rio Grande Valley officials will have help planning regional hurricane evacuations from a study undertaken by researchers at Texas A&M's Hazard Reduction and Recovery Center in collaboration with the university's Colonias Program.

In the Studio:

Vertical viz studio enhances learning experience
The teaching this fall of an experimental undergraduate visualization studio was significantly enhanced by the "vertical studio" concept: in addition to learning from peers and interaction with their instructor, the students gained valuable knowledge through mentor/protégé relationships resulting from a unique mix of novice and veteran students.
Collaboration yields Chinese
cancer center designs

This fall, graduate Texas A&M architecture students collaborated with counterparts in Oklahoma and China to develop a campus master plan for a 27-acre, five-building cancer center, as well as designs for a 300-bed cancer rehabilitation hospital to be located on Hainan Island, China.
Final projects garner inaugural
MFA-Viz degrees for students

Art as therapy for chronic pain and "the disembodying effects of the digital age" were themes of final projects by Natalie Pittman and Jose "Weecho" Velasquez, the first two graduates of Texas A&M's Master of Fine Arts program.
Student projections transform
downtown Bryan buildings

The facades of buildings in a forgotten urban area on the north end of Main Street in downtown Bryan were enlivened with digital projections created by students in a Texas A&M senior graphic design studio Nov. 2.
Students collaborate with firm on
LEED analysis for ecology center

Last spring, graduate architecture students assisted at Lake|Flato Architects in San Antonio with evaluating designs for a visitors' center at a new 311-acre natural area for Leadership in Energy and Environmental Design (LEED) certification.
Grad students develop low-cost
housing solutions for refugees

This fall students in a Texas A&M graduate architecture studio prepared prototype low-cost housing solutions for long-term inhabitants of some of the world's largest refugee camps, which they plan to present for consideration to the United Nations High Commission on Refugees.

Academics:

Rodney Hill: Creativity is currency of the future
Except for the zombies, the dystopian futures depicted in popular Hollywood fare are edging closer to fact than fiction, said Texas A&M's resident futurist Rodney Hill, who believes hope for a world besieged by rapid population growth, a warming climate and shortages of food, energy and fresh water can be found in creative solutions.
Landscape arch. programs
ranked among best in nation

For the sixth straight year, the landscape architecture degree programs at Texas A&M are rated among the best in the nation in preparing students, according to rankings published by a national interdisciplinary network of design, product and construction leaders.
MLPD students give high marks
to new Austin Formula One track

A major new auto-racing venue in Austin garnered significant praise in an assessment conducted by Master of Land and Property Development students, who evaluated the facility in terms of its social/cultural, economic, environmental and sensory values.
Voice of America features
students' Eco-park design

An award-winning eco-park concept aiming at informing the public about the systems bringing food to dinner tables and the waste it produces, developed by students in The Design Process class, was featured in a Voice of America newscast.
Industry panel hears students
troubleshoot ethical quandaries

Ethical quandaries surrounding a hypothetical bidding scenario were identified and resolved by third-year construction science students in presentations before visiting industry professionals as part of a classroom competition.
CoSci students visit multiple
sites during Texas field trips

On Nov. 2, five groups of Texas A&M construction science students took field trips to various destinations around Texas to investigate the latest construction, material production and manufacturing practices.
CoSci intern encounters
2 hurricanes, snowstorm

Two hurricanes and a snowstorm buffeted Texas A&M third-year construction science student Nathan Atkins during his internship, but he said the experience has given him complete confidence that he's ready to graduate and enter the "real world."

Honors / Accomplishments:

Students' park design garners H-GAC park award
Residents in a suburban area north of Houston can jog, hike, fish or observe nature in a new park designed by landscape architecture students at Texas A&M that recently won a 2012 Parks and Natural Areas Award from the Houston-Galveston Area Council.
Booth, Li tapped as service
learning faculty fellows

Service learning, in which students learn and develop through engaging human and community needs and structured opportunities for reflection, will become part of the teaching repertoire of two Landscape Architecture and Urban Planning faculty members who recently received spring 2013 Texas A&M service-learning faculty fellowships.

Events:

Lectures highlight Young Spanish Architects exhibit
"Young Architects of Spain," a major exhibit showcasing the extraordinary work of several emerging Spanish architects whose designs made their nation a global point of architectural reference by the end of the 20th century, was displayed Nov. 6 – Dec. 10, 2012 in the Texas A&M College of Architecture's Wright Gallery.
"The exhibit highlighted how architectural excellence is being produced by a new generation of professionals, not just by internationally renowned Spanish maestros, ensuring a promising future for Spanish architecture," said Elton Abbott, assistant dean for international programs & initiatives and coordinator of the Texas A&M exhibit.
Students help with November
cleaning of Bonfire Memorial


Applying a little soap, polish and elbow grease, students from a world architecture history class led by Kevin Glowacki, joined other volunteers in the annual cleaning of the highly revered Texas A&M Bonfire Memorial, an effort orchestrated by the University Art Galleries.

Class Acts:


Photo ©2011 Disney/Pixar. All rights reserved.
'Brave' Vizzers earn Annie award nominations
For their work on Disney/Pixar's summer smash hit movie "Brave," two former Texas A&M visualization students are nominated for an Annie award, the highest honor bestowed by the International Animated Film Society.
Chris Chapman and Keith Klohn, development and effect artists at Pixar, were nominated in the competition's Animated Effects in an Animated Production category.
Outstanding alumni discuss
college's role in their success

Outstanding alumni of Texas A&M's College of Architecture discussed how their education paved the way for successful careers and professional accomplishments at a public panel discussion Oct. 26 in the Wright Gallery.
College of Architecture honors
nine 2012 Outstanding Alumni

Pioneering designers, an entrepreneur, educator, an advocate for the landscape architecture profession and a leader in the animation industry were named 2012 outstanding alumni by Texas A&M's College of Architecture.
Former student heads BIM effort
in Baylor stadium construction

A new, $250 million Baylor Bears stadium will be designed with a building information modeling system coordinated by Ken Stone '11, a construction science former student. "It should be a very exciting project ," said Stone, an engineer with Flintco, LLC.
Alum's Towne Lake project is
top master-planned community

Residents will soon be able to boat from their home to work, restaurants and shops at a masterplanned community in suburban northwest Houston that Peter Barnhart '95, a former Master of Science in Land Development student, is helping to develop.
Former students leading digital
fabrication network TEX-FAB

TEX-FAB, an organization founded by three former environmental design students, is facilitating collaborative exchanges through companies, institutions and design professionals in Texas and the Southwest working with digital fabrication and parametric modeling.

Pondering time and space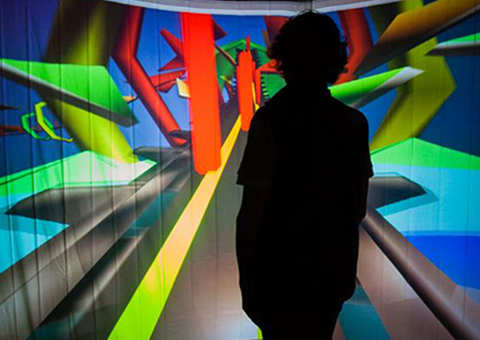 Semester culminating exhibits showcasing the creations of graduate and undergraduate visualization students featured a wide variety of media. See Glen Vigus' photos of the MFA-Viz exhibit and the fall undergraduate visualization show.