Texas A&M landscape architecture
programs ranked among best in U.S.
Texas A&M's Bachelor of Landscape Architecture, a five-year professional degree program, was ranked second in the nation according to 2011 rankings recently published by the Design Futures Council, a leading design industry collaborative. The DFC also ranked the university's Master of Landscape Architecture as the nation's third best graduate program in the discipline.
The DFC rankings are based, in part, on survey responses from leading practitioners who have direct experience hiring and evaluating the performance of recent design graduates. Survey participants, drawn from a database of leading firms throughout the United States, were asked which college and university programs best prepare students for professional practice.
Above: Landscape architecture students collaborate during a design charrette hosted by the Texas A&M Student Chapter of the American Society of Landscape Architects.

Feb. 18 Rowlett Lecture to spotlight Adrian Smith,
noted designer of supertall, super-green buildings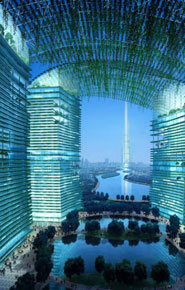 Adrian Smith '66, designer of the world's tallest building and partner in a firm dedicated to the design of high-performance, energy efficient and sustainable architecture on an international scale, will be featured at the 2011 John Miles Rowlett Lecture Series.
The half-day event, hosted annually by the CRS Center for Leadership and Management in the Design and Construction Industry at Texas A&M University, will be held Friday, Feb. 18 in the Rudder Theatre.
Right: Park Gate, a 5 million square-foot mixed-use development in Dubai designed by Adrian Smith + Gordon Gill Architecture, features six gently curving towers arranged in facing pairs and connected at the top by three vaulted canopies to create a visual portal into the adjacent Jumeira Gardens park in Dubai.

Historic Preservation Symposium
to eye adaptive reuse research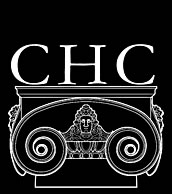 Texas A&M's Center for Heritage Conservation will focus on the adaptation of old structures for new purposes during "Adaptive Reuse: Architecture as Found Object," the 13th annual Historic Preservation Symposium set for Feb. 25 and 26 at the Langford Architecture Center's Preston Geren Auditorium.
"Adaptive reuse is one of the most sustainable things we can do," said Robert Warden, director of the CHC. "A lot of data shows that reusing our existing building stock preserves culture and saves energy and materials."
The symposium begins Friday, Feb. 25 with a public keynote address at 6 p.m. by K.T. Ravindran, head of the Department of Urban Design in the School of Planning and Architecture in New Delhi, India.

Making a difference: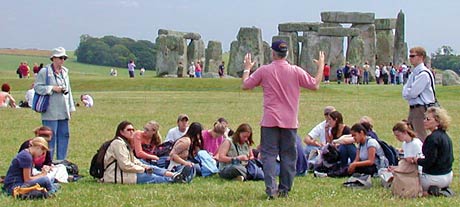 Texas A&M students learn about Stonehenge while studying abroad in Britain.
Professorships, study abroad top
college's development wish list
For many Aggies, holiday giving includes gifts to Texas A&M as well as presents to friends and family. If there's room on your year-end giving list for the College of Architecture, there's plenty of opportunity to make a difference in a way that is meaningful to you.
This year, the endowed professorships honoring Rodney Hill and David Woodcock are at the top of the list, since former students started both initiatives and each will have broad impact across multiple disciplines in the college. Study abroad scholarships, which help students who otherwise can't afford the added expenses of the college's most valuable "other education" experience, are also a high priority. Likewise, each department and program has its own priorities that can benefit from your gift.



Architecture professor Rodney Hill, pictured here in his Dr. Jekyll costume at the AIAS Halloween party, Architorture, is featured in the latest issue of the Texas A&M Foundation's Spirit magazine. See story & video.
Endowed professorship to honor
inspirational educator Rodney Hill
Professor Rodney Hill has inspired decades of dreamers since coming to the College of Architecture in 1969. Recently, some of those former students launched an effort to honor one of the College's most celebrated teachers with an endowed professorship that will not only bear Rodney Hill's name, but will also extend a legacy of creativity in the classroom and studio.
The Rodney Hill Professorship in Creativity and Design is a $150,000 fundraising effort that will be a permanent source of support for a faculty member in the College of Architecture whose teaching and research mirrors the creative legacy established by Rodney over the past four decades.

BED alum touts study abroad benefits,
promotes new scholarship endowment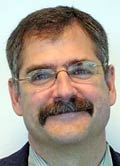 A former design student talked about establishing a scholarship through the Texas A&M Foundation to help students have a study abroad experience like he did in the early 80s during an interview on the Texas A&M Sports Radio Network.
David Baker, who earned a Bachelor of Environmental Design degree in 1983, said with the globalization of the economy it's becoming more important for students to get the broad perspective a study abroad experience provides.
He said study abroad was a terrific experience that widened his perspective not just on architecture, but also about "different cultures and the way different people think."

Woodcock professorship will benefit
preservation research at Texas A&M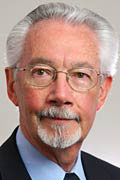 For decades, David Woodcock has been the face . . . and the voice . . . of historic preservation in the College of Architecture at Texas A&M University.
It's little wonder that former students and other "Friends of David" have launched an effort to recognize his career by creating the David Woodcock Professorship in Historic Preservation. This endowed professorship, to be held by the Director of the Center for Heritage Conservation, will be a permanent source of support for preservation studies in the College of Architecture and a tribute to a beloved faculty member whose leadership shaped the Department of Architecture and those studies for decades.

Keith and Debra Ellis, ASA-Houston endow
two new construction science scholarships

Two new endowed scholarships in the Department of Construction Science will benefit future generations of Aggie constructors. The Ellis Custom Homes/Debra '90 and Keith Ellis '88 Scholarship and The American Subcontractors Association Houston Chapter Scholarship were both created last month through the matching scholarship program of the Construction Industry Advisory Council.
The endowments will provide critical financial support to undergraduate students in the department, according to Joe Horlen, head of the department.
"With tuition on the rise, support of our students is more important than ever," said Horlen. "This kind of scholarship support makes a tremendous difference in the lives of these young people."

Endowed professorships awarded
to construction science faculty

Four faculty members at Texas A&M's Department of Construction Science have been awarded endowed professorships beginning this fall and ending in August 2012.
A selection committee composed of College of Architecture faculty reviewed nominations for the professorships and forwarded recommendations to the dean, Jorge Vanegas, who approved the selections.

Research: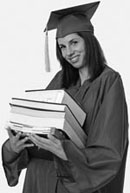 Nine undergraduates selected for
prestigious research scholar group
As Texas A&M 2010-11 Undergraduate Research Scholars, eight environmental design students and one construction science student are researching subjects ranging from successful nonprofit logo designs to using video games to enhance the design process.
The research scholars program assists students in preparing an undergraduate thesis and includes a $300 award, special seminars and access to experts and other mentoring services.



Visualization professor Ergun Akleman discusses algorithms for generating cyclic twill-woven objects at the 12th annual College of Architecture Research Symposium: Natural, Built, Virtual.
College of Architecture's 12th annual
symposium spotlights faculty research
Natural, Built, Virtual, the 12th Annual Texas A&M College of Architecture Research Symposium featuring a series of faculty presentations previously delivered at scholarly venues around the world, took place Oct. 18, 2010 at the Langford Architecture Center on the Texas A&M campus.
The symposium including more than 50 invited or refereed presentations and papers from the 2009-10 academic year, was divided into diverse categories and delivered in several concurrent sessions. The 2010 presentations were grouped in broad categories including invention, energy, modeling, management, policy, pedagogy, aging, innovation, perception, history, archaeology, excogitation and well-being.
Download symposium proceedings (6.8 MB PDF)
See story, photos & watch video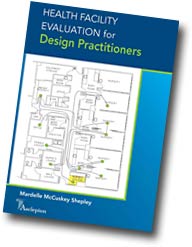 Shepley's new book hailed
as a 'definitive resource'
Hailed as a definitive resource for evaluating health facilities, a new book by Mardelle McCuskey Shepley, professor of architecture at Texas A&M University, is now available from Asclepion Publishing, LLC.
The book, "Health Facility Evaluation for Design Practitioners," provides information to help design professionals better understand, plan, conduct and share pre- and post-occupancy evaluations of health facilities.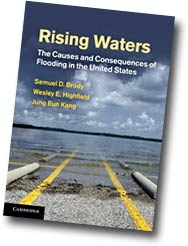 Brody pens book detailing
flood mitigation strategies
Policymakers, government employees and engineers can learn to make communities more resilient to the negative impact of flooding by reading "Rising Waters: The Causes and Consequences of Flooding in the United States," a new book co-authored by Sam Brody, professor of urban planning at Texas A&M, available soon from Cambridge University Press.
Brody and his co-authors, Wes Highfield, assistant research scientist at Texas A&M University at Galveston's Department of Marine Science, and Jung Eun Kang, research fellow at the Korea Environment Institute's Adaptation Center for Climate Change, spent five years researching the topic with a grant from the National Science Foundation.

Lavy named regional editor of
facilities management journal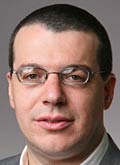 Sarel Lavy, assistant professor of construction science at Texas A&M, has been tapped to serve as North America regional editor of Facilities, a scholarly journal that contributes to the advancement of facilities management.
Facilities, published by Emerald, an independent publisher of research, covers the multidisciplinary topics of people, property and process management expertise that underpin successful organizational functions in the workplace.

U.S. Rep Chet Edwards announces reopening
of Pointe du Hoc site, acknowledges Center
for Heritage Conservation research efforts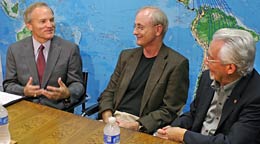 Years of research efforts by Texas A&M's Center for Heritage Conservation came to fruition Oct. 20 when U.S. Rep. Chet Edwards announced the reopening of Pointe du Hoc, in Normandy, France, one of World War II's most important battlefields and a source of pride for Aggies everywhere.
Robert Warden, director of the CHC, and David Woodcock, CHC director emeritus, joined Edwards for the announcement, which took place at the Langford Architecture Center on the Texas A&M campus. The group was joined, via a conference call, by Max Cleland, secretary of the American Battle Monuments Commission, which administers the site and other U.S. military memorials and cemeteries abroad.



The award-winning Aggie groHome graces the National Mall during the 2007 Department of Energy Solar Decathlon.
Current status of Solar Decathlon
homes featured on DOE website
Since competing in 2007's Solar Decathlon in Washington D.C., Texas A&M's award-winning entry in the solar-powered home design and build contest, the Aggie GroHome, has been on display at the Bush Presidential Library and Museum and is now the centerpiece of a sustainable education and research facility in San Antonio.
Texas A&M's entry, renamed "SU CASA," now serves as a demonstration and hands-on teaching tool at the Alamo City's Mission Verde Center @ Cooper, a multipurpose education, training and research center for renewable and energy-efficient technologies, water management and conservation.

Lang hosts discussion of the real vs.
the virtual at European art festival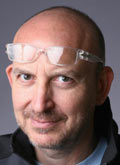 A panel's exploration of the real and virtual environment's effects on humanity was moderated by Peter Lang, associate professor of architecture at Texas A&M, during an Oct. 12-17 audiovisual arts festival in Utrecht, The Netherlands.
The discussion, "What is Real/Virtual," examined technology's deep penetration of people's conscious perception in everyday life. The panelists eyed the difficulties such hybridized, real-virtual environments present to the human experience, asking, "where does it begin and end, have we become the binary elements that switch on and off, and what point is there to distinguishing authentic from artificial?"

In the Studio:
Aggie-designed digital fabrication garners
honorable mention in international contest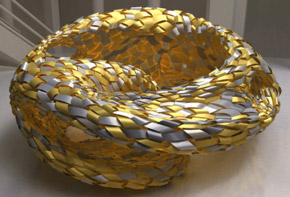 "Spulenkorb," a theoretical structure designed by assistant professor of architecture Gabriel Esquivel and two of his former students, Ryan Collier '10 and Michael Tomaso '10, recently garnered honorable mention in an international digital fabrication competition.
The competition organizers asked participants to submit entries that challenge the current exploration of parametric design with a meaningful synthesis of repetition and variation. The Texas A&M team's design will be exhibited with other winning entries at Tex-Fab's February 2011 conference at the University of Houston's Gerald D. Hines College of Architecture.



Elevation of Aggie-designed secondary school for Santa Rosa, Honduras.
Interdisciplinary team's school design to
be constructed in small Honduran towns
Construction on a secondary school, designed by an interdisciplinary student team from Texas A&M's College of Architecture, is slated to begin in Santa Rosa, Honduras during the 2010 winter break.
Global Architecture Brigades, a California-based, student-led global health and sustainable development organization, sponsored the school design contest.
Citizens of Santa Rosa chose the Texas A&M design over entries submitted from competing GAB chapters at universities across the nation. The student teams were challenged to design a school and community center to accommodate seventh, eighth and ninth grade students from Santa Rosa and 13 surrounding communities.

Campagnol's students display
modulor projects at Langford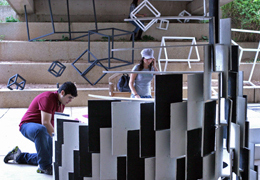 Installations made from recycled materials adorned the pit area at Texas A&M's Langford A building in late November 2010.
Led by Gabriela Campagnol, assistant professor of architecture, students created the installations on a $100 recommended budget based on Le Corbusier's modulor system.

Graduate students create master
plan to revitalize small Texas town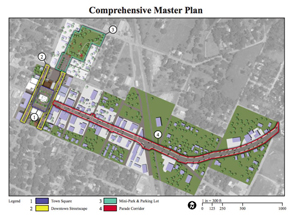 Five graduate students at Texas A&M spent their summer providing the city of Bellville, Texas, with a comprehensive master plan for a downtown revitalization.
With a grant from the city's economic development corporation, the students, in a 123-page final report, proposed guidelines for revitalization in 12 areas: street improvements to accommodate all types of vehicles, building facades, bicycle lanes, pedestrian paths, natural landscaping, artwork, shade structures, signage, parking, lighting, seating and drainage.

Aggies capture 2 of 3 top spots in
design awards sponsored by HKS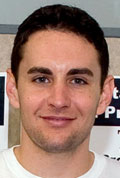 Students from Texas A&M's College of Architecture captured two of the top three awards in a design research competition sponsored by Dallas-based international architecture firm HKS, Inc.
Nicholas Gignac captured first place in the competition, HKS' Design Research Awards, with his entry "Application of Horizontal Light Pipes in Levels Below Grade." Gignac, who earned a Master of Architecture degree in May 2010 and a Bachelor of Building Construction degree in 2006, netted a $1000 prize with his entry.
Seher Zunaira, a Master of Science in Construction Management student, won third place with the entry, "Solving Daylighting Issues in Deep Plan Office Buildings." Zunaira examined the use of active reflectors to deliver sunlight from an exterior light collector into office spaces located deep inside a building, and found that the system can be an efficient device for such a task.
Pictured above: First-place winner Nicholas Gignac


Viz students go native in project
imagining colorful tribal cultures
In a series of related projects, students enrolled this fall in the Principles of Visualization III class got a chance to loose their imaginations, visualizing three pre-industrial tribal societies who dwell in structures erected on the face of steep cliffs along the River Styx.
Drawing from predefined characteristics of the three imagined tribes sharing a common heritage, the students were tasked to design scale models of the cliff dwellings that match the each tribe's attributes.
In a follow-up exercise borrowed from the culture of the Surma and Mursi tribes in East Africa's Omo Valley, the students engaged in a face-painting ritual, using natural pigments and even fruits, vegetables, leaves and grasses. The individual designs, representing artistic expressions of mood characteristic to one of the three tribal cultures, were then photographed for exhibition.
Participating in the project were three sections of VIST 205 students under the direction of instructors Terry Larsen, Christine Liu and Julie Rogers.

Students take over 'In Theory' talk show;
other episodes eye fabrication, curating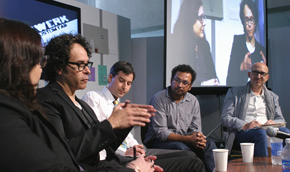 Graduate architecture students at Texas A&M discussed their futures, the future of their field, and architecture and social engagement during "4play 2 4forecast," a first-ever "In Theory" talk show featuring student panelists.
The discussion wrapped up another successful season of "In Theory," a continuing series hosted by Peter Lang, associate professor of architecture, which ordinarily features a panel of experts discussing topics relevant to modern architecture theory.

Viz students update Aesop's Fables
with ancient storytelling technique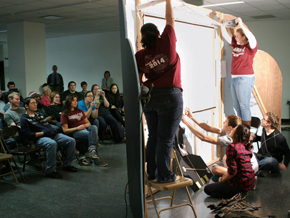 Students in an undergraduate visualization class explored the foundational elements of two-dimensional animation by creating shadow puppets and using them to perform their own interpretations of Aesop's Fables.
Led by visualization faculty members Junghee Hahm, lecturer, Donna Hajash, senior lecturer and Philip Galanter, assistant professor, students worked in teams to create puppets reminiscent of those first used when the art of animated, visual storytelling began.
See story, photos, & watch video

BED students present puppet
show for children at museum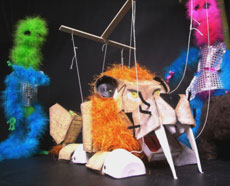 Children at the Brazos Museum of Natural History were taken on a trip through time Dec. 2, 2010, by Bachelor of Environmental Design students at Texas A&M through a portal made of recycled materials.
In "Lost in Time: Tales of the Space Oracle," the ENDS 105 Puppet Players, led by Peter Lang, associate professor of architecture, staged a puppet show with colorful marionettes created from discarded items including milk cartons, potato chip containers, paper plates and microwave bowls, producing fierce-looking saber-tooth tigers, pterodactyls and other creatures from long ago.

Academics:
Review team gives grad and undergrad
architecture programs glowing reviews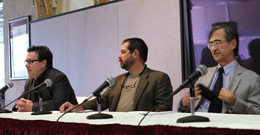 Three degree programs at Texas A&M's College of Architecture were described as "world class" by an external review team this fall, but the group cautioned that appropriate funding to retain that status was critical.
"The university administration has to understand that you can't be world-class today with yesterday's budget," said review team leader Walter Grondzik, professor of architecture at Ball State University, during a Nov. 10, 2010 public gathering at Langford Architecture Center where the group shared its findings.

Wells takes reins as head of
Department of Architecture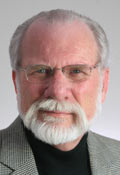 Ward Wells can add another leadership role to his 33-year educational and administrative resumé at Texas A&M's College of Architecture, this time as interim head of the Department of Architecture.
"Professor Wells has a deep understanding of the department and the college, and in addition, has earned over time the respect of faculty, students, staff and former students in the department," said dean of the college, Jorge Vanegas, who appointed Wells as interim head of the Department of Architecture last summer. "His extensive administrative experience within the college and the university is particularly important given the challenging times we face."

Design process student captures
$10,000 prize for tax kiosk concept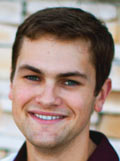 A student in The Design Process class offered by Texas A&M's College of Architecture won $10,000 in a contest sponsored by Coinstar Inc. from an idea he developed in a class assignment.
Kyle Klansek, a sophomore business major, placed first in the "Next Big Idea" contest with his concept of a kiosk-like device where consumers can file their income taxes. The award was announced at the October Consumer Engagement Technology World conference in New York's Javits Convention Center.

Student entrepreneur lectures
in college's Design Process class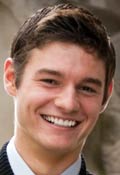 Nathan Latka, a third-year Virginia Tech finance major whose four social-media businesses have made more than $45,000 in net income, recently discussed his business ventures and creative process in the Design Process class at the Texas A&M College of Architecture.
Open to students in all majors, the design process class is a creativity workshop that encourages students to spark, explore, discover and otherwise develop their creative problem-solving abilities and entrepreneurial spirit, both individually and in multidisciplinary teams.

Visualization student creates video
after 2-month stint on research ship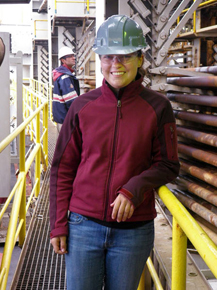 Stephanie Keske, a graduate visualization student at Texas A&M, used her visualization skills while accompanying hydrogeology researchers on a 470-foot research ship this summer, creating a video illustrating how scientists use borehole technology to study the ocean's coast deep below the sea floor.
Keske spent two months on board the research ship JOIDES (Joint Oceanographic Institutions for Deep Earth Sampling) Resolution off the coast of British Columbia with a group of scientists. Their objective was installing long-term borehole observatories known as Circulation Obviation Retrofit Kits, or CORKs, a mile and a half under the ocean surface. CORKs are used to monitor pressure, temperature and microbial activity to study how water and microbes move within the ocean's crust.

Honors/Accomplishments:
Rodiek called one of most
admired educators in U.S.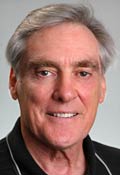 For "exemplifying excellence in design education leadership," Jon Rodiek, professor of landscape architecture at Texas A&M, was recently named one of the nation's most admired educators by the Design Future's Council, a leading design industry collaborative.
Rodiek was one of 25 U.S. design educators to make the 2011 most admired list, published in the DFC's Nov. 3, 2010 DesignIntelligence newsletter. The top educators are selected annually by the DFC from the disciplines of architecture, interior design, industrial design and landscape architecture with extensive input from hundreds of design professionals, academic department heads and students.



David Woodcock climbs out from under the historic home of Margaret Houston, Sam's wife, in Independence, Texas.
David Woodcock earns Fitch Award from
national preservation education group
For decades of contributions to historic preservation education, David Woodcock, professor of architecture at Texas A&M, received the James Marston Fitch Preservation Education Lifetime Achievement Award from the National Council for Preservation Education.
"David Woodcock's distinguished career in the pursuit of excellence in heritage conservation and historic preservation education represents a building block in the foundation upon which the field of historic preservation is built," said Ted J. Ligibel, NCPE chairman. "His steadfast leadership in the preservation movement itself has truly earned him this honor."
See story | See Woodcock's remarks

Vanegas inducted in Pan American Academy
of Engineering in Buenos Aires ceremony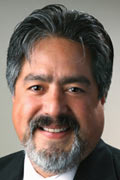 Jorge Vanegas, dean of the College of Architecture at Texas A&M, was inducted as a member of the Pan American Academy of Engineering at an Oct. 21, 2010 ceremony in Buenos Aires.
Created in 1996 by the International Directorate of the Pan-American Federation of Engineering Societies, the academy aids the development of each country in the Americas through the contributions of distinguished engineers' intelligence, experience and time.

Lafayette presented with Regan interdisciplinary
prize during dean's advisory council gathering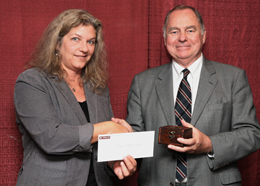 A prize recognizing an educator's interdisciplinary work, named in honor of a former dean of Texas A&M's College of Architecture, was presented to Carol Lafayette, associate professor of visualization, during the Nov. 11 Dean's Advisory Council.
"While Carol is educated as a fine artist … her research and creative activities are inherently interdisciplinary, bridging the worlds of art, science and technology," said Frederic Parke, professor of visualization, in a letter nominating Lafayette for the J. Thomas Regan Interdisciplinary Faculty Prize.
Above: Visualization professor Carol LaFayette accepts the J. Thomas Regan Interdisciplinary Prize from the award's namesake at a Nov. 11 dinner with the College of Architecture's Dean's Advisory Council.

Mills-designed bridge in South
Africa wins steel industry award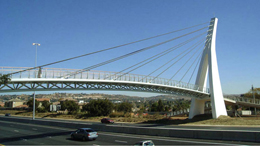 A cable-stayed pedestrian bridge in Johannesburg, South Africa designed with the help of Glen Mills, professor of architecture at Texas A&M, was honored by the Southern African Institute of Steel Construction with a 2010 Steel Award.
"This is a wonderful addition to Johannesburg's North Western gateway and the lighting at night makes it truly exceptional," said the contest's judges. "It is clearly an example of excellent use of steelwork truly deserving of this award in the bridge category."

Hill earns excellence award
from ING Financial Services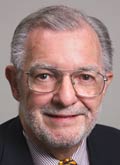 Before kickoff at an Aggie game at Kyle Field this fall, a financial services company recognized Rodney Hill, professor of architecture at Texas A&M, for his excellence as an educator.
Hill received the ING Financial Services' Professor of Excellence Award for his high standards, dedication and his contributions to the success of student athletes.

Class Acts:
Class Acts: Former students
touch base with the college

Catch up with your old classmates in the archone. newsletter's Class Acts section, a regularly updated list of recent activities reported by former students of the Texas A&M College of Architecture. Class Acts highlights professional achievements, as well as marriages, births, retirements and just about anything College of Architecture graduates care to tell their old friends.
In addition to the former student news briefs listed by class year, each semester's Class Acts section also offers more detailed features on former student activities.
The college encourages former students to use Class Acts to report news of interest or professional achievements and to update their contact information so they keep abreast of college activities of interest to them.
Former students can report news and update their contact information online at archone.tamu.edu.
While there, please remember to enter your current e-mail address. To save funds, as well a few trees, the college is relying more and more on electronic communications.

Former environmental design students
create iPhone 4 stand, tripod mount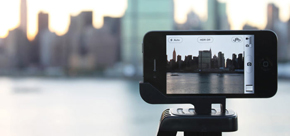 Two former Texas A&M environmental design students, with the help of a wildly successful online fundraising campaign, will soon bring to market what wired.com calls "the most useful accessory you could buy for your iPhone."
It's called a Glif, and it was designed by Dan Provost and Thomas Gerhardt, who earned Bachelor of Environmental Design degrees in 2007.
In addition to working as a kickstand to hold an iPhone up at an angle, it's a mount for a standard tripod. The Glif greatly improves a user's interaction with any number of the iPhone's applications such as FaceTime, or watching videos, making movies, using the iPhone as an alarm clock, and many, many more.

SA-based Overland Partners architects
garners TSA's Firm of the Year award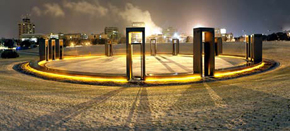 San Antonio-based Overland Partners Architects, the firm that designed the architecturally acclaimed Texas A&M Bonfire Memorial under the direction of founding principal Robert Shemwell BED '82, has been named 2010 Firm of the Year by the Texas Society of Architects.
In addition to Shemwell, the firm employs 12 Texas A&M College of Architecture graduates.
The Architecture Firm Award, the highest honor bestowed upon a Texas architecture practice, annually recognizes one firm in Texas that has consistently produced distinguished architecture in the state for at least 10 years and has contributed significantly to the profession and to the community.

Former student's photography work
on display in British camera magazine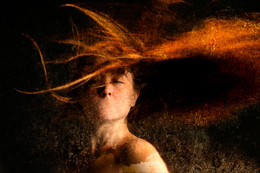 A former student's photography rated a two-page, full-color spread in the November 2010 issue of Digital Camera, a leading British photography magazine.
Igor Kraguljac, who earned a Master of Science in Visualization Sciences degree at Texas A&M in 2008, produced a series of images inspired by the chiaroscuro style used by Carvaggio, an Italian artist who lived from 1571-1610, by photographing models submerged in a swimming pool. The magazine displayed one of the images from the shoot, detailing how Kraguljac created the photos and the technical hurdles he had to overcome.

Nominations due Feb. 1 for
Outstanding Alumni Awards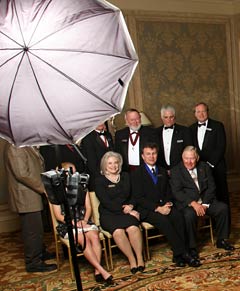 Nominations are now being received for the 2011 College of Architecture Outstanding Alumni Awards, which annually recognize former students of exceptional accomplishment.
Anyone may nominate a former student for the award following the criteria and process detailed on the Outstanding Alumni Award website, where nomination forms are also available.
Since the award's inception in 1997, less than one percent of the college's 15,000 former students have received this, the college's highest honor.
See submission details, bios of former honorees

Dallas AIA Chapter honors alumnus
with Lifetime Achievement Award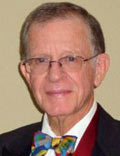 Reagan W. George, FAIA, a 1958 graduate Bachelor of Architecture graduate from Texas A&M, received the 2009 Lifetime Achievement Award from the Dallas Chapter of the American Institute of Architects.
Throughout his storied career, George, who was elevated to Fellow by the AIA in 1982, has served as president of the Dallas AIA chapter, vice president of the Texas Society of Architects, as president of the Greater Dallas Planning Council and in various capacities for a number of professional and civic organizations.

Also online:
Two landscape architecture students win
downtown Bryan sign design competition
Beltrán talks about solar
light pipe in visit to Peru
Ph.D. student's theory of place
garners two research awards
Sigma Lambda Chi induction
highlights 2010 CIAC event
Mann discusses student projects
at Malaysian healthcare meeting
Urban and Regional Sciences Ph.D
students provide school supplies
Environmental design majors
help clean Bonfire Memorial
Construction science lecturer's
music entertains senior gathering

Painter, installation artist, fabricator
to work with students next semester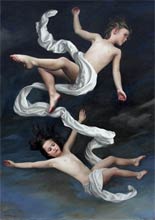 This spring, Texas A&M students will have an opportunity to work with an acclaimed painter, an installation artist and a digital fabricator and earn college credits in the process as part of the College of Architecture's Spring 2011 Artist in Residence program.
Interested students from all disciplines can sign up for one or all three one-hour credit workshops featuring: Ron Cheek '89, Jan. 31 – Feb. 6, a contemporary representational painter who focuses on figurative and still-life subjects; Sally Weber, Feb. 20 – March 1, an installation artist who works with holography and light; and/or Elena Manferdini, March 20 – 25, principal of Atelier Manferdini, an architectural office specializing in the cutting edge of computer-aided design of exotic forms.

Lecture series featured
architectural luminaries
Luminary figures from the architectural world, including practitioners and academicians, highlighted the Fall 2010 Department of Architecture Lecture Series at Texas A&M. University Videos of their presentations are available at the College of Architecture's Vimeo website.
Sept. 20: "Natural Houses"
Presented by Arthur W. Andersson and F. Christian Wise of the award-winning Austin-based firm Andersson-Wise Architects. See video
Sept. 27: "Global History, Global Paradox"
Presented by Mark Jarzombek, professor of the history and theory of architecture and associate dean of the School of Architecture and Planning at MIT. See video
Oct. 11: "Display and the Post Object"
Presented by James Dart, principal, DArchitects. Dart's firm has won numerous local and national awards, including a 2002 Honor Award from the AIA. See video
Oct. 25: "The Imperfect and the Mess We Made"
Presented by John Hartmann, co-founder of Freecell, a Brooklyn-based design and fabrication studio.
Nov. 15: "Topographies: The Architecture and Urbanism of Arthur Erickson"
Presented by Michelangelo Sabatino, assistant professor of architectural history and theory at the Gerald D. Hines School of Architecture at the University of Houston. See video

Lectures, design charrettes, visiting pros
highlight ALSA's Aggie Workshop 2011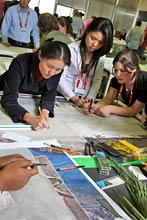 Registration is under way for the 36th annual Aggie Workshop, a two-day conference slated Feb. 11 – 12 at the Langford Architecture Center on the Texas A&M campus.
Organized and hosted by the Texas A&M student chapter of the American Society of Landscape Architects and open to landscape architecture students from all universities, the conference features luminary speakers, design charrettes and fun-filled social events.
Focusing on "professionalism," event chair Grant Jones said Workshop 2011 will offer an inside look at how the industry works while focusing on "real-world" issues confronting professional landscape architects.

Kang offers highlights from Dallas BIM
conference in Constructech magazine
Julian Kang, a Texas A&M construction science professor, provides insight into the obstacles confronting general contractors using Building Information Modeling technology in an Oct. 12 Constructech magazine article.
Drawing from observations shared by owners, general contractors and sub-contractors at Sept. 23-24 BIM Conference in Dallas, Kang notes that identifying BIM-related problems can be difficult, because the parties who encounter them prefer to talk about their successes and best practices, rather than focus on difficulties and how they were resolved.

Junior construction science major
honored during Dec. 7 Silver Taps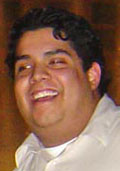 Gerardo Ivan Aguirre, a junior construction science major from Fort Worth remembered by his friends and teachers as a friendly and earnest student, was honored at Texas A&M's Dec. 7 Silver Taps ceremony.
"Gerardo was, in fact, a gentle giant," said David Bilbo, a professor of construction science who had Aguirre as a student. "There are many things I admired about him, not the least was his personal drive to always deliver his best effort in anything he was asked to do. This was coupled with an almost insatiable appetite for knowledge and his personal quest to find out more."