Esquivel's students create new
installation for Bryan restaurant
"Black Narcissus," an intricate architectural installation designed and fabricated by eight Texas A&M architecture students now graces the VIP room at the tony La Riviera restaurant in Bryan, Texas. Students scripted the structure's design in Grasshopper, a graphical algorithm editor, using lessons learned in a fall 2011 digital modeling workshop led by Esquivel and David Hernandez, coordinator and instructor for generative and computer-aided design technologies for Monterrey Tech.
Applicants sought for
new MFA-Viz degree

The Department of Visualization at the Texas A&M College of Architecture is offering a new, technology-infused Master of Fine Arts degree program that in fall 2011 will begin preparing students for careers in digital art education, fine arts, entertainment and media industries, as well as art as a vocation.
3 college degree programs
ranked among nation's best

Bachelor and master's degree programs in landscape architecture and the Master of Architecture program at Texas A&M were recently ranked among the nation's best at preparing students for professional success by the Design Futures Council.
Students help with 'Extreme
Makeover' of Bastrop home

A group of Texas A&M environmental design students are contributing to a weeklong flurry of construction for the hit TV show "Extreme Makeover Home Edition" that will result in a new home for a Bastrop County family whose home was lost during the Labor Day wildfires.
Registration for spring Artist in
Residence sessions now open

Students will have a unique opportunity to work with internationally renowned, contemporary artists during the Spring 2012 Artist in Residence program at A&M's College of Architecture. The specialized workshops are open to anyone in the college, and no previous art experience is required.
Loftin, McLaughlin visit former
students at Pixar, DreamWorks

Texas A&M University President R. Bowen Loftin had a chance to see how former students are redefining the entertainment industry during a Nov. 16 visit to the Bay Area campuses of Pixar Animation Studios and DreamWorks Animation SKG.

Making a Difference:
Architecture Department seeking
Council for Excellence members

The Texas A&M Department of Architecture is recruiting members for its new Architecture Council of Excellence, which is committed to supporting and enhancing architecture program excellence, building relationships with students, and bridging gaps between the academic and professional worlds.

Research:

CoSci department unveils BIM-CAVE
The Department of Construction Science recently unveiled its newest facility, the "BIM-CAVE," which provides a unique high-tech vantage point for viewing details of an imagined building and its infrastructure, including heating, ventilation, air-conditioning, plumbing, electrical and other systems.
New center provides access
to nonpublic federal data

Valuable sociological and economic data collected by the federal government but not available to the general public will soon be available to select researchers from Texas and the surrounding region with the opening this fall of the Texas Census Research Data Center at Texas A&M University.
Prof tells media U.S. roadways
not ready for economic recovery

A report published by the Texas Transportation Institute, authored in part by Tim Lomax, a lecturer in urban planning, suggests too little progress is being made ensuring the nation's transportation system will be able to keep up with job growth when the economy improves.
TTI report ranks congested,
unreliable traffic corridors

A new report by the Texas Transportation Institute ranks 328 seriously congested highway corridors across the U.S. for the first time by morning and evening drive times, middays and weekends. It also identifies "reliably unreliable corridors with the most day-to-day variations in congestion.
CHUD helps track effects of
change in South Texas region

The Center for Housing and Urban Development at Texas A&M's College of Architecture is part of a new research, educational and engagement network focusing on providing sustainability science to South Texas policymakers and communities.
Geva's pens new book about
Wright's sacred architecture

The first comprehensive study of Frank Lloyd Wright's sacred architecture is in a new book by Anat Geva, associate professor of architecture at Texas A&M. Geva is also the first to introduce a theoretical framework illustrating the relationship between faith, form and building technology in sacred architecture.
Research IDs factors affecting
hospital staff communication

Recent Master of Architecture grad Erin Peavey will discuss how nursing units can be designed to better facilitate staff communication, a vital component of effective hospital care, at a November Healthcare Design Conference in Nashville.
Brody appears in PBS Newshour
report eyeing post-Ike Galveston

Sam Brody, professor of urban planning at Texas A&M, was interviewed on PBS Newshour about Galveston's efforts to build a healthier city after Hurricane Ike. He is also the Mitchell Chair in Sustainable Coasts at TAMU-Galveston .
College's annual symposium
spotlights faculty research

The 13th Annual Texas A&M College of Architecture Research Symposium: Built, Natural Virtual, held Monday, Oct. 24 at the Langford Architecture Center, was a daylong research showcase featuring a series of faculty presentations previously delivered at scholarly venues around the world.

In the Studio:

Students collaborating to refine incubator design
Master of Architecture students at Texas A&M are teaming with graduate students in industrial engineering to improve the psychosocial and engineering aspects of the incubator, the central piece of equipment used in neonatal intensive care units.
Students' designs place in 'New
Urban Models for Aging' contest

An innovative design for a downtown Austin, Texas senior urban housing facility created by Akshay Sangolli, a Master of Architecture student at Texas A&M, earned a merit award the American Institute of Architect's New Urban Models For Aging competition.
Student's solar umbrella design
advances in national competition

As a semifinalist in a national solar power design competition, a student team from the Texas A&M College of Architecture's Design Process class is building a portable solar-powered umbrella capable of powering portable electronic devices.
Disney animators help Vizzers
create videos in industry class

The secret afterhours lives of office supplies were revealed in three video shorts developed by graduate Texas A&M visualization students last summer under the guidance of visiting professionals from Walt Disney Animation Studios during the department's annual summer industry course.
MUP students earn Texas APA
award for Sealy studio project

A revitalization plan for Sealy, Texas' downtown district, created by Texas A&M Master of Urban Planning students, won the 2011 Student Planning Award from the Texas Chapter of the American Planning Association.
3 universities collaborate on
Chinese eye hospital project

Designs for an eye hospital in Puyang, China, created by students in a Texas A&M health facility design studio with students at China's Southeast University and the University of Oklahoma, were unveiled in a public presentation Dec. 5 in the Wright Gallery.
Viz symposium showcases
student, faculty projects

Faculty and graduate students at Texas A&M's Department of Visualization took a few minutes each to presented their current research and creative endeavors Oct. 18, 2011 during the department's fast-paced second annual research symposium held on the fourth floor of the Langford C building.

Academics:

Planning prof's students sweep mobility competition
Graduate engineering students at Texas A&M advised by Ken Joh, assistant professor of urban planning, earned first place and $10,000 in scholarship money in a transportation planning contest sponsored by the Central Texas Regional Mobility Authority.
Creativity, discovery, innovation
fuel Hill's design process class

No textbooks, no tests, no scantrons — Prof. Rodney Hill's creativity class at Texas A&M University doesn't have a trace of the elements found in a traditional college course, instead relying solely on discovery and innovation.
Facility management students
earn scholarships, Phoenix trip

Five students pursuing graduate certificates in facility management at Texas A&M attended the 2011 International Facility Management Association's World Workplace Annual Conference in Phoenix. The students earned IFMA scholarships totaling $15,000, part of which paid for their trip to the conference.
Mann, OU colleagues lecture in
China about healthcare design

The collaboration between design programs at Texas A&M University, top schools in China and at the University of Oklahoma continued during the week of Oct. 10, 2011 during a trip to China by George J. Mann, Texas A&M professor of architecture, and colleagues from OU.
Video highlights CoSci intern's
stint with construction company

Ryan Wilhelm '12, a Texas A&M undergraduate construction science student, talks about his internship at the company's New Orleans office in a video. He was put in charge of a group working on a portion of a half-mile long floodwall.
Bienko exhibits 'WORD TO
YOUR M(O)THER' in Houston

New multimedia work by Joshua Bienko, assistant professor of visualization, was showcased Sept. 30 – Oct. 1 at Houston's Barbara Davis Gallery. Bienko's show, "WORD TO YOUR M(O)THER," included paintings on the soles of Christian Louboutin stilettos and canvas as well as a new rap video.
TAMUtimes features CoSci
students studying in London

Texas A&M construction science students who spent the spring 2011 semester studying abroad in London praised their academic and social experiences in a story and video posted on TAMU Times, the university's news website.

Honors / Accomplishments:

Hill named most admired educator
Rodney Hill, a Texas A&M professor of architecture, has been named one of 2012's "25 Most Admired Educators" by the Design Futures Council, another teaching honor in his already bulging trophy case.
Regan Interdisciplinary Faculty
Prize presented to Anat Geva

Anat Geva, associate professor of architecture at Texas A&M is the 2011 recipient of the J. Thomas Regan Interdisciplinary Faculty Prize, an award recognizing faculty who are committed to interdisciplinary work in the built environment disciplines.
Shepley named ACHA fellow

Mardelle McCuskey Shepley, professor of architecture at Texas A&M and director of the Center for Health Systems and Design, has been elevated to membership in the American College of Healthcare Architects' Council of Fellows for advancing the standards of architectural education, training and practice.
Anat Geva appointed to head
Southern historical society

Anat Geva, associate professor of architecture, has been appointed president of the Southeast Society of Architectural Historians, which promotes scholarship on architecture and related subjects.
Ndubisi honored with award from
landscape architecture council

The Council of Landscape Architecture Educators has recognized Forster Ndubisi, head of Texas A&M's Department of Landscape Architecture and Urban Planning, characterizing his administrative leadership as "incontestably beyond the expectations of a department head."

Class Acts:

Vizzer models 17th century shipwreck
The American Bureau of Shipping's latest quarterly publication includes an article about a centuries-old Portuguese shipwreck brought back to life in an immersive, 3-D model created by former Texas A&M Master of Visualization Sciences student Audrey Wells '08.
Four College of Architecture
graduates make Aggie 100 list

Four businesses headed by former students from Texas A&M's College of Architecture -- Shan Jenkins '88, Richard Garza '88, Phillip Wales, '78, '79 and Ryan Pape '01 -- are among the 2011 Aggie 100, a list of the fastest-growing Aggie-owned or Aggie-led businesses in the world.
Alum overseeing restoration
of 600 year-old NM settlement

Texas A&M environmental design graduate Shawn Evans '93 is overseeing the preservation of Ohkay Owingeha, a 600 year-old Native American settlement in New Mexico as the director of preservation and cultural projects at Atkin Olshin Schade Architects, a Philadelphia design firm.
Former student to head NPS
preservation services office

Former Texas A&M environmental design student Brian Goeken '87 is overseeing the nation's largest, most successful and most cost-effective community revitalization program as the new chief of the National Park Service's Technical Preservation Services Office.
Alum designs sustainable home
for Navajo mom in Colorado

A Navajo mother and her 10-year old son live in The Windcatcher House, a new sustainable home in Colorado co-designed by Mark Olsen '07, a former environmental design student now at graduate school in the University of Colorado at Denver.
Outstanding alumnus Bolton '41
passes away in Houston Nov. 2

Preston Bolton '41, an outstanding alumnus of Texas A&M's College of Architecture and a member of the American Institute of Architects' College of Fellows, passed away Nov. 2 in Houston. Funeral services are scheduled at 1:30 p.m. Monday, Nov. 7 at First Presbyterian Church, 5300 Main Street, in Houston.
Alumna-led YMCA building
renovation almost complete

The renovation of Texas A&M's historic YMCA building, overseen by Nancy McCoy '81, FAIA, an outstanding alumna of the College of Architecture, is mostly complete.
Former students touch
base with the college

Catch up with your former classmates in the archone newsletter's Class Acts section, which features activities, accomplishments and news briefs submitted by former College of Architecture students.

Submit news and update your contact information.

Creature features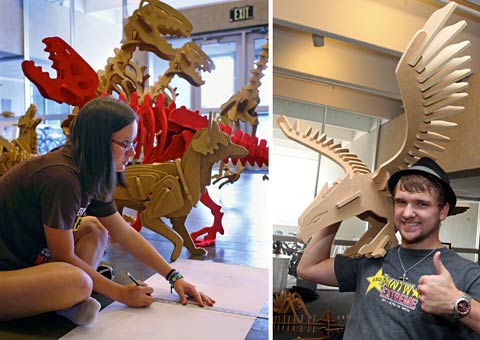 A herd of bony dinosaurs and other creatures created by students in a Texas A&M sophomore design studio invaded the College of Architecture's Langford Atrium this fall providing a fanciful setting for the amusement of passersby. The elaborately fashioned wooden sculptures were fabricated from pieces cut on a CNC router at the college's Digital Fabrication Facility, aka the Architecture Ranch, as a studio project led by Mark Clayton, professor of architecture, and Gabriela Campagnol, assistant professor of architecture. See photos.