Wright Gallery exhibit to feature
work by young Spanish architects
"Young Architects of Spain," a major exhibit showcasing the extraordinary work of several emerging Spanish architects whose designs made their nation a global point of architectural reference by the end of the 20th century, will be on display Nov. 6 – Dec. 10 in the Texas A&M College of Architecture's Wright Gallery.
"The exhibit highlights how architectural excellence is being produced by a new generation of professionals, not just by internationally renowned Spanish maestros, ensuring a promising future for Spanish architecture," said Elton Abbott, assistant dean for international programs & initiatives and coordinator of the Texas A&M exhibit.

Research:

Lafayette, collaborators shaping creativity institute
An institute promoting the study and application of creativity and innovative thinking across colleges and disciplines at Texas A&M and throughout a network of academic, corporate, community, and nonprofit partners is under development at the College of Architecture.

"The Institute of Applied Creativity is interested in developing context-specific methodologies of creativity, meaning it's not 'one size fits all,' by establishing communication and collaboration opportunities between groups traditionally operating in separate arenas," said institute director Carol LaFayette.
Van Zandt redefining Center for
Housing & Urban Development


Shannon Van Zandt, the new director of the Center for Housing and Urban Development at the Texas A&M College of Architecture, is redefining and expanding the center's mission in wake of its separation from the Texas A&M Colonias Program, the center's primary focus since its inception in 1991.
Walkable community's influence
on physical activity investigated


A College of Architecture faculty research project examining the effect of pedestrian-friendly communities on residents' health is part of a new American Institute of Architects' initiative seeking design solutions that address challenges in public health and sustainability.
CHC documenting historic sites
in Texas, Belize, San Francisco


Historic sites at California's most famous prison, in the jungles of Belize and closer-to-home in the town of Belton, Texas are three of the most recent documentation projects undertaken by Texas A&M's Center for Heritage Conservation.
Student's system reduces steel
needed for heavy structures

A new structural system with the potential to significantly reduce the amount of steel required to construct bridges, arches, domes and columns is being developed with cues from nature by Michael Bunch, a Ph.D. architecture student at Texas A&M.
Researchers link home,
business disaster recovery

Relief efforts after a natural disaster should include local businesses as well as households, because "one can't return without the other," said Texas A&M researchers who are examining Galveston's household and business recovery after 2008's Hurricane Ike.

Also online:

Architecture prof's company
releases new fire safety app

Peacock, Brody outline Texas'
hazard vulnerability in Eagle

In the Studio:

Hospital selects student's rooftop garden design
A contemplative space featuring a water fountain and aromatic flora designed by Yucheng Wang, a Texas A&M Master of Landscape Architecture student, was selected as the winning design proposal for a healing garden to be included in the new Scott & White Hospital currently under construction in College Station.
Students' researching solutions
for long-term refugee housing

Students in a graduate architecture studio at Texas A&M are developing solutions aimed at improving the quality of life for long-term inhabitants of refugee camps located in Chad, Kenya and Thailand.
Entrepreneurial design group
leaving its mark at Texas A&M

An entrepreneurial team of senior environmental design majors who bonded in a freshman studio is leaving its mark at Texas A&M tackling projects that include a countertop with design cues from campus' landmark Century Oak.
Viz undergrads lay 'Pennies for
Procrastination' at Sully statue

If placing a penny on the Sul Ross statue at Texas A&M brings good luck on tests, three visualization students whose experimental typography project at the statue that included 13,496 pennies should do just fine on their remaining test days.
Students help SA firm build
canned food dinosaur sculpture

Environmental design students at Texas A&M partnered with a San Antonio design firm to fabricate plates supporting a giant dinosaur sculpture made from canned goods that will eventually provide hunger relief to south Texans as part of a unique annual food drive contest.
Students' sustainable doghouse
designs win Brazos AIA contest

Former and current design students from Texas A&M's College of Architecture incorporated "green" techniques in the design and construction of winning entries in Brazos Bark & Build, a sustainable doghouse competition sponsored by AIA Brazos, the local American Institute of Architects chapter.

Academics:

More firms recruiting CoSci students at career fair
Students seeking jobs and internships in the construction industry at the fall 2012 Career Fairs hosted by the Texas A&M Department of Construction Science had more companies to choose from than in recent years, said George Eustace, the department's industry relations coordinator.
Speakers to discuss global
healthcare facility design

Designing healthcare facilities in today's world of accelerating change, uncertain economies and a growing population is the subject of this fall's Architecture-For-Health lecture series at Texas A&M.
VizKids camper's adventure
chronicled in Pittsburg paper

A 7th grader's excitement at Texas A&M's VizKids camp this summer was chronicled by his hometown newspaper in Pittsburg, Texas.
Adams gives students tips on
doing business abroad

Students learned what and what not to do when doing business abroad in a lecture by Harold Adams '61, retired as chairman of RTKL, which he transformed from a one-office design operation to a firm with projects in more than 60 countries.
Lewis gives tour of lauded
Austin Arthouse renovation

Paul Lewis, principal of LTL Architects, showed his firm's award-winning expansion and renovation of the Arthouse at the Jones Center in Austin to design professors at Texas A&M's College of Architecture.
Industry panel hears students
troubleshoot ethical quandaries

Ethical quandaries surrounding a hypothetical bidding scenario were identified and resolved by third-year Texas A&M construction science students in recent presentations made before a panel of visiting industry professionals as part of a classroom competiton.

Honors / Accomplishments:

New holders of professorships, chairs announced
New appointments to the Texas A&M College of Architecture's endowed professorships and chairs, which support their holders' teaching, research and service initiatives, were announced by Jorge Vanegas, dean of the college, at a Sept. 12 reception in the Wright Gallery.
Kang chairs Texas building
information modeling group

The Building Information Modeling Texas Alliance, a statewide group of construction industry professionals led by Julian Kang, associate professor of construction science at Texas A&M, is advancing the industry's use of BIM.
Grad students earn scholarships
from facility management group


Three graduate students at Texas A&M pursuing facility management certificates were awarded scholarships by an international FM foundation based on the students' essays, leadership skills and letters of professional intent.
Vanegas leads international
engineering forum in Mexico


Engineers, educators and policymakers discussed challenges facing the Americas at a policy forum hosted by the Pan American Academy of Engineering and organized by Jorge Vanegas, president of the academy's policy forum and dean of Texas A&M's College of Architecture.

Also online:

Vanegas elected education
member director for TSA

Colonias Program trains new
promotoras in Travis County

Advancement:

Professorship benefactors tour CoSci facilities
Dallas-area homebuilders Nicole and Kevin Youngblood toured Texas A&M's College of Architecture Sept. 28, where a professorship endowed in their names is making a difference for students at the college.
"The Nicole and Kevin Youngblood Professorship in Residential Land Development funds a range of teaching and research programs that benefit Master of Land and Property Development graduates," said Geoffrey Booth, holder of the Youngblood professorship and coordinator of the MLPD program.
Endowment honoring former
faculty member benefits CoSci


Outstanding alumni of Texas A&M's College of Architecture will discuss how their education paved the way for successful careers and professional accomplishments at a public panel discussion 1 p.m. Friday, Oct. 26 in the Wright Gallery, on the second floor of Langford A.

Events:

Students will make plans for University Avenue in the spring.
LAUP heading weeklong charrette in spring 2012
Students from all four departments at Texas A&M's College of Architecture will join in a weeklong charrette early next semester to create unifying, practical and affordable proposals in two areas along one of College Station's main thoroughfares.
The project will be the central focus of Design Week, an interdisciplinary, weeklong charrette engaging approximately 330 students, faculty, practitioners and the local community in a studio-based learning environment, Design Week is a venture by the college's Department of Landscape Architecture and Urban Planning and the Design Workshop, a firm that has conducted weeklong DesignWeek charrettes at 12 universities since 2003.
Projections created by students
to light Bryan buildings Nov. 2


The facades of buildings in a forgotten urban area on the north end of Main Street in downtown Bryan will be enlivened with digital projections created by students in a Texas A&M senior graphic design studio from 8-10 p.m. Friday, Nov. 2.
Outstanding alumni discussed
education's role in their careers


Outstanding alumni of Texas A&M's College of Architecture discussed how their education paved the way for successful careers and professional accomplishments at a public panel discussion Oct. 26 in the Wright Gallery.
College holds 14th annual
faculty research symposium


The 14th Annual Texas A&M College of Architecture Research Symposium: Natural, Built, Virtual took place Oct. 22 at the Langford Architecture Center on the Texas A&M campus.
Kang leading November BIM
conference in San Antonio


More than 200 building construction industry practitioners will gather Nov. 8-9 in San Antonio for "BIM: Reality Check and Future Agenda," a conference exploring present and future applications for building information modeling.
Acclaimed author Kraus reads
selections from her new novel


Acclaimed author, filmmaker, editor, curator and art critic Chris Kraus, whose new novel, "Summer of Hate," addresses what she sees as today's glaring disparities between expectations and consciousness, read selections from her book as part of a fall 2012 lecture series.

Also online:
Special events staged to raise
diversity awareness at college

Glowacki discusses Aphrodite,
Eros at San Antonio art

Class Acts:

Alum hosts NatGeo show about Rockefeller mansion
An Oct. 12 National Geographic channel program showcasing a mansion in New York's Hudson Valley built by John D. Rockefeller, one of history's foremost businessmen and philanthropists, was hosted by David Applebaum '80, a Los Angeles architect and an outstanding alumnus of Texas A&M's College of Architecture.
Former design students detail
business adventures in book

Two former Texas A&M environmental design students who create, then bring to market innovative accessories and apps for Apple's iPhone and iPad have detailed their business adventures in a new e-book called "It Will Be Exhilarating."
Alumnus helps Costa Rican area
contend with aftermath of flood

A group of villages in Costa Rica hard hit by recent flooding received watershed management, drinking water and waste disposal guidance from an interdisciplinary United Nations-sponsored team that included Alberto Galindo '05, a former environmental design student at Texas A&M.
MSLD former student presented
municipal award from Shanghai

The city of Shanghai has recognized a former Texas A&M land development student's contribution to its economic and social development by presenting him with the Magnolia Silver Award, one of the city's highest recognitions for expatriates.
Former COSC student promoted
by Balfour Beaty Construction

Juan Rodriguez '93, a former construction science student at Texas A&M, will develop education, public, interior and special projects as the new vice president of public/private projects at Balfour Beatty Construction's Houston office.

Storyboarding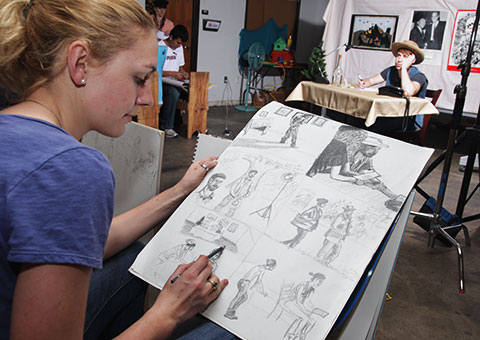 Katie Stallard creates figure drawings for a storyboard in a theater workshop led by Susan Gordone, wife of the late Pulitzer Prize winning playwright and Texas A&M professor Charles Gordone. Stafford and her fellow students were working in a drawing class led by Robert Schiffhauer, associate professor of architecture.