Grad construction program is one
of first in U.S. accredited by ACCE
The Master of Science in Construction Management program at Texas A&M University is one of the world's first graduate programs to earn accreditation from the American Council for Construction Education.
Acting on recommendations from visiting accreditation teams composed of construction educators and industry professionals, the ACCE Board of Trustees approved its first ever graduate-level accreditations last July for the construction management programs at Texas A&M and Clemson universities.
Students to design, build home
in multidisciplinary initiative

Students from all disciplines at Texas A&M's College of Architecture will design and build a single-family residence during the 2012-2013 academic year in a subdivision near downtown Bryan as part of the new collegewide Real Projects initiative.
College of Architecture names
nine 2012 outstanding alumni

Pioneering designers, an entrepreneur, educator, an advocate for the landscape architecture profession and a leader in the animation industry have been named 2012 outstanding alumni by Texas A&M's College of Architecture.
College of Architecture prepares
for upcoming 'Year of Diversity'

Throughout the 2012-13 academic year the Texas A&M College of Architecture is celebrating a "Year of Diversity" with a variety of projects and special events spotlighting the value of cultural diversity and its relevance to the disciplines taught at the college.
College partners with TAMU-G
on coastal research institute

A new research institute dedicated to a better understanding of establishing sustainable and resilient coastal communities, places and landscapes will combine resources of the College of Architecture and Texas A&M University at Galveston.
Former students leading Francis
Hall campaign to honor mentor

Tom Owens was a sophomore construction science student at Texas A&M in the early 1970s when he heard John Harris '54 present a lecture that changed his life. Harris spoke about the key role of developers in creating communities, motivating Owens to enter the field when he graduated in 1973.

Research:

Grass grows under boat docks at Lake Conroe during the 2011 statewide drought.
Study eyes how Lake Conroe levels impact economy
Though ranked as one of the fastest growing counties in the nation for the last two decades, groundwater-dependent Montgomery County, Texas is confronted with a looming water crisis that threatens its future growth, according to a recent study by urban planners at Texas A&M University.
The study investigated how increasing regional demands for water from Lake Conroe, the county's primary surface water source, and resulting reductions in the recreational lake's water level might impact the area's economy. Though researchers found that anticipated lower lake levels present a threat, limited primarily to the lake-area economy, they said the impending regional water crisis poses a more significant peril to the county's longstanding prosperity.
HRRC studying enactment
of local disaster plans


Researchers at Texas A&M's Hazard Reduction and Recovery Center are investigating why the proliferation of hazard mitigation planning by local governmental agencies in disaster prone regions along the U.S. Atlantic and Gulf coasts has not significantly reduced their vulnerability.
Acoustics' impact on autistic
children focus of Ph.D. study


The impact of acoustics on autistic students' learning is being studied by Shireen Kanakri, a Ph.D. architecture student. Planning and designing a classroom to address the auditory sensitivity of autistic students is critical, she said, but there has been little architectural research in this area.
Li, Dvorak to research benefits
of high-performance landscapes

Three Texas A&M researchers have joined an elite group of 10 research teams in an effort funded by the Landscape Architecture Foundation aiming to make the concept of landscape performance and its contribution to sustainability as well known as building performance is today.
Research aims at cleaning up
stormwater runoff pollutants

Sustainable methods for reducing pollutants in stormwater runoff are being developed and tested by Ming-Han Li, associate department head at Texas A&M's Department of Landscape Architecture and Urban Planning, with the help of $1.8 million in grant funds.

Also online:

TTI partners with Landscape
Architecture & Urban Planning

Ph.D. student's project melds
HKS' programming with BIM

Prof leads NSF network effort to
bridge gaps between art, science

In the Studio:

Students create designs for Rhine riverfront area
Design and planning students at Texas A&M envisioned turning the downtown Rhine riverfront in Bonn, Germany into a destination for residential and business development and tourism during a fall 2011 study abroad studio.
LAUP students aid rebirth
of U.S. housing in Beaumont

A declining public housing development in Beaumont severely damaged by Hurricane Rita in 2005 has been rebuilt through a federal grant into a successful, sustainable community, concludes a study headed by Shannon Van Zandt, interim director of Texas A&M's Center for Housing & Urban Development.
Esquivel designs festoon
Hispanic scholarship gala

Intricate 3-D latticework crafted from polymer sheets hung from the wall and ceiling of the Brazos Center ballroom provided a celebratory atmosphere for a July 14 scholarship gala hosted by the Hispanic Forum of Bryan/College Station. The ornamentations incorporated more than 10,000 elements.
Students studying abroad in Italy
design film school, video games

Students studying abroad in Italy designed a film school on the outside wall of the medieval town of Castiglion Fiorentino and used their host town as a setting to create video games during their Texas A&M spring 2012 study abroad semester.
Students explore concepts
for learning, residential facilities

While exploring architectural themes related to place and sustainability, students in two design studios taught last spring by architecture professor Phill Tabb developed intricate models for a sustainable living learning center in Georgia and a mixed-use development in College Station.

Also online:

Students' design to help firm
envision new children's hospital

Time-lapse video shows Frosh Viz
students making Aggie Ring mural

Undergrad visualization students
fill Langford buildings with art

Academics:

Visualization Dept. launches Texas A&M's first MFA
This fall marks a milestone for Texas A&M University with the first cadre of Master of Fine Arts in Visualization students beginning their studies. The university's first MFA degree program, offered by the Department of Visualization, is designed to prepare artists for careers in the fine arts, art education, the entertainment and media industries and other art-oriented vocations.
MLPD program upgrade reflects
reviews, education initiatives

Texas A&M's Master of Land and Property Development degree has undergone changes that two leading real estate scholars said would make the program one of the most competitive of its kind in the world.
New dual, articulated degree
programs offered by LAUP

Graduate and undergraduate students can maximize their career options by combining degrees in several accelerated programs offered by three departments at Texas A&M University's College of Architecture.

Also online:

Transportation expert to join
LAUP planning faculty this fall

Design process student
sells pet care inventions

New TRC website lists services
provided, special collections

Honors / Accomplishments:
Construction Science students follow in The Beatles' footsteps on Abbey Road.
CoSci students help wayward UK tourists
Two U.S. tourists traveling in London last spring were so grateful for the help they received navigating the city's Byzantine subway system, that they penned a letter praising their benefactors, Texas A&M construction science students Colin Spencer and Ian Stephenson, and sent it to Joe Horlen, head of the construction science department.
Student-designed park system
exemplifies outreach initiative

The July 13 dedication of a new park in Spring, Texas culminates a four-year, award-winning park system design project undertaken by Texas A&M landscape architecture students, a prime example of participation in the university's Education First program.
Winning eco-park concept
aims to reduce food waste

An eco-park concept aimed at reducing food waste through public education and demonstrations, developed by an interdisciplinary Texas A&M student team, netted first place in a worldwide contest seeking solutions to the world's most pressing food issues.
Grad student's thermostat
concept wins ideas contest

An energy-saving thermostat and high-tech clothing tags that take the guesswork out of washer and dryer settings were among the award-winning ideas hatched by College of Architecture students in a contest sponsored by the Mays Business School's Center for New Ventures and Entrepreneurship.
Ndubisi named landscape
architecture society fellow

Honoring a 25-year career advancing the art and science of ecological design and planning, Forster Ndubisi, head of Texas A&M's Department of Landscape Architecture and Urban Planning, has been elevated to fellow of the American Society of Landscape Architects.

Also online:

Hamilton makes magazine's list
of top U.S. healthcare design pros

Hill receives Unterberger Award
for honors education service

Inaugural excellence celebration honors
architecture department achievements

Ph.D. student tapped to represent
Jordan in global health care group


Student's construction sustainability
essay earns writing center award

Li elected to CELA post,
honored for contributions

LAUP students earn Southerland
scholarships for leadership roles

Events:

Exhibit to display work of emerging Spanish architects
A major exhibit showcasing the extraordinary work by emerging architects from Spain, where architecture became a global point of reference by the end of the 20th century, will be on display in the Wright Gallery at Texas A&M's College of Architecture Nov. 6 – Dec. 10.
Architecture lectures feature
design, academic luminaries


A diverse group of leading architecture practitioners and academics will share their knowledge during the Fall 2012 Architecture Lecture Series at Texas A&M. The lectures, open to the public, begin at 5:30 p.m. in the Preston Geren Auditorium, located in building B of the Langford Architecture Center.
New Futures event focused
on sustainable planning


Chris Duerksen, a nationally known proponent of adopting community development codes that directly address sustainability issues, headlined "Imagining New Futures," an annual urban planning workshop, Nov. 15 – 17 at Texas A&M.
Project providing ceramic
filters to Texas colonias


The Colonias Program at the Texas A&M College of Architecture is increasing the availability of potable water to residents of colonias, impoverished communities in the Texas border region, as a partner in the Texas Water Project.

Also online:

Barucchieri honored in service
spearheaded by BED student

Class Acts:

24 Aggies at Pixar help create box office hit 'Brave'
From painting the lush Scottish landscape, lighting and shading scenes, and putting the curl in princess Merida's shock of bright red hair, 24 former Texas A&M visualization students working at Pixar Animation Studios made major contributions to the summer blockbuster, "Brave."
Alumna heads award-winning
restoration of NYC row house

An 1889 row house in New York City's East Village with a striking façade has been restored to its former glory by Lorie Riddle '93 and a team from her firm, Superstructures Engineers and Architects. The project won an award from a New York conservancy group.
Alumnus recalls college days
in Texas Architect magazine

Frank Welch '51 recounts the emphasis on Modernism in Texas A&M's architecture program as well as learning experiences outside the classroom in the first chapter of his unpublished memoir, the cover story of the January/February 2012 issue of Texas Architect.
Former student touts dome
homes at California expo

Concrete dome homes could be widely implemented as the perfect solution to housing dilemmas throughout the world, said Douglas Stanton '82, a former Texas A&M environmental design student, at a May 2012 alternative building materials and design expo in California.
Former students touch base
with the College of Architecture

Former students are invited to submit items for our Class Acts features and news briefs, which highlight professional achievements, as well as news briefs about marriages, births, retirements and whatever else former students care to share with the college community. News and photos may be e-mailed directly to the editor.

Also online:

Former design student named
CEO of REES Associates Inc.


Recent BED grad helps design
education center in Rwanda

Former student's award-winning
blog pays homage to nerd culture

Campers create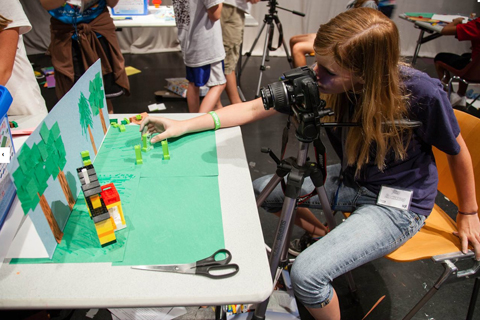 Kids had fun at Camp Arch and VizKids camps July 8-13 learning about careers in disciplines taught at the College of Architecture. Camp Arch students participated in workshops including drawing and design software and photography, took a tour of the Bonfire memorial and cooled off in a College Station water park. VizKids campers were introduced to visualization sciences with instructional, hands-on classes, enriching presentations by industry pros and fun social activities. see story and video.