Texas A&M at Qatar unveils
new mace designed by Hill

Texas A&M University at Qatar's new ceremonial mace, designed by Rodney Hill, professor of architecture at Texas A&M , made its debut during commencement ceremonies in Qatar May 5, 2011.
"As far as I can tell from the design research I did, this is the most elaborate university mace in the world," said Hill, who also carved the wood for the mace at his home woodshop. The mace leads the academic procession at commencement and other special ceremonial occasions.
It contains images that speak of the two institutions' past and present and features a quote from one of Qatar's leaders.
"The sharing of knowledge, ideas and values is the noblest way to transcend barriers," said Her Highness Sheikha Mozah Bint Nasser Al-Missned, who along with His Highness Sheikh Hamad Khalifa Al-Thani, Qatar's emir, are two of the university's major benefactors. The quote is on the mace in English and Arabic.


Viz students unleashed creativity at
Viz-a-GoGo 18 in downtown Bryan
Viz-a-GoGo 18, the 18th annual showcase of digital wizardry conjured by students in the Master of Science in Visualization program at Texas A&M University, returned to downtown Bryan in 2011 with screenings of student work at the Palace Theater and a weeklong exhibition May 2-7 in the old Texas Furniture Company building that featured student drawings, paintings, photography, multimedia installations and interactive games.
The May 6 screening coincided with Downtown Bryan's First Friday event, a celebration of the visual and performing arts that included art demonstrations and exhibits, horse-drawn carriage rides, live music and happy hour specials at the numerous restaurants and bars that dot the historic district.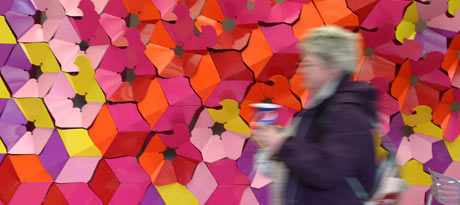 Students help artist-in-resident
change look of college eatery

The Azimuth coffee shop at the Texas A&M College of Architecture has gained a bold, new look from a permanent architectural installation designed by Elena Manferdini, principal of a Los Angeles firm specializing in the cutting edge of computer-aided design of exotic forms.
Friday evening, April 29, through Sunday, May 1, the Texas A&M student team who worked with Manferdini gathered to assemble and install the project on the wall and floor of the highly trafficked college eatery. Eugene Kosgoron, a representative from Manferdini's firm, was on hand to lead the installation effort with help from Jim Titus, supervisor of the college's woodshop.

Making a difference:
Former student creating professorship,
hosting dinner to honor John Only Greer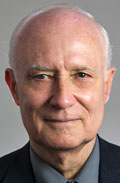 June 4 will be an evening of stories and celebration as former students, colleagues and friends toast retiring Texas A&M architecture professor John Only Greer '55.
Greer, a former department head, interim dean, executive associate dean, as well as mentor to generations of Aggie architects, retires in May after 49 years on the Texas A&M faculty.
Jim Snyder '78 is chairing the June 4 celebration of Greer's stellar career, as well as a fundraising effort to create the John Only Greer Architectural Heritage Professorship.

Research:
Three college profs edit
2010 preservation journal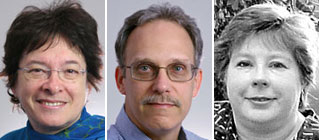 Together, three Texas A&M College of Architecture professors edited the latest issue of Preservation Education and Research, the academic journal serving the National Council for Preservation Education. The scholarly publication features peer-reviewed articles focused on heritage conservation education, research and scholarship.
The 2010 issue of PER, published in spring 2011, was edited by (pictured from the left) Anat Geva, associate professor of architecture, Kevin Glowacki, assistant professor of architecture and Nancy Volkman, associate professor of landscape architecture.
PER is published to improve historic preservation education programs and further the NCPE's mission — the exchange and dissemination of historic preservation education information and ideas.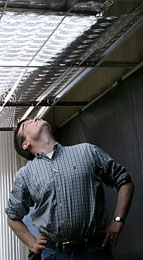 Solar Light Pipe team returns to
EPA sustainability competition
One year after their solar light pipe design — a system for transporting natural light into the interior of buildings — won the a national sustainability competition sponsored by the U.S. Environmental Protection Agency, the student team from the Texas A&M College of Architecture returned to the Washington, D.C. event to showcase their progress on the project.
Adjacent to the Solar Light Pipe team's entry at the 2011 EPA P3 competition, the Texas A&M College of Architecture hosted an exhibit showcasing the college's myriad sustainability research and educational initiatives.

Galveston newspaper columnist touts
Coastal Communities Planning Atlas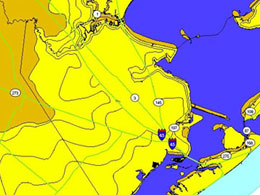 A Galveston Daily News columnist said an interactive, online atlas created from a database compiled by a research team at Texas A&M's Hazard Reduction and Recovery Center, has greatly increased the odds of reducing the risks of living in the island city.
The Coastal Communities Planning Atlas provides images of possible futures of coastal areas in Texas.
Users of the public site can drop one or many of the atlas' information layers two counties deep all along the Texas coast or pinpoint a spot by zooming in to a specific location. The HRRC gathered data sets such as hurricane storm surge zones, property values, elevation, dams, wetland permits and many more.

Ph.D. student examines housing's
effects on health care at seminar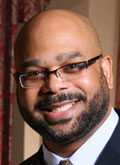 Although many health care issues stem from housing problems, related research is rare, said Ed Tarlton, an urban and regional science Ph.D student at Texas A&M during an appearance at a recent seminar.
Tarlton discussed the connections between housing and health at the Spring 2011 Visionary Scholar Seminar Series sponsored by the university's Center for the Study of Health Disparities.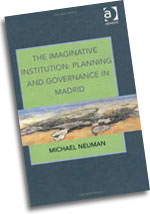 Neuman authors, co-edits
new urban planning books
Texas A&M urban planning professor Michael Neuman has authored a new book examining the city of Madrid';s 20-year urban planning cycle and co-edited another that eyes the future of urbanization.
In his new book, "The Imaginative Institution: Planning and Governance in Madrid," Neuman explores how Madrid's planners, mostly trained as architects, invented new images — tools that coordinated planning and urban policy — that were a cohesive force around which plans, policies and investments were shared in a complex, fragmented institutional millieu.

Ph.D. student eyes how modified
HVAC could lower electric bills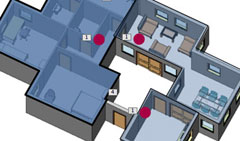 Simge Andolsun, a doctoral architecture student at Texas A&M, has received funding from an international technical society to research how a modified air-conditioning system could produce energy savings for low-income households.
Her study, which has received a two-year, $10,000 graduate student grant-in-aid award from the American Society of Heating, Refrigerating and Air-Conditioning Engineers, looks at a conceptual system that cools a home based on where its inhabitants are at different times of the day.

Fisk pens introduction to new book
heralding the best in 'green' design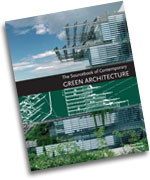 A new book featuring 100 of the world's most outstanding examples of environmentally-friendly architecture opens with an introduction from sustainability expert Pliny Fisk, a professor at Texas A&M's College of Architecture.
"The Sourcebook of Contemporary Green Architecture" by Sergi Costa Duran showcases "green" projects from prefab houses to public works, featuring designs from today's most provocative architects and firms, including Renzo Piano, Marc Opdebeeck, Charles Barclay, Mizien Arquitectura and Studio 804.

In the Studio:


From left, Hyeoncheol Jang, Aaron Ogletree of Prairie View A&M, Glen Mills, professor of architecture, Glenda Fletcher, Sean Howard, Ruben Esqueda, Liliana Esqueda and Akshay Sangolli are studying abroad in South Africa, developing plans for a starter campus and non-profit utility company. Photo by Akshay Sangoll.
Graduate students working on projects at
cutting-edge development in South Africa

Texas A&M College of Architecture students studying abroad in South Africa are designing a study center and developing a business plan for a nonprofit utility company while working on a groundbreaking real estate development located on the coast of the country's Eastern Cape.
Graduate students in the college's architecture and land development programs have spent the spring semester at Crossways Farm Village, a 1,400-acre residential development located on a dairy farm; the first project of its size in the country. They are collaborating with Chris Mulder and Associates, the award-winning architecture and land development firm that is designing and managing the project. The firm is led by Chris Mulder, an outstanding alumnus of the college who will be recognized this year as a Texas A&M Outstanding International Alumnus.



Detail from "Curvy Bending Grid" by Melissa Paniagua
Students exhibit installations,
model wearable architecture
In a room elaborately adorned with student-designed three-dimensional architectural installations, students from Weiling He's Texas A&M design studio recently donned their own designs — wearable structural forms — to put on a fast-moving fashion show for their peers.
Students in Meg Jackson's design studio created the 3-D designs that formed the backdrop for the fashion show. The fabricated installations, composed of interlaced module systems that formed structural surfaces, were suspended from the ceiling.
In the process, the students learned how surfaces define and create space.

Students, noted designers create residential
prototypes during inaugural Mitchell Lab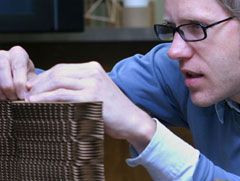 Third-year architecture students at Texas A&M developed residential housing prototypes during the spring 2011 semester with designers from two cutting-edge firms as part of the inaugural Mitchell Lab Visiting Designer Program.
The lab, a pilot project characterized as an extremely rigorous residential design studio, was made possible with funds from the $2.3 million Mitchell Initiative, a gift funded by the Bryan N. Mitchell family, owners of History Maker Homes in Fort Worth.
Over the course of the semester, Mitchell Lab students worked with noted designers Wonnie Ickx and Carlos Bedoya, two of the founding members of PRODUCTORA, a Mexico City-based firm, and Tom Wiscombe, principal of the Los Angeles firm EMERGENT.
Above: Wonnie Ickx, cofounder of the Mexico City-based firm, PRODUCTORA, examines a student model during the inaugural run of the Mitchell Lab Visiting Designer program.

Borlaug Institute officials eye student
designs for Sudanese health facility

Students in a Texas A&M architecture-for-health design studio presented designs concepts for Rehab Nova, a new multipurpose health training and agriculture facility to be located in southern Sudan during an April 20 event at the university's Norman Borlaug Institute for International Agriculture.
The new designs were a refinement of the southern Sudan project that students, led by George Mann, professor of architecture, began earlier this semester in a collaboration with the institute, which provides researchers, policymakers and university faculty from developing countries the ability to strengthen sustainable agricultural practices through scientific training and collaborative research opportunities.

Students engage in international
social media design experiment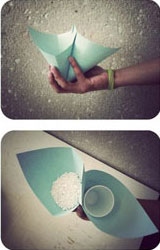 As part of a grand international design experiment in social media, students in a fourth-year Texas A&M design studio joined architecture students from around the globe in a ten-day collaboration with four top Italian designers that culminated in an April 15 exhibit at the world renowned Milan Design Fair.
The digital happening, "Design Royale," was dubbed by organizers as an "online workshop" and "party in progress," that used social media such as Twitter, Facebook and Skype, to involve more than 100 young designers on different continents in a series of design exercises aimed at testing a number of assumptions and ideas through rapid prototyping.

Landscape architecture students to help
create designs for Austin Formula 1 track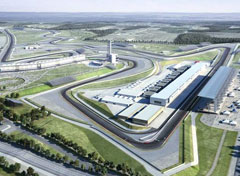 Landscape architecture students at Texas A&M will work with professional landscape designers this Fall in the construction phase of Circuit of the Americas, a $400 million, 1,100 acre motor sports race track, concert venue and conference center in Austin.
"This project provides a unique opportunity to mutually support our respective visions and missions," said Jorge Vanegas, dean of the College of Architecture. "Possible projects and studies at the facility can address any topic within the architecture, landscape architecture and urban planning, construction science or visualization knowledge domains."

Davison's students design light
sculptures for Langford C space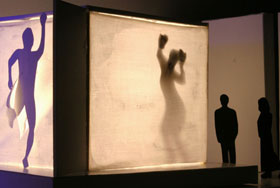 The glow of light sculptures designed by visualization students at Texas A&M partially lit a darkened exhibit hall in the Langford Architecture Center during a review April 11.Students led by Richard Davison, professor of visualization, designed the sculptures for the Langford C courtyard.
"They were trying to make the light intrinsic and essential to the sculpture, not just something with light on it," said Davison. "They were dealing with the idiosyncrasies of what happens to light when it's projected and reflected."

Students using recycled materials for
design-build project, shrines at ranch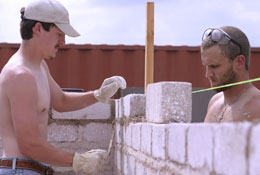 Design students led by Logan Wagner, assistant professor of architecture, are learning how to lessen the ecological impact of the construction process by erecting an experimental structure made of natural and recycled materials at the College of Architecture's Architecture Ranch at Texas A&M's Riverside Campus.
"The impact isn't limited to how much energy the building is going to use, but how much energy is being used to process the materials to create the elements that compose the building," said Wagner.

Students design temporary
home for space shuttle orbiter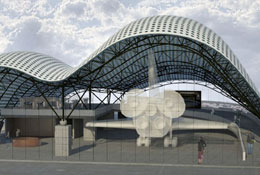 As part of its bid to offer a retirement home for the space shuttles Discovery or Atlantis, the Brazos Valley Museum of Natural History had Texas A&M students develop design concepts for a building to temporarily house the orbiter while a permanent structure was built.
Designs by Ingrid van Beljon, Dayna Finley and Maryam Rajabali were included as illustrations in an April 1, 2011 KBTX-TV story about the museum's campaign to land one of the space shuttles.

Film by visualization students wins
top spot at English animation festival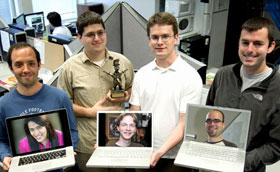 "The Bricklayer's Disaster," an animated short created by graduate students at Texas A&M's Department of Visualization, earned the 3D Animation Award at the Animex International Festival of Animation and Computer Games in Middlesbrough, England.
Jose Guinea Montalvo, Nathan Bajandas, Ariel Chisholm and Mathew Sanford (pictured standing) and Megha Davalath, Bobby Huebel and Robert Graf (pictured on the laptops) collaborated on the movie, the story of how a leftover load of bricks leads to one unfortunate consequence after another.

Mulholland instructs Oregon lighting
students during stint as Baker Chair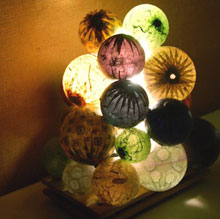 Dining tables at an upcoming International Association of Lighting Designers fund-raising event will be adorned with innovative light centerpieces made by students at the University of Oregon under the direction of visiting professor Jill Mulholland, a lecturer at Texas A&M's College of Architecture.
Mulholland was in Oregon January – March 2011 as the Fredrick Charles Baker Distinguished Visiting Chair in Light and Design.

Students' Rhine riverfront redevelopment
designs wow Bonn, Germany mayor, staff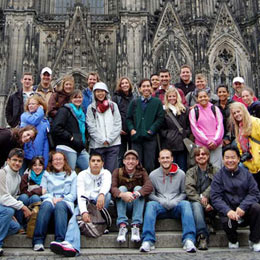 Texas A&M's College of Architecture students studying in Bonn, Germany during the fall 2010 semester impressed the city's mayor and staff with their presentations of a master plan and detailed site plans for a 10-km redevelopment along the Rhine River.
"They really liked the quality of the work and their understanding of the local culture in their designs," said Chang-Shan Huang, associate professor of landscape architecture, who led the students' efforts.

Academics:
Aggie team reaches semifinals of
social entrepreneur competition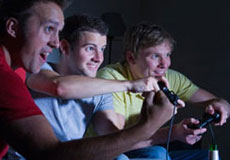 A team from Texas A&M reached the semifinal round of a worldwide competition seeking university students' ideas to solve social and environmental problems.
Their idea for the contest, the Dell Social Innovation Competition, involved kids trading points they'd earned playing video games for donations to charitable causes.
Texas A&M was a university partner in the competition, one of 100 higher education institutions selected by Dell as leaders in teaching social entrepreneurship and supporting student entrepreneurs.


From left: competition team members Josh Fluker, Matt Luchak, David Claros, Sam Garrett, James Goss, Charles "Chip" Myers and Ethan Cook
Construction science students
succeed in Feb. 14 competition
Construction science students at Texas A&M developed construction plans for an Austin theater to finish second in a field of 11 teams at an Associated Schools of Construction Region V student competition held Feb. 14 in Dallas.
The 7-student team was coached by George Eustace, senior construction science lecturer, and sponsored by Joeris General Contractors, Inc.
The ASC contest was sponsored by TEXO, an association representing general contractors in North and East Texas that works to build a unified construction community by promoting loyalty and leadership.TEXO is Latin for "to build, to weave, and to construct."

Construction science students present
industry ethics papers to panel of pros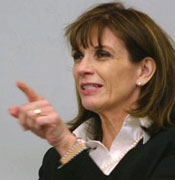 For a class exercise, third year Texas A&M construction science students grappled with industry ethics issues then faced a panel of industry professionals and a nationally renowned business ethics expert who peppered them with questions about their responses to ethical quandaries.
Initially working on the assignment in teams of four, students in a Construction Industry Professional Studies class identified and developed responses to ethical predicaments presented in a hypothetical scenario.
Above, business ethics expert Marianne Jennings poses a question to construction science students. She later spoke at the construction science awards banquet.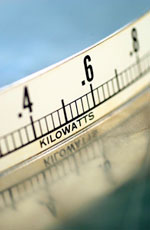 Students conduct energy audit of
Neeley Hall for national contest

Members of the Texas A&M student chapter of the National Electrical Contractors Association conducted an energy audit of Neeley Hall, a campus dormitory, as part of their competition entry in the NECA's annual 2011 Green Energy Challenge.
Their audit and recommendations were submitted to the NECA competition, which challenged students to identify and submit a proposal for a campus building in need of an energy efficiency overhaul.

Documentary filmmakers discuss
their work with architecture profs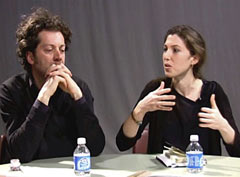 A video interview with internationally renowned film documentarians Ila Bêka and Louise Lemoine, taped prior to a screening of their internationally acclaimed film, "Koolhaas HouseLife," part of the Department of Architecture's Spring 2011 Lecture Series, is now available on the College of Architecture's vimeo website.
Bêka and Lemoine, co-founders of BêkaFilms, were interviewed Feb. 28 by Peter Lang, associate professor of architecture, and Jasmine Benyamin, assistant professor of architecture, in the Viz Lab's studio A at Langford Architecture Center.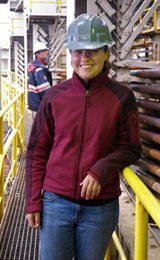 Visualization student's video
appears on The History Channel
A video created by Stephanie Keske, a graduate visualization student at Texas A&M, was part of a History Channel program that documented scientists' and explorers' encounters with the deep sea and the earth underneath it.
The show, "Journey to the Earth's Core," which premiered March 23, included a summer 2010 mission of the 470-foot research ship JOIDES (Joint Oceanographic Institutions for Deep Earth Sampling) Resolution off the coast of British Columbia, where a group of scientists installed long-term borehole observatories a mile and a half under the ocean's surface.
Keske's animated video describes how scientists install the observatories, use them to study the ocean's crust deep below the sea floor and gives an in-depth look at their components and scientific instruments.

Professor pieces ancient history together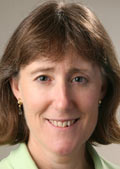 The age and amount of research conducted at the Athenian Acropolis might leave many under the impression that archaeologists have uncovered all there is to be known about the marveled structure. One Texas A&M professor and architectural historian, Nancy Klein, received a $10,000 research grant from the University's Division of Research and Graduate Studies to effectively counteract this idea.
"We can always take another look. The greater the depths of research, the more questions arise," Klein said. "The focus of my project is to provide information beyond the technical history and simply reconstructing what the structures originally looked like. If more research is done, we can figure out how the buildings were actually built — how the blocks were cut, designed and fit together."

Honors / Accomplishments:
Varni's research earns award from
The Association of Former Students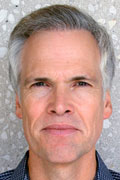 For research that has helped improve the lives of children with chronic diseases throughout the world, James Varni, a professor in the Department of Landscape Architecture and Urban Planning at Texas A&M, has earned The Association of Former Students' 2011 Distinguished Achievement Award for Research.
Varni developed PedsQL, a quality of life measurement method used throughout the world, that can be performed by children as young as five with severe chronic conditions such as cerebral palsy and brain tumors.

Rodney Hill named Piper Professor
by Minnie Stevens Piper Foundation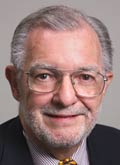 Rodney Hill, professor of architecture at Texas A&M, added another award to his lengthy list of teaching honors May 2 when he was named a Piper Professor by the Minnie Stevens Piper Foundation.
Hill was one of ten academicians receiving the 2011 award, which includes a $5,000 honorarium. The honorees were selected by the Piper Foundation from nominations of superior educators submitted by Texas college and university presidents.

Thesis on effective logo design garners
kudos for environmental design scholar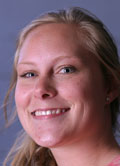 Now that her senior thesis examining why great logos are memorable was named one of the year's best undergraduate scholarly works at Texas A&M University, senior environmental design major Lori Lampe of Sherman, Texas said her next major undertaking — the true culmination of her academic endeavors — will be landing a job as a graphic designer or working for an architecture firm.
But before graduating, Lampe, an undergraduate research scholar, will be honored for her academic prowess by the Office of Honors & Undergraduate Research in a special Scholars Reception slated for 4 p.m. Thursday, May 12 in the Interdisciplinary Life Sciences Auditorium.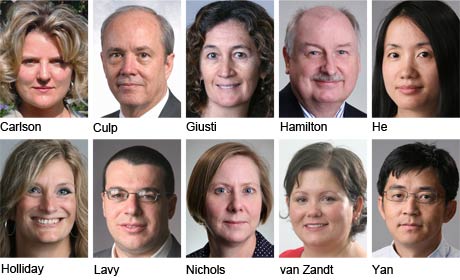 College of Architecture promotes 10 educators
For outstanding teaching and research-based contributions to their respective disciplines, 10 Texas A&M College of Architecture faculty members have earned promotions.
"They have empowered and emboldened students through their dedication," said Lou Tassinary, executive associate dean at the college. "They have developed innovative teaching techniques, partnered with industry, published books and generated many new research ideas, securing private and public funding to pursue them."

Two retiring profs honored with April 15
reception at Langford's Wright Gallery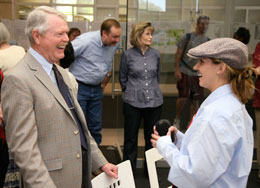 Two retiring educators at Texas A&M's College of Architecture who helped mold generations of landscape architects and urban planners while amassing more than 80 years of combined service were honored at a May 15, 2011 reception in the college's Wright Gallery.
As a room packed with well-wishers looked on, Michael Murphy (pictured above, left) and Donald Sweeney were lauded by colleagues during a program led by Forster Ndubisi, head of the Department of Landscape Architecture and Urban Planning.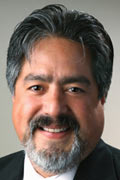 Master teacher article, video
focuses on Jorge Vanegas
Don't call him a teacher, says Jorge Vanegas, professor of architecture and dean of the College of Architecture at Texas A&M in an article on the Texas A&M News & Information Services website.
"I don't teach. I design learning environments. My primary job is to unleash the individual creative potential within every student, no matter what their background or major," he said.
Vanegas is featured in an article and new video produced by the Center for Teaching Excellence.

Vigus' students nab top spots in
Nikon-sponsored photo contest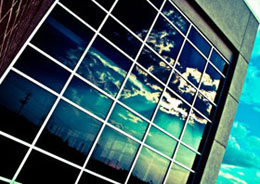 Nine photographers selected as finalists from more than 3,500 entries in a national contest were students in a fall 2010 digital photography class at Texas A&M taught by Glen Vigus, lecturer and senior visualization production specialist for the Department of Visualization.
Finalist in the contest, The Best of College Photography 2011, sponsored by Photographer's Forum magazine and Nikon, included Texas A&M students Kayla Alford, Jared Egli, Jack Eggebrecht, Sarah Eisinger, Bilal Farrakh, Jesus Gutierrez, Brittany Hawthorne, Tyler Hosea and Claudia Rodriguez.
Above: Photo by Bilal Farrakh

Construction science major voted most
outstanding senior in corps of cadets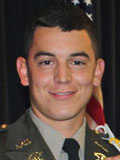 Benjamin Ramos, commanding officer of Company A-2 in Texas A&M's Corps of Cadets and a senior construction science major, has received the corps' James Earl Rudder Outstanding Senior Award.
Voters from the corps' senior class selected Ramos as the cadet they felt had the utmost integrity and character and was the best role model for underclassmen and peers.

Class Acts:
Class Acts: Former students
touch base with the college

Catch up with your old classmates in the archone. newsletter's Class Acts section, a regularly updated list of recent activities reported by former students of the Texas A&M College of Architecture. Class Acts highlights professional achievements, as well as marriages, births, retirements and just about anything College of Architecture graduates care to tell their old friends.
In addition to the former student news briefs listed by class year, each semester's Class Acts section also offers more detailed features on former student activities.
The college encourages former students to use Class Acts to report news of interest or professional achievements and to update their contact information so they keep abreast of college activities of interest to them.
Former students can report news and update their contact information online at archone.tamu.edu.
While there, please remember to enter your current e-mail address. To save funds, as well a few trees, the college is relying more and more on electronic communications.


Former visualization student helps
establish the 'look' of ILM's 'Rango'
In the computer-animated movie "Rango," dusty, sun-baked talking creatures and the mythical town of Dirt have a realistic look thanks in part to Kevin Reuter, one of the movie's two look development supervisors and a former student of Texas A&M's College of Architecture.
In look development, animators create different looks for characters or surfaces based on whether they're metallic for instance, or have fur or feathers and their different reactions to light, said Reuter, who began working at Industrial Light and Magic, a division of Lucasfilm Ltd., in 1995. After four years at ILM, he returned to Texas A&M to finish and defend his thesis, graduating in 1999 with a Master of Science in Visualization Sciences.
"Rango," directed by Gore Verbinski, is the story of an "ordinary" chameleon who accidentally winds up in the town of Dirt, a lawless Wild West outpost in desperate need of a new sheriff.

Harold Adams '61 honored as
Texas A&M distinguished alum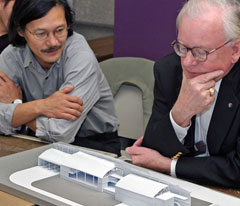 Just four months after graduating from Texas A&M in 1961 with a degree in architecture, Harold Adams (pictured far right), named a 2011 Distinguished Alumnus by The Association of Former Students, was working in Washington D.C. with president John F. Kennedy and Jacqueline Kennedy on federal building projects.It was only the beginning of Adams' five-decade career as one of the world's most influential and respected members of the architecture community.
The American Institute of Architects awarded Adams, who retired in 2003, with two of its highest honors, the Kemper Medal, for his leadership in the profession, and membership in its College of Fellows. He was also honored with the Society of American Military Engineers' inaugural Max O. Urbahn Medal for achievement in architecture and is an outstanding alumnus of Texas A&M's College of Architecture.

The Association of Former Students honors
Mulder as Outstanding International Alumnus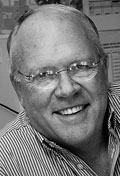 A reception and dinner April 26 hosted by The Association of Former Students at Texas A&M honored Christiaan Mulder '80, one of South Africa's top environmental designers and planners and an outstanding alumnus of the College of Architecture.
"Dr. Chris Mulder's innovative approach to managing conservation and development projects has set new global standards for the creation of sustainable living environments," stated the letter from the Texas A&M College of Architecture nominating him for the award.

Makers of the Glif develop new
iPad stylus called 'The Cosmonaut'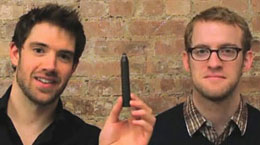 Dan Provost and Thomas Gerhard, two former Texas A&M design students that created the hugely successful Glif stand and tripod mount for the iPhone 4, are back with a new project: a stylus called The Cosmonaut that works with Apple's iPad and other touchscreen devices.
"We love to sketch out quick ideas or doodle on our tablets, and using a stylus is much better than a finger for such tasks," they said on the Cosmonaut home page. "It's comfortable to hold and effortlessly glides over the glass surface of the tablet. It just feels right."

Also online:
Lang co-curates exhibit at Swedish
museum of radical Italian design
San Antonio-based landscape architect
discusses three decades of projects
Environmental design student wins
national clay shooting championship
Digital fabrication expert leads
workshop as artist in residence
College of Architecture commencement
slated for 2 p.m. May 13 in Reed Arena
Viz student's photo wins
'Aggies Go Far' contest

College assistant dean quoted
in Soltis research center video
Winning student art contest
work displayed in 2 galleries
Eastwood earns staff award from
The Association of Former Students
College dean, staff honored
as Fish, T-Camp namesakes
Department of Construction Science
hosts students from San Antonio
Outstanding alumnus addresses audience
at San Francisco technology conference
Student research highlighted at
construction science symposium

Retirement event honors careers of
three senior architecture professors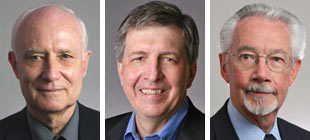 Friends, colleagues and former students of three retiring architecture professors, John Only Greer, Roger S. Ulrich and David G. Woodcock, gathered May 10 at the University Club to celebrate the trio's combined 110 years of teaching, research and service at Texas A&M University.
Greer, holder of the Wallie E. Scott Endowed Professorship of Architectural Practice and Management and a distinguished alumnus of the Texas A&M College of Architecture, has served on the faculty since 1962. Ulrich, who is internationally renowned for research informing modern health facility design, is a professor in the departments of Architecture and Landscape Architecture and Urban Planning and holder of the Julie and Craig Beale Endowed Professorship in Health Facilities Design. He has served on Texas A&M's faculty since 1988. Woodcock, who joined the Texas A&M faculty in 1962, is the director emeritus of the Center for Heritage Conservation, which he established in 1991 as the Historic Resources Imaging Laboratory.

A&M architecture professors' portraits honor
playwright, professor, racial unity advocate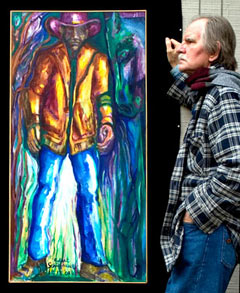 "Legacy of a Seer," an exhibition of portraits of the late Pulitzer Prize winning playwright and Texas A&M professor Charles Gordone, painted by Robert Schiffhauer, associate professor of architecture, will run May 5 – 21 in the Wright Gallery, located on the second floor of Langford Architecture Center's Building A.
The paintings and drawings, in media ranging from brilliant acrylic to muted charcoal, explored the life of a man Schiffhauer had known only from photographs, newspaper clippings and through a recent friendship with his widow, Susan Kouyomijian Gordone.

Outstanding alumnus Mulder
lectures, leads design charrette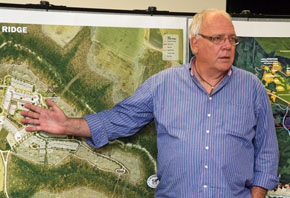 Chris Mulder '80, an outstanding alumnus of the College of Architecture and one of South Africa's top environmental designers, lectured about his firm's newest trend-setting concept and led a design charrette during a recent visit to College Station.
In his April 24 lecture, Mulder discussed his firm's Crossways Farm Village, a housing development in South Africa located on a dairy farm, and the growing support for the concept of rural living in an agricultural environment.
Mulder also lead "Planning and Design Process: A Workshop Charrette" with his son and business partner, architect Steff Mulder,on April 27.

Le Corbusier's last living protégé
Oubrerie delivers Giesecke Lecture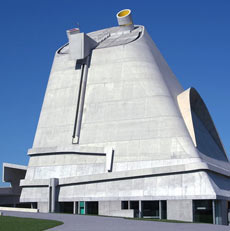 Jose Oubrerie, the last living protégé of Le Corbusier, one of Modern architecture's major figures, appeared March 28 as part of the Texas A&M College of Architecture's Dr. F.E. Giesecke Lecture Series, honoring the founder of the university's architecture program.
Oubrerie worked in Le Corbusier's office 1957–1965, collaborating with his mentor, one of the 20th century's most important architects, in the last years of his life. Oubrerie was the chief designer of Saint-Pierre de Firminy Church in Fiorminy, France.


Islamic architecture scholar
discusses use of muqarnas

Visiting Jordanian scholar Mohammad Yaghan lectured on muqarnas, a type of corbel that is one of the most distinctive elements of Islamic architecture, as part of the Melbern G. Glasscock Center for the Humanities Notable Lecture Series.
Yaghan developed a set of mathematical tools that transcend disciplinary boundaries between the humanities and sciences by offering important insights into the sacred geometries that inform the living typologies, morphologies, aesthetics and historical contexts for muqarnas design.

Aggie tells students how he
aided rescue of Chilean miners
Greg Hall '82, talked about developing the plan that freed 33 trapped Chilean miners in October 2010, during several March 22 lectures at the Langford Architecture Center.
Hall, who graduated from Texas A&M with a degree in engineering technology, owns Drillers Supply SA in Chile, Drillers Supply International in Houston and DSI American Manufacturing in Minnesota.



Benjamin Ball and his design partner Gaston Nogues recently completed "Cradle" – a giant Newton's Cradle made of stainless steel spheres hanging from cables on the wall of a Santa Monica parking structure designed by Frank Gehry.

Architecture lecture series features
academics, filmmaker, design blogger

Some of the architecture world's leading lights shared their knowledge and experiences in the Spring 2011 Department of Architecture Lecture Series.

The Spring 2011 lecture lineup featured:

Historic Preservation Symposium
focused on adaptive reuse research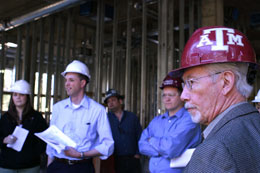 Texas A&M's Center for Heritage Conservation focused on the adaptation of old structures for new purposes during "Adaptive Reuse: Architecture as Found Object," the 13th annual Historic Preservation Symposium Feb. 25 and 26 at the Langford Architecture Center's Preston Geren Auditorium.
The symposium began as attendees toured an example of adaptive reuse on the Texas A&M campus: the YMCA building, which McCoy, principal of Quimby McCoy Preservation Architecture, is overseeing.
The tour was followed with a public keynote address by K.T. Ravindran, head of the Department of Urban Design in the School of Planning and Architecture in New Delhi, India.

Langford guardians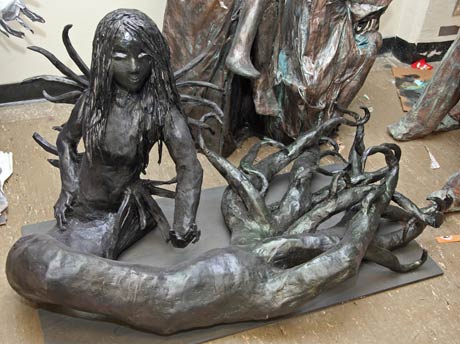 A menagerie of phantasmal creatures realized in paper-mache by first-year visualization students populated the Viz 106 design studios on the third floor of the Langford C buiilding as the spring 2011 semester drew to an end. Students were asked to conceptualize a "guardian creature" then render its likeness in paper-mache. The challenge, however, was for the final sculpture to appear as if it was made from an alternative material, such as stone, wood or metal; a material that made sense with the form and culture from which the character arose. Dick Davison, professor of visualization, and his graduate assistant, Natalie Pittman, a third-year MS Visualization student, led the studios. See photos