Former student helps design
kinetic installation for MSC
A high-tech, permanent installation for the newly renovated Memorial Student Center portraying Texas A&M students past and present, designed in part by a former environmental design student, will debut in December.
"Memory Cloud," a hanging sculpture designed by Andrew Vrana '93, a principal partner at METALAB, with collaborators from his firm and RE:site, a practice specializing in architectural installations, consists of 4,000 individually controlled LED nodes embedded within transparent tubes of various lengths that will display 3-D silhouettes in real time and from days past.
Cancer claims beloved Santa
Chiara Study Center director

The world just got a little less interesting, concluded a Monday, April 9 email from Rome announcing the passing of Paolo Barucchieri, longtime director of Texas A&M's study abroad program in Italy and beloved figure to the hundreds of Aggies who studied there over the last three decades.
Viz students unleash creativity at
Viz-a-GoGo in downtown Bryan

Was it Professor Plum in the conservatory with a wrench? You'll get a "Clue" as the board game-styled murder mystery unfolds during interstitial segments of Viz-a-GoGo 19, the annual showcase of digital wizardry created by students in the Master of Science in Visualization program at Texas A&M.
Department of Architecture to
celebrate culture of excellence

"The Celebration of Excellence," a new Department of Architecture event recognizing outstanding student and faculty achievements, will include a juried evaluation of the year's top five graduate final study projects, culminating with the presentation of a "Best of the Best Award" for the winning work.
Aggie Reception set for AIA
conference in Washington, D.C.

Texas A&M former students and friends are invited to join their former classmates and professors at the annual Aggie AIA Reception to be held in conjunction with the American Institute of Architects' 2012 national convention in Washington, D.C.

Research:

Student eyes daylight's effects on health providers
The effects of daylight on healthcare workers and the care they provide, and how that impacts operating costs at health facilities, are the focus of an award-winning investigation by Rana Zadeh, a Ph.D. architecture student at Texas A&M.
Solar light pipe project entering
second phase of development

An award-winning solar light device developed at the Texas A&M Department of Architecture that can significantly reduce electric bills by delivering a bounty of natural sunlight deep into the interior of a building, will soon enter a new phase of development at the College of Architecture's Digital Fabrication Facility.
Interdisciplinary green roof effort
to engage variety of students

Next fall, students from a variety of academic programs at Texas A&M University will begin collaborating on an interdisciplinary, three-year project to install and monitor a green roof and living wall atop a campus building.
Study: 'green' and evidence-
based design compatible

Evidence-based design and eco-effective, or sustainable, design are fundamentally compatible despite some conflicts, concluded Mardelle Shepley, professor of architecture of Texas A&M, in a research paper she's presenting this May at a conference in Beijing, China.

Also online:

Planning profs' book addresses
key transportation questions

CHSD 'boot camp' schools pros on
evidence-based design principles

In the Studio:

Students dominate healthcare design competition
Environmental design student teams from Texas A&M swept a national design contest, winning first-, second-, and third-place awards, as well as honorable mention with plans for renovating a skilled nursing facility in Jacksonville, Florida.
Art and technology merge in
students' design exploration

Working under the tutelage of an algorithmic design expert and an aerospace engineer, students in an experimental design studio at Texas A&M recently created prototypes for two unconventional home exteriors fabricated from innovative composite building materials.
Students design healing center
concept in marathon charrette

Texas A&M graduate architecture students impressed a design jury at a 2011 Nashville healthcare design conference with their concept to convert an antiquated public health facility to a holistic healing center for "everyday athletes."
Students imagine healthcare
design, research center

Student-designed concepts that imagine the future of health facility design education and research at Texas A&M University and the facilities to house those initiatives will be exhibited and discussed in a public review set for , April 25 in Langford A.

Also online:

Students design health, wellness
center serving under, uninsured

Students' design to help firm
envision new children's hospital

Academics:

Interdisciplinary projects include Viz, LAND students
Visualization and landscape architecture students will be working with counterparts from numerous other disciplines working on groundbreaking projects made possible by a new interdisciplinary initiative at Texas A&M.
Students and faculty will be laying the groundwork for 3-D reconstructions of museum collections, landscapes and entire cities, expanding the possibilities of interactive art through technology research, curating an audiovisual exhibit as well as installing and monitoring a green roof and living wall on campus.
LAUP offering online
courses this summer

This summer, for the first time, the Department of Landscape Architecture and Urban Planning is offering five undergraduate classes online.
Students can register for via the Howdy Web Portal and departmental advisers can answer students' questions about the coursework.
Panel hears CoSci students
resolve ethical quandaries

Ethical quandaries were woven into a scenario presented to third-year construction science students at Texas A&M who where tasked with identifying and addressing the tricky predicaments in oral presentations before a panel of industry professionals.
CoSci students get up-close look
at contractor procedures on tour

Two leading contractors and a company that's been manufacturing bricks for more than a century gave 160 upper-level construction science students at Texas A&M a close look at their operations during daylong construction site tours in Houston and Austin March 30.

Also online:

AC, LEED GA credentials benefit
construction science graduates

Honors / Accomplishments:

MLA students' downtown concept wins ASLA award
A College Station area consisting of strip malls and parking lots would become a pedestrian-friendly, mixed-use, downtown core in an award-winning master plan proposed by Master of Landscape Architecture students at Texas A&M.
Solar-powered umbrella design
places 3rd in national contest

A solar-powered beach umbrella capable of powering portable electronic devices, built by a team of students in the fall 2011 Design Process class at Texas A&M, recently earned third place in the nationwide Innovative Design Competition sponsored by Ascent Solar Technologies, Inc.
Mann elected director of global
health care architecture group

As the new director of the International Union of Architects Public Health Group, George J. Mann, professor of architecture at Texas A&M, said he will advocate heightened patient care, improved health care access and availability, and quality, affordable health facilities worldwide.
Former student group honors
Smith for teaching excellence

James Smith '70, professor and former head of the Department of Construction Science at Texas A&M University, was among 24 university faculty and staff members to receive a 2012 Distinguished Achievement Award from the Association of Former Students at an April 25 ceremony at Rudder Theatre.
MSLD student's book details how
to meet rising college expenses

Strategies to pay for a college education are detailed in a new book written by Ethan Brisby, a student in Texas A&M's Master of Science in Land Development program.
Master of Architecture student
named WHR Tradewell fellow

As the 2012-13 WHR Architects Tradewell Fellow, Akshay Sangolli, a graduate Texas A&M architecture student, will work on some of the firm's upcoming projects alongside some of the nation's leading healthcare facility design professionals.
New York Times story features
Fairey's Peckerwood Garden

The New York Times featured Texas A&M architecture professor John Fairey's beloved Peckerwood Garden, a 39-acre living repository of rare and unusual plants from the southern United States and Mexico, in its April 18 issue.
Endowed MLA scholarship
honors professor's parents

A scholarship endowment funded over the last 18 years by community outreach projects undertaken by students in professor Jon Rodiek's Master of Architecture reached fruition last fall, providing scholarships totaling $14,000 for eight new MLA students.

Also online:

Culp assumes at-large post on
ASHRAE Board of Directors

Students' functional wall design
selected for show by voters

Design Process student wins
national ideas competition

Students thank scholarship
benefactors, college patrons

Events:

Davison's art ponders the ethereal at Dallas museum
Ethereal places blending fantasy- and science fiction-like imagery with the divine embody the art of Dick Davison, a professor of visualization at Texas A&M whose work is being shown at Dallas gallery through June 22, 2012.
CoSci students see alternative
scenarios for Houston's future


Construction science students at Texas A&M recently got a peek at two alternative futures for the city of Houston in the year 2040 during a video presentation showcasing future scenarios imagined in a two-year research project undertaken by the Center for Houston's Future.
Acclaimed architect Ted Flato
keynotes 2012 Rowlett Lecture


Ted Flato, founding principal of Lake|Flato, a widely acclaimed, award-winning architecture firm based in San Antonio, discussed the firm's culture, tactics and philosophy at the 2012 John Miles Rowlett Lecture Series April 13 at Rudder Theatre on the Texas A&M campus.
Vanegas keynotes IAHS World
Congress on Housing in Istanbul


Addressing the 38th IAHS World Congress on Housing last April in Istanbul, Jorge Vanegas, dean of the Texas A&M College of Architecture, discussed global solutions to meet the need for quality, affordable, sustainable, high-performance housing.

See story | Also see: Vanegas moderates 'green' panel in Cannes
Viz undergrads showcase work
in May 2 art, animation exhibit


Art and animations created by undergraduate visualization students will be showcased May 2 in a semester-culminating exhibition at the Langford Architecture Center.
Spring architecture lectures
feature designers, academics


Videos featuring presentations by a diverse group of architectural luminaries who participated in the Department of Architecture's Spring 2012 lecture series are available online. Speakers include: Lars Lerup, professor of architecture, Rice University; Rick Lowe, founder of Project Row Houses; John McMorrough chairman of University of Michigan's Taubman College of Architecture and Urban Planning; Miguel Roldán, professor of architecture and founding principal of R+B Architects; Yasufumi Nakamori, associate curator of photography at Houston's Museum of Fine Arts; Edward Kim, lead designer, Xefirotarch; U.K. design educators Karin Jaschke and Jon Goodbun; and Roland Snooks, design director, founding partner of Kokkugia.

Class Acts:

Aggie-founded arch. program thriving in Bangladesh
More than 50 year's ago two adventurous members of the architecture faculty at Texas A&M University traveled with their families and an associate to South Asia to establish the first architectural education program in East Pakistan, now Bangladesh.
Visualization former students at
ILM help earn Oscar for 'Rango'

And the Oscar for Best Animated Feature goes to … "Rango," the first feature-length animated movie created by the digital wizards — including eight former Texas A&M MS Visualization students — at Industrial Light & Magic.
'Better dollhouse' designed by
former student available soon

Lille Huset, a line of eco-friendly, modular mini dollhouses designed by a former environmental design student at Texas A&M, will soon begin production thanks to an online fundraising campaign.
Former student designs
Olympic equestrian venue

The grace and power of equestrian events at this summer's Olympic games in London will be showcased in a venue designed by Charlie Kolarik '04, a Texas A&M Master of Architecture graduate.

Also online:

Galveston News columnist lauds
Aggie landscape architect Gripon

Former student wins forestry
association award for design

Dino on the move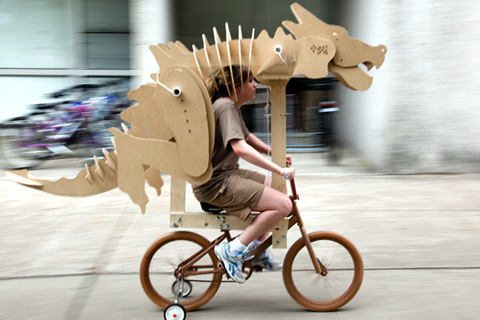 Work by undergraduate visualization students will be on display at the Langford B exhibit hall and throughout Langford C's public spaces May 2, including this piece from a movement studies exhibit earlier this semester. More of the "Movement Studies" that spawned the mobile dinosaur can be viewed on the the Department of Visualization's website.