Adrian Smith visits students,
presents Rowlett Lecture

Adrian Smith '66, designer of the world's tallest building and partner in a firm dedicated to the design of high-performance, energy efficient and sustainable architecture on an international scale, was featured at the 2011 John Miles Rowlett Lecture Series. The event is hosted annually by the CRS Center for Leadership and Management in the Design and Construction Industry.
He is widely reputed as the leading authority on supertall buildings, said Valerian Miranda, CRS Center director. Smith, who studied architecture at Texas A&M from 1962 – 66, was presented with an Aggie ring from The Association of Former Students after his lecture.
Above: Surrounded by classmates, internationally renowned architect Adrian Smith examines the Aggie Ring presented to him by The Association of Former Students after his presentation at the Feb. 18, 2011 Rowlett Lecture at Rudder Theater. Smith, a founding principal of Chicago-based Adrian Smith + Gordon Gill Architecture, is known for his super-tall, sustainably designed buildings. At left is John Only Greer, one of Smith's architecture professors.

Prof, two former students
among newest AIA Fellows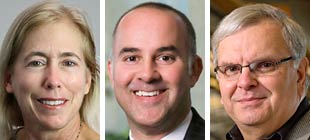 One faculty member and two former students of Texas A&M's College of Architecture have been elevated to membership in the American Institute of Architects' College of Fellows, one of the highest honors the AIA bestows upon its members. AIA Fellows are selected for making significant contributions to architecture and society.
Mardelle Shepley, holder of the William Peña Endowed Professorship in Information Management at the Texas A&M College of Architecture, will join former students Brian Malarkey '91 BED and David Thompson '72 BED and '74 MARCH at the May 13 FAIA investiture during the 2011 National AIA Convention and Design Exposition in New Orleans.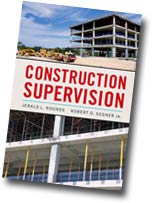 Segner pens book aiding
construction managers
"Construction Supervision," a new book co-authored by Bob Segner, professor of construction science, is aimed at preparing construction supervisors for any worksite situation they might encounter.
The book, based on a successful training program by Segner, is co-authored by Jerald Rounds, professor of civil engineering at the University of New Mexico. It covers all situations a manager is likely to encounter on a commercial, industrial or institutional construction project.


Four CHC faculty fellows, one alum listed among
25 most influential people in healthcare design


Healthcare Design magazine's editorial board and staff and the publishing staff at the Center for Health Design, whose members advance the idea that design can be used to improve patient outcomes in health care environments, have compiled a list of the 25 most influential people in healthcare design in 2010.

According to Healthcare Design the list is a "who's who" of the health care design industry including architects, interior designers, academics and researchers.

In the order pictured above, the 2010 list of most influential people in healthcare design recognizes:
Kirk Hamilton, associate professor of architecture, No. 3;
George J. Mann, professor of architecture, holder of the Skaggs-Sprague Endowed Chair in Health Facilities Design, No. 13;
Mardelle Shepley, professor of architecture, holder of the William H. Peña Endowed Professorship in Information Management, director of Texas A&M's Center for Health Systems and Design, No. 18;
Roger S. Ulrich, professor of architecture, holder of the Julie and Craig Beale '71 Endowed Professorship in Health Facilities Design, No. 10 and
Craig Beale '71, executive vice-president, HKS Inc., No. 16.

Making a difference:
Alpha Facilities endows new fund benefiting
CRS Center's Facility Management program

An endowment recently established by a former student will enhance the ability of a Texas A&M's College of Architecture research center to connect academia with the facility management industry.
With a $25,000 gift to the CRS Center for Leadership and Management in the Design and Construction Industry, John Garcia, who earned a Bachelor of Environmental Design degree in 1983 and a Master of Architecture degree in 1985, established the Alpha Facilities Solutions Excellence Endowment. The donation will support facility management teaching, research and outreach, as well as the center's Graduate Certificate in Facility Management program.

Outstanding alumna establishes new
construction science endowment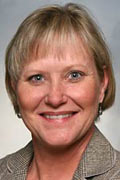 Helen Keaton '85, an outstanding alumna of Texas A&M's College of Architecture, and her husband, Glen, recently endowed a new scholarship benefiting students pursuing an undergraduate degree in construction science.
Keaton, who earned a Bachelor of Building Construction degree at Texas A&M and who currently serves as vice-president of estimating and preconstruction services for Joeris General Contractors in San Antonio, was recognized as an outstanding alumna in October 2010. By overseeing Joeris projects from concept development to the bid process, she has helped Joeris become the San Antonio area's second-largest contractor with a yearly volume of $250 million.

Research:
TAMU-G research team to use
NASA satellite imagery to eye
coastal carbon sequestration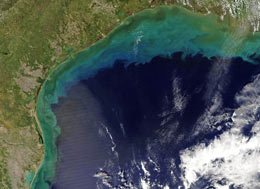 Funded by a two-year, $400,000 NASA grant, a Texas A&M at Galveston research team is investigating the amount of carbon sequestration capacity lost over the last decade from alterations to naturally occurring estuarine wetlands along the Gulf Coast.
The multidisciplinary study, lead by principal investigator Patrick Louchouarn, associate professor of marine science, will examine relationships between carbon sequestration, coastal wetlands and changes in land use.

Klein's Athenian Acropolis research garners
$10K grant for its intrinsic scholarly potential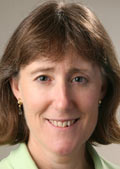 For the scholarly potential of her research focusing on the sacred architecture of the Athenian Acropolis, Nancy Klein, a Texas A&M architectural historian, recently garnered a $10,000 research grant from the university's Division of Research and Graduate Studies.
The grant, awarded through Texas A&M's Program to Enhance Scholarly and Creative Activities, will fund Klein's study of architectural development on the Acropolis during the fifth and sixth centuries B.C.

Rogers' students to survey social, economic
effects of pumping water from Lake Conroe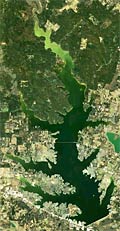 Students in Texas A&M's Ph.D. program in Urban and Regional Sciences are conducting a study to project the potential economic effects on the Lake Conroe area when, beginning in 2016, some of the lake's water is used to supplement the region's water supply.
In the Feb. 1, 2011 issue of the Courier of Montgomery County, Howard Roden reported that students will conduct a 16-month survey, funded by the Lake Conroe Communications Network, to forecast the effect on property values, sales tax revenue and employment after the San Jacinto River Authority begins pumping water.
According to George Rogers, coordinator of the Ph.D. program, the economic study will include surveys providing "real behavioral data" obtained from a survey of randomly selected study participants.

Article makes case for protection of
historic stone walls in North America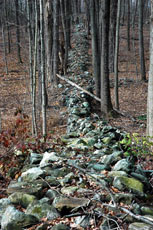 An article published in the current edition of Preservation Education & Research argues that preservation ordinances should be interpreted to include the protection of historically significant stone walls in North America, which are being deconstructed at an alarming rate to support commercial demand for stone building materials.
The authors attribute the ongoing destruction of these historic artifacts to a lack of appreciation for stone walls reflected in national, state or local laws and ordinances, but suggests it is possible to make a case for their protection via the National Historic Preservation Act.

Dumbaugh, Joh engaging
two TTI research projects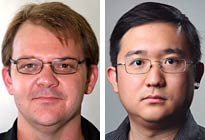 Texas A&M urban planning faculty members Eric Dumbaugh (left) and Ken Joh (right) are researching mobility issues as Texas Transportation Institute research scientists.
The two are working in TTI's Southwest Region University Transportation Center, which focuses its research efforts on enhancing mobility, accessibility and efficiency, promoting safety and a safe environment, development of the transportation workforce and supporting economic growth and trade.

Study eyes relation of small
schools to community ties,
students' physical activity

A Texas A&M doctoral student is investigating whether small neighborhood schools, when compared to larger suburban schools, better promote students' walking to school and the social cohesion of the communities they serve.
The one-year study, undertaken by Urban and Regional Science student Hyung Jin Kim and funded by a $124,680 Active Living Research Grant from the Robert Wood Johnson Foundation, will test these assumptions, which if true, Kim said, could help school districts design and place schools to take advantage of these trends.

In the Studio:


The House in Chihuahua, designed by PRODUCTORA, was designed to accommodate the special climatic circumstances of the area.
Noted designers-in-residence to guide
students' residential prototype projects

Third-year architecture students at Texas A&M will collaborate on residential design projects this spring with architects from two internationally acclaimed firms as part of the inaugural Mitchell Lab Visiting Designer Program.
The lab, a pilot project characterized as an extremely rigorous residential design studio, was made possible with funds from the $2.3 million Mitchell Initiative, a gift funded by the Bryan N. Mitchell family, owners of History Maker Homes in Fort Worth. In its inaugural semester, the lab will bring noted designers Wonnie Ickx and Carlos Bedoya, two of the founding members of PRODUCTORA, a Mexico City-based firm, and Tom Wiscombe, principal of the Los Angeles firm, EMERGENT, to work extensively with aspiring Aggie design students.

Master of Architecture student designing
hospital for small north Tanzanian villages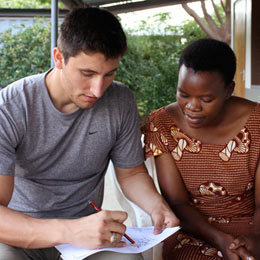 Last fall, Southern Ellis, a Master of Architecture student at Texas A&M, found himself deep in rural Africa, gathering data for his dream project — designing a hospital for the northern Tanzanian village of Nkololo, near Lake Victoria and the famed Serengeti reserve.
"I wanted to do something that was a real project that would actually help people; something I probably couldn't do once I'm working for a firm," said Ellis, who hails from San Antonio. "But I really didn't know the avenue to go about that."
His answer came from Father Paul Fagan, a Roman Catholic priest who's been working in Tanzania since his ordination in 1960. The priest contacted George J. Mann, the Skaggs-Sprague Endowed Chair of Health Facilities Design at Texas A&M, seeking help with a project aimed at converting his modest medical clinic into a hospital.

Langford installation lauded in
Modern Woodworking magazine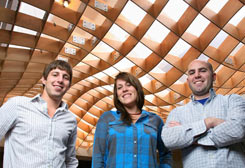 An article about "Plywood Mesh #002," the student designed and constructed architectural installation located on the first floor of the Langford A building, was recently featured in Modern Woodworking magazine. The story was submitted by Techno Inc., manufacturer of the CNC router used by the students to create the innovative structure.
"Without the router this project would have been nearly impossible because of the huge amounts of time and money required to produce each unique piece manually," said Josh Canez, a 2009 Bachelor of Environmental Design graduate and member of the team that created the installation. Canez helped design the project and used the router to fabricate its pieces with fellow students Nick Schaider and Lauren Hensley at the College of Architecture's Riverside Campus Digital Fabrication Facility. Schaider and Hensley also graduated in 2009.

Tabb lauds graduate students' designs for
affordable housing in Georgia development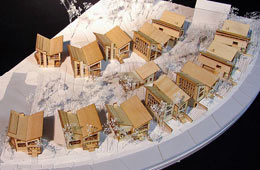 Students in a fall 2010 graduate design studio led by Phillip Tabb, professor of architecture at Texas A&M, created what he called outstanding designs for affordable and sustainable housing for a hamlet in the Serenbe community, an environmentally friendly development in Georgia.
Students designed for the actual housing site at Serenbe, which is divided into a series of hamlets, each representing a character or theme. Tabb, of serves as Serenbe's master planner, chose a saddle-shaped area in the Grange hamlet, which has an equestrian and agriculture theme.



Weber glances at an image she and April Ford used to create a holograph by bouncing a laser beam off it.
Students explore holography,
oil painting with visiting artists
Exploring traditional oil painting and high-tech holography, two acclaimed artists have completed weeklong visits to the Texas A&M campus, where they worked with students as part of the College of Architecture's Spring 2011 Artist-in-Residence Program.
The final artist, Elena Manferdini, will visit March 20 – 25. Manferdini will work with students creating an installation for the Azimuth coffee shop in the Langford Architecture Center. She will also lecture 5 p.m. Monday, March 21 in the Wright Gallery.

Texas A&M, OU design students collaborate on
design concepts for Tulsa health center complex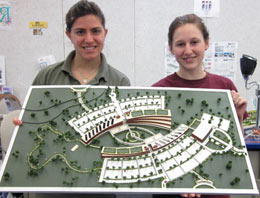 The results of an architectural collaboration between students from the University of Oklahoma and Texas A&M University who designed a community health care center and adjacent shopping and mixed-use commercial development for the economically distressed north Tulsa area were showcased in December at two free public presentations in College Station and Tulsa.
The multidisciplinary project, which also includes conceptual designs for a memorial honoring those who lost lives or property during a 1921 race riot in Tulsa, involved 17 design teams from both schools, composed of 37 architecture students and 20 interior design students.



Zachary Inman's Rehab Nova design. Inman is from Cibolo, Texas.
Students unveil designs for
Sudanese multipurpose facility

Students in a Texas A&M architecture-for-health studio unveiled designs for Rehab Nova, a multipurpose health, training and agriculture facility in southern Sudan on Monday, Feb. 28.
"The Rehab Nova multipurpose facility, designed to be built in phases, includes land for agriculture, livestock, boarding houses, guest houses, labs, classrooms, physical rehabilitation, occupational therapy, vocational rehabilitation, offices and a health clinic for orphans, women and the physically disabled in the rural Sudanese communities of El Obeid and Bor," said project co-director, George J. Mann. "The students have also designed the facility to be self sustaining, with solar collectors, windmills for power and energy and water collectors."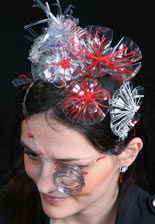 Students turn plastic into fashion
in spring departmental charrette

The Eiffel Tower, a superhero cape and many other distinctive looks rendered by Texas A&M Architecture students from discarded plastic bottles were the product of a department-wide charrette that kicked off the spring 2011 semester.
The students were asked to create masks and hats, but other than a restriction allowing only string to hold their creations together, students were limited only by their imaginations.

Academics:
College offering articulated
and dual degree programs
The College of Architecture is breaking new ground at Texas A&M with plans to offer the university's first articulated and dual degree programs.
On Jan. 25, university president R. Bowen Loftin approved department proposals for articulated 3+2 degree programs that will allow high-achieving students to earn, within five years, both a Bachelor of Science in Urban and Regional Planning and either a Master of Science in Land Development or a Master of Urban Planning.

Master of Urban Planning students
helping Texas town plan for future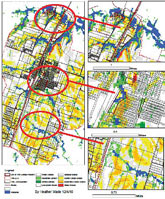 As part of a capstone class, students began working last fall with the residents and municipal government of Troy, a town of 1,836 located approximately eight miles north of Temple. The project, developing a growth plan for the city, will continue through May 2011.
Last fall, said Heather Brianne Wade, manager of the student project, the students undertook a community analysis and developed alternative scenarios for the future based on projections, community surveys and public workshops. The students are also providing the city with recommendations for contending with repercussions resulting from the scheduled 2012 widening of I-35.



On a floating tour of the Peñas Blancas River, students saw alligators, toucans, large iguanas, howler monkeys, camouflaged bats and a few parrots.
Students from varied disciplines explore the
design process during Costa Rican adventure
During a January 2011 minimester at Texas A&M's Soltis Center for Research and Education in Costa Rica, students soared above a cloud forest and sharpened their creative skills while exploring "The Design Process," one of the most popular classes offered at the College of Architecture.
Students in the compact mini-mester class, a creativity workshop led by Jorge Vanegas, dean of the college, were encouraged to spark, explore, discover and develop their creative problem-solving abilities and entrepreneurial spirit, both individually and in multidisciplinary teams.

Name change in store for LAUP's
newest undergraduate program

Pending approval by Bowen Loftin, Texas A&M president, the department's Bachelor of Science in Urban and Regional Sciences degree, which was established in fall 2007, will be renamed as the Bachelor of Science in Urban and Regional Planning. The name change is slated to take effect May 15, 2011.
Forster Ndubisi, head of the department, said the name change is needed to align the degree name with the mission and goals of the program, as well as with the skills and knowledge provided by the Texas A&M University experience. The name change, he said, also strengthens the program's brand identity.

Student-made videos highlight
annual MSLD Alumni Banquet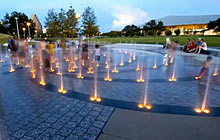 The screening of student-made videos and the first ever Master of Science in Land Development Video Awards highlighted the 26th Annual MSLD Alumni Banquet, held Feb. 9 at the Langford Architecture Center on the Texas A&M campus.
The six student videos and project reports focused on MSLD student team projects aimed at showing how excellent planning and design creates real estate value for selected properties.
Working in teams, students created the videos to accompany written reports detailing how the planning, design, delivery and management of real estate raised property values for six select Texas projects.

LAUP gains two new
assistant professors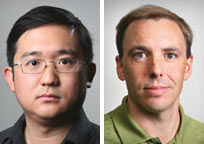 Two new assistant professors, Kenneth Joh (left) and Eric Bardenhagen (right), joined the department for the 2010-11 academic year.
Kenneth Joh came to Texas A&M from his previous post as a visiting assistant professor at Florida State University.
His research interests include transportation policy and planning, land use and travel behavior, race/ethnicity and travel behavior, attitudes and walking, accessibility and equity issues in transportation, crime and the built environment, sustainable transportation and cities.
Eric Bardenhagen, who has seven years of professional experience as a registered landscape architect at JJR, a landscape architecture, planning and urban design firm, joins the department faculty for the spring 2011 semester.
He's interested in how community preferences for natural and cultural resources can be used as value information in planning and decision making.

New videos online
Watch: Jean Louis Cohen lecture
"Architecture Drafted: Designing for World War II"
Watch: Peter Lang's
"Backseat Interview with Jean Louis Cohen"
Watch: Global Architecture Brigade travels to
Honduras, helping build a school they designed
Watch: Marek Family of Companies presentation
"Hiring, Training and Maintaining a Skilled Workforce"
Watch: Yehuda Kalay lecture
"Fiat Lux (Let There Be Light)"

Honors/Accomplishments:
Bienko's art exhibit in San Antonio
gallery creates 'substantial buzz'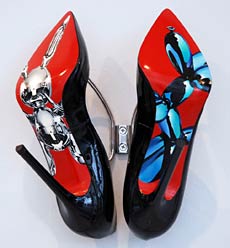 An art exhibit in San Antonio by Joshua Bienko, assistant professor of visualization at Texas A&M, has "generated substantial buzz," says the San Antonio Current, an Alamo City news and culture publication.
The Current heralded Bienko's show, on display through May 1 at Artpace, a nonprofit contemporary visual arts center, as a "Critic's Pick" on its website.
Desire, or more precisely, frustrated desire, is the theme of the stiletto piece, wrote Michael Swellander in TPR Arts, an arts and culture blog.
"He hopes that the sight of high-end footwear will arouse longing in the viewers, and because the shoes are not for sale, virtually unobtainable, force them to reflect upon that feeling," wrote Swellander. "Their location behind the window pane has the effect of a retail display full of products one may look at, but not touch."

Ndubisi earns 2011 CELA award
as outstanding administrator


The premier international organization for academics in landscape architecture has recognized Forster Ndubisi, head of Texas A&M's Department of Landscape Architecture and Urban Planning, with its 2011 Outstanding Administrator Award.
The Council of Educators in Landscape Architecture will present the award to Ndubisi March 31, during its annual conference in Los Angeles.

Visualization student's animation wins
Oceans 2030 multimedia competition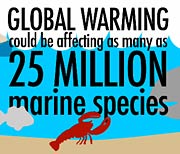 A high-energy video created by Lisa Adolph, an senior visualization student at Texas A&M, detailing the threat global warming poses to sea life won a multimedia contest sponsored by the National Council for Science and the Environment.
Her work was showcased at the NCSE's 11th National Conference on Our Changing Oceans and can be seen along with the work of other Ocean 2030 contest winners at The Encyclopedia of Earth, www.eoearth.org.

Regan leading committee to expand
influence of global building network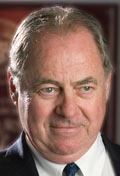 A global building and construction network's efforts to expand its influence and recognition in North America will be headed by Tom Regan, professor of architecture at Texas A&M University.
Regan, who currently serves as North American Regional Committee chairman of the International Council for Research and Innovation in Building and Construction (CIB), will oversee an effort to increase membership in the council's three primary categories: research, academic and industry/practitioner.

Construction science staffer
receives Linda Todd Award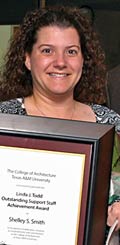 Lauded in recommendation letters as "an indispensible asset" and "a shining example of dedication and commitment to everything that encompasses the College of Architecture," Shelley Smith, an administrative coordinator at Texas A&M's Department of Construction Science, was honored with the Linda J. Todd Outstanding Support Staff Achievement Award.
"She goes above and beyond the call to make sure tasks are done right," said Leslie Feigenbaum, assistant dean for academic affairs at the College of Architecture. "As members of the faculty and staff we appreciate Shelley's dedication in helping the department be one of the best of its kind in the United States."

Class Acts:
Class Acts: Former students
touch base with the college

Catch up with your old classmates in the archone. newsletter's Class Acts section, a regularly updated list of recent activities reported by former students of the Texas A&M College of Architecture. Class Acts highlights professional achievements, as well as marriages, births, retirements and just about anything College of Architecture graduates care to tell their old friends.
In addition to the former student news briefs listed by class year, each semester's Class Acts section also offers more detailed features on former student activities.
The college encourages former students to use Class Acts to report news of interest or professional achievements and to update their contact information so they keep abreast of college activities of interest to them.
Former students can report news and update their contact information online at archone.tamu.edu.
While there, please remember to enter your current e-mail address. To save funds, as well a few trees, the college is relying more and more on electronic communications.

Two outstanding alumni to be
inducted in corps Hall of Honor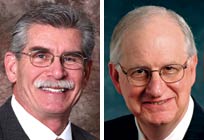 Two College of Architecture outstanding alumni, Ronald L. Skaggs '65 (right) and James R. Thompson '68 (left), are among nine former cadets to be inducted this spring by the Texas A&M Corps of Cadets into the Corps Hall of Honor.
The induction ceremony, set for 10 a.m. March 26 in Rudder Auditorium, will be followed by a reception in the Rudder Exhibit Hall.
Established in 1993, the Corps Hall of Honor pays tribute to former students of the Texas A&M Corps of Cadets who have lived a life that exemplifies the Aggie Spirit. They must also possess the values upon which the Corps is founded: honor, loyalty, service, patriotism and leadership.

White House preservation efforts
led by former architecture student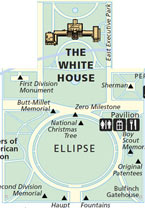 As the new historic preservation specialist at the White House, Martin Howell, a Texas A&M former student, has a major role in maintaining the historic nature of one of America's most famous addresses.
Howell, who earned a Master of Architecture degree in 1998, is the senior architect for the White House and President's Park, where he's responsible for programming, planning, designing and conducting research for construction, alteration, repair and rehabilitation projects.

Former Student, wife honored for
contribution to Brazos Valley area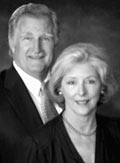 The Community Foundation of the Brazos Valley is honoring a former student from Texas A&M's College of Architecture and his wife for their many years of service to the area's civic causes.
Jim Singleton, who earned a Bachelor of Arts in Architectural Design and a Bachelor of Science in Architectural Construction in 1968, and his wife, realist artist and photographer Stephanie Sale, will be honored by the foundation at 11:30 a.m. March 10 at the seventh annual Community Foundation of the Brazos Valley Tribute Luncheon.

Outstanding alumnus Lars Stanley
featured in Architecture magazine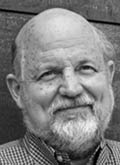 Lars Stanley, an outstanding alumnus of the Texas A&M College of Architecture, was lauded in January 2011 issue of Architect magazine as an example of an architect who has excelled by extending his practice beyond the domain of delivering buildings.
Stanley has won numerous awards and competitive commissions for his work, which focuses on integrating craft, the touch of the hand, into architecture.
His diverse portfolio reflects his interest in understanding how human energy is embodied through the process of making and how materials and elements of the built environment are sometimes able to reflect the essence of being human.

Alums' designs selected for
new online AIA exhibition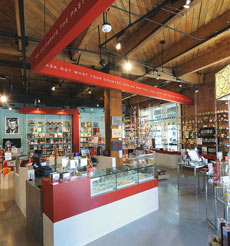 Two projects designed by an outstanding alumnus of Texas A&M's College of Architecture are featured in "Design for Decades," an American Institute of Architects' online exhibition showcasing top-flight architectural work.
The two designs, the Sixth Floor Museum Store and Café in Dallas and the Panola College Library, are by David Zatopek, who earned a Bachelor of Environmental Design degree in 1985 and is now vice president of Corgan Associates.
The featured projects highlight what AIA members felt were the best examples of design excellence from around the world.

Three Aggie partners at Marmon Mok
help win firm's 'Texas Treasure' award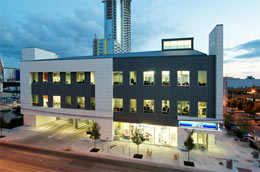 San Antonio's Marmon Mok Architecture, which has designed some of the Alamo City's most notable structures, received the Texas Treasure Business Award, presented Jan. 4 on behalf of the state of Texas by State Senator Leticia Van de Putte, D-San Antonio.
Three of the firm's principals — Gregory J. Houston, Mary Mitchell-Bartlett and William R. Reeves — are former students from Texas A&M's College of Architecture.

Former design student hosting new
podcast series about suburbia's effects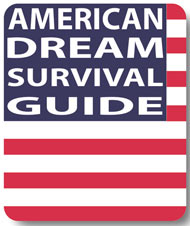 A former student from Texas A&M's College of Architecture is hosting the "American Dream Survival Guide," a new series of podcasts available on iTunes that investigage the challenges of the built American landscape and their solutions.
"The series introduces the reality of our building practices and their effects on sustainability and economic prosperity as well as wellness and lifestyle," said David Sellers, an international construction consultant and field engineer who earned a Bachelor of Environmental Design degree at Texas A&M in 2002.

Former students' iPhone stand
is critical, commercial success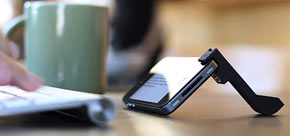 The Glif, a stand and tripod mount for the iPhone 4 created by two former students from Texas A&M's College of Architecture, is getting rave reviews all over the Internet.
Designed by Dan Provost and Thomas Gerhardt, who earned Bachelor of Environmental Design degrees in 2007, the Glif is available through its home page.

Also online:
Lighting pros learn about
Beltrán's light-pipe project
Lang, Deyong address Houston symposium
examining utopian projects from the 1960s

Tabb's Serenbe plan wows
Chronicle real estate blogger
Lang explains landmark 1972
architecture exhibit in video
February career fairs
unite students, firms


Viz students to unleash creativity at
Viz-a-GoGo 18 in downtown Bryan

Viz-a-GoGo 18, the 18th annual showcase of digital wizardry conjured by students in the Master of Science in Visualization program at Texas A&M University, is returning to downtown Bryan this year, with the culminating event, screenings of student work, scheduled for sundown Friday and Saturday, May 6 – 7 at the Palace Theater at 105 South Main Street.
The public screenings cap a weeklong exhibition at the old Texas Furniture Company, 206 N. Main, beginning May 2 that will feature student drawings, paintings, photography, multimedia installations, and interactive games.

Lectures, charrette highlight
ASLA Aggie Workshop 2011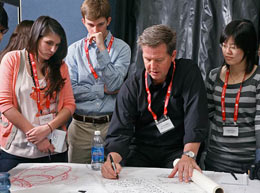 Aggie Workshop 2011 featured luminary speakers, design charrettes, panel discussions and fun-filled social events during its Feb. 11-12 run at Texas A&M's Langford Architecture Center.
It was the 36th annual conference, organized and hosted by the Texas A&M student chapter of the American Society of Landscape Architects and open to landscape architecture students from all universities.
Focusing on "professionalism," event chair Grant Jones said Workshop 2011 offered an inside look at how the industry works while focusing on "real-world" issues confronting professional landscape architects.

Architecture lecture series to feature
academics, filmmaker, design blogger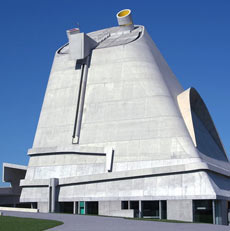 Some of the architecture world's leading lights will share their knowledge and experiences in the Spring 2011 Department of Architecture Lecture Series.

The six public lectures, which began Feb. 16 and conclude April 11, will be held 5:30p.m. in Preston Geren Auditorium, located in the Langford B building on the Texas A&M campus.

The upcoming lecture lineup features:
March 21 —Nate Hume, visiting assistant professor at the school of architecture at Pratt University and a blogger who created perhaps the Internet's most important architecture site;
March 28 — Jose Oubrerie, the last living protégé of Le Corbusier, one of Modern architecture's pioneers;
April 4 — Benjamin Ball, who explores the intersection of architecture, art and product design through physical modeling and the use of digital and more traditional forms of production, and
April 11 — Felicity Scott, author and assistant professor at Columbia University's Graduate School of Architecture.
See story, speaker bios & lecture videos

Architecture-for-health lectures
feature health design luminaries
A distinguished lineup of allied healthcare professionals are coming to Texas A&M's College of Architecture to discuss issues related to health care and healthcare facility design for the Spring 2010 Architecture-For-Health Lecture Series.
This spring, lectures will focus on case studies of interdisciplinary team collaborations in the design-build process, emphasizing the design of accessible, lean, sustainable, quality, cost-effective primary and community healthcare facilities.
The lectures, all free and open to the general public, are scheduled at 11:30 a.m. on Wednesdays, unless otherwise noted, in the college's Wright Gallery.

Tabb to co-chair architecture, spirituality and
culture symposium this summer in Georgia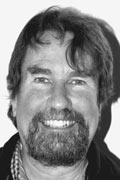 This summer in the Georgia community where he serves as master planner, Phillip Tabb, professor of architecture at Texas A&M will co-chair a symposium pondering the divine and the structures humans build to experience it.
The event, sponsored by the Forum for Architecture, Culture and Spirituality, is scheduled June 29 - July 1 at Serenbe, an environmentally friendly residential development.
The forum is an international scholarly environment established in 2007 to support architectural and interdisciplinary scholarship, research, practice and education on the significance, experience and meaning of the built environment.

Real Estate Development Association speaker
series continues with Ray, Staas this spring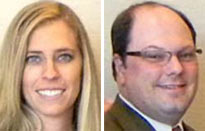 Two lectures remain in the Texas A&M Real Estate Development Association's Spring 2011 Speaker Series featuring leading real estate industry professionals.
On March 24, Jennifer Ray, director of acquisitions and development for Brass Real Estate Funds, will lecture at 7 p.m. in the Wright Gallery, locate on the second floor of the Langford A building on the Texas A&M campus.
On April 7, David Staas, an attorney for the Houston law firm of Winstead PC, will speak at 7 p.m. in the Wright Gallery.

Visualizing verbs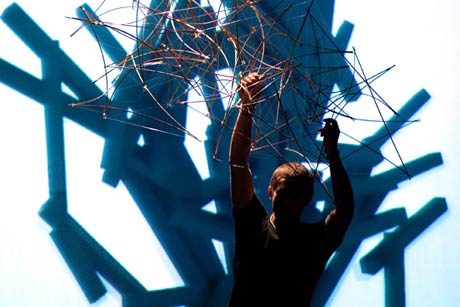 For a multimedia fashion show held Feb. 25 in the Langford C visualization studio, undergrad visualization and architecture students collaborated to visualize verbs in wearable structural forms and animations. "Architecture students moved through the audience with custom-built outfits visualizing verbs such as 'flowing,' 'tangling,' 'imbalancing' and 'ascending,'" said Yauger Williams, assistant professor of visualization, who led the students with Weiling He, assistant professor of architecture. The student models were accessorized on the "catwalk" by viz student animations complete with music and atmospheric sounds. See story and photos by John Peters and related story and photos (also above) by Glen Vigus.